German Shepherd Dog News Archive 5
German Shepherd Rescue Past News Archive
---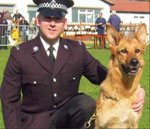 Police Office Mark Johnson Leaves His Two Working Dogs to Die In A Hot Car
GSDR provide Daily Mail with the name of Mark Johnson the Nottingham Police Dog handler and the names of his 2 dogs Jet and JJ after these 2 Police dogs died in a parked vehicle during the heat wave.
THIS IS AN OUTRAGE.
This handler has not been suspended.
---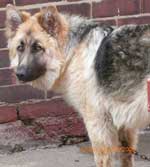 The RSPCA condone chaining up dogs.
On Monday 29th June, a rescue volunteer visited the address where these dogs are kept. Lulu has apparently disappeared but another dog we have called Fluffy was there along with Bruno and puppy. The temperatures yesterday were in the 20's and set to rise further this week. All 3 dogs were chained, no shelter - the door to the red shed was firmly shut tight.
They have no bedding and there was no food or drinking water available to the dogs. These dogs have been monitored for over a year now and we can categorically say that these dogs may as well be dead rather than be condemned by the RSPCA to live life like this. RSPCA, you should hold your heads in shame.
---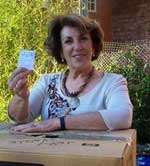 Edwina Currie Draws GSDR Raffle 2009
Two of our rescue volunteers Tracey and Jan pictured with Edwina and her lovely German Shepherd Sheba.
The raffle has proved to be hard work in organising but it has raised just under £2500 which is much needed so that we can help more German Shepherd dogs in desperate situations.
We really would like to thank Edwina Currie and her husband John for making our volunteers so welcome at their lovely home and for taking the time to draw the raffle winners for us.
---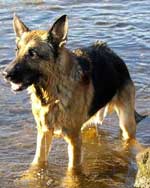 Dexie's New Owner Betrayed Him.
Dexie is an older boy who has been in rescue for a long time. He thought he had found his forever home but she betrayed him.
His new owner took all these photos, claimed he was doing so well, that she loved him to bits, then she arrived back at the rescue and dumped him there. How callous can people be?
Dexie came back looking very thin compared to what he was when she got him. REHOMED
---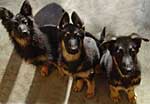 Beautiful Cute Fluffy GSD Puppies For Sale
The lucrative trade of puppy farming has spread across the UK although the hotspots are Ireland, Wales and parts of Scotland.
Stud dogs and breeding bitches have short lives and many will never see the light of day. Imprisoned in dark filthy pens without heating in winter or adequate ventilation in summer, rarely cleaned out so covered in urine and faeces. When and if the pens are cleaned, dogs are often kicked into a corner and a hosepipe is turned on them. Poor quality often rotting food is thrown into the pens on a random irregular basis, water is given when the mood takes. Don't support the vile puppy farming trade.
---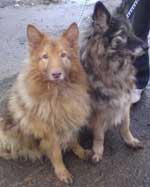 Spike and Sasha Kept In Appalling Conditions
We hope you are as shocked as we are.The RSPCA deem the way that these poor dogs were treated as acceptable.
Read the RSPCA letter of response.
We feel so strongly about the way that these poor dogs have been treated, that we are publishing all the facts.
We will not remove details unless there is a successful legal challenge.
Spike and Sasha were rehomed together
---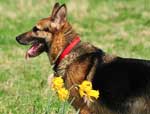 Bella Has Been Through An Ordeal
Bella had been put up for sale in an internet advert, the pictures of her tied up in a type of open wooden box makeshift kennel with barely any room to turn around, with no bedding, food or water visible were extremely distressing to view.
Bella was advertised as being pregnant and would give birth in so many weeks. We at the rescue thought this was a possible scam to try and sell the dog on. The rescue purchased the dog from the advertisers and transported her from this London hell hole she was to a foster home. There from a routine scan at the vet, we discovered she was indeed pregnant.
---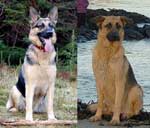 PAIR OF THE MONTH
Lucy and Simba are brother and sister who are 3 years old and looking for a home together.
LUCY is a 3-year-old black and tan short coated bitch, not spayed. She has EPI and is on enzyme treatment.
SIMBA is a 3-year-old black and tan short coated castrated male. He does get ear infections and has a bit of arthritis in his elbows which doesn't seem to bother him at all.
Rehomed
---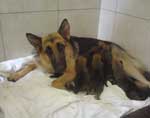 Tyra let down again!!
This is Tyra who is 9mths old and came to the rescue already pregnant.
Tyra was sold through a newspaper advert to a family with young kids and no experience with the breed. They couldn't cope with her nervous behaviour, so gave her to the rescue. Little did we know that she was in fact close to giving birth to a litter of puppies.
Mum and Pups all rehomed
---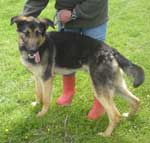 What's wrong with our Kev?
OK, we want to know what's wrong with our young GSD Kev. Someone out there is missing out on a wonderful good fun companion.
His ears aren't quite as pointy as they should be!
Kev was in the pound and due to be put to sleep - why, we don't know. This is one gorgeous young dog who needs an active home. REHOMED
---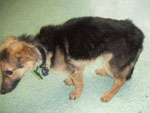 Kingston Suffered Appalling Cruelty
This special boy will need a very special home. Kingston has suffered appalling cruelty.
Kingston went into an Irish rescue at the age of 1. Kingston went into the shelter in Ireland about 9 months ago and was nearly a year old at that stage but as you'll see from the photos he looks like he's a pup. His owner starved him of food and attention with the result of him being a very nervous little dog.
Rehomed
---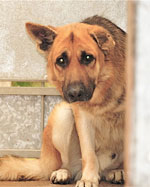 Kaiser One Of The Saddest Cases We Have Seen.
The owner of this dog sent his wife and kids off to Spain on holiday and he was going to have Kaiser put down and tell them he had run away!!
This poor dog is physically shaking in his kennel. He bolts as far as he can away from you down the length of the kennel and just quivers with fear and stares with big sad eyes.
The owner failed to notice that Kaiser was, in fact blind.
Kaiser was rehomed to a lovely lady who had a secure field where he could roam around safely and not put himself in any danger. Rehomed.
---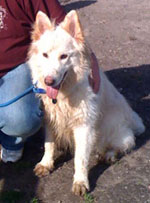 Jake White German Shepherd
It was the breeder that asked us to take in this gorgeous boy. He has been passed around to at least 2 other homes but she didn't want him back.
Jake was very stressed when he first arrived and in the kennel, Jake's fear turned into aggression.
Nobody was able to to get near Jake for over a week, during which time he became increasingly more stressed.
So we sent in our volunteer Gary to help Jake. When Jake sees our volunteer Gary, his eyes light up and his tail starts wagging. Rehomed
---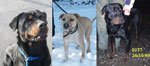 Three Dogs Killed in raid on Rosedene Kennels
Walsall boarding kennels shut down after RSPCA raid - 50 officers involved.
Animal welfare inspectors and police with a warrant raided the Rosedene Boarding Kennels, Radley Road, Walsall, on Thursday 21st January.
---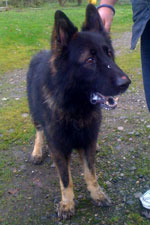 Poor Tyler Live Rough On The Streets
This poor dog Tyler belonged to a junkie and lived rough on the streets. He was very stressed and not coping with kennels.
Tyler is currently very underweight but is eating well and slowly gaining weight, he has been for a grooming session and his long fur smells sweet and is no longer matted. The abscess on his neck is currently being treated with antibiotics and is getting better daily.
Tyler loves his walks and he does walk nicely on the lead, however, when you are getting ready to go out he will go and get his lead himself and take it to the front door. REHOMED
---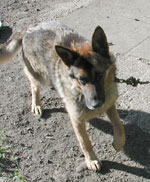 German Shepherd Chained 24/7
In January 2010 we were alerted to the plight of a German Shepherd called Jack, several young puppies and horses kept on wasteland in Radcliffe in Manchester. The man abusing these animals doesn't even own the land. Why does he need to chain up a GSD on land he doesn't own?
There are many dogs and puppies kept locked up in extreme conditions in the ramshackle tin huts on this eyesore of derelict land at the top of Brinks Lane Radcliffe Manchester, Jack the German Shepherd dog has been chained up outside in temperatures as low as minus 12 recently with only a bucket of ice where his water should be.
---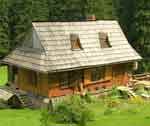 Building Materials Needed for Emergency Kennels.
The rescue is experiencing record numbers of German Shepherds needing to find new homes. We have several locations where we can put up extra emergency kennel. So have you got an old kennel you don't use anymore or can you help us with any materials to build a new kennel?
If we don't have more emergency kennels we will lose some dogs. Commercial kennels won't take dogs during their busy periods, they won't take dogs that are not vaccinated and they won't take dogs that have behavioural problems.
---