Spike Sasha Cruelty Case
Spike and Sasha - appallingly treated
An RSPCA inspector has informed us that they have known about these dogs since September 2008 because of previous complaints about the plight of these poor dogs. Find out exactly what they did to help these poor dogs. Read the RSPCA letter of response to our complaint
We feel so strongly about the way that these poor dogs have been treated, that we are publishing all the facts. We will not remove details unless there is a successful legal challenge.
Latest 28/1/09: Both seen by a vet today. Spike weighs 24Kg - he should be 35-40, Sasha weighs 23.5Kg - she should be 30-35. Both needed antibiotics and wormers. Spike has a sore bottom as his hair is so matted that he couldn't go to the toilet properly.
30/1/09: Urine tests show blood in Sasha's urine probably due to lack of drinking water and living conditions over last 9 months.
4/2/09: Sasha now weighs 25.25Kg and Spike weighs 25.25Kg. Getting lots of exercises and loving the snow!
11/2/09: Both been to the vet good news & bad. Good news is that Sasha now weighs 27.8kg, Spike 26.9Kg. The bad news is that Sasha's teeth are all rotten and her gums infected and full off pus. The teeth will have to be removed as the dental surgeon said she is probably in a lot of pain
18/2/09: Sasha has had her surgery, she has had all of the back teeth out so she has only got a few left in the front now. A total of 24 teeth removed by our vet. This could all have been prevented with proper care.
We asked the previous owners if they would contribute towards the veterinary costs - bearing in mind that the treatment so far has been needed as a result of neglect. Her reply was:
'I am sorry to hear that the vet is charging that much for this supposed "treatment they need" but I am afraid we are unable to help as we don't have that kind of money. We somehow managed to get down to the dogs daily to clean them out and feed them, we just can't manage to help with the costs of the dogs. I don't mean to sound funny, but we signed transfer forms on Sunday, and you clearly stated that the dogs are now yours i.e you own them, you cover all costs, you care for them etc.'
Remember that she stated originally in her email below 'we are only able to get down there every 2 - 3 days to feed them, and we are unable to let them out to have a walk. '
Sasha and Spike are recovering from their ordeal and this rescue will make sure they get all the treatment they need.
Spike and Sasha - you may be shocked that the RSPCA deem this acceptable!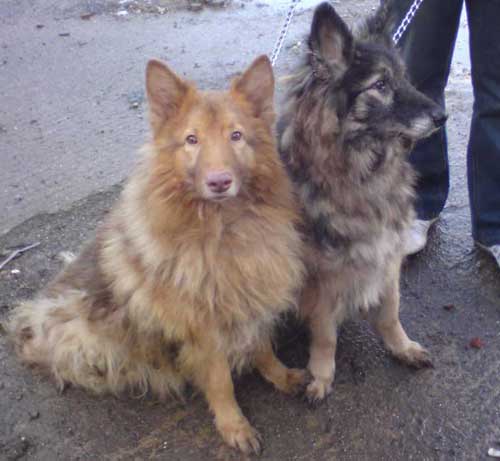 The following email was sent to the rescue:
From: KAREN GUEST <karenguest845@btinternet.com>
Date: 22 January 2009 10:07:52 GMT
To: info@germanshepherdrescue.co.uk
Subject: Rehoming my dogs
Hi
I am in urgent need to rehome my 2 alsatian dogs, In April of this year, we had to move our dogs from our old home to a shed in Llanymynech due to us not being able to house them any longer. Since then they have been in an old cow shed. At one point we were living at the farm in caravans, but we moved from there due to us being offered a new home. We now live in Oswestry and are unable to have the dogs at our current house due to a strict "No Pet Policy" placed by the landlord. For this reason, we are wanting to rehome them as it is getting costly to keep going to and from Llanymynech each day to feed them. It is unfair on the dogs themselves as we are only able to get down there every 2 - 3 days to feed them, and we are unable to let them out to have a walk. They are 2 lovely dogs, playful with an easy temperament. Both our Alsatians, one a rusty brown colour (aged 5, boy) the other a "natural" Alsatian colour (black & brown, 12 years old female). They are mother & son. The mother is getting old now, she is going blind and a tiny bit deaf. We had been in touch with the RSPCA nearly 4 months ago now and they have not done anything for us. I have tried several places around here but no one is willing to help us rehome them. It's coming to a point now where we don't know what we are going to do. We have tried all possibilities and had no joy. Many thanks, Karen
We immediately contacted the RSPCA who informed us that they already knew about these dogs. An inspector called on Friday 23rd Jan but said that they didn't want to take the two dogs because the boy had shown his teeth, the mother was old and that they would most likely be put down. He then, because of pressure from us, arranged to take a vet there on Saturday 24th Jan 2009.
Would you consider this home for your dog?

Spike and Sasha's home since April last year - the one next to the ladder. The building's owner informed us that the dogs were left in there for days on end without food and water and that they were never let out. He had agreed that they could be temporarily housed there for 3 weeks - not 10 months. He informed us that he had called the RSPCA and reported what was happening to these poor dogs.
Once they were house pets but this was their prison for the last 10 months!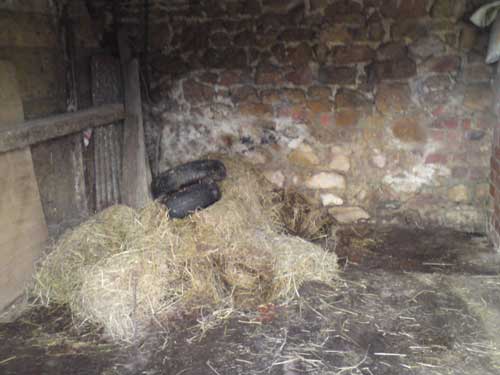 The stench was overwhelming, this hovel was dark damp and filthy. The owner of the building's told us that the dogs' owners had been down the day before we arrived to clean up the place!! He also told us that until recently, their only bedding was a pallet until he provided a bale of straw. The straw must have seemed like a luxury to them.
We thought you would like to see the person responsible for this!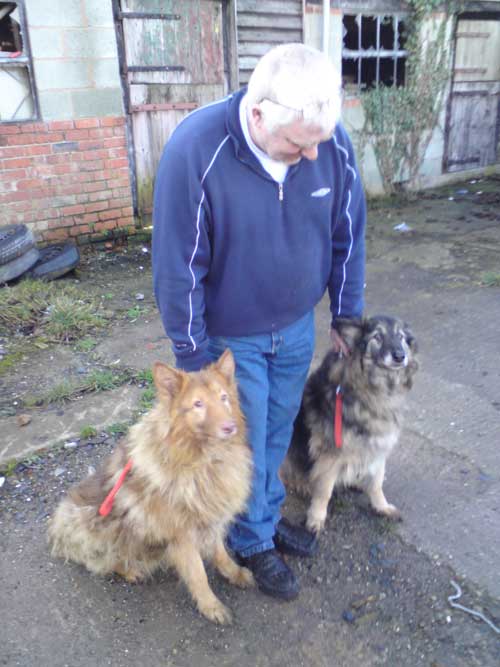 The owner happily posing with his dogs although we are not sure they look terribly happy!
We save the best for last. We received a phone call from the RSPCA inspector today Monday 26th January 2009 to inform us that the vet they use had stated that it was acceptable for these dogs to be treated in this way as they were being kept as farm animals!!
So what was the purpose of spending millions of pounds of taxpayers money on the Animal Welfare Act described on the Defra website as 'the most significant change in animal welfare legislation in almost a century.'
What does the Animal Welfare Act do?
It makes owners and keepers responsible for ensuring that the welfare needs of their animals are met.
These include the need:
1. For a suitable environment (place to live)
2. For a suitable diet
3. To exhibit normal behaviour patterns
4. To be housed with, or apart from, other animals (if applicable)
5. To be protected from pain, injury, suffering and disease
Can someone explain how the new Welfare Act has helped Spike and Sasha?
Spike and Sasha are now safe with this rescue and we will bring you updates on their progress. They are two lovely, sweet dogs who in our opinion have been subjected to appalling mental cruelty as well as being denied the basic requirements for a happy and healthy life. They are both very underweight and will have to have most of their coats shaved because they have been neglected so much.
Do you still feel like donating to the RSPCA?
"How Could You?" should bring tears to your eyes. It is very sad fact of life that many faithful pets have become disposable items and will be discarded, no longer required. Many of these will die unwanted, unloved and alone having spent the last few days, weeks or months in a filthy dank dirty kennel. Their final reward - a lethal injection!!
Poor Archie wasn't quite so lucky. His story highlights the plight of older dogs
Please help us by making a donation so that we can help re home more unwanted German Shepherd Dogs. Donations can be sent to Jayne Shenstone, German Shepherd Rescue, Little Vauld, Marden Hereford HR1 3HA. We also accept Paypal payments - just click on the Paypal button below. Thankyou.