Tyra and Puppies
Tyra 9mths old and pregnant
Another example of irresponsible dog owners allowing a young dog who is still a puppy herself, to become pregnant. They then sell her though a newsaper advert to an unsuspecting family with no experience of GSD's and young children.
NOW REHOMED
Tyra was in her new home just a few days but they didn't want her because they claimed she was suffering from separation anxiety. Tyra has had to be moved to a foster home. She is with our Kev who is also looking for a home and they are having a lovely time together. Tyra has been no trouble in her foster home and she the makings of a beautiful girl.
This is our beautiful Tyra who came to us aged 9mths and pregnant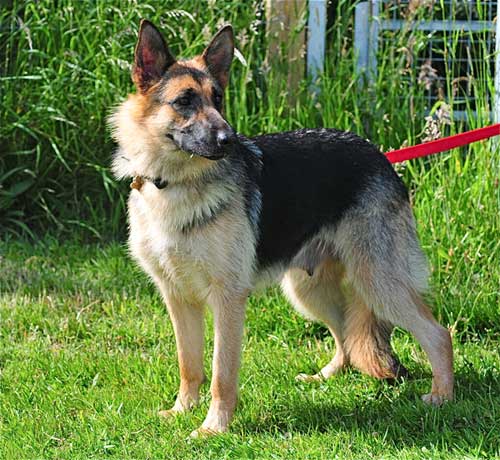 Tyra was sold through a newspaper advert to a family with young kids and no experience with the breed. They couldn't cope with her nervous behaviour, so gave her to the rescue. Little did we know that she was in fact close to giving birth to a litter of puppies.
Tyra - still a puppy herself at 9mths, now a mum.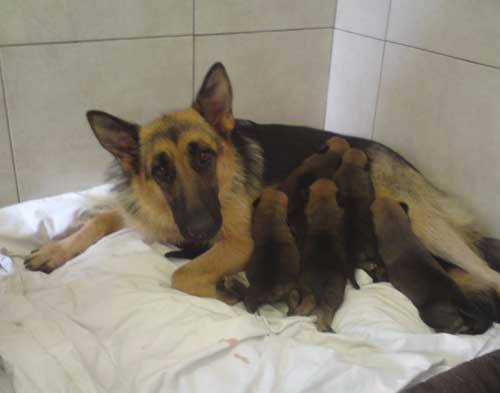 Tyra gave birth to 6 puppies which we believed were GSD/Boxer crosses. Unfortunately, she was too young to cope with the puppies and 4 were found dead. The remaining 2 have been taken away from her so she can get on with her own life without the burden of looking after babies.
Tyra - delivered her puppies shortly after she came into our care.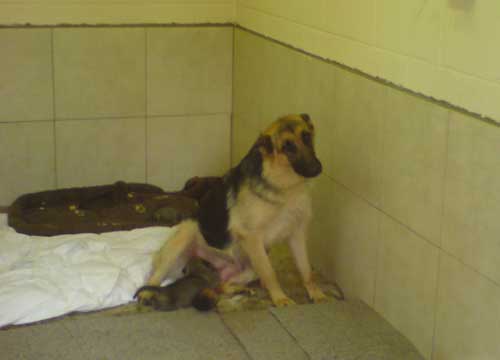 Tyra has found all this very difficult to cope with, she should never have been put in this position by her irresponsible owners
Tyra - bewildered and not coping with being a mum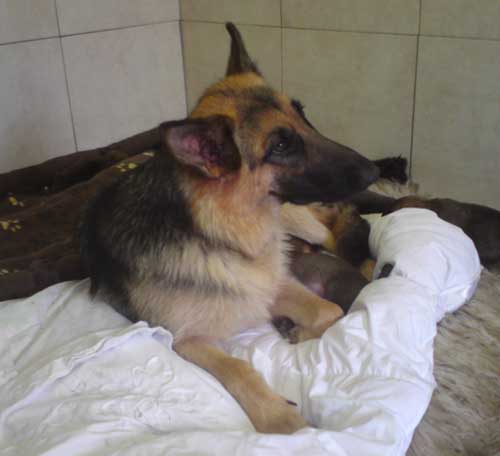 Such a beautiful young dog that has had a bad start in her short life, she now needs to be able to learn to trust humans and start her life over.
Tyra playing with our Kev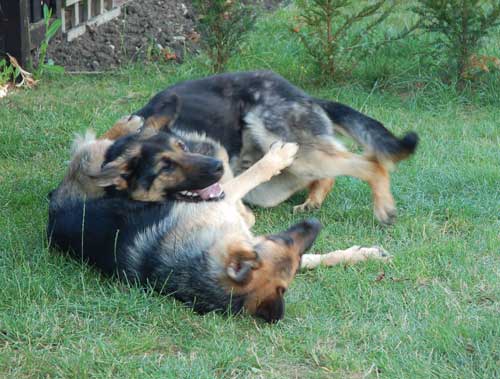 Tyra is in foster with Kev and by the looks of it, it's great fun having a buddy to play with.
Tyra and Kev - not sure who has the upper hand here!!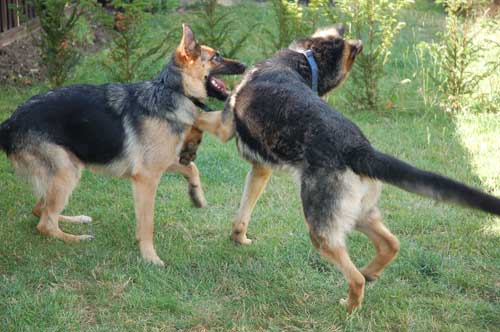 Both of these dogs have had a terrible start to their short lives. Nice to see this special bond has developed between these two. They so deserve a forever home. Read Kev's story
Tyra, Riggs, Kev and Solo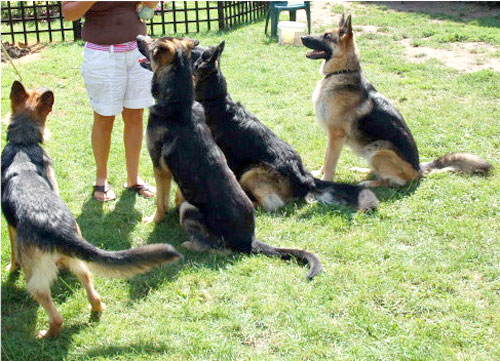 All sitting pretty. Kev and Riggs also need nice new homes
Tyra - stunning looking young girl.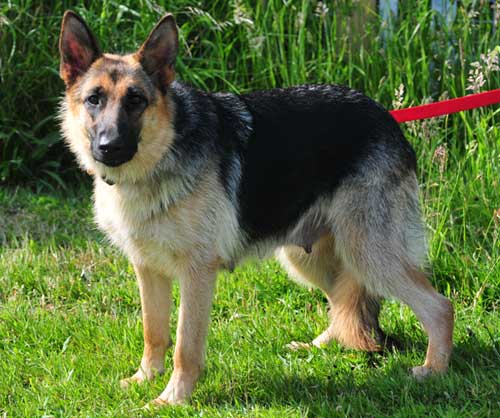 She is a stunning looking young dog that has had a bad past as she is quite scared on first meeting, but given a couple of days she does bond quickly and is eager to please. She cowers when you go to put the lead on, is quite strong on lead, will sit and lie down.
If you can help Tyra overcome her fears, build her confidence and help her to start to enjoy life, we would like to hear from you. If you can provide experienced home without young children please call 01568 797957.
Donations are always welcome
Please help us by making a donation so that we can help re home more unwanted German Shepherd Dogs. Donations can be sent to Jayne Shenstone, German Shepherd Dog Rescue, Little Vauld, Marden Hereford HR1 3HA. We also accept Paypal payments - just click on the Paypal button below. Thankyou.