Bella GSD For Rehoming
GERMAN SHEPHERD DOG RESCUE: LONDON UK!
Bella German Shepherd - looking for a new home
Bella came into the hands of the rescue mid-March 09. She had been put up for sale in an internet advert, the pictures of her tied up in a type of open wooden box makeshift kennel with barely any room to turn around, with no bedding, food or water visible were extremely distressing to view and we would not want you to see her in this state, so have not printed them.
REHOMED
This is the lovely Bella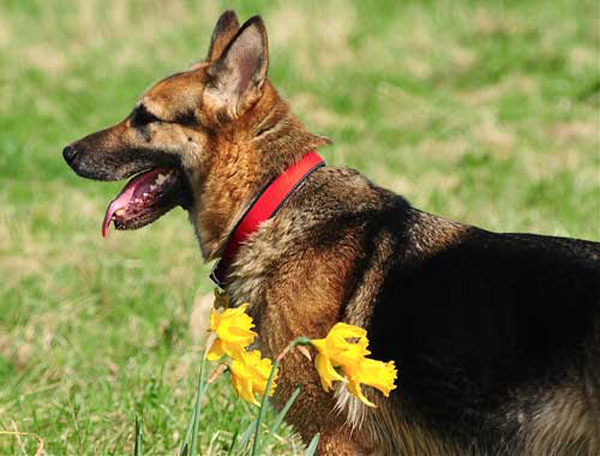 To add insult to injury Bella was advertised as being pregnant and would give birth in so many weeks. We at the rescue thought this was a possible scam to try and sell the dog on. The rescue purchased the dog from the advertisers and transported her from this London hell hole she was to a foster home. There from a routine vet scan, we discovered she was indeed pregnant.
Bella with her puppies. THE PUPPIES HAVE BEEN REHOMED!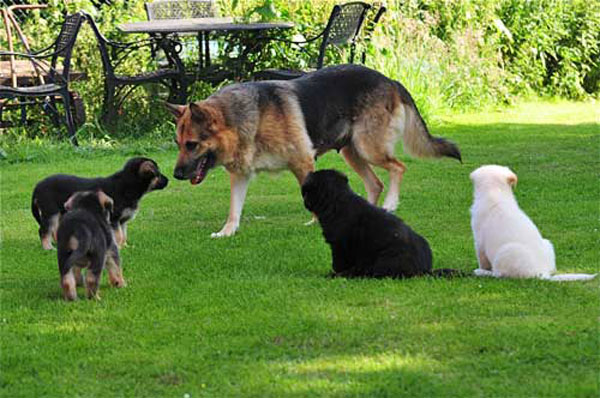 Bella has remained in foster since March, has given birth to 9 stunning puppies that have all found loving homes through the rescue, she has tended to her babies and been an excellent mum to them. The time is now approaching for Bella to find a loving home of her own too.
Bella - lovely older bitch that has been through an ordeal.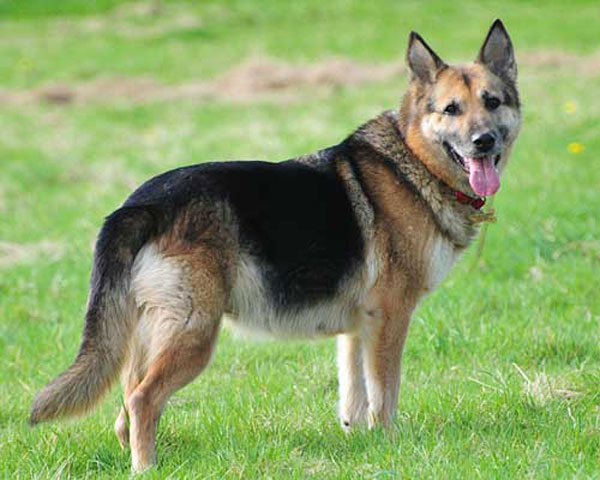 Bella is not a young dog and we feel she had litters before, we are estimating her age between 5 and 7. She has bonded extremely well with her foster mum so much she has become a little protective of her. Bella does tend to be wary of men and bark at them. She is a strong sturdy dog of stocky build, is very strong on a lead, but has good recall off lead. She has not been at all destructive and is house trained. Not sure how she is with children as she has not come into contact with them whilst in foster. Bella travels well in a car. Has not been cat tested but does love to chase rabbits when on a walk in the fields, and will catch and kill them, so cats and small furries would probably be not advisable. Bella has not got on with the 5 resident dogs whilst in foster, but we feel this may have been due to her pregnancy and protectiveness towards her pups.
Bella having some fun.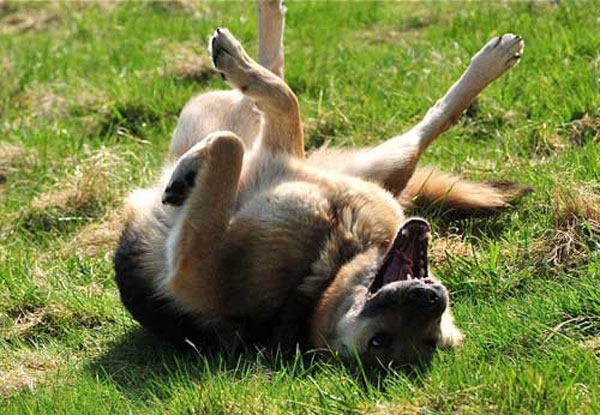 Bella would possibly suit a lady on her own, no other dogs or cats, a nice retirement home required. Someone who understands the breed when a GSD bonds and becomes protective. She has been a very loving dog towards her foster mum. Bella needs to get back in shape after the pups as she has put on some weight, she is also in the process of moulting heavily after having the pups, so does not look at her full best at the moment.
Bella is fully up to date on her vaccinations, has been microchipped. Her foster mum is going to get her spayed during July and Bella will be available to go to a new home at the end of July onwards.
If you would like to offer Bella a home please fill out an adoption form.
Donations are always welcome
Please help us by making a donation so that we can help re home more unwanted German Shepherd Dogs. Donations can be sent to Jayne Shenstone, German Shepherd Dog Rescue, Little Vauld, Marden Hereford HR1 3HA. We also accept Paypal payments - just click on the Paypal button below. Thankyou.
---