GSD Growth Plate Deformity
Heidi - Young GSD with Leg Deformity
Heidi was 7 months old when she came into rescue after being left for long hours due to owners work commitments and we believe she was also being put out in the garden at night. She has a severely deformed leg, the result of an injury to the growth plate. We are fundraising to raise the money to pay for her operation which has now been carried out by Calder Vets in Dewsbury who have been extremely generous in their offer of help. We are looking to raise £2000 which is the contribution from the GSDR towards the cost of her operation.
The gorgeous Heidi enjoying a visit to Calder Vets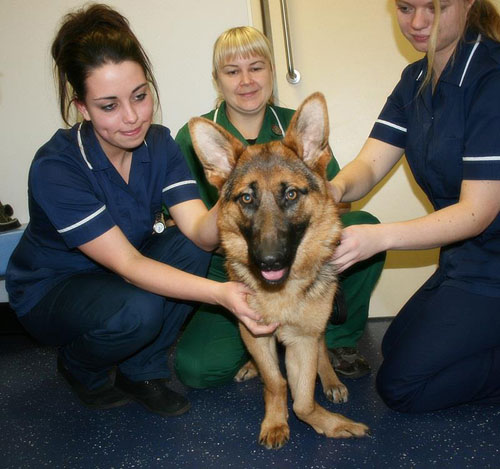 After a difficult start in life, 7-month-old Heidi was taken in by German Shepherd Dog Rescue. With a serious deformity to her left leg, Heidi needed a major operation to improve her comfort and prevent long-term complications.
Heidi being spoilt at the vets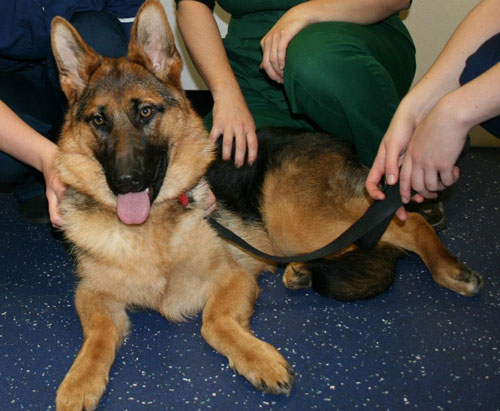 On Thursday 29th of November 2012, Heidi was given a sedation and CT images were taken of her deformed leg.
Heidi fast asleep and ready for her CT scan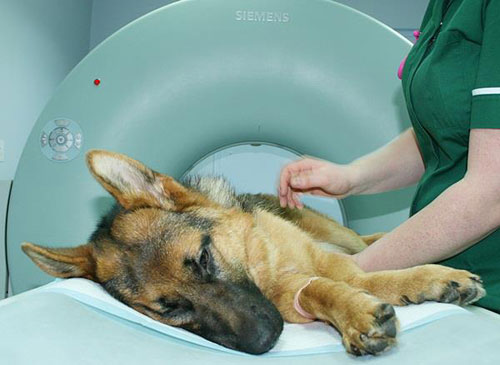 CT scan results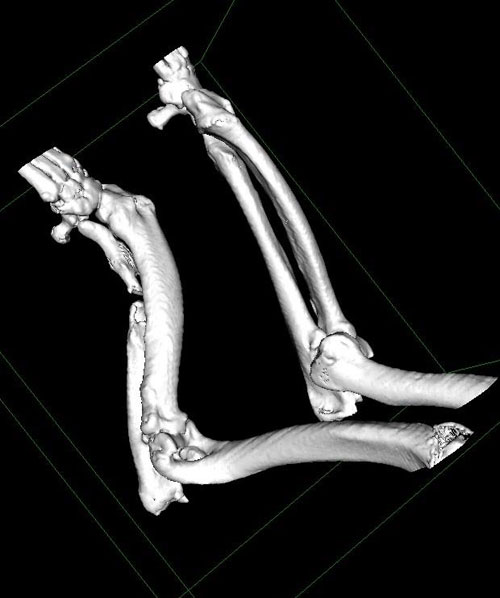 The CT pictures were then converted into a 3D image and sent to a company in America where a replica bone model will be created in order to assist the surgeons with their major repair.
Heidi has even been helping with the fundraising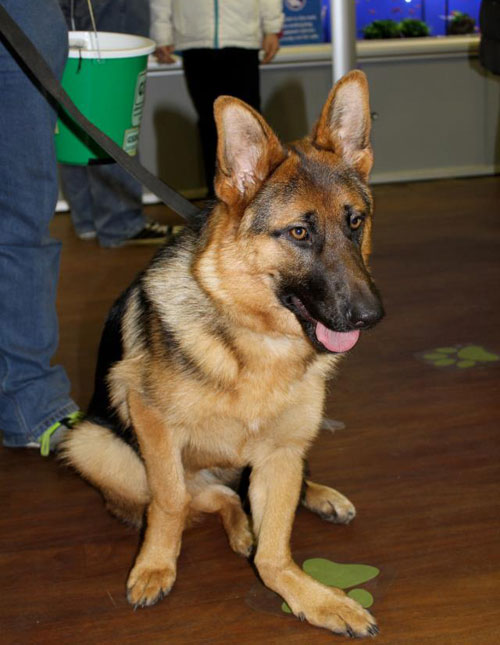 You can see the extent of her deformity, but it doesn't stop Heidi taking an active role in the fundraising campaign to pay for her surgery
Heidi in her foster home with best friend Maya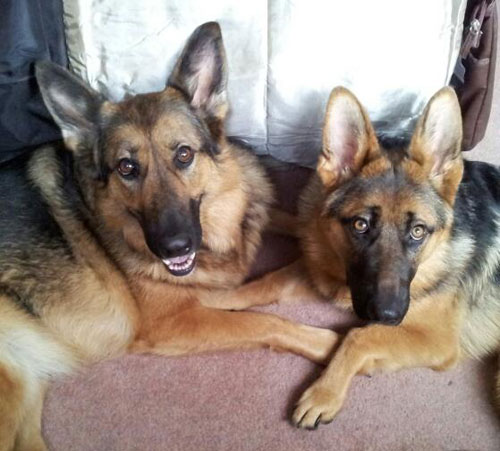 Heidi has settled well into her foster home and is enjoying having company and a routine. She is much calmer as a result. She loves her food and gobbles it up in seconds, likes to play with and cuddle up to Maya - they've become very close. She'd love to cuddle up to the cat too but gets too excited so she gets a bop on the nose by a cat paw for her efforts.
Heidi dreaming of a straight leg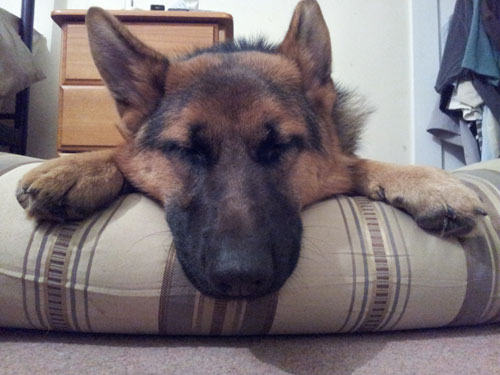 GSDR are extremely grateful to Calder Vets for agreeing to operate on Heidi. The true costs of this operation would exceed £6000, but they are going to do it for £2000.
Metal work for Heidi's operation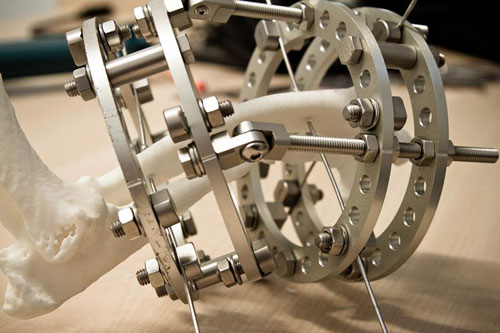 A pre-run of the surgery was performed on Heidi's replica bone model first
Heidi's leg all prepared for surgery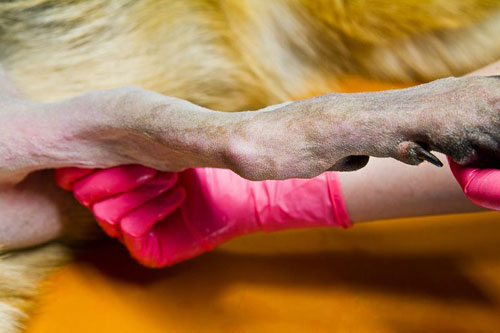 During Heidi's operation, the two vets Stuart and Nick build up the metal work.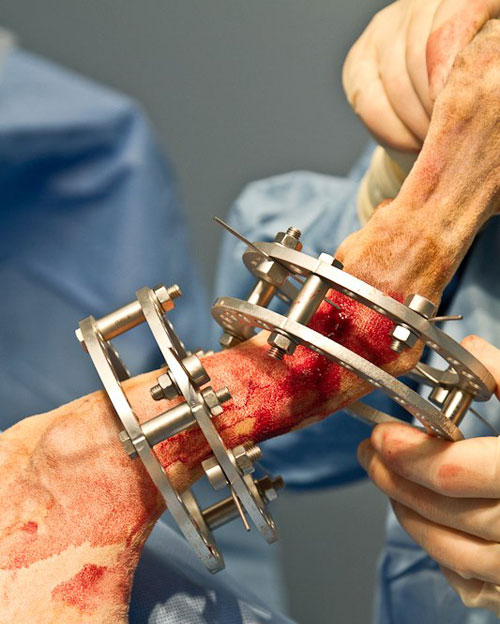 All done - the metalwork is now in place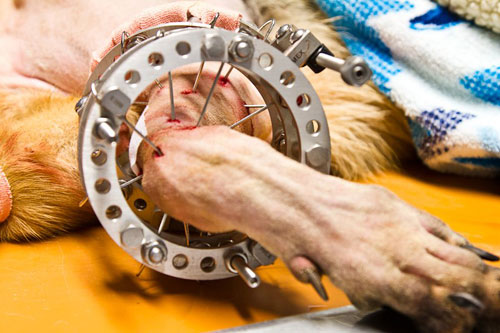 Heidi resting post op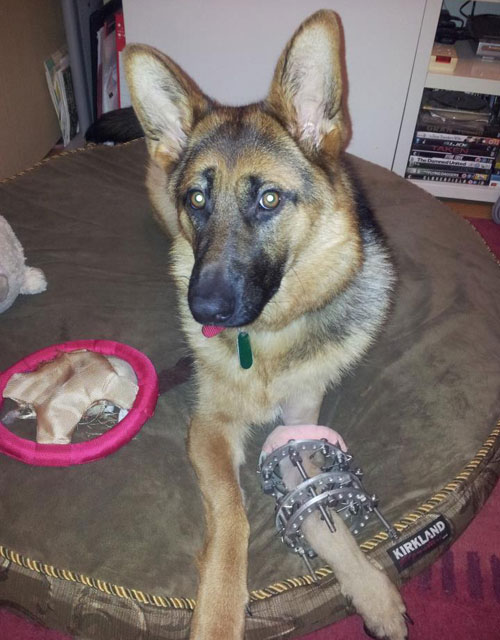 A MASSIVE thank you to the staff at Calder Vets
This is a serious surgery, so Calder Vets are working alongside her foster home to raise the funds needed for Heidi's operation. Heidi's operation will ensure this sweet girl enjoys a better quality of life. Please help to raise the money for Heidi's operation.
Donations are always welcome
Please help us by making a donation so that we can help re home more unwanted German Shepherd Dogs. Donations can be sent to Jayne Shenstone, German Shepherd Rescue, Little Vauld, Marden Hereford HR1 3HA. We also accept Paypal payments - just click on the Paypal button below. Thankyou.