SSPCA Animal Health andWelfare Act 2006
Betrayed by SSPCA & New Animal Welfare Act 2006
April 2007 - We have been informed that CD is no longer on the estate, he has been liberated. We have no further details as to his whereabouts yet, but we will keep you informed. This is CD after his ordeal
April 2007 - We have been informed that CD is no longer on the estate. We have no further details as to his whereabouts yet but we will keep you informed.
STOP PRESS 18/1/07 - The SSPCA have done SOMETHING for CD, they have published a statement. It is clear from their statement that the only major concern that they have is the affect that this story has had on donations to them. Statement here
How ironic that the SSPCA use a GSD in their glossy TV adverts in an attempt to extract more money from the public to fund their shambolic organisation. This is your chance to have your say about the failings of the Scottish SPCA
Update and new photographs of CD - you have been deceived
The Scottish SPCA have known about this dog for several years and have visited before. We insisted that they go again recently and help this poor dog. What are they going to do? ABSOLUTELY NOTHING!! They claim that this is an adequate environment for this poor dog and that he has all the basic requirements.
CD is on the Caldwell Estate East Renfrewshire Clearly it's not just the dog that has been forgotten - the mansion has been a category A listed building since 1971!!
ANIMAL HEALTH AND WELFARE ACT 2006
Photos taken 8th December 2006 - latest photos
CD - living in isolation, filth and squalor for 5 long years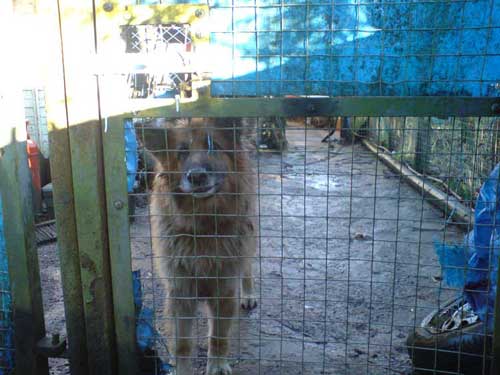 This is the dog we have named CD - we don't know his name but then he doesn't really need one as this poor animal has been kept in this filth and squalor alone for 5 years now with no adequate shelter or proper feeding. The dog is on an abandoned estate where the mansion house has been allowed to become derelict. The dog is imprisoned in a padlocked enclosure around an abandoned property in the grounds of the estate in Renfrewshire.
This is his garden!!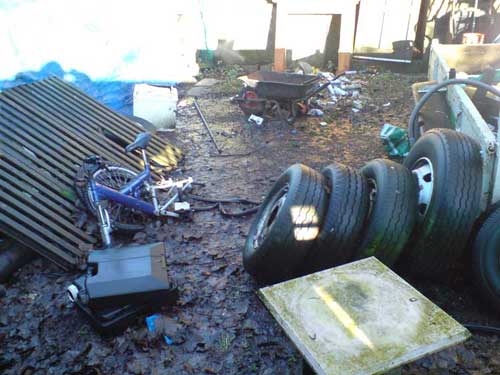 The moron that owns the dog goes in every few days and throws the dog a takeaway - the bin was full of the wrappers. According to witnesses, he literally drives in and out in minutes. The dog is never walked and nobody goes past to say hello. The dog is there to guard what - we do not know!! What are the police doing - NOTHING!!
You would think that someone would want to investigate why this vile man would want to keep coming back to an abandoned property. What is this dog guarding?
This is his five-star accommodation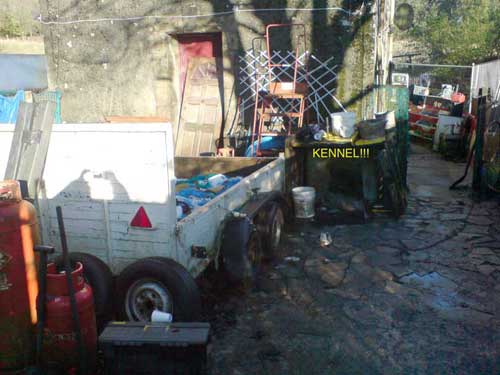 This is the only shelter that the dog has from the elements. When we were there the blanket hanging out of the 'kennel' was soaked and filthy. The place reeked of urine and faeces - there was poo everywhere. There is no electricity and no running water. In winter, any drinking water he has (there was filthy bucket down for him) freezes over so he can't take in water. Note the chain - used for chaining up CD!!
This is all he sees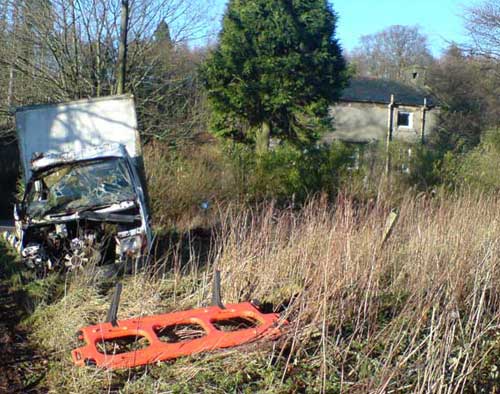 His coat is so matted and filthy that we doubt it can protect him from the elements anymore. The hair around his bottom is so bad that he cannot go to the toilet properly. Before the owner was forced to move out of the property, the white wrecked van above was CD's home - he was shut in it 24/7.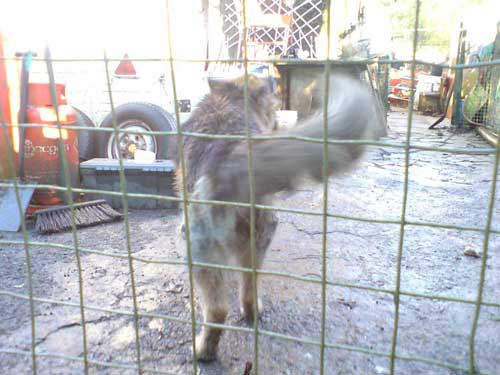 Opposite is another 5-star accommodation - but he isn't lucky enough to enjoy the shelter of even that.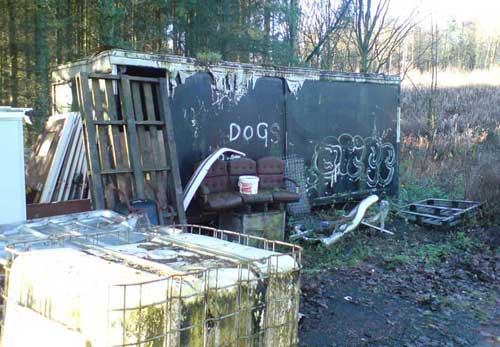 We have done everything legally that we can to help this dog. In our opinion, the dog would be better off dead than having to live the rest of his years in this appalling environment. Not only has this dog had to endure this dreadful way of life for so long on his own but we believe that he has been subjected to the most appalling mental cruelty.
This dog doesn't deserve to live like this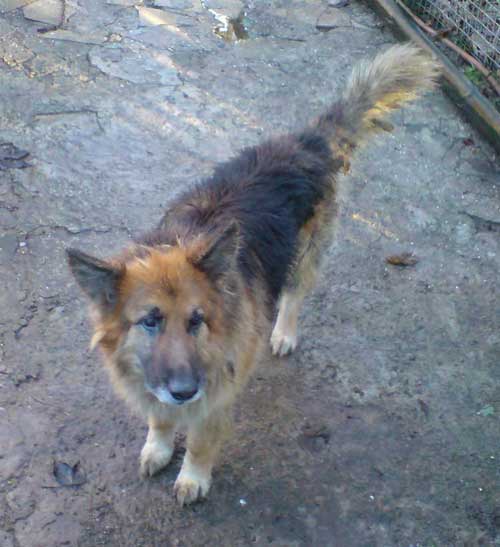 How can this possibly be an acceptable life for any dog?
Telephone 0131 339 0222 or email and complain to the Scottish SPCA. ENOUGH IS ENOUGH, DON'T LET THEM GET AWAY WITH IT.
IF YOU THINK YOU CAN HELP CD - PLEASE PLEASE CONTACT US.
If you would like to make a donation to help the rescue, please click on the link below.