Puppies for Sale 2
Puppies and Dogs For Sale!!
It is a national disgrace that puppy farming continues unabated in a so-called civilised country. Do not allow this to continue. One voice will be unheard but many voices cannot be ignored. We need you to write to your MP's. What are the RSPCA doing about this?
PLEASE CROSS POST THIS TO AS MANY CONTACTS AS POSSIBLE
If you can bear it, please watch the videos and PLEASE SIGN the petition.
There were no prosecutions as a result of the film and no revocation of licenses by council
This is from Puppy Love.
Hello, our group is presenting Carmarthenshire council with a petition on the 10 March at 2 pm, please see details here. Petition
This has come about as a result of this documentary showing bad conditions in licensed breeding establishments in Carmarthenshire Please watch this video about puppy farmers in Wales
We wonder if you could please spread the word for us and ask for support as at the moment only a couple of members can make the long journey.
We would be so appreciative if you can help, please let us know
thank you
Puppy Love Team
Dogs-R-Us Puppy Farm eNewsletter Posted: 31 Dec 2008 12:20 PM
As we go into the new year we can look back over the past year to see what if anything has changed with puppy farming in the UK…
Sadly we can tell you it is not any better at all in fact maybe worse as more and more breeders and dealers jump on the bandwagon to try and make an easy living. People are allowed to apply for a pet shop license from private dwellings and it seems the LA's are only too happy to grant a license to anyone no matter how unsuitable premises maybe. So now we have the puppy farms not only trying to keep up the supply for the large pet shops but also numerous private houses across the land.
Just recently Puppy Love went Undercover with a Welsh TV company to help make a documentary about licensed breeding establishments in Wales. What we discovered was no surprise to us at all, dogs ill and needing veterinary care, no water available, little food, no bedding even for new born pups, overcrowding, filthy disgusting conditions. The premises were all operating quite legally with little regard for the animal welfare act. This evidence is now out in the public domain for all to see but as yet nothing has changed.
So where do we go from here? we are bringing the issue to the public's attention as much as we can with little or no help from media or newspapers, they just do not want to know the same can be said of many politicians etc.
Will 2009 be any happier for these dogs who suffer daily at the hands of greedy despicable people who will do anything for money? Will the LA's clamp down and make sure the animal welfare act is adhered to?
It's very, very doubtful, it would seem the dogs are destined to suffer indefinitely because most people don't care enough to stand up and be counted. Oh yes, they mutter how cruel it is and then go back to burying their heads in the sand.
Pet shops need to be banned from selling pups, newspapers need to stop advertising pups for sale and internet sites who do the same should be wiped off the web, drastic yes but only when it's not so easy for the general public to buy a puppy will any change happen. In this easy come easy go world, it's the dogs that suffer every time, owning a dog is a privilege, they should be treated with respect and kindness, loved and cherished……maybe someday?
So if you are a dog lover do something in the new year to help even if it's just writing to your MP or the Welsh Assembly to voice your concerns, evil men only prosper when good men do nothing.
We wish you a happy and healthy new year, we just wish we could wave a magic wand and make the new year happy and healthy for all the dog in puppy farms throughout the land.
PUPPIES for sale video
Why it's important to know where your puppy came from.
Meet Kola the black GSD puppy - dumped on the rescue aged 14 weeks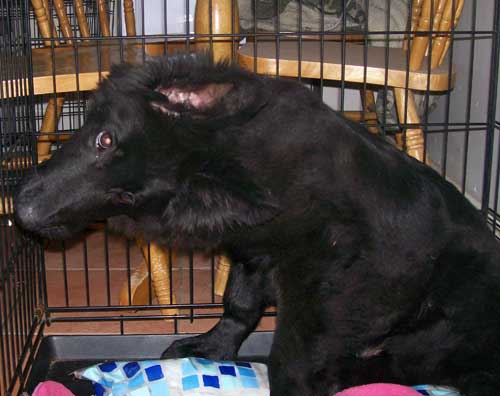 This is Kola who was dumped on the rescue at the beginning of November 2008 aged 14 weeks, by someone claiming to be a breeder of 12 years. Kola appears to have a degree of brain damage the cause of which has yet to be determined. Vets have suggested an MRI scan but the cost of that procedure is £1500 - £2000.
When Kola came into the rescue he had a belly full of worms - one of the worst cases the vet had ever seen. He was also unvaccinated so at risk of disease or dying. He was wormed immediately and this is what he passed:
Worms and latex gloves - 4 gloves in all!!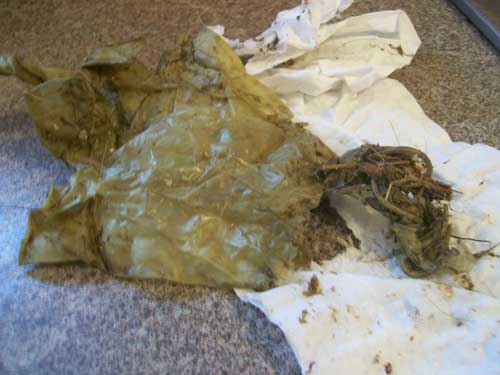 If this breeder in East Farleigh, Nr Maidstone, Kent has been breeding for 12 years, can you imagine how much money she has made from the sale of puppies? Yet she dumps this poor puppy on a voluntary rescue. The breeder denied this puppy basic veterinary care. Untreated worms can kill a young puppy. Not vaccinating puppies also leaves them at enormous risk of killer diseases such as parvovirus.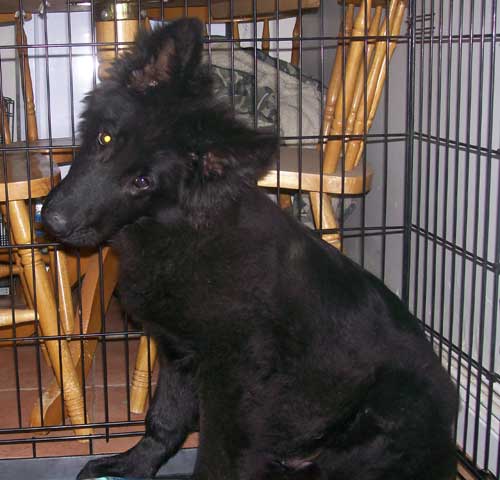 Kola will be given the best chance we can give him of a normal life but he will need a very special home. His breeder has washed her hands of this puppy - he is not saleable!!!
Stop this suffering and put the puppy farmers out of business. Do not buy puppies from breeders like this.
Please help us by making a donation so that we can help re home more unwanted German Shepherd Dogs. Donations can be sent to Jayne Shenstone, German Shepherd Rescue UK, Little Vauld, Marden Hereford HR1 3HA. We also accept Paypal payments - just click on the Paypal button below. Thankyou.