Holly Cruelty Case
Poor Holly, how could they do this
Holly is now safe but what a dreadful ordeal for this poor dog. Holly now needs to have some home comforts and is desperately seeking a new mum and. She loves attention and would be best suited in a home where there is always somebody in.
Holly - has now been rehomed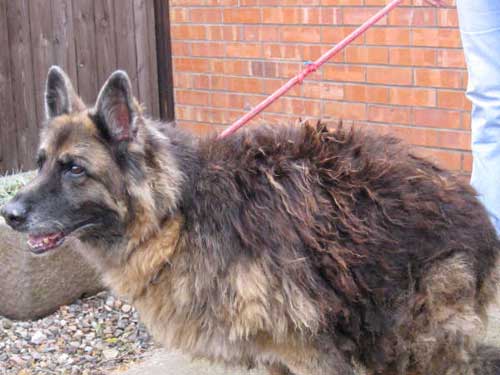 Holly was a cruelty case but signed over to the RSPCA for rehoming.
She's about 7 years old, was owned by a woman high on drugs most of the time. She was left out in her overgrown garden in Warndon Worcester, in all weathers. During the recent cold spell, there were lots of complaints to the Worcester dog warden, of her crying and whimpering all night. She actually was covered in frost in the mornings. She had to be sedated at the vets to remove her fur, which was all matted & full of wee & poo. At the same time, the vet x-rayed her back legs & she does have bad arthritis in her back legs/hips & muscle wastage. Her back legs kept collapsing when we first had her a few weeks ago, but since being on Metacam, senaqin & glucosamine/chondroitin, is not collapsing & walking much better - she's actually started pulling on the lead. She is lovely natured, loves people, company, fuss and attention. She doesn't seem keen on other dogs or cats but might be different in a home.
With a permanent fostering dog, Worcester branch of the RSPCA is willing to pay for ongoing medical/veterinary bills, because of her arthritis. The fosterer would provide TLC etc & food and be able to get her to the vets if necessary.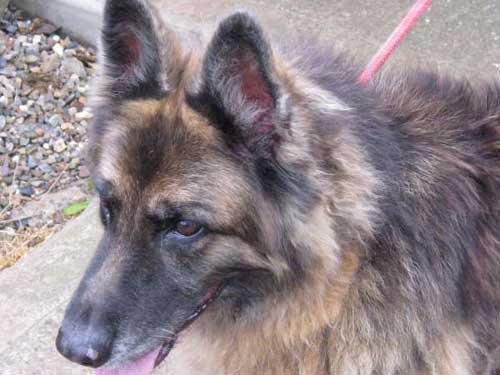 Please, can you offer Holly a home for Xmas - after all, it's not Xmas without some Holly about the place?
Holly was rehomed
Donations
Please help us by making a donation so that we can help re home more unwanted German Shepherd Dogs. Donations can be sent to Jayne Shenstone, German Shepherd Rescue, Little Vauld, Marden Hereford HR1 3HA. We also accept Paypal payments - just click on the Paypal button below. Thankyou.