Poundies
DOGS TAKEN FROM DEATH ROW
These lovely dogs were all in dog pounds and due to be put to sleep. They are all in the care of GSDR in boarding kennels and now need loving homes
These dogs have all been picked up as strays or handed in because their owners no longer wanted them. We have the little background on them but they all need loving understanding homes.
Tyler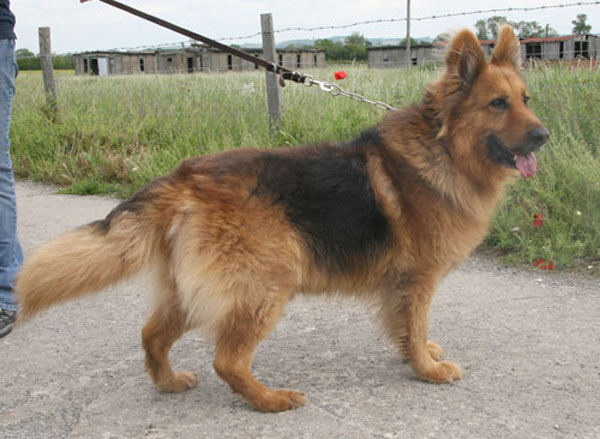 Here is another unwanted boy, came to us from the pound his days being up. The kennels say that he is a nice boy, shows no signs of aggression to man or dog. When picked up from pound travelled well, greeted volunteers with a waggy tail and was pleased to see them. Another volunteer who took photo said he has walked him with other dogs and he was fine. He is not tall on his legs very sturdy and a beautiful rich red in colour quite striking.
Jay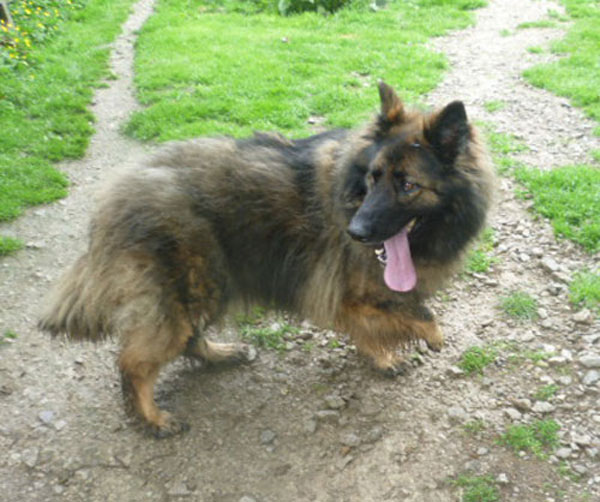 This is Jay she was brought to our kennels from the pound, she is a very friendly girl in need of a groom. She travelled well. But once we got her into the kennels the staff noticed she was holding up her foot we have had her to a vet and she has 3 toes on one pad this is a deformity and vet not seen anything like it. She is also very stressed in the kennels so we would love to get her out into a home of her own or a foster.She is fine with other dogs.
Razz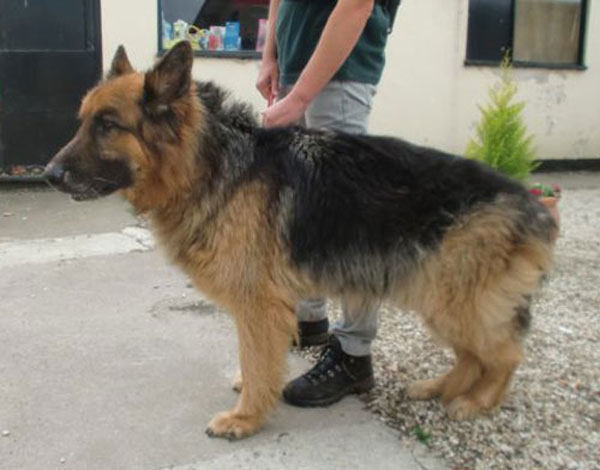 This boy is 7 years old and was handed in at the pound by a lady who found him straying. The owner was traced said she had sold him and didn't want to know. He is a very sweet boy, very friendly, seemed ok weight wise just a little thin round the middle, teeth grotty possibly with age and no dental hygiene. His coat was quite wiry, temperament seemed ok. The volunteer got him out of his kennel without anyone with her and he was fine. No signs of aggression at all, walked ok no toeing in or out although he was a little bit low at the back end. Great on the lead just pulled a little but nothing major. He does have cuts on his nose where he is damaging it at the front of the kennel. When volunteer left him, he rubbed his nose up the door and made it bleed again. A really nice boy.
Diesel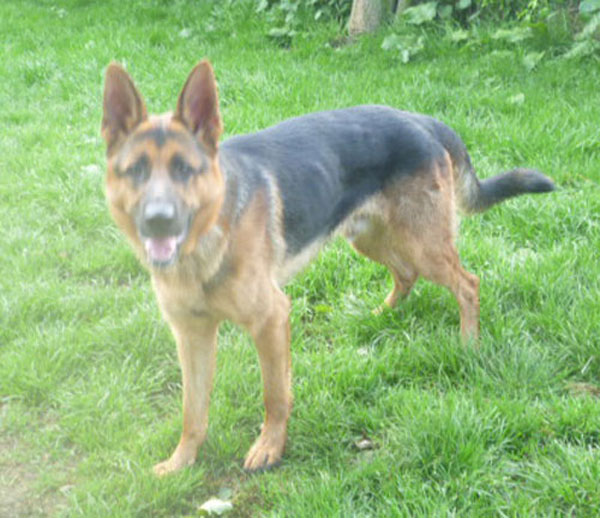 This is Diesel picked up from the pound in Sheffield we know very little about him. We age 18 months maybe 2 yrs He is very underweight, very strong on lead. A little jumpy but is settling after all this poor lad doesn't know what is happening to him. I will update any changes on him. Maybe an adult home as he maybe a little boisterous around young children
Charlie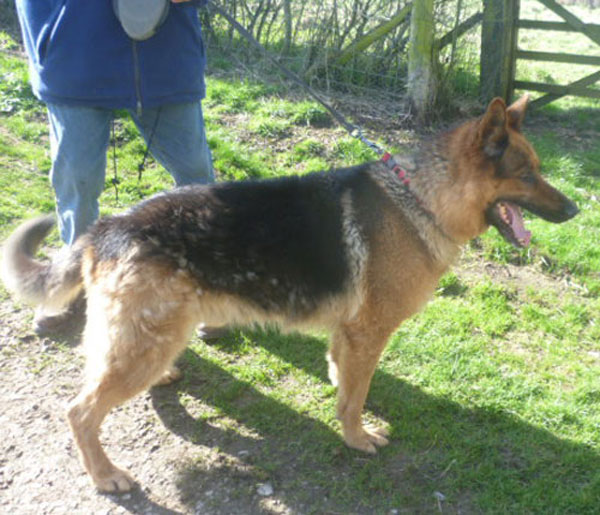 Charlie is yet another boy saved from being PTS he has been with us for 1 week now and I am told he is around 3-4 yrs he is a large lad, pulls on the lead so will need some training. He does not seem to be bothered by any of the dogs in the kennels. He will make someone a nice pet. He will need some training on the lead.
Ben - Harrogate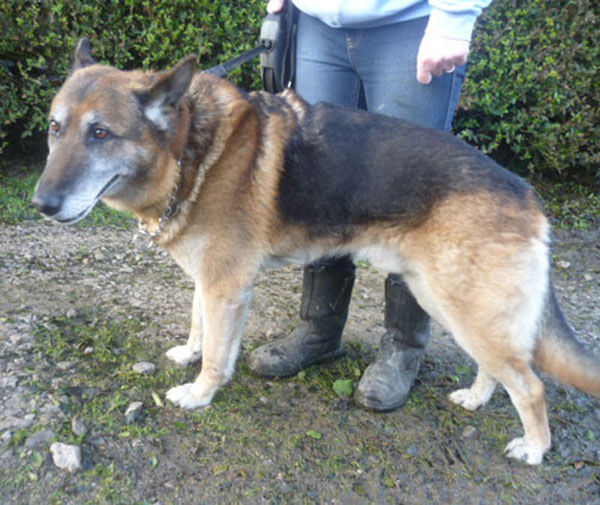 Another surplus to requirement. We have called this boy Ben, I had a call that he was to be PTS as no one wanted this gentle lad. Yesterday he arrived at the kennels, had travelled well although did cry but that was all he would wonder where he was going. I am told he is very gentle, cries whilst out with you needs reassurance, clean in his kennel seem in good condition. His age well he is very grey but both the pound and our kennels would say between 7-8 so Ben would suit someone who doesn't have to go on long walks up hills etc. I am sure he will be a very faithful lad. I will update as we learn more.
Hamish - Bristol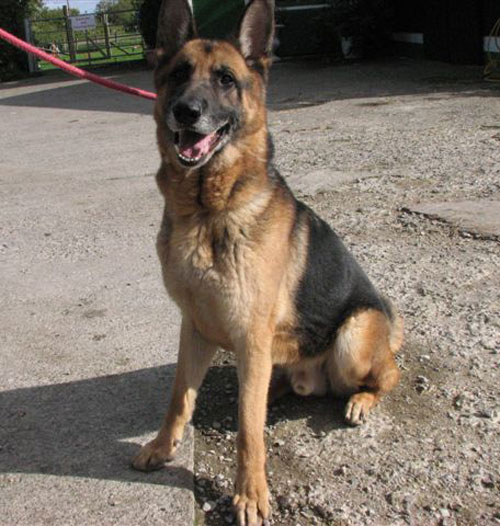 Hamish is a 4-year-old neutered male. He gets very excited and tends to jump up. Hamish is very alert and protective of his environment. He will bond nicely but needs an experienced handler that can show him authority and guidance.
"How Could You?" should bring tears to your eyes. It is very sad fact of life that many faithful pets have become disposable items and will be discarded, no longer required. Many of these will die unwanted, unloved and alone having spent the last few days, weeks or months in a filthy dank dirty kennel. Their final reward - a lethal injection!!
Poor Archie wasn't quite so lucky. His story highlights the plight of older dogs
Please help us by making a donation so that we can help re home more unwanted German Shepherd Dogs. Donations can be sent to Jayne Shenstone, German Shepherd Rescue, Little Vauld, Marden Hereford HR1 3HA. We also accept Paypal payments - just click on the Paypal button below. Thankyou.