GSD Ear Canal Ablation
Cassie the GSD who needed ear canal ablation
The vet informed us that Cassie required urgent ear canal ablation surgery or she must be put to sleep. The surgery has been done at the cost of £1800. Please, can you help by donating to help us fund this surgery?
This is Cassie, she was found wandering the streets and picked up by the Dog Warden. After a spell in the dog pound, she was picked up by GSDR and put in kennels.
Cassie has suffered for a long time with major growths and lesions in her ears, something that should be caught early and treated before it becomes deep-seated and affects hearing, balance and basic comfort. It is possible that the problems she has with her ears caused her to be thrown out onto the streets, her owners thinking that treatment was going to be costly.
This is the beautiful long-suffering Cassie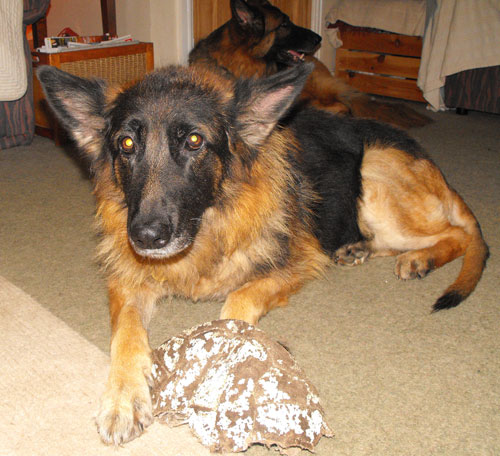 When Cassie was picked up by GSDR, the kennels were so concerned about her condition that they asked volunteers for urgent assistance to try and help her and to make her life more comfortable. She was constantly in distress, shaking her head, scratching at her ears which make her cry out in pain and rubbing her head against any surface that offered some relief against the constant irritation within her ears. The growths in the ear canals regularly become ulcerated and cause further suffering on top of the main condition.
Cassie after ear ablation surgery to ease her pain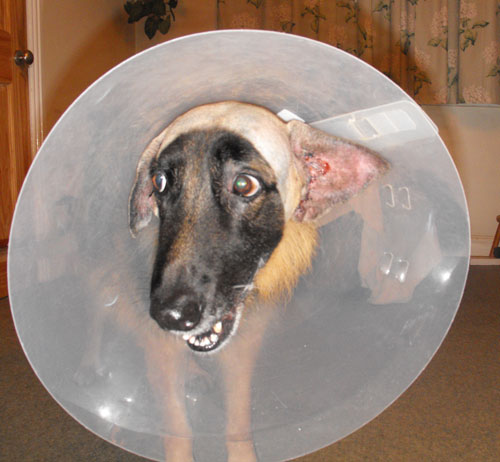 One of our volunteers offered to take Cassie in and to take her to the veterinary practice where she works to try and get some help for this lovely little girl. Cassie moved in with two big, protective GSDs and quickly settled into family life, bringing her own bubbly character to the household. Initial visits to the vets showed a serious condition that must have been causing her pain and suffering for years and it was clear that she would need major surgery to have any hope of a pain-free life.
Cassie n her foster home with friends prior to surgery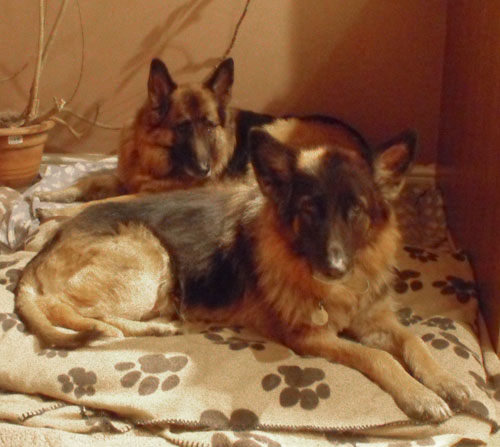 Cassie has been referred to a specialist vet who has agreed to carry out the surgery (Total ear canal ablation - TECA), which will remove her ear canals and leave her almost completely deaf but hopefully will make her more comfortable and able to enjoy the rest of her life.
We could not let the beautiful Cassie suffer or be put down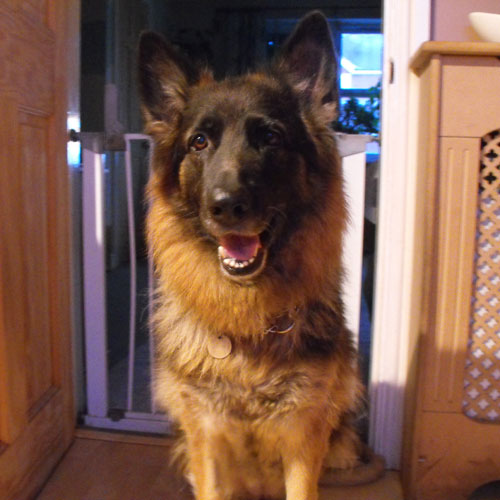 Since moving in with her foster family, Cassie has proved to be a lovely girl. We think she is between 7 and 8 years old, she is good with other dogs, despite barking when she meets them on a lead, this is partly due to her lack of confidence brought about by her condition. She has limited hearing at the moment but can detect high pitched noises. She has learned to detect vibrations and doesn't miss much. She will run off the lead quite happily and is learning a variety of signs to understand what is expected of her. She doesn't like to lose sight of you when out and therefore will not run away (although she does like to chase rabbits from time to time!) Cassie plays well with the two male GSDs she lives with, she rules the roost and loves to play with toys at every available opportunity. She loves human company and comes for cuddles on a regular basis. She has a lovely character and deserves to be pain-free so that she can fully enjoy her next years.
Not a pretty sight at the moment but on the road to recovery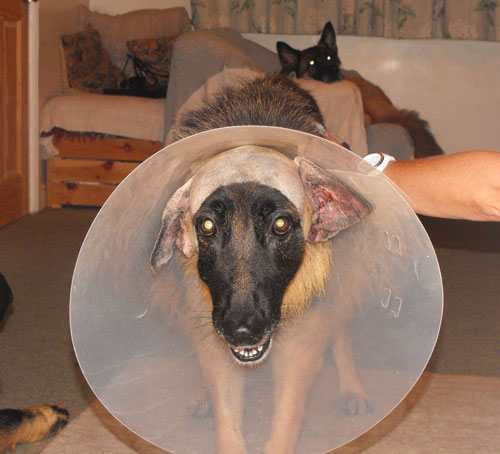 Cassie needs to put on a bit of weight but hopefully, when she has had her operation she will fill out and be even more content. She eats well and is very active and loves to sit for treats, offering you a paw when asked. She is happy indoors and outside, is fully house trained and has good manners. She does not like cats (like rabbits, they are there to be chased!) and she is fine with small children.
Cassie desperately needed this operation to improve her life and for such a lovely, happy girl it is just what she deserves after suffering for so many years. We would love for her to feel normal again and to be able to run about without pain and discomfort. We now need to raise funds to help pay the veterinary treatment she has needed.
We would like to thank the vets for capping the cost at £1800, we really do appreciate it.