Puppies Failed by RSPCA
GSD and her Puppies failed by the RSPCA
A mum and her 7 puppies let down by the RSPCA and rescued in the nick of time by GSDR. Dad is also safe too now.
Allison says: '7 absolutely gorgeous puppies. There are 3 Blue girls, 2 Blue boys and 2 Blk/ tan boys, almost 10 weeks old. Rescued by GSDR from an RSPCA cock-up. What more can I say except they are getting stronger by the day and are now looking for new families of their own. They are in foster in the Central Region and we would very much like to re-home in the same area so visiting is easy and potential new owners can visit more than once if necessary.'
Please do not ring and enquire about them if you are not home checked. The adoption fee for these puppies will be £250, they will have been treated for fleas and worms and possibly have had their first vacs.
It is worth pointing out before you read this, that a man was hauled to court by the RSPCA, forced to pay £1,500 and branded a criminal...for drowning a grey squirrel.
Report of events and how these dogs came to be with GSDR
ALL REHOMED
Believe it or not, this is an 8 week old German Shepherd puppy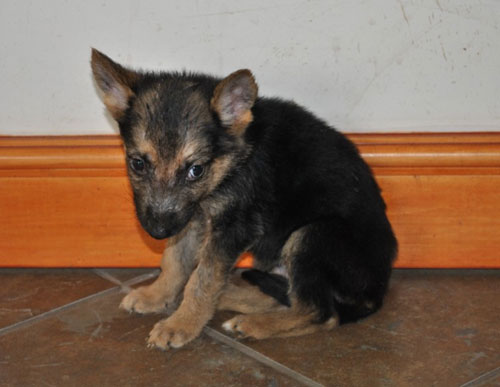 Yes, believe it or not, this poor little chap is an 8 week old GSD puppy - not a Yorkshire Terrier.......... yes your are right, a GSD puppy should normally be twice the size of this one. The RSPCA received a complaint about mum and her pups when they were just 2 weeks old. An inspector was sent to see them and confirmed they should all be carrying more weight but as the pups were still with mum (also very underweight), there was little he could do..... So that was what he did - nothing. He went back to the office and actually closed the case as he was soon to retire from his job.
This is their emaciated mum, unable to feed her puppies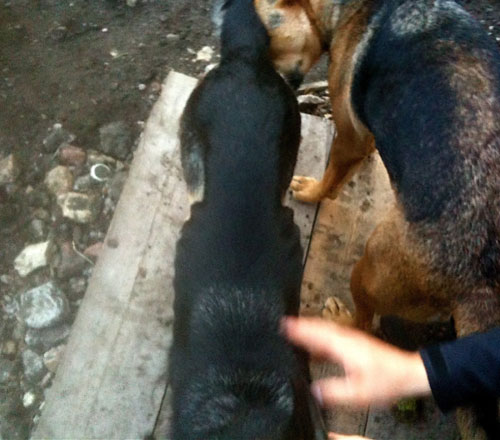 This is a picture of mum - make up your own mind. Does a dog get into this state overnight? This poor dog was trying to feed her pups yet she was emaciated herself yet the RSPCA inspector felt happy to close the case!
A boxful of sick, emaciated puppies are picked up by a GSDR volunteer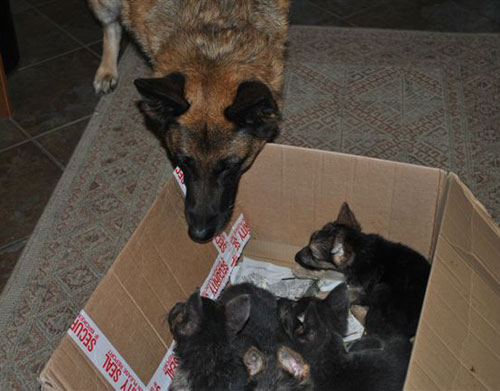 6 weeks later and local residents could stand it no more and over 20 complaints were made to the RSPCA cruelty line with a plea to come and rescue these poor animals while there was at least a little life in them. The complaints started at 9.15am on Wednesday 28th July 2010 following which mum and 6 of the 7 puppies were lifted and taken to a vet then kennels where they were picked up by volunteers from GSDR.
All hands on deck for 24-hour care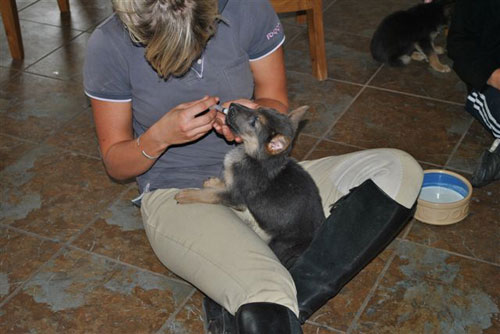 It was touch and go at first for some of the puppies but our dedicated volunteers provided 24-hour nursing and feeding and brought these puppies v]back from the brink.
Puppies had to be bathed as they were in such a state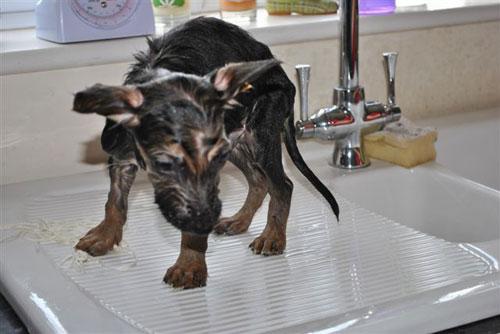 When the puppies came to GSDR they were absolutely riddled with fleas which were eating them alive and their bellies were riddled with worms. Look at these little mites, does it not make your blood boil that they could have been treated this way and failed by those with the power to help?
Snuggling up after bathtime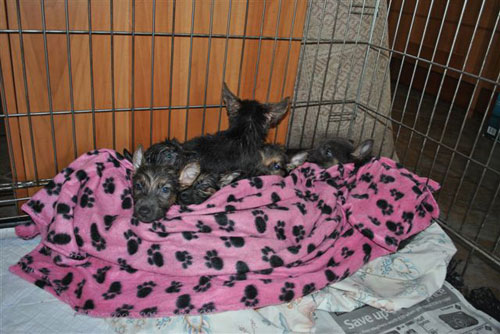 They must feel so much better now, bless them.
Wow, a ball - haven't seen one of those before!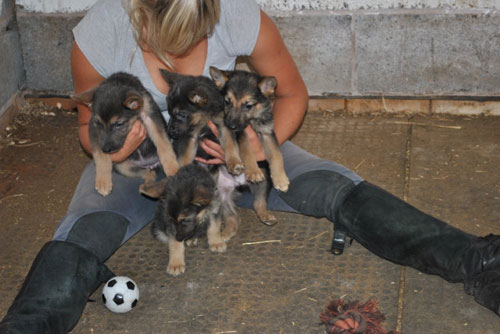 This has all been very tiring, much hard work but worth every minute to see these little puppies survive and progress so well.
Who would have thought a carrot could be so much fun?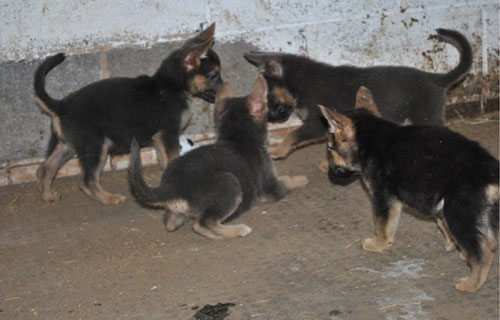 Puppies are now in a happy safe environment where they are learning the necessary skill to develope properly. Just in case you are worried about the 7th puppy - As you can imagine, GSDR and the lady that first alerted us to this sickening charade were not about to let this go. This lady visited the owner's house to see if the puppy was still with him and it was. We demanded that the attending RSPCA inspector removes this puppy at once so that he could be reunited with his now recovering brothers and sisters. After many heated phone calls and texts, the little chap was reunited with the rest of the litter.
Nurse Dave - total dedication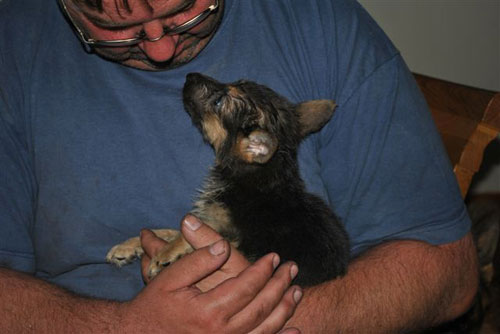 Nurse Dave - 6ft 4" .and a big softy with a huge heart. The puppies are all making fantastic progress thanks to the dedication of Allison, Dave and all their helpers. It really has been a case of all hands on deck to make sure that these poor little mites survived.
A look that says it all.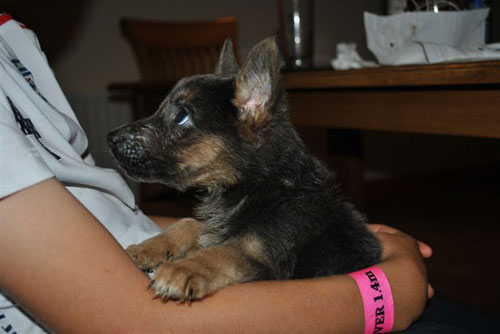 After having read this, can you believe that the RSPCA left the male dog in this home? Rest assured he is now safe in a foster home.
Feeding time is interesting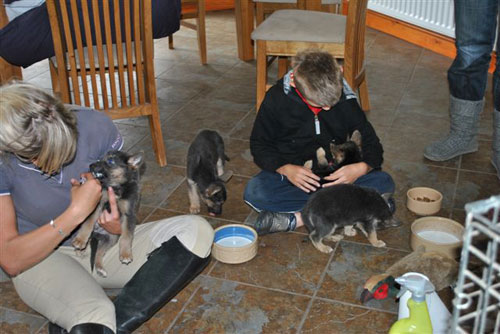 Here are a few pics of the sexy little monkeys to wet your appetite.
Meet the big guys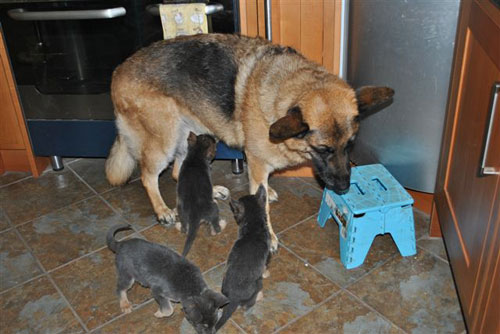 Allison has 5 GSD's of her own, so time to meet the big guys. This is Tig
Wow scary stuff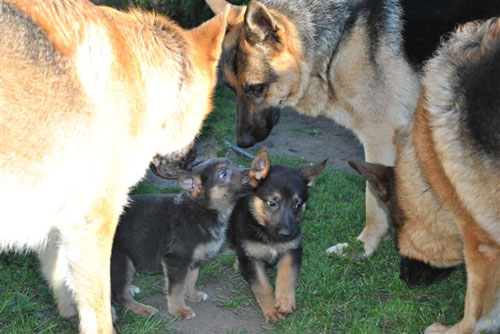 The puppies are now being well fed, socialised and meeting people and mixing and playing with Allison's dogs which will be great grounding for the future.
Seriously cute time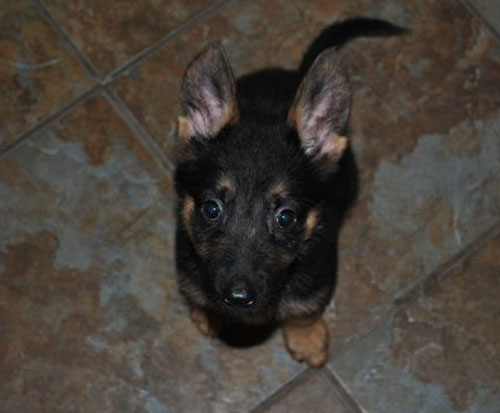 Look at that little face!
It is hard work being a puppy or a GSDR volunteer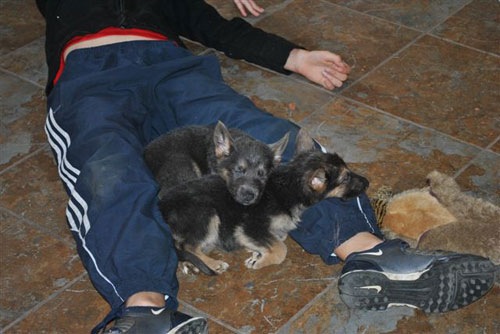 ALL REHOMED
Please help us by making a donation so that we can help re home more unwanted German Shepherd Dogs. Donations can be sent to Jayne Shenstone, German Shepherd Rescue, Little Vauld, Marden Hereford HR1 3HA. We also accept Paypal payments - just click on the Paypal button below. Thankyou.