GSD Helps Aspergers Syndrome Boy
Sabre and Baylee
Youngster Baylee Neal, who suffers from Asperger's Syndrome, had difficulty interacting with people – until his mother rescued a German shepherd dog which has changed their lives. Featured in the Shropshire Star
Baylee's bond with pet Sabre is animal magic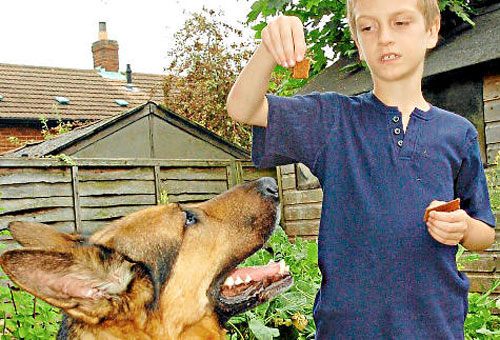 Sam Crump, 40, from Arleston in Telford, wanted to help her seven-year-old son to interact more and develop and turned to an animal rescue centre for help. Miss Crump saved four-year-old German shepherd Sabre.
He was found severely underweight after animal inspectors discovered him at an address in Nottinghamshire.
When she brought Sabre home he was just 24kg, instead of the normal 32kg, and refused to eat until Baylee started to hand-feed him four weeks ago.
Miss Crump said the pair now have a special bond which has seen the youngster flourish in just weeks.
She said: "Most children with Asperger's are quite intelligent so we wanted an intelligent dog that could interact with him and I have always had rescue animals.
"We went to the centre and got him and he was not in a good state.
"He always assumed he did something wrong and his ears would go down if you stood up too quickly or raised your voice.
"But Baylee started to hand-feed him and he will allow Baylee to touch him anywhere.
"He gets very excited when he sees Baylee and he always licks him on the face. Baylee, in turn, has found someone who he is not confused by their body language.
"It's bringing him out of his shell.
"They both go into the garden and come up with these games and they really enjoy it, even the cat joins in.
"They do it for hours and they understand each other."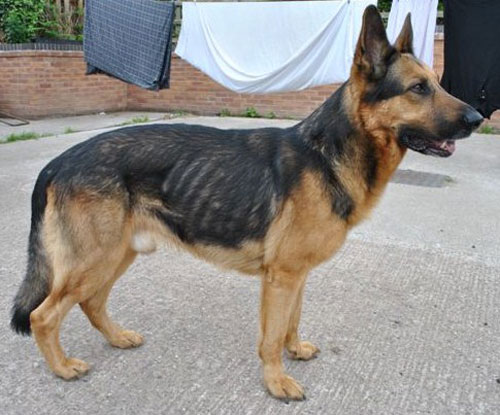 Please help us by making a donation so that we can help re home more unwanted German Shepherd Dogs. Donations can be sent to Jayne Shenstone, German Shepherd Rescue, Little Vauld, Marden Hereford HR1 3HA. We also accept Paypal payments - just click on the Paypal button below. Thankyou.