German Shepherd Rescue Articles
---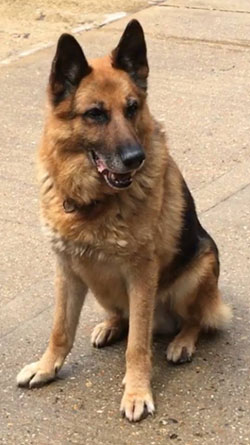 Zeus Came to the UK and Has Now Been Rehomed
My name is Zeus. I am now the only survivor of 3 dogs destined for the UK. Unfortunately my friends Mufasa and Derek didnt make it.
Can you imagine having a thick, metal, rusty chain embedded in your neck? Every movement you make causes you pain in every minute of every day?
Can you imagine being tied up outside, with no shelter from the heat or from the cold and being fed scraps? Can you imagine ALL of this and then being abused as well? A stone thrown here, a kick there? Well, Zeus knows. This was his existence as a guard dog in China. His life was a living hell.
Zeus is now in foster where he is having a ball with lots of fields to run in and lots of new places to explore. He has bonded with his foster dad and is being a very good boy. He loves people despite the dfrueklty inflicted on him back out in China.
Zeus is fine with other dogs as liong as they are not in his face. He could certainly live with a female companion.
His dream is to find a loving home with a family who can give him what he has never experienced and that is LOVE. His Story
Whoever is lucky enough to adopt Zeus will have a wonderful faithful companion, he is a gorgeous boy.
---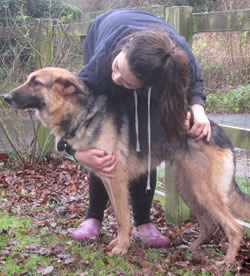 Update on pregnant dog who was 'left for dead' and gave birth to puppies
At around 5.30am on Sunday 20th September in atrocious weather conditions, this poor dog was found by a member of the public tied up outside Hanchurch Woods in Stoke. She was found in a very poor condition, emaciated, covered in faeces, smelling of urine and unable to eat.
She was taken to an emergency vets in Stoke as she was in a state of collapse, she had hypocalcaemia and was immediately put on a drip.
Staff were worried about her underlying condition so performed a scan which revealed that she was in fact very pregnant.
In the early hours of 24th, Sally gave birth to 9 puppies.
Find out what happened to Sally and her puppies
This is a story with a very happy ending..............
---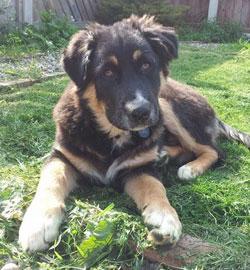 Campaign To Expose Vaccine Dangers
These two puppies, Bilbo Baggins and Lyra, were born in rescue after we took on a female GSD who unbeknown to us was expecting. Bilbo and Lyra have never been vaccinated but instead, have received 'nosodes' to build up their immunity.
Nosodes are a safe, cheap alternative to toxic vaccinations which are peddled by big pharma and veterinary practices and which are nothing more than revenue generators.
The first vaccine usually given as a very young puppy is probably the most dangerous.
Chris Day is probably the most well known homoeopathic vet - 'Sadly, the acute-onset problems and the chronic issues can be set up by even the very first vaccine event in a susceptible individual. We have even witnessed puppy and kitten deaths after the first dose.' Guidelines on Nosodes.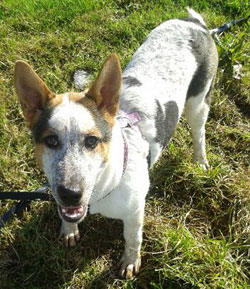 Chris Day the Alternative Vet: 'No manufacturer will guarantee the safety of vaccination. Quite apart, from dangerous and life-threatening anaphylactic reactions that can occur within hours of the injection, transient fevers and malaise and injection site lumps or abscesses, there can be chronic late-onset problems. As a referral centre dealing mainly with troublesome chronic disease, our own research suggests that over 80% of chronic illness that we see starts within three months of a vaccination event. Such problems include skin problems, allergy, atopy, autoimmune problems, heart murmur, meningitis, encephalitis, paralysis, nervousness, excitability, epilepsy and seizures, CDRM, cardiomyopathy, colitis, chronic diarrhoea, ear problems, 'virus' in horses, sarcoid, COPD and headshaking. It may even be that syringomyelia may be triggered by vaccination. Proving an association in any single case is not possible, but the overall statistics are frightening.'
---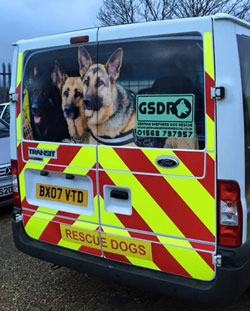 The new NE GSDR Dog Transporter
UPDATE Feb 2018. Vehicle scrapped because it was unfit for purpose. This vehicle which turned out to be a rust bucket and pile of junk, was supplied by Simon Harder from www.wesellpolicecars.com who is a GSD owner and claimed to be a keen supporter of GSDR. We know of other people who have had similar experiences. Do not buy a vehicle from this cowboy.
GSDR 'Team North' take delivery of their very own fully kitted out four kennel GSDR van thanks to the grant we were awarded from Support Adoption for Pets.
This transporter van will make a huge difference for our NE Dog Co-ordinator Julie and will save on time and precious funds meaning we can save more poor unfortunate souls.
You have to admit that it looks pretty amazing, the graphics are incredible and it will get the message out to people in the NE about who we are and what we do.
Who is going to dare break into that van?
A massive thank you to Support Adoption For Pets for giving us the grant to buy this van.
---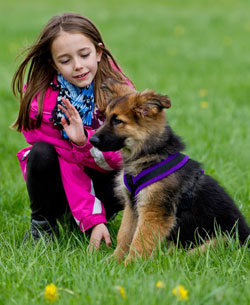 The Health Benefits Of Living with a Dog
The benefits to human health associated with having a canine companion around the house are numerous, but very often understated. Some are pretty obvious.
If you take looking after your dog(s) seriously, you will be out walking with them for at least a couple of hours a day, exercising them and yourself. If you have young dogs and you walk briskly, or even jog, then you are going to be burning off calories working out doing something which is hopefully enjoyable for both you and your dogs. Even a slower ramble with the oldies strengthens bone and muscle and gets your circulation going, helping to unclog those veins and arteries which our increasingly sedentary lifestyles impose upon us. It's not just the physical benefits of walking either; just being out and about in the fresh air and the sunshine (or even the wind and the rain!) is mentally stimulating and one of the best cures for mild to moderate depression.
Seeing your dogs happy and running around playing, sniffing, doing doggy things and generally just enjoying themselves is uplifting in itself.
---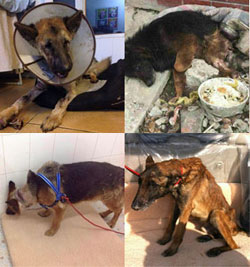 Incredible Cruelty Inflicted on The Shanghai Four
These four dogs have suffered appalling cruelty by the hands of humans, all four were taken to safety to be prepared for travel to the UK thanks to International Rescue.
Sadly poor Musafa didn't make it. He had suffered a lifetime of cruelty and his broken body simply could not be mended as he was too old to cope.
Ted and Rex have found wonderful homes and Zeus is being prepared for travel to the UK.
Once Zeus arrives in the UK he will be looking for a forever home, we do not want him to have to go into kennels.
This is Shanghai Rexs' Story, read more about Shanghai Ted. Read about their incredible journey to freedom.
---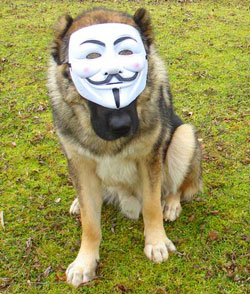 Rescue Has Changed
We here at GSDR don't just rescue dogs; we like to think long and hard about the wider issues affecting dogs and the people who care for them – health, responsible breeding, cruelty towards dogs (in the UK and elsewhere), lack of awareness/education among dog owners (leading to suffering of animals), increasingly Draconian 'dangerous' dog control legislation, increasing incidences of discrimination against dog owners (particularly by councils and landlords/letting agencies/housing associations) etc.
All of these issues are intimately interconnected in our society and they give rise to the urgent problems which GSDR originally came into existence to try to alleviate and which are now threatening to overwhelm our finite resources. Coupled with this, we are now faced by frequent unprovoked, unwarranted and highly personal attacks from former rescue members who seemingly are intent on causing as much disruption as possible to the efficient running of GSDR, whilst at the same time attempting to raise their own profile and line their own pockets with money which should be destined to help dogs.
---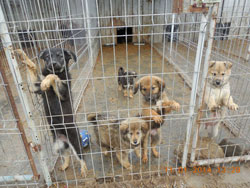 Dogs Treated Like Disposable Commodities
It's a sad fact of life that a majority now treat dogs as disposable commodities. Many of these poor souls will end up unwanted and will face being dumped on the street, offered free to good home where they are likely to end up as bait dogs for the dog fighters, being euthanased or the lucky ones will end up in rescue where hopefully a new home will be found.
Rather than the large animal charities which rake in millions every year in donations, we suspect now that more dogs in the UK are rehomed by voluntary organisations like GSDR where nobody is ever paid a salary.
We are all involved simply because of our love of dogs and our desire to help those in need.
---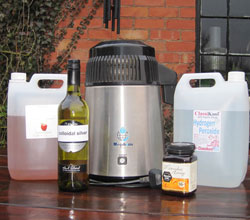 Anal Furunculosis
Over the years I have seen many cases of anal furunculosis, its horrible and mainstream treatments rarely work long term and you need a mortgage to cover the costs.
Although anal furunculosis (AF) can affect other breeds, it is a chronic progressive immune mediated inflammatory disease that is most commonly seen in middle aged or older German Shepherds.
AF affects the area surrounding the anus resulting in ulceration, inflammation and fistulas.
It is my belief that the increasing number of autoimmune problems that we are seeing more and more in our pets, is as a direct result of vaccinations.
---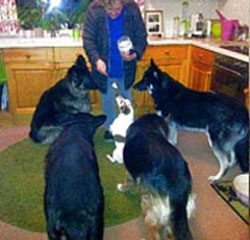 The Chance Of A Lifetime - A Volunteers Story
I knew that there was animal cruelty in this country and that it was even worse abroad. But I had tried not to know too much about the details.
I paid my dues to the RSPCA: what else was there to do? I argued that there was no point in going into the detail of the suffering, if I were unable to do anything practical about it. I still feel like that. The horror of graphic pictures of the torture of helpless animals does nothing to raise my consciousness: it simply haunts me.
I cannot cope with visual images. I am possessed by them and have flashbacks that invade me against my will and affect my life and happiness. I could easily become clinically depressed by this. So, I never imagined that I could do 'rescue work'. But I do. No, I have not emerged, phoenix-like, from snivelling wimpishness. I am still that person. I have merely discovered that there are many other ways to help the cause.
---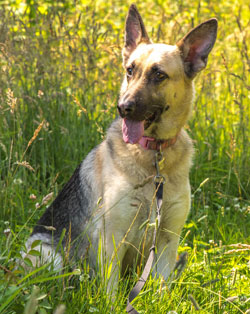 Why Vets Are Getting Away With Murder?
"The veterinary profession is broken, and it isn't about to change anytime soon. Our pets are being over-serviced, and we're getting fleeced. We pay for the unnecessary vaccinations, the overly-processed, synthetic prescription pet foods that contain ingredients from China, and we pay for drugs and chemicals that are damaging to the immune system.
After shelling out for these services, pet owners need to keep their wallets open because, sooner or later, the chronic disease caused by these products like allergies and cancer will start to kick in and require treatment. They threaten the quality and quantity of life for our companion animals – and many of these diseases are caused by the products vets tell us are safe and effective.
The sad fact is some common veterinary practices are harming our dogs. Vets today have too many drugs, vaccines and chemicals at their disposal and they're overly willing to dispense them. The worst part is that they hold no accountability for their actions. In short, they can and do ignore vaccine label recommendations or prescribe harmful or unnecessary drugs and we pet owners have no recourse." Why Are Vets Getting Away With Murder?
---