German Shepherd Dog Articles
---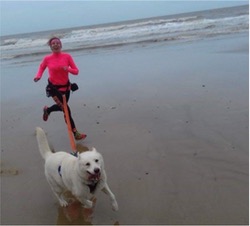 Journey With A White Dog
A wonderful adoption story about a young white dog that had been a long term kennel dweller who had been overlooked for adoption because he wasn't perfect and had a few issues.
Bruce is a GSD/Husky cross who had a strong prey drive and reactivity/fear issues which meant most people wouldn't even look at him. His adopters carefully researched his issues as well as learning about the needs and characteristics of his husky side.
Bruce was high energy and needed more than walks, he needed to run. Fortunately, his new mum and dad are both keen runners and he loved canicross, it was just what he needed.
In 2017, his adopters realised all was not well with Bruce and discovered that he had, in fact, got the dreaded degenerative myelopathy (DM) and since he didn't normally like being handled, they thought that this would be the end for Bruce. However, his passion and spirit shone through, he isn't ready to throw the towel in and he still enjoys short runs. Just look at Bruce go
This is a perfect example of just how rewarding a rescue dog can be with effort and time. So don't come to us with a shopping list for your perfect dog because that is not what rescue is about, all dogs deserve the chance that Bruce was given.
---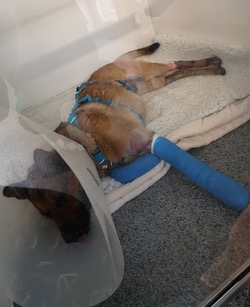 Drake Sustains Terrible Injuries On The Way To His New Home
It is with great sadness that we have to inform everyone that Drake has gone to the rainbow bridge; we are all utterly devastated and shocked, we have shed some tears this afternoon.
We want you to know just how hard we fought for him and that he was much loved by his GSDR family
When Helen and Drake arrived at the hospital, he underwent tests, Noel said that the dog was much worse than originally thought and that surgery was not a viable option.
The chances of success of the carpal fusion would have been less than 5% and the chances of him regaining any function in his right leg less than 10%. To complicate matters further, he had severe elbow dysplasia in both legs, and his wounds were not healing properly.
Noel said that it would be immoral to do the surgery because there would have been little chance that it would have worked and that he would simply have no quality of life. Drake was a big dog, and his instinct would have been to weight bear on his front even if we had tried the wheels.
Helen noticed a big difference in Drake today, he was really shut down, they didn't even have to sedate him to do the tests.
We were not expecting this outcome today at all, but we are glad that Noel was honest with us
Drakes injuries he said couldn't have been worse and he was such a sad dog as though he had given up on life.
Noel Fitzpatrick is an amazing man he gave Drake so much of his time, passed his other clients to other people to be with him.
As Drake didn't like to be inside Noel set a blanket up outside for him to lie on so Helen could cuddle him. He turned people out of the car park so Helen and Drake could have privacy and hugged Helen until she was calm. He has not charged us for anything.
We would like to thank all of you for your support and donations. Noel said that he had never come across a charity that was prepared to go to such lengths to help a dog and he would have been happy to have worked with us if there had been any hope for Drake.
We have substantial invoices coming from Langford which your kind donations will cover, but we hope that any funds that are left you agree to us using to help other dogs who are needing the help of the rescue.
Today we have a dog called Jake in the NE that has been rushed to the vets with bloat so we hope they can save him and we also have a dog named Alfie requiring a hip operation.
Thank you, everyone, for your support and donations and special thanks to Helen, who has been there for Drake throughout his ordeal and who stayed with him until the end.
---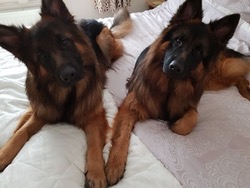 Blaise and Yogi Bag Themselves a Home Together.
From their adopters: Please meet our 2 boys we have had them since the beginning of Oct 2018. They are brothers and are age 2. They have come on in leaps and bounds, we could not get a collar and leads on them when we first met them, they are better now, one of them still has to try and eat the collar first. We have had a few issues and still have one or two things to iron out, but we will get there with time and patience. We had a trainer to give us some help and tips, even though we have had GSD's for 37 years we still needed advice.
They had no basic training etc, I take them to a secure field a few times a week and train. They just love to work, their reward a ball and they only get it when they do what is asked.
They have been to the doggy spa and bit nervous to start but loved it.
We go out twice a week with a dog walking group to help socialise them, especially the one, as he is very vocal and has little dog syndrome.
If you are reading this and are in two minds whether to adopt or not, my advice is to do it, yes you will have issues, you need lots of patience, and don't expect miracles to happen overnight.
Rescue dogs are not damaged dogs; they have just been let down by humans. It should not matter what colour, size or age they are - that is not rescuing. Dogs like these deserve a chance, not jail!! Can you free a dog from kennels and give him or her a kind loving home?
If you can help, please fill out an adoption/foster form. These are some of our kennel dwellers.
---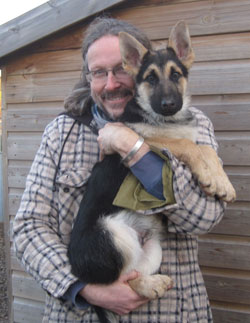 Concerns Relating To Holmer Vets Hereford
This is to document some worrying experiences with Holmer Vets Hereford from September 2015, which in our opinion point to negligence and incompetence. Prior to that date, we had no issues, well certainly not with the more senior members of the practice.
We will start with the most recent case which happened in March 2016. In a separate article, we will document further evidence to expose one particular member of staff who we believe had a malicious agenda towards us and we will show you why.
This is the story of Lad, a 6 month old German Shepherd puppy who was treated by them in March this year after becoming very unwell. Had we not eventually removed him from their practice, we have no doubt that he would have died.
---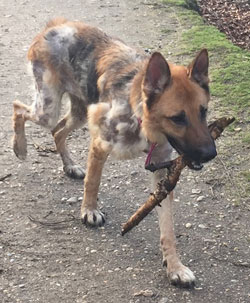 Princess Ruby Shocking Case Of Neglect
You would be forgiven for thinking that this was a dog found on the streets in eastern Europe, but sadly this poor girl was taken to a vets in London by a lovely chap who had been made aware of her plight by his daughter, who was one of the flatmates where she was living.
When her rescuer visited Princess Ruby, he was appalled and immediately contacted the RSPCA who told him to take the dog to an emergency vets! The vet told our volunteer that when first admitted Princess Ruby was emaciated and weighed just 20Kg and 30% of her body was covered in open sores. She smelt terrible, she was anaemic, dehydrated and extremely weak.
She had to be carried down the stairs of the flat and the vet confirmed that she could barely stand. One of the vet nurses stated that she had never seen a dog in such a bad state.
This is shocking story of Princess Rubys' Neglect
---