Dangers Of Lepto 4 Vaccine
Veterinary Negligence Leads to the Death of a German Shepherd Puppy with the Deadly Lepto 4 Vaccine.
RIP Nova just 13 weeks old.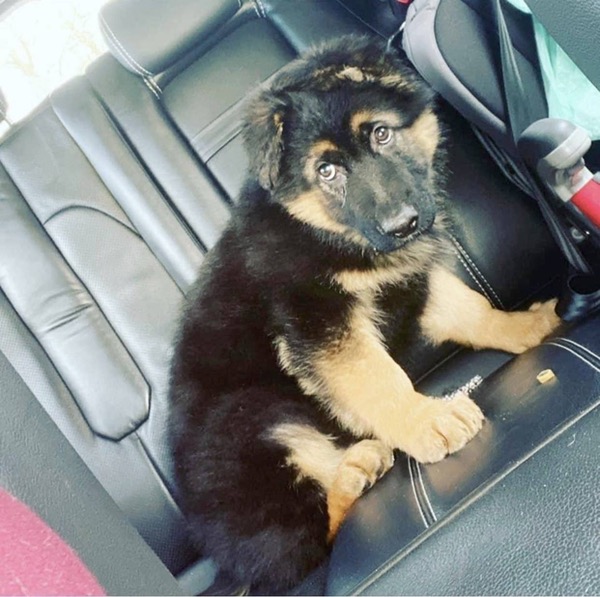 Unfortunately, not all stories have a happy ending and what is worse, in this case, is that this puppies death was caused by human greed, veterinary negligence and corruption.
Over the Christmas weekend, the SW team were contacted by new owners who had a very sick puppy but claimed they couldn't afford the vet bills.
These people drove all the way from SW to Yorkshire to purchase this poor puppy from a back street breeder for the princely sum of £2200. We believe that the puppy had been sold at least once before but for some reason had come back. The mother and father were seen on chains being kept in a tiny shed in a very small garden. The breeder told the new owners of Nova that they had made £18,000 from this one litter.
The new owners were informed that the puppy had free KC insurance which appears not to be the case.
The puppy was normal health-wise although clearly not socialised and wary of people which is not surprising given that she had been kept in a cold dark shed.
Vaccinated with the deadly Lepto 4 vaccine.
She was taken to the vets on 22nd December and given what we believe was her second lot of vaccinations including the deadly Lepto 4 vaccine.
Five days later, after becoming lethargic, not eating and generally very ill, they returned her to the vets. The puppy had profuse diarrhoea, anorexia, dehydration, tachycardia and was jaundiced. Blood tests revealed acute kidney and liver failure, she also displayed neurological symptoms suggesting brain damage.
At that point, the owners stated that they could not pay any further vet fees and Vets4Pets refused to treat unless payment was guaranteed. Vets4pets claimed they had no overnight facilities and wanted to refer her to Langford vets who they spoke to but who advised it would cost £4-5,000 and prognosis was poor. Nice little earner for veterinary negligence!
So poor Nova went home for yet another night of suffering and was then brought into our care on Monday. It was clear from the moment I saw her that she was indeed a very sick puppy who deteriorated over the afternoon. She was taken to an emergency vet where we had no choice but to agree to euthanasia as all her organs were shutting down. I asked the vet if there was any chance that we could save her, but he said even if we got her on a drip and gave her medication, this could last weeks and we would still end up with a dead puppy or one whose kidneys and liver were seriously compromised. It was clear that she was suffering from neurological symptoms (brain damage) because of the way she held her head, her eyes could not focus; she was also in pain.
GSDR will always go that extra mile to help dogs that need treatment no matter what the cost and I would happily have committed to her treatment if there had been any chance of pulling her thought it without more suffering.
I had to watch this puppy die, knowing that she died because of a toxic vaccine and one that is known to have caused the death of many dogs across the world. Sadly only a small number of these deaths ever get reported because vets refuse to acknowledge that this vaccine is deadly. Don't forget that vaccines are an important source of revenue for vets and big pharma, creating customers for life.
When I suggested that this was as a result of the L4 vaccine the vet quickly jumped in and said no I have never ever seen that before and claimed that Nova had caught leptospirosis after the first vaccine!
'We've been informed of many cases of dogs contracting lepto after getting the vaccine. And in the Canine Health Concern vaccine survey, 100% of dogs with leptospirosis contracted it just after being vaccinated against it.'
'Most veterinary experts agree the lepto vaccine is the one that's most likely to cause serious adverse events. Events such as sudden death and autoimmune disease that the European Medicines Agency had already reported. The WSAVA even claims that leptospirosis vaccines "can be associated with adverse reactions" and are "associated with as many or more adverse reactions than occur for any other" optional vaccine on the market.'
Reports Show UK Dogs Are Dying From Lepto Vaccine

We are so sorry that we couldn't help this poor puppy who had not had a good life and was betrayed by humans from the day she was born. I will never forget that little face as she went over the bridge, but her suffering is now over.
We will not let her death be in vain; we will do all we can to stop this disgusting breeder and continue to inform dog owners of the dangers that some recommended veterinary treatments can pose. The health and well being of your pet has been monetised and become a very profitable industry and one that is not about health and well being but about £££££££.
Figures Indicate Leptospirosis Vaccine (Nobivak L4) Kills More UK Dogs Than it Saves
….in the last two years, regulators have received 2,000 reports of dogs having suspected adverse or fatal reactions …reports made to the Government's Veterinary Medicines Directorate (VMD) indicate more than 120 dogs are feared to have died…in the three years the product has been on the market…
Dog owners concerned as thousands of dogs dying or suffering.
Dog owners are being warned against the side effects of a vaccine that has caused thousands of beloved pets to die or suffer severe allergic reactions.
Campaign to Expose the Dangers of Vaccines.
The recommendation for just one dose of puppy vaccines is not good enough, these are probably the most dangerous.