German Shepherd Jumps Out Of Car Sustains Terrible Injuries
German Shepherd Rescue is The BIGGEST & The BEST DOG CHARITY in ENGLAND & WALES! Helping Injured German Shepherds.
It is with great sadness that we have to inform everyone that Drake has gone to the rainbow bridge; we are all utterly devastated and shocked, we have shed some tears this afternoon.
We want you to know just how hard we fought for him and that he was much loved by his GSDR family
When Helen and Drake arrived at the hospital, he underwent tests, Noel said that the dog was much worse than originally thought and that surgery was not a viable option.
The chances of success of the carpal fusion would have been less than 5% and the chances of him regaining any function in his right leg less than 10%. To complicate matters further, he had severe elbow dysplasia in both legs, and his wounds were not healing properly.
Noel said that it would be immoral to do the surgery because there would have been little chance that it would have worked and that he would simply have no quality of life. Drake was a big dog, and his instinct would have been to weight bear on his front even if we had tried the wheels.
Helen noticed a big difference in Drake today, he was really shut down, they didn't even have to sedate him to do the tests.
We were not expecting this outcome today at all, but we are glad that Noel was honest with us
Drakes injuries he said couldn't have been worse and he was such a sad dog as though he had given up on life.
Noel Fitzpatrick is an amazing man he gave Drake so much of his time, passed his other clients to other people to be with him.
As Drake didn't like to be inside Noel set a blanket up outside for him to lie on so Helen could cuddle him. He turned people out of the car park so Helen and Drake could have privacy and hugged Helen until she was calm. He has not charged us for anything.
We would like to thank all of you for your support and donations. Noel said that he had never come across a charity that was prepared to go to such lengths to help a dog and he would have been happy to have worked with us if there had been any hope for Drake.
We have substantial invoices coming from Langford which your kind donations will cover, but we hope that any funds that are left you agree to us using to help other dogs who are needing the help of the rescue.
Today we have a dog called Jake in the NE that has been rushed to the vets with bloat so we hope they can save him and we also have a dog named Alfie requiring a hip operation.
Thank you, everyone, for your support and donations and special thanks to Helen, who has been there for Drake throughout his ordeal and who stayed with him until the end.
Please note that it is a criminal offence to have a dog unrestrained in a vehicle! This happened on the M5 at speed and one person's stupidity could have caused a pile up with human casualties.
On Friday 30th May we were overjoyed when Drake was adopted after spending most of his short life on a chain. He was handed over by a wonderful volunteer who ensured that he was tethered safely and securely in the boot of the vehicle before going off to his new home.
The joy was short lived when we received a phone call on Saturday morning to inform us that he had been involved in a serious accident on the way home.
For some reason, the adopter thought it would be a good idea to move the dog from the boot into the back seat of the car, god only knows what was going through their heads when this decision was made. From here a catalogue of disasters proceeded, resulting in the window being fully opened while travelling along the M5 and Drake leaping out of the moving car with the adopter still having hold of the lead.
Drake in Hospital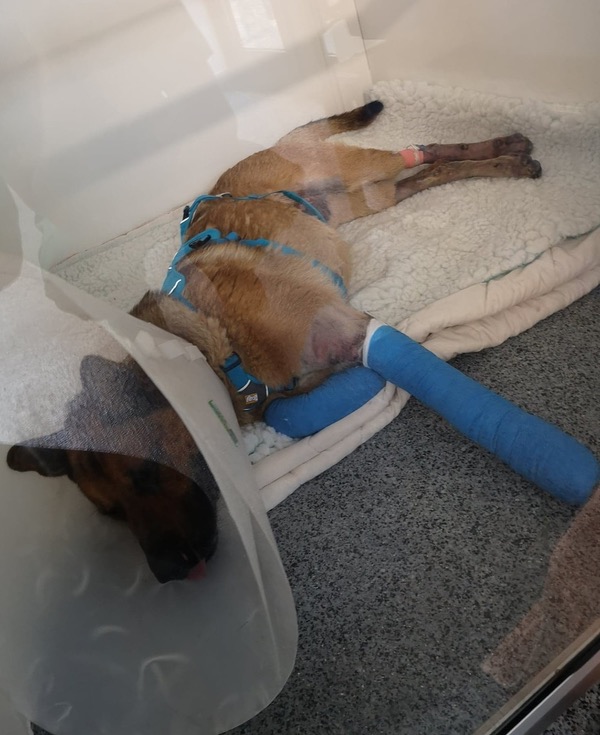 Drake is heavily sedated because of his injuries and pain
He has multiple external injuries but the most concerning are that he has either a complete or partial tear of the nerve that supplies his front right leg, so he has a floppy useless leg which would have to be amputated should the nerve tear be complete. To complicate the matter he has a broken wrist on his front left leg which requires carpal fusion but doing this whilst he has so many wounds increases the risks. So at the moment, he has 2 useless front legs plus deep abrasions to all 4 of his legs and feet.
Drake is very confused and frightened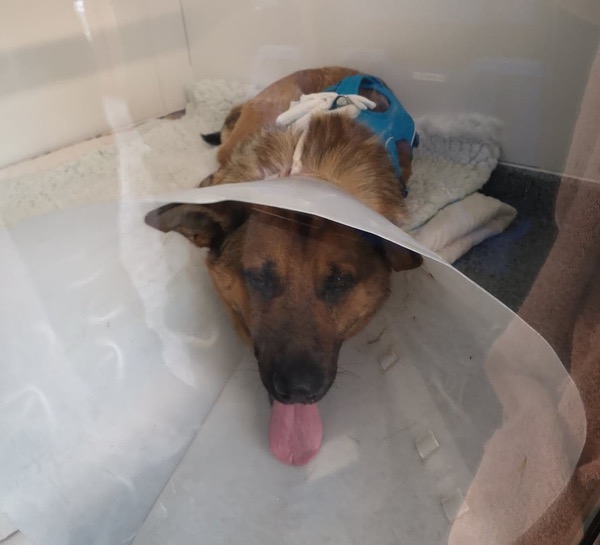 The adopter initially took Drake to a local vet who got things so mixed up that the records stated he had been involved in a dog fight, how any vet could even suspect these horrific injuries could possibly be caused by a dog fight is beyond us at the rescue. Drake spent 48hrs in these vets before we organised getting him to a specialist veterinary hospital for a proper assessment. Things haven't been easy to establish, Drake is in a lot of pain and is very confused and frightened … he is grumpy but I think I'd be too if I had fallen from and been dragged along by a car suffering multiple very painful injuries.
He has lost pads, claws and suffered terrible injuries to his legs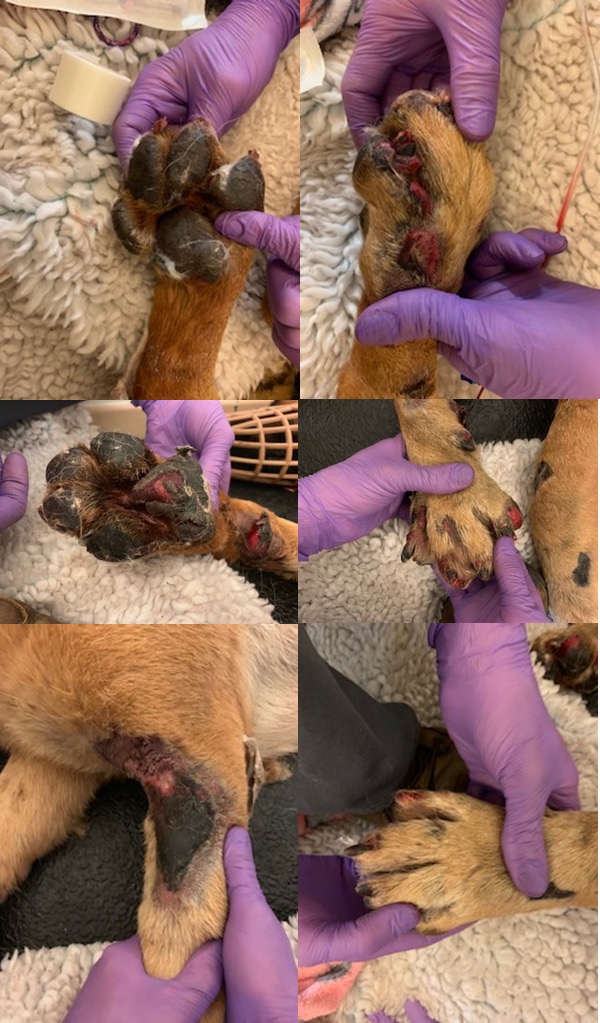 If Drake survives and we are doing everything we can for him, he will need someone dedicated to helping him convalesce which won't be his adopter who incidentally claims to be a K9 psychologist but who couldn't work out that opening the car window with a strange dog in the car wouldn't be a good idea!
At the moment Drake is heavily sedated to help him heal and we intend to leave him as long as we can there until we are in a position to make a decision on what's best next. The basic costs without meds are £200 per day at the hospital
Although still legally the adopter's property, she can't afford the hospital treatment so the rescue is now faced with a bill which will be approx £15,000 and that's without the cost of amputating his leg if the nerve supply has been completely severed.
Huge thank you to Helen Louise Davis a wonderful volunteer for everything she has done to date for our special boy, without her and her dedication, love and compassion I don't really know where we would be today .... let's hope we can smile and cry happy tears together soon.
Poor Drake did not deserve this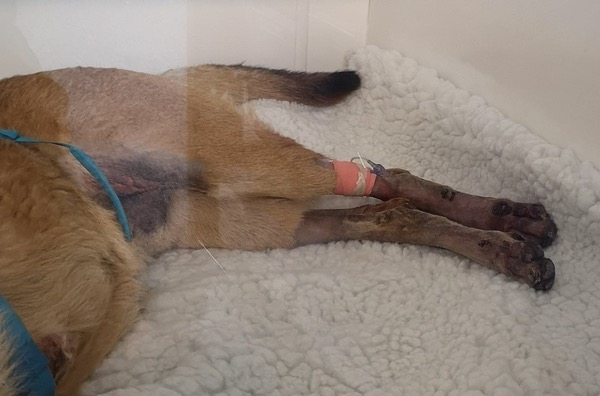 We are setting up a number of fundraisers to help us cover the costs of his treatment and we hope that people will support us on this as we believe Drake deserves to have a chance after all he has been through with the awful life he had prior to this disastrous adoption and then the dreadful injuries he has sustained because of a thoughtless idiot.
You can donate by VMG and we will get Gift Aid or by Paypal. We are also organising raffles with fantastic prizes donated by supporters and we will be running online auctions all of which will be announced on our main Facebook page. Any amount donated will be much appreciated