German Shepherd Dogs SE
German Shepherd Dogs in the south east looking for homes
Some of these dogs may no longer be available. Please go to our South East Dogs database
Page 1 Page 2
Summer - Bucks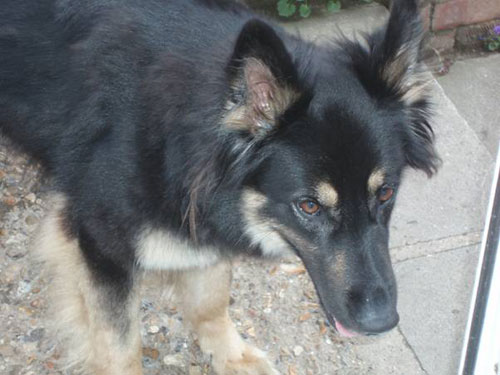 Summer is not quite 3 and unspayed. She is very good with children of all ages, is generally ok with other large dogs off lead (but will pull and bark at them when on lead) and currently lives with 6 cats. She loves people and does get very excited and will jump up. She does not like being left alone for too long and will bark and howl. Summer is not getting enough exercise or attention at the moment which is why she is being rehomed, as she is very energetic. Boredom has led her to become a bit of an escape artist. Summer just needs an experienced family that can give her the exercise and socialisation with other dogs she needs.
Tigger - Essex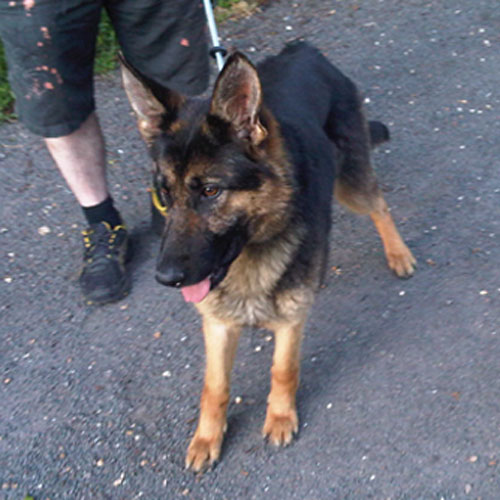 This gorgeous little girl was picked up as a stray. She is approximately 8 months old and a little underweight. She has the most super temperament and the kennels staff describe her as being very sweet. She has obviously not been socialised with other dogs which will need some work. Needs an experienced owner to teach her the boundaries and give her the training she needs. A super home wanted for this super little girl who should never have been put in this situation!
Rebel - Middlesex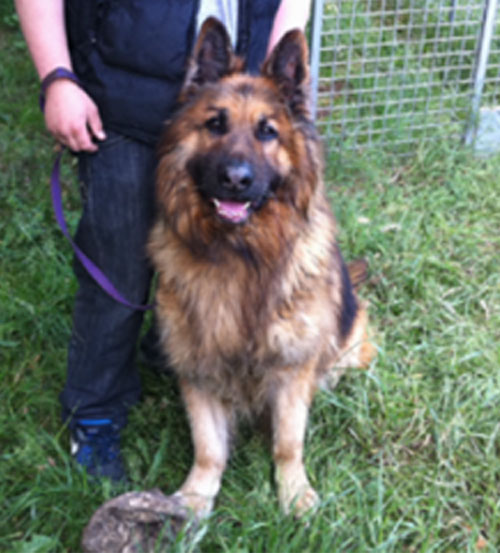 Rebel is an 8 year entire male. He would not be rehomed with children and whilst he lived with a Jack Russell, he is not good with other dogs. Rebel currently lives with his elderly female owner and is very protective for her so will bark aggressively at strangers. Rebel has never been off lead and likes playing ball. Being rehomed as his owner cannot exercise him anymore.
Laura - Hants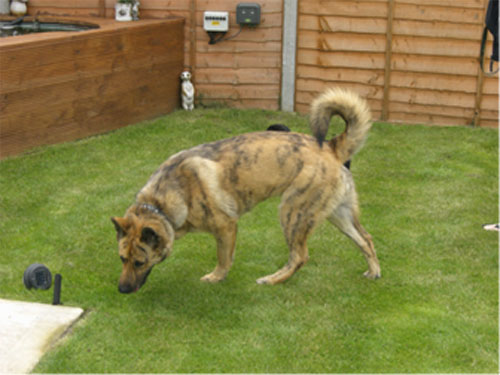 Laura is a 2 year unspayed GSD cross akita which has given her these lovely markings. She is good with children but very excitable so we would rehome her with older children only. Laura is usually fine with other large dogs but does have the occasional fight with the Rottie cross she lives with. She does love happily with a cat. Laura definitely needs some training which she has not had to date and would benefit from an experienced owner to set her boundaries and give her the stimulation a dog of this age needs. Being rehomed at the landlord's insistence.
Jed - Essex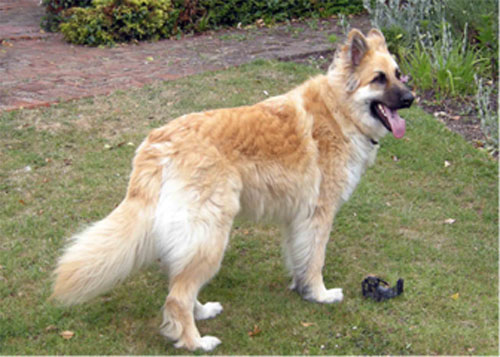 Jed and his brother Rossi, are being rehomed as they currently live with their sister and the owner's old border terrier, which they have started to pick on. Both boys are 2 and neutered. They are good with children of all ages. Neither dogs have been socialised with other dogs outside of their home so this will need some time investment. No cats as they will chase. Rossi and Jed have the most super temperament with people and these big, bouncy boys would fit into a family home who could give them the exercise and training dogs of this age need. They can be rehomed together or separately.
Rossi - Essex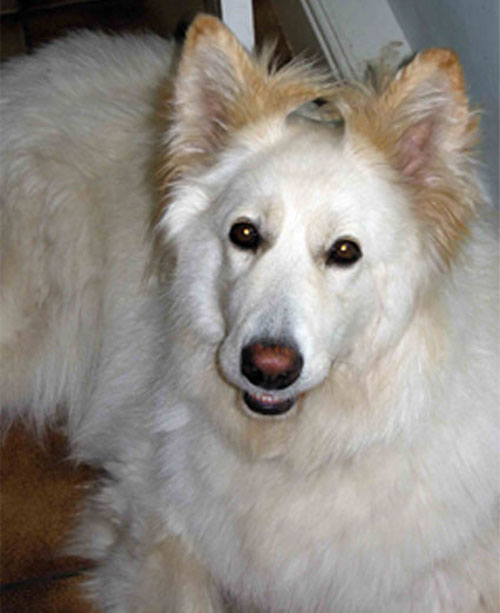 Rossi and his brother Jed, are being rehomed as they currently live with their sister and the owner's old border terrier, which they have started to pick on. Both boys are 2 and neutered. They are good with children of all ages. Neither dogs have been socialised with other dogs outside of their home so this will need some time investment. No cats as they will chase. Rossi and Jed have the most super temperament with people and these big, bouncy boys would fit into a family home who could give them the exercise and training dogs of this age need. They can be rehomed together or separately.
Jake - Essex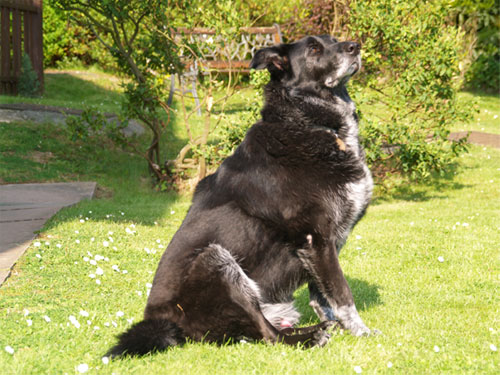 This poor fellow is 9 years and crossed with a lab we believe. He is neutered. Jake was raised on a farm and taken in by his current owner when about 2. He is very friendly with people. He was living with his elderly owner and another dog but his elderly owner has sadly passed away and his friend died a couple of weeks ago. He is unknown with children and other dogs outside of the home. Family members who are caring for him work very long hours and this poor chap just needs a home with some company where he will get the exercise and attention he needs. Jake loves his walks (which he will need a lot of to lose that tum) and will be a loyal companion in return.
Max - Kent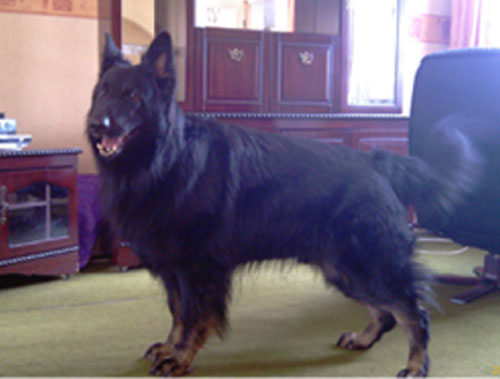 Max is a 7 year entire male. He has met children of all ages but due to his nervousness at present we would not rehome him with children. Max can get overexcited when meeting other dogs as he has not been properly socialised but is not aggressive to them. This lovely lad needs a confident and experienced home to re-establish his trust in people and the world, as at present he is too scared to walk further than the end of his road. He bonds better with women and patience is a must. His owner left the marital home and her ex partner is now having to move to a flat where he cannot take Max. Have you got what it takes?
Codi - Kent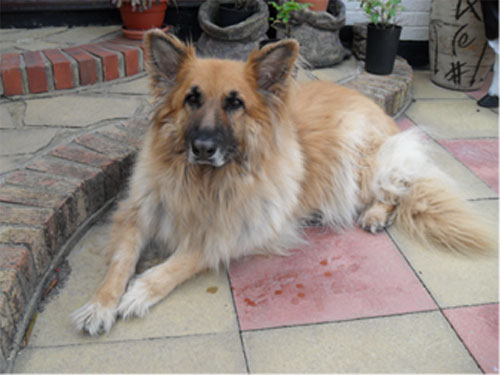 Cody is a 6 year neutered male. This poor lad is very misunderstood. The owners say he is not good with children or other dogs and has reacted badly to them both on occasion when restraining him or touching him unexpectedly. Our volunteer found Cody to be very excitable and nervous, and believes the main factor is the lack of exercise he is getting due to his owner's ill health. Cody has only ever been walked on lead and has never been properly trained or socialised, therefore it has been a vicious circle of owners being apprehensive and dog reacting. In the right hands and with an experienced and confident owner we feel this lovely boy would become an excellent, loyal and loving companion. Are you that special person?
Bhindi -Bucks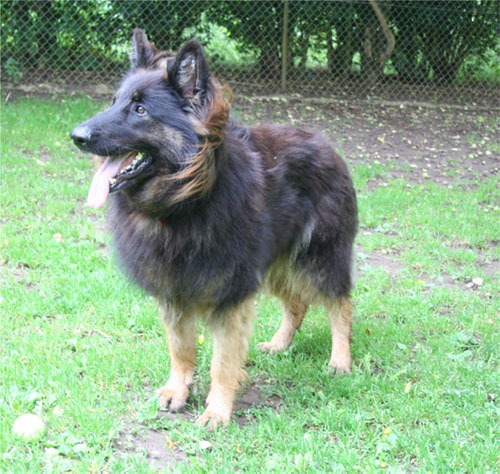 Bindi is a 5yr old unspayed female who just loves to play ball. Unfortunately her owner – who also bred her – has had to move to a smaller property following a marital break-up and can't keep her. Although she lived with two other German Shepherds – her mother and grandmother – she is said not to be good with other dogs. She has no experience of cats or young children but has bonded quickly with a teenage boy who has been looking after her in recent months at the kennels she has been staying at. Bindi has got an underactive thyroid, for which she is on medication, but would probably bond easily with a new owner willing simply to play ball.
Sabre - Kent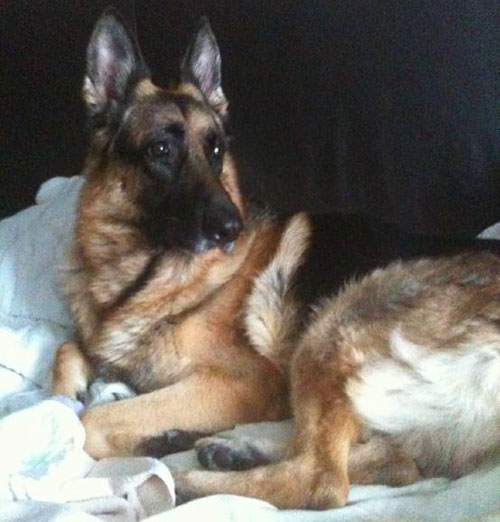 This handsome lad is 6 year entire Sabre. Sabre is not keen on young children (the reason he is being rehomed) or cats but is good with other dogs and lives happily with 3 others. He can be nervous of strangers so needs a confident and experienced owner to set the boundaries and put him on the right track. Sabre does pull on the lead and will benefit from some training but our volunteer found him eager to learn when taken out.
Ben - London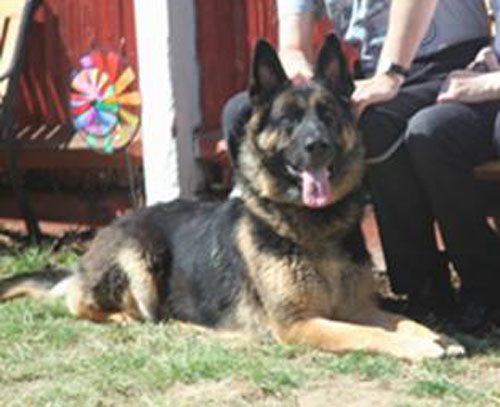 Ben is a 5-year-old handsome chap who is not doing very well in his current home. He lives with a very vulnerable family with ill health, hence he thinks he needs to protect them from the world. His owners can't handle his protectiveness which comes across as aggression towards visitors. Ben is also strong and all these factors together result is him not getting sufficient amount of exercise and socialisation. He is brilliant with his family though - once he gets to know you, he'll give you all his heart. Ben is looking for an experienced, confident owner who will give Ben clear rules, good amount of walks, opportunity to socialise in a safe manner with dogs and people and first and foremost, wise leadership as we are sure Ben is really tired of his position of a household protector, which he thinks is his job! Ben is very good in the house environment - housetrained and without any signs of separation anxiety. He cannot be rehomed with cats or children though. Are you this special person who is looking for a proper German Shepherd with breed-typical qualities? Ben is waiting for you!
Tasha - Surrey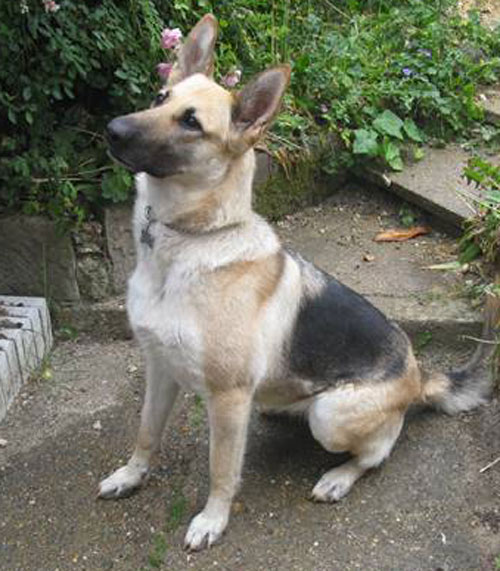 Tasha is a 4 year unspayed bitch. She is good with children of all ages and most dogs. She has never lived with cats. Tasha is good with people coming into her home but can be a little overprotective when on the lead. She loves to play with her ball and going for long walks. This poor girl is not getting the exercise or training she needs at present and will make a fabulous dog for somebody prepared to give her the time she deserves.
Harvey - Berks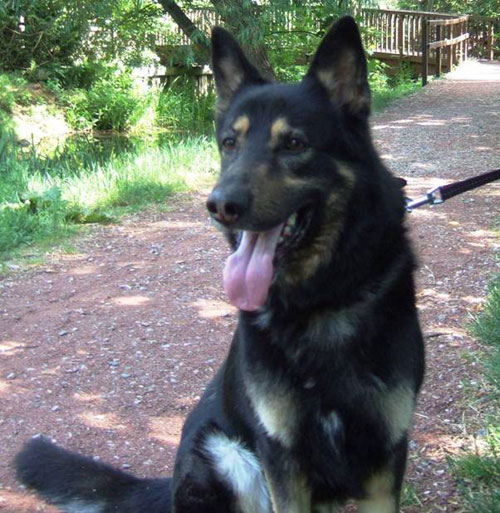 Harvey is a 7 year entire male. He is good with older children and other dogs but unknown with cats. Harvey has not been given enough boundaries and is full of energy. Because of his jumping up at strangers in the home the owner is now nervous he may become aggressive and is worried because her daughter is having a baby soon and he may not accept it. Our volunteer saw no signs of aggression, just a lovely boy who needed some discipline and guidelines and wanted attention. He can pull on the lead but otherwise is obedient.
Khan - Essex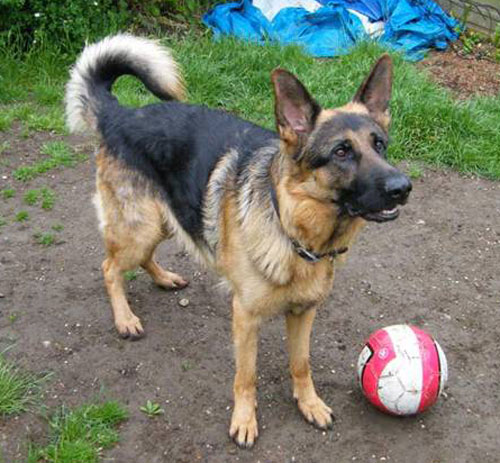 Khan is nearly 4 and entire. He was wary of other dogs as he was bitten when younger but has been fine with dogs of all shape and sizes since being in foster. Khan is good in the house and travels well. Khan would be better in a home without children. We were told Khan is not good with cats but is living with 2 at present (who do stand up for themselves). This lovely boy just needs an experienced home where he will be given some leadership and boundaries and in return will be a loyal and loving dog.
Gemma- East Sussex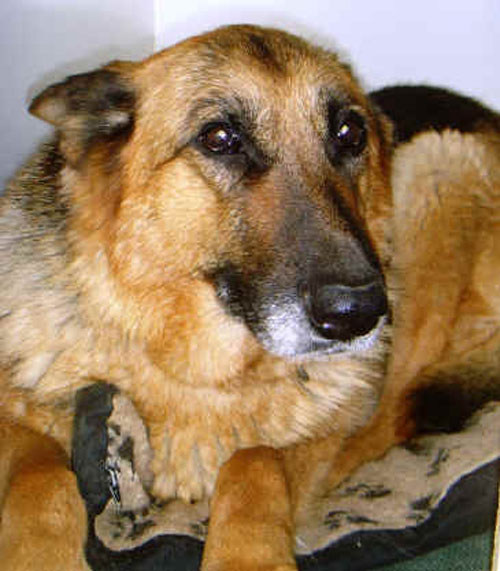 Gemma is a 12-year-old German Shepherd dog who has spent most of her life in a crate being bred from litter after litter. She deserves a forever home where she can at least spend the time she has remaining being loved and cared for as she should have had all these years. Despite being grossly overweight and having suspected tumours, she still somehow retains some zest for life and even loves a game of football.We know she does not have long left, but hope someone finds space in their heart and home to give this girl a belated Happy Ending.
Buick - Essex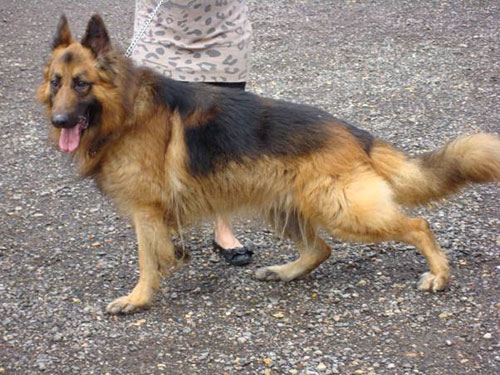 Buick is 6 years and entire. We removed him from a home where he had lived since he was a pup. He had not been walked in 2 years, basically since their child had been born. Buick was due to be put to sleep because he had bitten the man (used loosely) of the house who had been on his hand and knees approaching Buick's food bowl. When our volunteer arrived she was cheerfully told they had run out of food so we are not even sure when he last ate. He was certainly thirsty. Buick is now in kennels where he is quite nervous until he gets to know you (more so with men) and will show his teeth if unsure. This poor lad just needs a calm home that can give him back his confidence whilst setting the boundaries so that Buick understands that not all people are bad. Are you that special home?
Enrique - Kent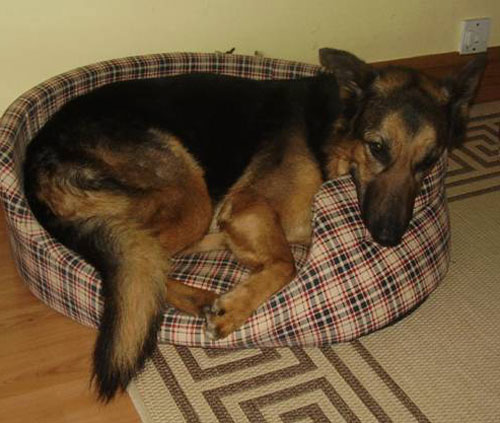 Enrique is a German Shepherd cross and about 8 years old. He was abandoned by a British family in Spain when they returned to the UK in 2009. It was arranged for him to come over to the UK last year and he was homed. But after 7 months he could not settle as their other dog was wearing him out. Enrique is currently fostered by the kind people who arranged for him to come to England. He needs a peaceful home with no other dogs, cats or children, a home where he gets the love, attention and care he deserves. Enrique is suffering from Arthritis and only needs short walks. He is a real soft touch, craving for attention, therefore a home with someone being around all day would suit him best.
Abbi - Kent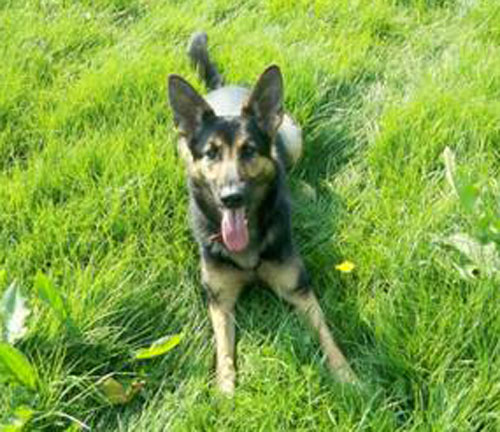 Abbi is nearly 2 and spayed. She is good with children but not cats or other dogs. Abbi is a friendly girl who was an unwanted present! She is very friendly and loves her ball but can become possessive over it. This poor young lady has never been given the time to be shown her boundaries and would benefit from an experienced home without other pets, who have the time to work with her on socialising with other dogs outside of the home. Abbi does suffer from a pancreatic deficiency but this is totally manageable as long as she is kept on the right diet and with pancrex powders.
Vinnie - Essex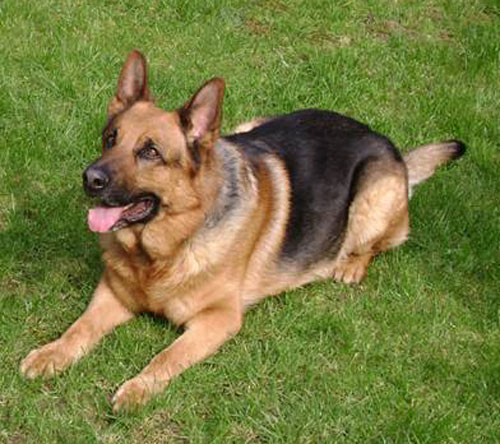 Vinnie is a 5 year old entire male. He is good with children but not other dogs. Whilst he has lived with 2 cats they did tend to stay upstairs! Vinnie is fine with people, will typically bark at new arrivals but quickly settles down. Vinnie loves playing with his ball and his obedience is fairly good. Only being rehomed due to his owner now having to work long hours.
Kai - Hants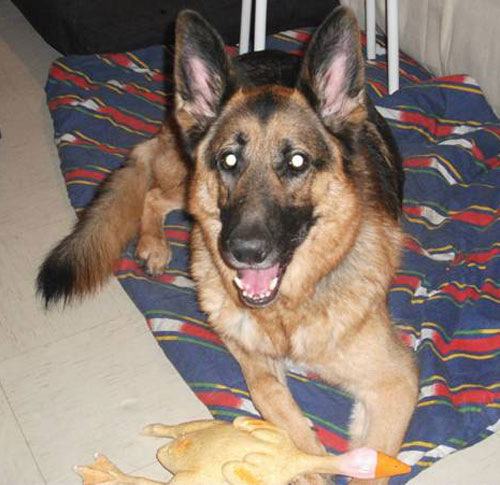 This 5 year lad is entire Kai. He is good with children but very picky about dogs and not good with cats. Kai did live happily with another GSD bitch for a while. Kai was trained as a security dog but has never hurt anybody and is fine with visitors. Kai is off course lead trained and is only being rehomed due to owner now having to work full time meaning Kai is being left long hours on his own.
Archie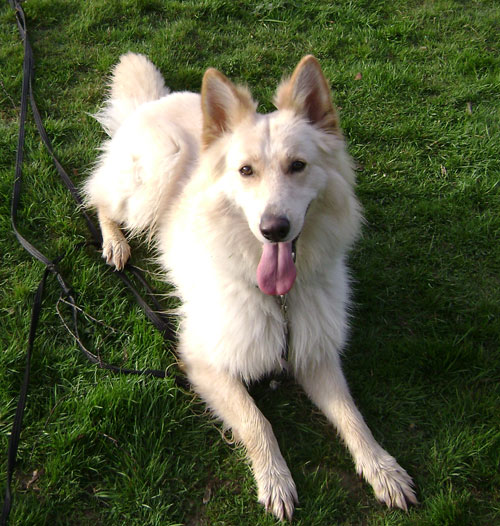 Archie is an 18 month neutered male. Archie is a nervous little boy which can come out in aggression. Once he knows you he will let you handle him all over and doesn't mind. He is a real sweetie, walks nicely on the lead, likes to play ball will give it up, okay with food and toys, his recall is good. If he feels threatened he may nip. Takes treats nicely, Archie is not good with other dogs, especially small ones. We don't think he's been walked too much as he is not too keen on getting his feet wet and dirty and doesn't like stones in his pen. He plays stepping stones with the slabs and into the kennel. When he goes out he trots by your side happily but is a bit spooked by noises and different sounds. Can you give this boy a stable, confident home?
Zeus - Berks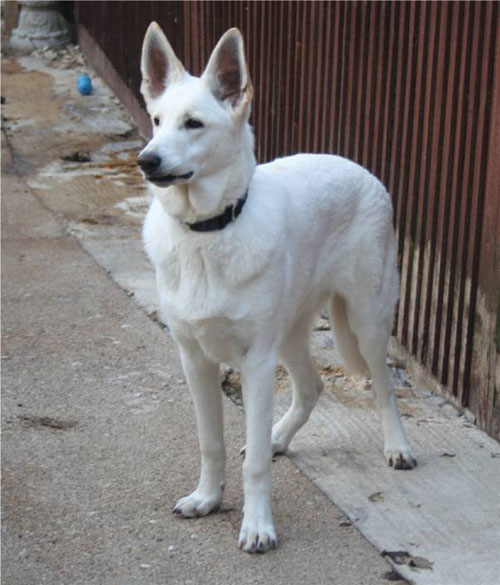 This young man will be 1 in April. Zeus is neutered and vaccinated. He is good with children and lives with a cat but not keen on other dogs but does live with 2. He has not much socialisation outside of the home however. Zeus has no recall, is still not fully housetrained and a heart murmur to add to his problems. Being rehomed as he is too much of a handful! Are you that very special home?
Tara - Essex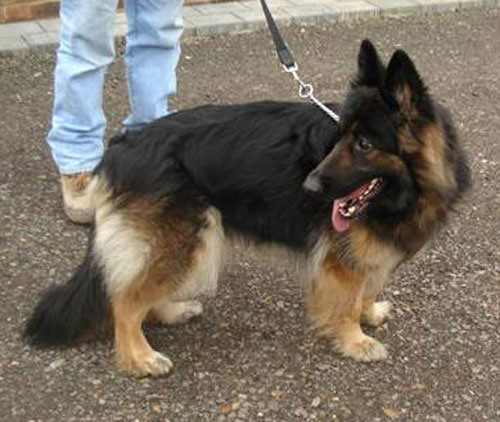 This gorgeous girl is Tara. She is nearly 5 and unspayed. Tara is going to need a very special and experienced home due to her past. She was never socialised properly with people or other dogs. When she was taken in by us she was suffering from severe nervousness and thanks to our very patient handlers in the kennels is turning out to be a super young lady. She is now walked by most of the staff but can become protective of her handler. She was very nervous of men but now loves Graham who runs the kennels. She is also quite relaxed with other dogs around so may be happy to live with an older placid dog who can help to continue build her confidence. We would not rehome Tara with children. Tara needs a calm, confident owner who is experienced with the breed, a home where there is not too much traffic and the more rural the better. Whoever meets Tara would need to be able to spend time with her at the kennels letting her get to know you. Are you that special person?
Iris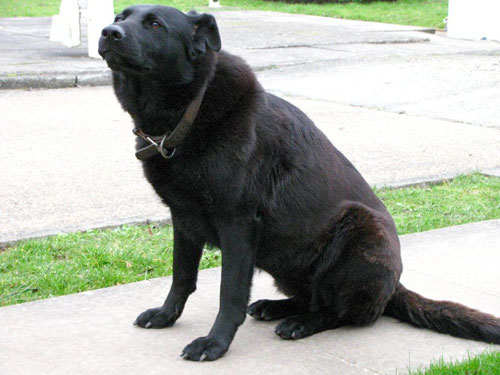 Iris is an entire 6yr old female who was supposed to be a guard dog but the staff have spoilt her and now loves anyone she greets. She lives on the Company property where she gets walked 2 -3 times a day, so doesn't really meet other dogs. When she has met them she can be a bit dominant as she gets anxious. She doesn't mind being handled all over except her ears which have had medical problems in the past therefore they don't stand up. She is well trained, knowing all the basic commands so in the right hands she would settle and would be a good family pet. As you can see from the photo she is over weight so needs a diet
Tyson - Surrey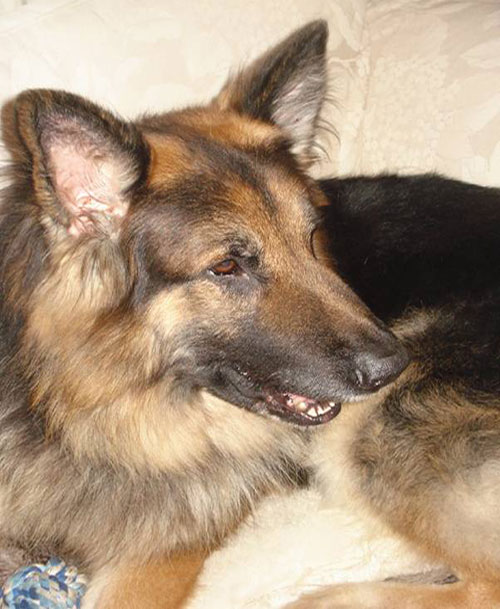 Tyson is a 5 year old GSD cross Newfoundland - not sure which bit is Newfie!! He is entire. Tyson is good with children and other dogs, except his brother with whom he fights since their father died and the reason for him being rehomed. Tyson is an obedient lad and loves people. He is a big boy so would appreciate somewhere with a lot of space to play and someone who can give him lots of exercise.
Taz - Southampton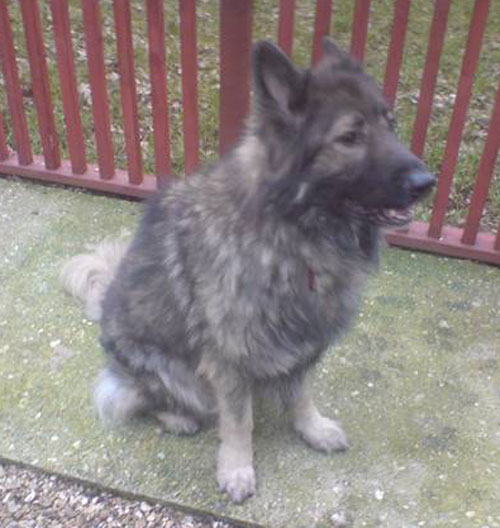 Taz is a 7 year neutered male. He is good with children but not really known with other dogs as he has not been socialised with them for about 3 years.. He is not good with cats! Taz is a very obedient lad . Taz is only being rehomed as his owner is having to move into rented accommodation. This gorgeous boy just needs a home that can give him some love.
Rio - Kent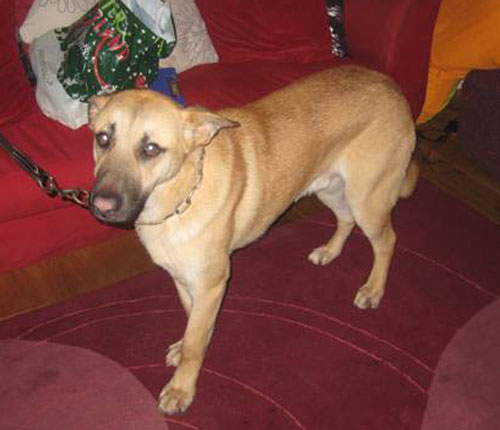 Rio is nearly 1 and has been neutered and is a cross we think but with what we are unsure. He is good with children and cats but not other dogs apart from the staffie he lives with. He has never shown any aggression but still mouths when playing and is good when meeting strangers. Rio is good with basic commands but is too much for his owner to cope with out on walks as she cannot control him when there are other dogs about. This young lad just needs an experienced GSD home to give him the training and dog socialisation he needs.
Angel - West Sussex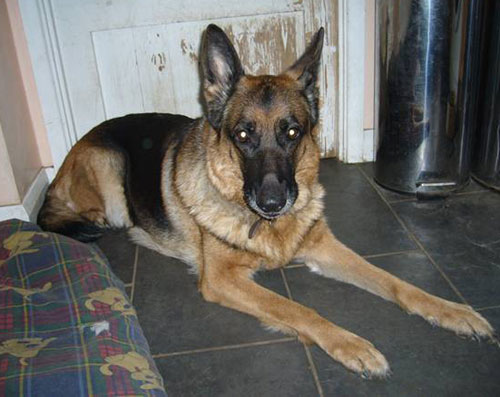 Angel is a 6 year old unspayed bitch. She has become very protective of her female owner and her family but does have a problem with men. She has missed out on socialisation with people and other dogs so will need a very patient and confident owner. Her owner is now losing her home and Angel has nowhere to go. Can you help this poor girl?
Amber - Essex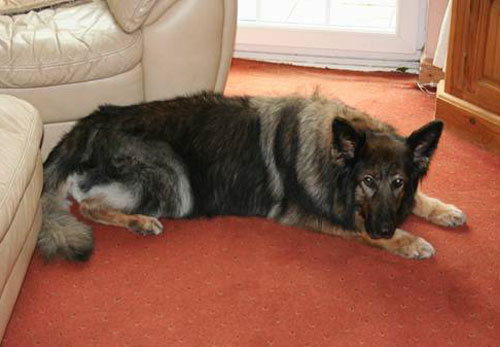 Amber is an 8 year young spayed bitch. She has not lived with children but is fine with the current owners grandchildren of 2 years upwards. Chases the resident cat outside. Amber does not like other dogs so would need to be the only dog but she loves people. Her back legs are slightly arthritic but she could do with losing some weight and getting more regular exercise. Her elderly owner has died and she needs a retirement home to call her own.
Simba - West Sussex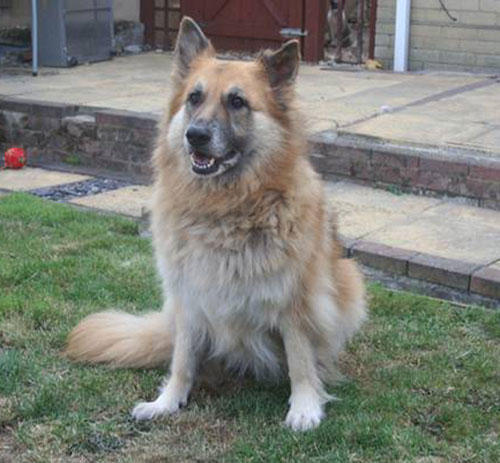 Simba is an 8 year old spayed bitch. She is a loyal and trusting dog with people when she has sussed them out. She does live with cats but isn't that tolerant of them. Her basic commands are good and she is ok on the lead. We wouldn't rehome her with young children as Simba does suffer from epilepsy which is controllable with medication. SIMBA MUST BE REHOMED BEFORE THE 2nd AUGUST as her owner is losing his accommodation.
Page 1 Page 2
"He is your friend, your partner, your defender, your dog. You are his life, his love, his leader. He will be yours, faithful and true, to the last beat of his heart. You owe it to him to be worthy of such devotion."
German Shepherds that have been rehomed
Donations are always welcome
Please help us by making a donation so that we can help re home more unwanted German Shepherd Dogs. Donations can be sent to Jayne Shenstone, German Shepherd Rescue, Little Vauld, Marden Hereford HR1 3HA. We also accept Paypal payments - just click on the Paypal button below. Thankyou.