German Shepherd Rescue
German Shepherd Puppies and German Shepherd Dogs rehomed across the UK. Help and Advice on All Aspects of Owning a GSD

The latest date for ordering printed merchandise for Christmas delivery is December 9th
---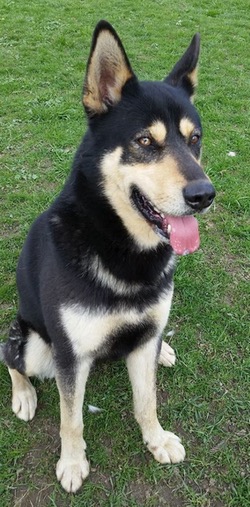 Skyler has been with GSDR in kennels since 2016
Every Christmas Skyler asks Santa Paws to find him his forever home but so far no luck, but Santa keeps telling him to keep believing. Is Christmas 2019 going to be the year that Skyler's wish comes true?
Skyler was posted on FB that he needed a home urgently, his owner was having him PTS because his partner had become frightened of him and was due to have a baby, so owner tried very hard to find him a home rather than PTS. Although he is predominately Husky, no husky rescue came forward to save him so we did.
Skyler is a confident, dominant lad, who does kennel guard but once he is out of kennels he's such a clever lad and looks towards the handler to give him direction and very keen to play and run after a ball.
He's reluctant to you stroking his head, although I'm sure once he has built a relationship with a handler, his confidence will grow and he will be more accepting. Skyler is looking for a confident owner, someone who is active as this boy is strong and has loads of energy. He needs someone to show him the ropes and help with his doggy etiquette.
If you can help, please fill out an adoption form, we are desperate to find him a home.
---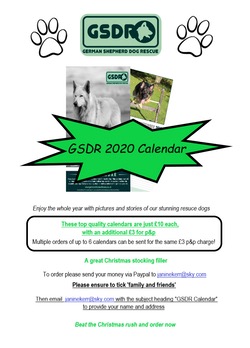 The GSDR 2020 Calendar is Here
Enjoy the whole year with pictures and stories of our stunning rescue dogs
These top-quality calendars are just £10 each with an additional £3 for p&p
Multiple orders of up to 6 calendars can be sent for the same £3 p&p.
A great Christmas stocking filler
To order please send your money via Paypal to janinekerr@sky.com
Please ensure that you tick 'family and friends'
Then email Janine with the subject heading 'GSDR Calendar" to provide your name and address
---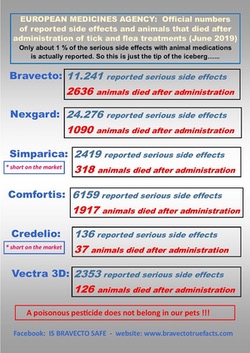 The Number Of Deaths Associated with Flea/Tick Treatments Rises.
These are figures released from the European Medicines Agency and are the official numbers of reported side effects and deaths reported after administration of flea and tick treatments June 2019.
Only about 1% of the serious side effects with animal medications are actually reported, so this is the tip of the iceberg.
Bravecto 11,241 serious side effects, 2636 animals died after administration.
Nexguard 24,276 serious side effects, 1090 animals died after administration.
Simparica 2419 serious side effects, 319 animals died after administration. (new on the market)
Credelio 136 serious side effects, 37 animals died after administration. (new on the market)
Vectra 3D 2353 serious side effects, 126 animals died after administration.
These drugs are potent neurotoxins, that's how they kill the parasites so why are you putting these poisons on your much-loved pet. Stop buying the lies of vets who make a lot of money from these toxins and juts regard side effects and deaths as collateral damage and use natural flea, tick and worm remedies.
For more information Is Bravecto Safe and see the damage done to peoples pets on Facebook - Is Bravecto Safe.
---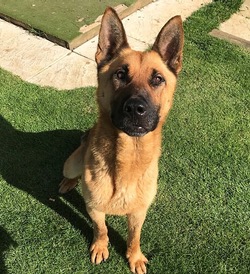 Poor Cesar Spending his 3rd Christmas in Kennels
This handsome boy is Cesar a 4-year-old, neutered, male GSD who was found straying and spent a year in kennels abroad before coming to the Uk to try to find his forever home. He will now be spending his 3rd Christmas in kennels unwanted and unloved which means that he has spent most of his life in kennels. This is no life for any dog.
He has obviously been somebodies pet previously as he knows commands and has been trained. He arrived very skinny but has put weight on since being here.
He is very friendly with people but will need to be rehomed as the only dog and will require somebody who has experience of the breed. He isn't suitable to live with cats as he will chase and due to his food snatching tendencies he is best housed with teenagers and upwards.
Cesar is a handsome lad with a drive to please. With someone interested in dog sports such as agility he could prove to be a fun dog to work with. He is intelligent and would love a home that will use that.
---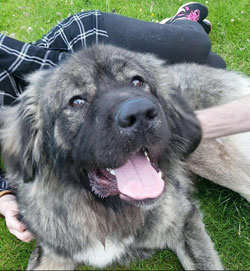 CAUCASIAN OVCHARKA (SHEPHERDS)
Although we are a German Shepherd rescue, there does not seem to be an official Caucasian Shepherd Rescue here in the UK, so since 2013, we have been helping these dogs find homes and have built up a good knowledge of this breed.
Most of these dogs are finding their way into the UK through unscrupulous breeders in eastern Europe or coming in via questionable rescuers with no rescue back up here in the UK. Most that we have helped so far, have been picked up as strays here in the UK.
This is certainly not the breed for everyone and if you are considering owning a Caucasian Ovcharka, please make sure that you thoroughly research the breed first. They may be the cutest bundles of fluff imaginable as puppies but they are a giant breed and will grow into a very large immensely powerful dog.
Caucasian Shepherds that we have for rehoming.
---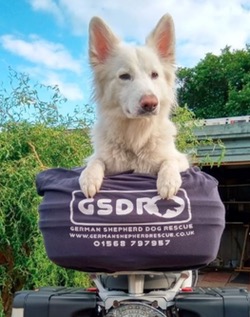 Christmas 2019 Newsletter 2019
Whilst this has been a very busy year, as usual, it has also been a very challenging year. Clearly, society has changed, and this has been very noticeable this last year, not least because of the expectations of our adopters who require dogs to be perfect from day 1. Like people, dogs are never perfect, but we domesticate then reject them when they behave like dogs. We truly are in snowflake times which makes it even harder for volunteers to place dogs.
Rescue dogs are not damaged dogs they have just been let down by humans so take a little while to unpack their bags, get familiar with their new owners and surroundings before they settle in.
If you expect a perfect dog or you can't be understanding and patient enough to allow the dog to settle in or you can't be bothered to put any effort into training or helping the dog through any issues they might have, then you are looking in the wrong place for your new companion.
Remember that the rescue is run entirely by volunteers who do this because of their love for the breed, so they do not deserve the abuse that they have been receiving this last year from new owners.
Spare a thought for all our dogs spending Christmas in kennels, unwanted and unloved and for some this will be their second or third festive season in kennels.
Let us hope that things may improve in the new year and that all our dogs get the homes that they so deserve. Enjoy the GSDR Christmas 2019 newsletter
---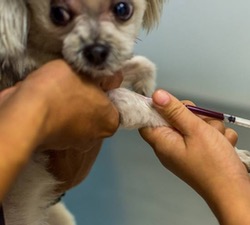 Autism Symptoms in Pets Rise as Pet Vaccination Rates Rise
Just to put things in perspective, the animal vaccine industry has been valued at $6.27 billion in 2015 and, at a calculated annual growth rate of 6.9 per cent, it is expected to rise to $11.40 billion by 2024.
So vaccines are a very lucrative business indeed and if you think they are really concerned about your pet's health, think again as this is nothing more than lining the pockets of big Pharma and vets.
As a rescue, we have seen the lifespan of GSD's reduce by a third in the last 30 years as well as seeing big increases in behavioural problems such as aggression.
Over 50% of dogs are now getting cancer which is an entirely manmade disease with hemangiosarcoma the number 1 killer. GSD's are particularly prone to vaccine damage and we see an ever-increasing number of dogs with autoimmune diseases especially skin disorders, persistent ear problems and sensitivities to foods.
Please educate yourselves and at least stop yearly vaccinations which are making your dogs sick and shortening their lives.
This is evidence backed, here is the scientific research into vaccine-induced autism in dogs.
---
Personal Protection Dog and Family Protection Dogs
GSDR always has and always will operate a NO DESTRUCTION POLICY because we believe that all dogs deserve a good life. We will find the right home for all the dogs that come into our care no matter how long it takes. German Shepherd Rescue is both a registered charity and company, which produces yearly accounts so that you know where your donated monies are spent.
German Shepherd Rescue
We are German Shepherd Rescue the biggest and best charity in England and Wales helping to foster and rehome German Shepherd puppies and German Shepherd dogs (Alsatians).
German Shepherd Rescue helps rehome German Shepherds across the UK. Can you help us raise funds so that we can rescue more unwanted German Shepherd Dogs?
If you are thinking of buying a dog as a family pet forget that puppies for sale advert, please read this article first.
Please do not contact the rescue specifically for puppies - buying a puppy. We are looking for loving homes for rescue dogs of all ages. We always have many German Shepherd dogs for rehoming. Can you offer to adopt a German Shepherd and give it a good home or maybe you could foster a German Shepherd until a new home can be found.
If you would like us to feature a German Shepherd dog that is looking for a new home, please contact us with your details. Please note that this is a genuine service for German Shepherd Rescue and not a listing for people wishing to sell their German Shepherd dog.
We do not have puppies for sale or dogs for sale but we do ask for a minimum donation which goes towards helping other needy dogs. Monies raised go towards kenneling and veterinary costs.
Volunteers are always welcome.
German Shepherd Rescue is run by volunteers who are involved because of their love for the breed. Most have jobs and families and fit in rescue work when they can and at their own cost. Please be patient, and we will deal with your requests as soon as we can. Our rescue dogs are worth waiting for!
Please help us by donating so that we can help re-home more unwanted German Shepherd dogs. Donations can be sent to Jayne Shenstone, German Shepherd Rescue, Little Vauld, Marden Hereford HR1 3HA. We also accept Paypal payments - just click on the Paypal button below. Thank you.
---
---