Dog Cruelty Case
Shiva now Sheba - picked up in Burnley
"How Could You?" should bring tears to your eyes. It is very sad fact of life that many faithful pets have become disposable items and will be discarded, no longer required. Many of these will die unwanted, unloved and alone having spent the last few days, weeks or months in a filthy dank dirty kennel. Their final reward - a lethal injection!!
REHOMED
NB. The owner has not been traced. Sheba was picked up in Burnley. If you know where she has come from please come forward. Owner should be punished for the suffering caused to this poor dog.
This poor dog was picked up in a terrible state and taken to the pound. She was close to being destroyed, they don't even give the fit and healthy ones a chance in the majority of dog pounds
Fortunately she was spotted by a member of a rescue that regularly helps dogs from the dog pounds. She was removed and is now safe with a rescue in a foster home.
When she arrived her coat was solid matting right through to the skin. Two people with scissors took over 6 hrs to get her to a point where she could bathed.
A nation of animal lovers - well not all of us!
She then had to be sheared, there was no alternative.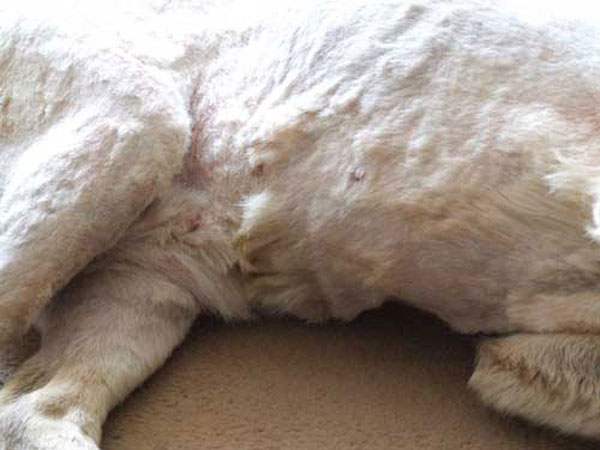 She has clearly been heavily bred from, and by the looks of her vastly stretched skin she had 2 litters a year.
Sheba - having a bad hair day but now safe!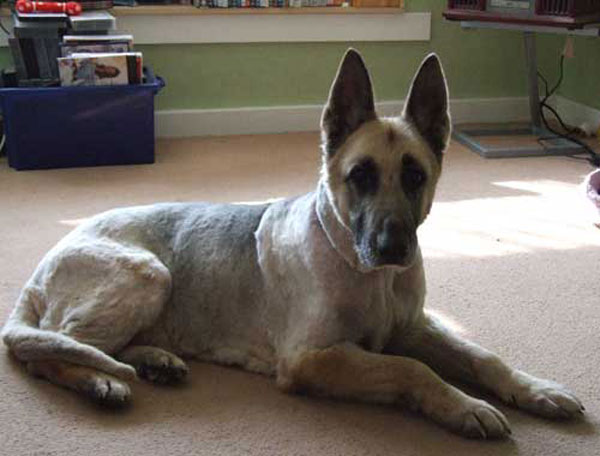 She finds using her back legs independently difficult but is improving. It's thought it extremely likely that she was a caged puppy farm girl who had her legs tied to stop her moving about.
Sickened - you should be, it goes on all the time and don't forget that puppy farming isn't illegal!
Her teeth are worn, some down to the gum and these bleed. She is like a puppy in her wide eyed wonderment as all things seem so new to her. She is very playful, friendly and quiet, never barking just the odd playful growl.
Sheba has been given a second chance, most others won't get that.
Poor Archie wasn't quite so lucky. His story highlights the plight of older dogs
Please help us by making a donation so that we can help re home more unwanted German Shepherd Dogs. Donations can be sent to Jayne Shenstone, German Shepherd Rescue, Little Vauld, Marden Hereford HR1 3HA. We also accept Paypal payments - just click on the Paypal button below. Thankyou.