Mans Best Friend
Slaughter of the innocent
A Mans Best Friend is His Dog! How appalling then that man treats his best friend in this way!
Pound dogs - if we can't get them out they will die!!
The UK pounds have reached crisis point. We are working hard with other rescues to save as many dogs as we can. Dogs as young as 4 months are in the dog pounds, not just Germans Shepherds - all breeds and crosses. We are desperately looking for boarding kennel spaces to put some of these dogs but we have limited funds. It costs £5 per dog per day and we need funds to pay the boarding fees to keep as many dogs as we can safe. PLEASE HELP by donating or offering a foster home for a pound dog.
What have I done?
Before you go out and buy that puppy please read carefully.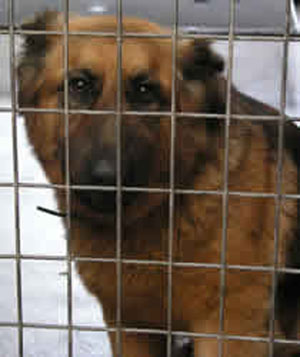 Did you know that at least 150 dogs are killed in the UK every week? How and why? They are destroyed by lethal injection by man because they are surplus to requirement.
The Dog Trust survey reveals that a shocking 105,000 strays are picked up every year with some 300 being abandoned every day. A minimum of 150 dogs is put to sleep every week in the UK.
How sad that we claim to be animal lovers yet the throwaway mentality is so evident in our treatment of our own pets.
Whether a dog lives or dies is very much a postcode lottery and in some areas there the rate of destruction is as high as 35%.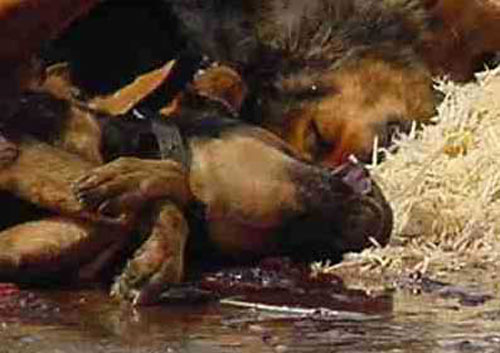 Their crime is being surplus to requirement
There are many council run pounds across the UK that do care about the animals that are brought in and they will work with rescues and do what they can to help rehome dogs.
Unfortunately, there are many privately run pounds who care little for the dogs. The pound staff are very cold hearted and the dogs mean nothing to them. They make lots of money from taking in these dogs and it is easier and quicker to kill them than try and find a home for them. They only have to keep them 7 days and then they can kill them to make room for more.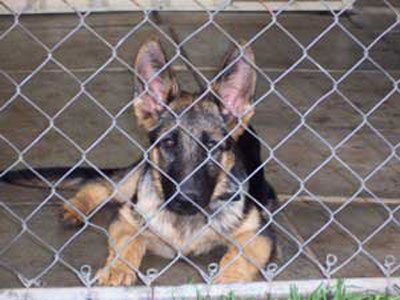 Think puppies don't end up in the pound and get put to sleep? WRONG!
In many pounds, the dogs are housed in runs small runs which will have no suitable bedding, usually wet newspaper on cold concrete floors. Often pound workers clean the dog runs with the dogs in them, by turning on the hose and hosing down the faeces, urine etc. So the poor animal will be left doused in water and goodness knows what and left to shiver.
The kennels are often dark and unheated (eats into their profits) so floors stay wet for hours and the poor dogs young or old have no choice but to lie there. Most dogs are fed on just dry kibble which is often thrown on the floor -saves having to wash dog bowls. Many will go hungry for days simply because if they don't eat then they do not shit. Similarly, if they don't drink they don't pee. Less work for the pound workers - no mess to clean up.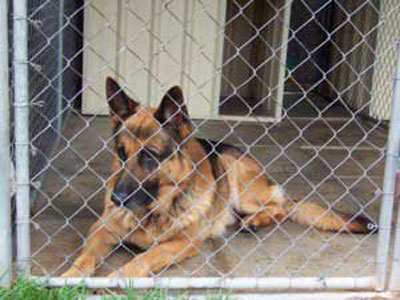 What did I do to deserve this?
If a staff member takes a particular dislike to an animal or it shows any sign of aggression it is 'disposed of'. Even good natured dogs find it hard to cope with the types of conditions found in many of the pounds, hence many animals will have little chance of getting out alive, especially if they are a bit timid because they may have been mistreated by their previous uncaring owners etc.
Often members of the public who surrender their dogs are never told that many of these dogs will be killed after 7 days unless they are lucky enough to be rescued. It's like a concentration camp with rows and rows of dogs waiting to go for slaughter.
This is happening every day 365 days a year and Christmas and public/school holidays are the worse times as the numbers of dogs taken in rises.
The killing will be done well away from the public eye with the dogs which are scheduled to die being taken to a building in the back of the pound, where the public cannot see. There they await their turn, while they are watching the other dogs die one by one.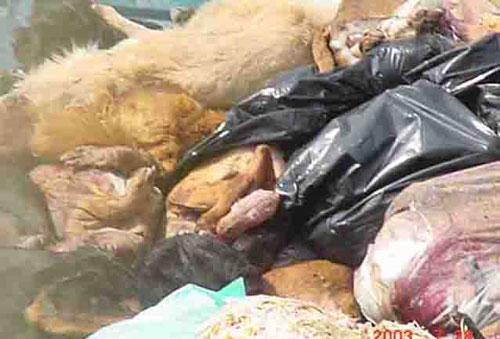 Innocent victims of today's society disposable throw away items no longer required. Often the person who euthanises the dogs is not a vet, just a heartless pound worker who gets great pleasure in giving them the lethal injection.
The dog's bodies are then loaded into a freezer to be taken away by truck - who knows where. Some commercial pet food companies are known to use pet carcases in their products.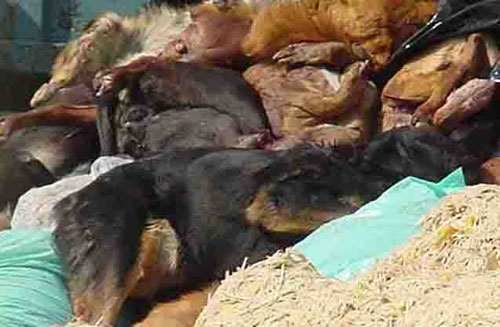 Appalled - any caring person would be!!
WHAT HAPPENS IN YOUR COUNCIL?
HOW LONG DO DOGS HAVE BEFORE THEY ARE DESTROYED IF THEY WANDER IN YOUR AREA?
DO YOU KNOW WHERE THEY ARE TAKEN TO? MOST ARE DRIVEN ABOUT 15 MILES AWAY TO DOG POUNDS. BY THE TIME YOU FIND THEM - THEY COULD BE DEAD, SOLD OR MOVED AROUND THE COUNTRY WHERE YOU WILL NEVER FIND THEM?
WHO DOES THE DESTROYING IN YOUR LOCAL DOG POUND? SOME ARE DONE BY BASIC COUNCIL WORKERS, SOME BY GENERAL UNTRAINED KENNEL STAFF - SOME ARE JUST LEFT TO DIE IN PAIN ON COLD WET FLOORS - LAYING IN THEIR OWN EXCREMENT?
DONT THINK IT DOESN'T HAPPEN - IT DOES
Can you help us by making a donation? Please click on the link below.