Coco Sick GSD Puppy
Coco Is Living Her Dream
On Saturday 29th June, a GSDR volunteer picked up a young female GSD who he named Coco and who was thought to be around 3-4 months old. Our volunteer quickly realised that there was something very wrong with Coco, who was vomiting after feeding and only weighed 8 kilos.
A local vet diagnosed Persistent Right Aortic Arch which needed major surgery and confirmed that Coco was more likely 9 mths old. At this point the rescue realised that this was going to be expensive and we began a fundraiser so that we could raise the money to pay for the treatment that Coco needed. Little did we realise that another serious problem would arise.
Coco deteriorated rapidly and was rushed to a referral centre on 9th July where parvovirus was confirmed. Coco then spent 6 days in intensive care where it was touch and go for a while. But this little dog is a fighter, she pulled through and was readmitted on 29th July to undergo thoracic surgery for her PRAA.
Coco is now back in foster convalescing. She isn't out of the woods yet but she has gained weight, her feeding is fine now and she's running rings around her foster dads. Coco will need a Bailey chair for feed times because her condition wasn't treated early enough. Not only did Coco become a big favourite with the hospital staff, but she has a big online following too.
All of us at GSDR would like to express our gratitude to all those people that contributed to the Coco fund which helped raise a staggering total (including Gift Aid) of £10,027.30. Coco will get all the treatment she now needs
Thank you to all Coco's supporters, we couldn't have done it without you.
COCO has her very own Virgin Money Giving page where we will get extra in Gift Aid if you are a taxpayer

Massive thanks to all the staff at Chestergates Veterinary Referral Centre, who nursed Coco through this ordeal. It was touch and go but Coco made it through. She has become a firm favourite with the staff who describe her as a delightful little dog and a joy to look after
Coco after surgery for Persistent Right Aortic Arch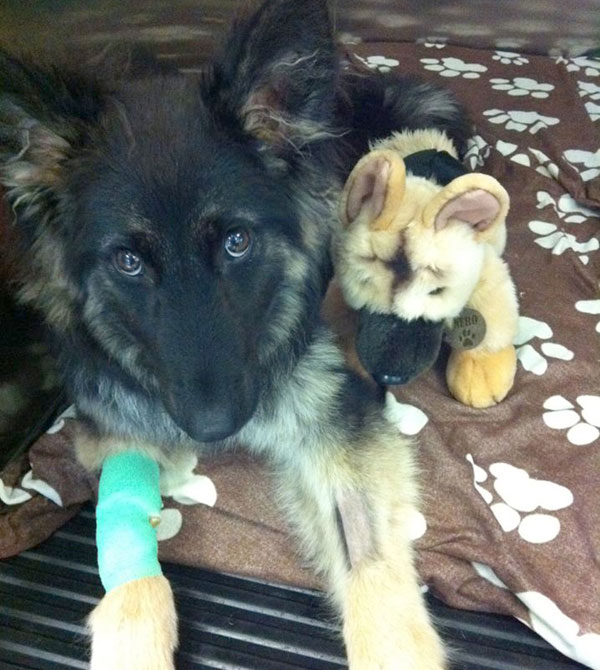 Coco in intensive care following thoracic surgery at Chestergates referral centre
Coco says she won't be going to that hairdressers again!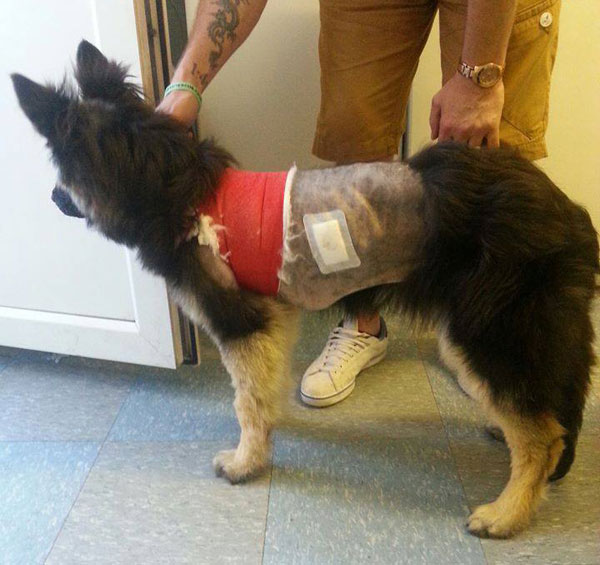 One week on and Coco has come through the nightmare of parvovirus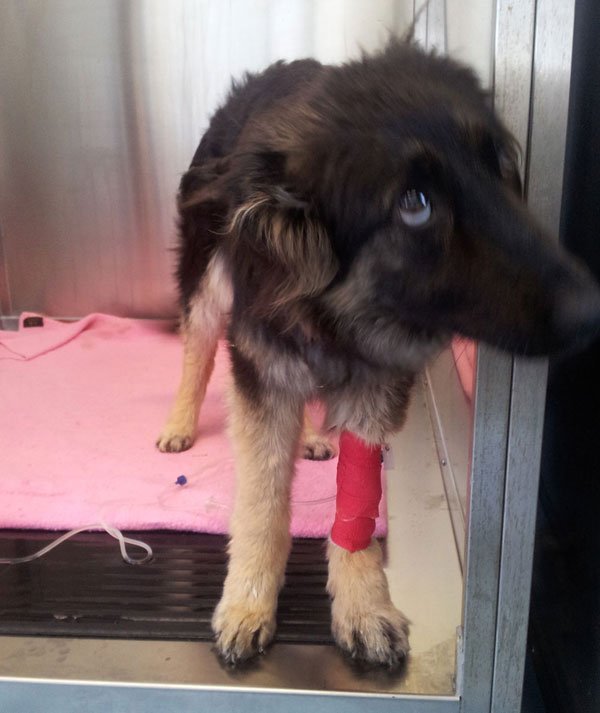 This young dog really is a fighter and has beaten parvovirus against all the odds given her other problems
Coco in intensive care at Chestergates Veterinary hospital for nearly 6 days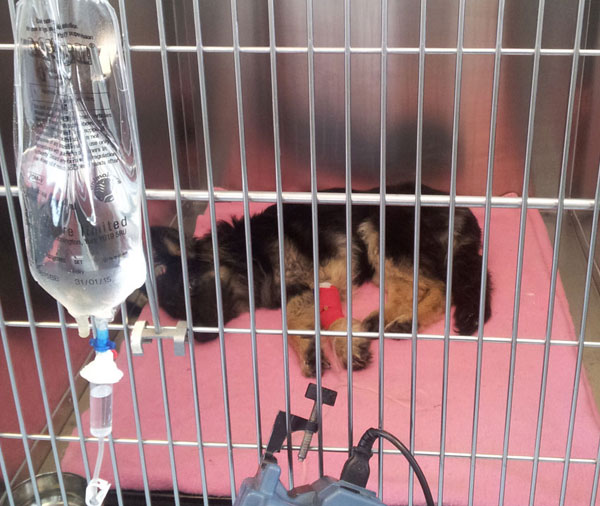 Coco was very poorly for days and we were warned that she might not make it
Coco 1 week after parvo diagnosed, in her high chair being fed balls of meat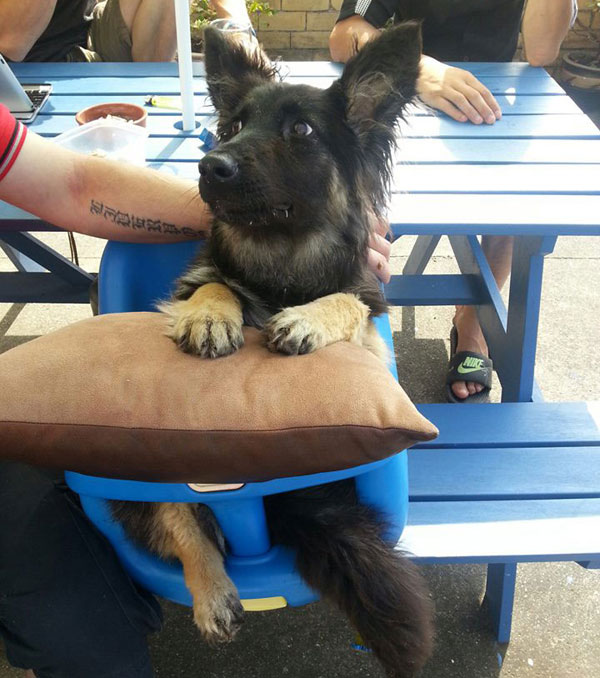 This cute little girl has come through parvo but we need to build her up in readiness for her big operation for a persistent right aortic arch. Following surgery, she will probably need to be fed in this upright position for the rest of her life to prevent food regurgitation. Here's the video of our little coco eating in her high chair
Coco with GSDR volunteer Wayne before parvo was diagnosed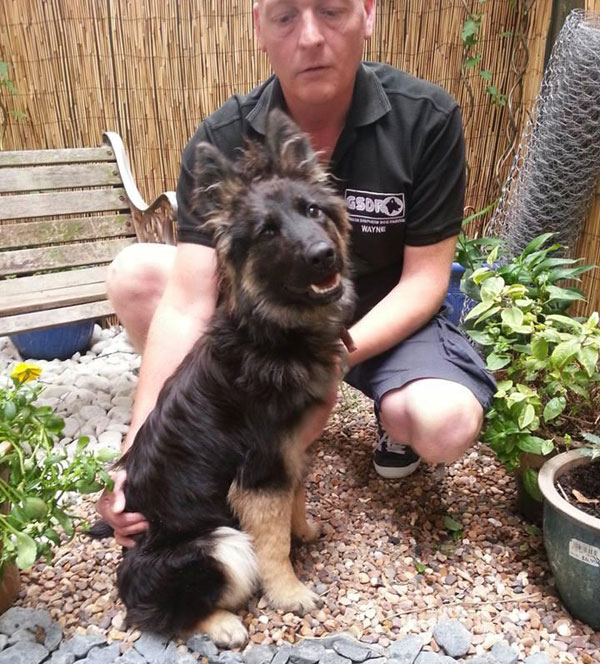 We have a very big ask of all our supporters who have been following the story of our little Coco, who is a very poorly girl indeed. This poor puppy came into the rescue just over a week ago and it was obvious from day 1 that something was not right. Initially, we thought she was about 3-4 months old but the vet she has been seeing for the last week confirms she is more likely around 7 to 9mths. Coco is just 10kgs, she has no energy and she cannot keep food down. Initially, we thought this was a case of megaesophagus but after she deteriorated over the weekend she was taken to the vets, where they have performed barium meal and x rays.
Coco - very small and underweight for her age before parvo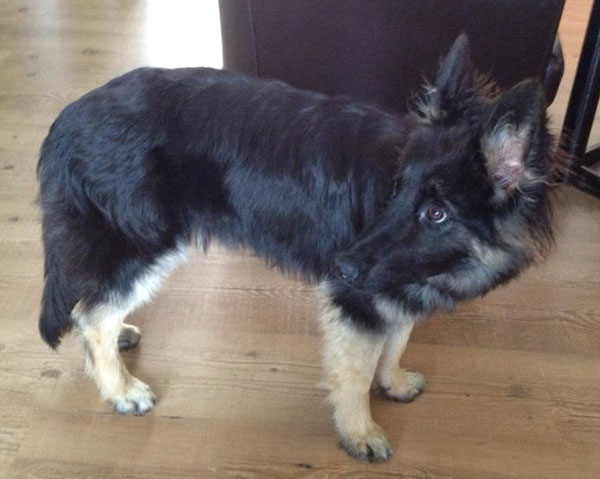 The diagnosis is that she has an obstruction at the base of the heart caused by abnormal vascular development - a condition known as persistent right aortic arch or PRAA. Coco was transferred as a matter of urgency to Chestergates Hospital where she can hopefully undergo thoracotomy.
When collected by our volunteer, this little puppy hadn't even got a toy to play with. She was being offered free to good home by an individual with a habit of this behaviour. There were 4 other puppies in the house who must all be sick since Coco has been diagnosed with parvo virus as well as her other problem
Coco snuggling up with a GSDR toy puppy before parvo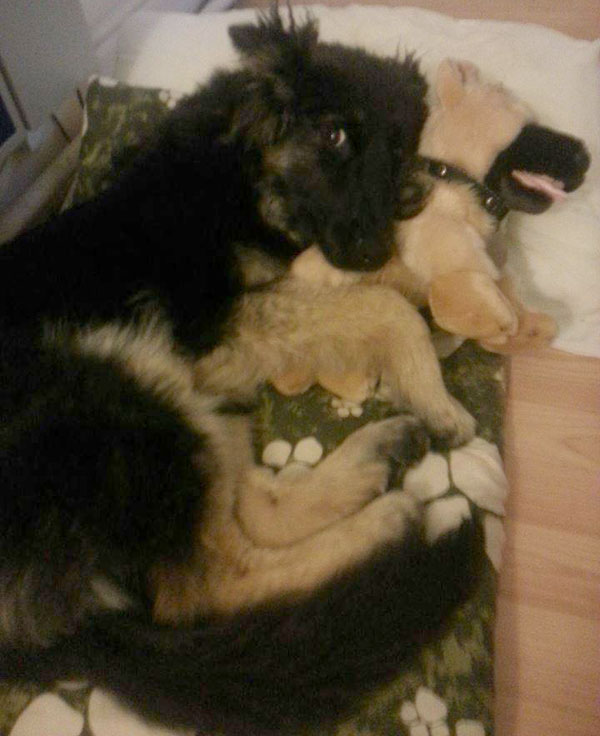 This beautiful puppy really has had a bad start in life and deserves to be helped
Coco before she was transferred as an emergency to the veterinary hospital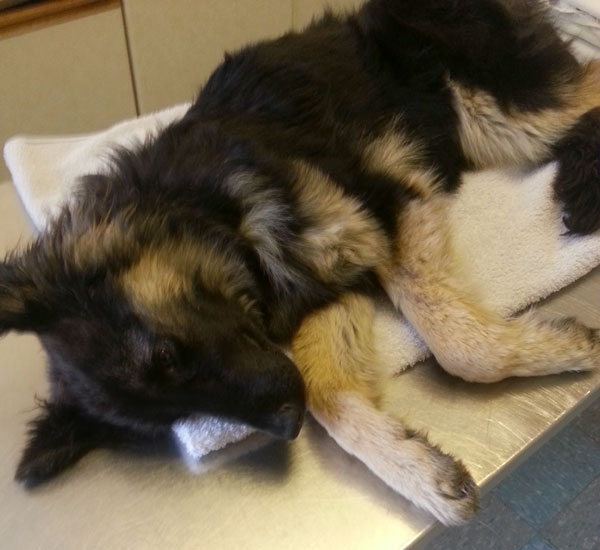 We have informed the hospital that no matter what, we want to do whatever we can to give Coco a chance. Coco hasn't given up and neither have we. This will be a huge financial burden for the charity and we are asking for everyone to help if they can. Every penny counts.
Coco has her own Virgin Money Giving page where we can benefit from the extra Gift Aid if you are a taxpayer.
We are also running an auction on Facebook to assist in the fundraising. If you have an item you can donate to help us raise the funds necessary for Coco's treatment or you would like to bag a bargain, come along and join our auction page.
Coco's Online Facebook Auction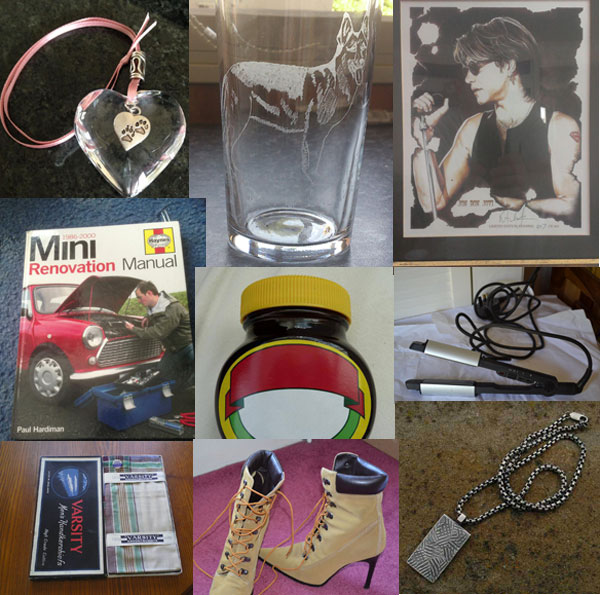 We will continue to post updates but please send healing thoughts for Coco and hope that we can get her through this. Our costs so far are £1500 for her stay in intensive care. Coco may still need further diagnostic tests plus we will have the cost of her surgery and aftercare. Thank you for donating to help Coco.
Please help us by making a donation so that we can help re home more unwanted German Shepherd Dogs. Donations can be sent to Jayne Shenstone, German Shepherd Rescue, Little Vauld, Marden Hereford HR1 3HA. We also accept Paypal payments - just click on the Paypal button below. Thankyou.