Update Flynn Yard Dog
Flynn has found a new home
Thank you to all the people that enquired about Flynn. He has moved into a new home with some 'new friends' and so far everything is working out OK.
Flynn - is this really my new home?
After such a terrible life this must be heaven for Flynn.
Flynn having a good sniff with his new friends
A romp in the park for Flynn and friends
Look I'm off duty now, took early retirement.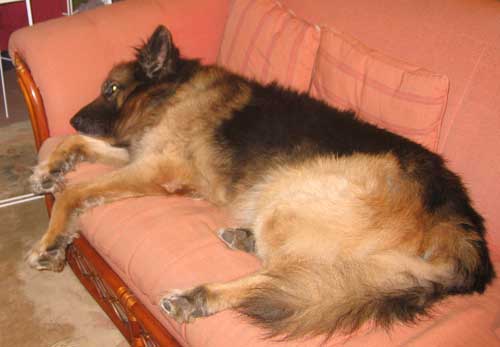 Further updates soon.
We have other older needy dogs also looking for happy retirement homes. If you can help please call Jayne on 01764 664894
"How Could You?" should bring tears to your eyes. It is very sad fact of life that many faithful pets have become disposable items and will be discarded, no longer required. Many of these will die unwanted, unloved and alone having spent the last few days, weeks or months in a filthy dank dirty kennel. Their final reward - a lethal injection!!
Poor Archie wasn't quite so lucky. His story highlights the plight of older dogs
We always have older dogs like Flynn looking for a nice home. Please don't overlook a dog because of age, the older ones have so much to give.
Please help us by making a donation so that we can help re home more unwanted German Shepherd Dogs. Donations can be sent to Jayne Shenstone, German Shepherd Rescue, Little Vauld, Marden Hereford HR1 3HA. We also accept Paypal payments - just click on the Paypal button below. Thankyou.