Joe Starved GSD
Joe - Starved, Emaciated, Dumped at the Pound
Joe is hungry – he's been hungry a lot – and for a long time as well!!
REHOMED
Skin and bone, frightened and confused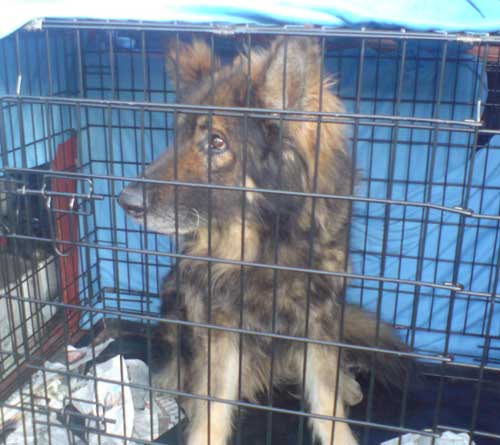 Under this thick, messy shaggy coat – lies just a skeleton. He is so thin, he can hardly stand. He is so hungry – he is desperate for some food. This is just how this boy has been for many many months -possibly even years.
The state of his coat shows he hasn't been groomed for at least a year – maybe more. At the moment its hard to tell if he is in pain with his joints, or he is just too weak from the hunger that he can hardly stand.
Joe was tied up outside one of the dog pounds that we visit. The person who had kept him in this condition couldn't be bothered or didn't want to pay for him to see a vet. Nor did they want anyone to see their shame that they had kept a dog like this for years. So, they left him scared, cold and hungry in the dark at the pound. He was collected by one of the volunteers who helps out with The Doris Banham Sanctuary. They try to help all of the dogs – wherever they are – and no, they can't help them all. But they do try to help as many as they can.
When we saw him on the transporters van – we didn't have the heart to not take him in, and see if we could help him.
So, we will let Joe have a few days, to start to get some food in his tummy. For him to realise that people are nice, and they can be kind. For him to be able to walk around, sleep on a warm dry bed, get fresh water whenever he wants it, and basically realise – life can be kind – as well as cruel.
Once he feels a bit healthier, then we can start to clean up his coat, and see if he his back end Is really damaged – or can we give him something to make him that bit stronger.
I don't think that people who do this sort of thing – ever read a web site like ours – I certainly hope they don't. To all of you who do love animals and read our site – please think of dogs like Joe – lost, lonely, scared and hungry – abandoned in dog pounds around the country tonight – because there are hundreds and hundreds just like him.
If you would like to send any donations to us, they are always welcome. To keep ourselves going, or mark it for The Doris Banham Sanctuary – Petrol Appeal – and we will be able to give them some more money to keep those volunteers driving.
I thank you for helping dogs like Joe and will keep you updated with his story.
Joe will be looking for a new home soon, where he will be able to receive proper, love and attention from someone who can guarantee to love and protect him for the rest of his days. He will want a home where he has plenty of room for exercise and where you are used to dogs of this size with no children under the age of 12.
Please contact us on 07946618011 or admin@rainrescue.co.uk"
How Could You?" should bring tears to your eyes. It is very sad fact of life that many faithful pets have become disposable items and will be discarded, no longer required. Many of these will die unwanted, unloved and alone having spent the last few days, weeks or months in a filthy dank dirty kennel. Their final reward - a lethal injection!!
Please help us by making a donation so that we can help re home more unwanted German Shepherd Dogs. Donations can be sent to Jayne Shenstone, German Shepherd Rescue, Little Vauld, Marden Hereford HR1 3HA. We also accept Paypal payments - just click on the Paypal button below. Thankyou.