Starved Dog
Shock as dog 'left to starve by its owners'
Update 10th Oct 2007
Today, this poor dog lost her fight for life after suffering years of neglect and abuse. She was less than half the weight of a normal female GSD and was found to have brain damage - amongst her many other problems. This dog couldn't have escaped from her ordeal, because she could not walk unaided. Her owners couldn't even show her the kindness of having her put to sleep humanely - instead they dumped her in a field to die!!
It has been suggested that she may have come from the Middlesbrough area, possibly from a scrapyard where there is thought to be another dog. If you have any information that could help, please contact either us or the RSPCA with this information. Don't let another dog suffer like this poor girl.
Reported in the Northern Echo Monday 8th October 2007
This poor dog weighed 15Kg - the person that did this must be found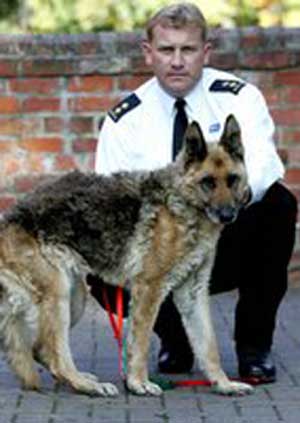 The poor dog could not stand unaided she was so weak
RSPCA Inspector Garry Palmer discovered this German shepherd bitch in a field in Sadberge near Darlington on Saturday morning. She weighed just 15kg - less half the weight she should be.
Garry said "I have never seen a dog so skinny but still alive." "I have not been as upset about the condition of an animal as this for a long time," he said. "The poor thing is nothing but skin and bones and it smells terrible."
The poor dog has been taken to a vets where she is undergoing tests. There is a really strong possibility that she will not survive because of the damage to her internal organs.
It is thought that the dog has been locked up and starved and finally dumped this weekend. She couldn't have escaped as she is too weak to stand up on her own.
If you have any information that will help find the vile cruel person that did this please come forward with that information. Call the RSPCA or contact us at the rescue on 01568 797957 and we will pass on details.
Please do not let this person get away with this appalling cruelty.
Please help us by making a donation so that we can help re home more unwanted German Shepherd Dogs. Donations can be sent to Jayne Shenstone, German Shepherd Rescue, Little Vauld, Marden Hereford HR1 3HA. We also accept Paypal payments - just click on the Paypal button below. Thankyou.