Smiley Romanian GSD
SMILEY - The dog that really does smile
Smiley is a mixed German Shepherd who came to GSDR when he was 7-8 years old, saved from the streets of Bucharest and from the slaughter that is occurring out there in Romania right now. Smiley was rehomed where things became very bad for him in an awful home that didn't treat him nicely. Smiley has now been in kennels since January 2014 with no interest in him whatsoever.
Smiley was a lovely, friendly, affectionate boy but when taken back to the kennels, he was a different dog and now hates children. Smiley has learnt to trust some big people again and one of the dog walkers takes him home for the day to get him out of kennels.
Smiley - before he was rescued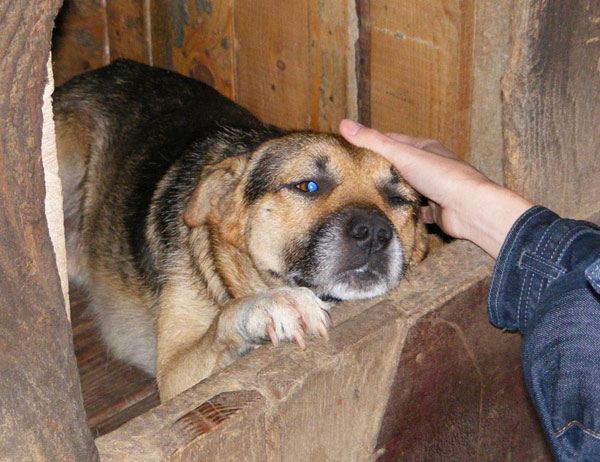 Smiley is a very special dog. Despite ill-treatment at the hands of callous humans, he is kind and loyal, docile and friendly even with strangers. His Romanian rescuers could not let him down now when he needed so badly a safe place and a family to love him, so was taken to a private shelter for safety.
Smiley - how can you resist?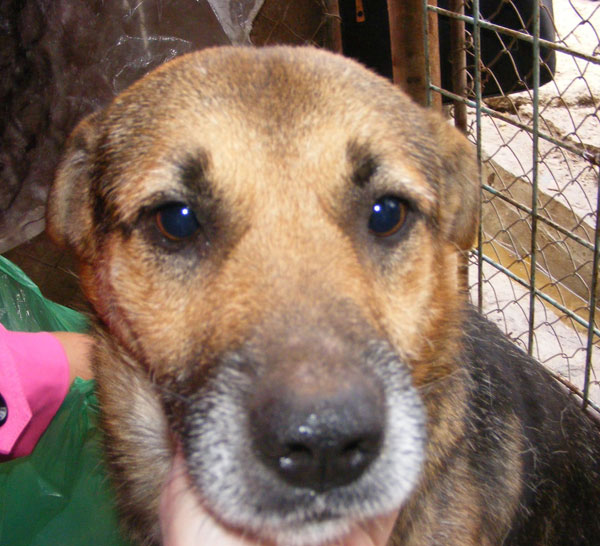 A very kind lady here in Edinburgh set up a Facebook fundraising page and raised all the money needed to get him here safely to the UK, and she asked us to take him and find him a kind loving home.
Smiley being prepared for his trip to the UK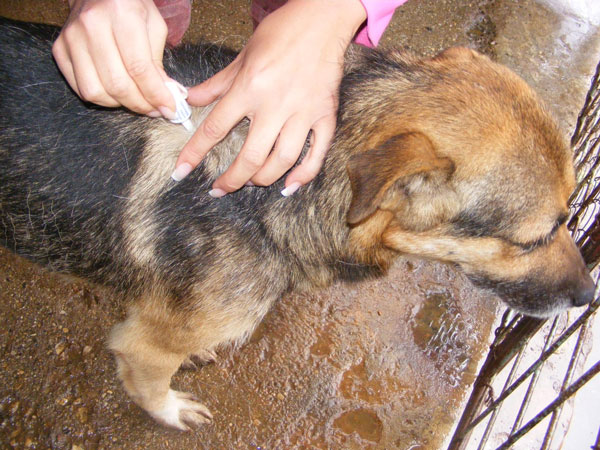 Smiley was also neutered and he has his own passport
Smiley getting a cuddle of one of his rescuers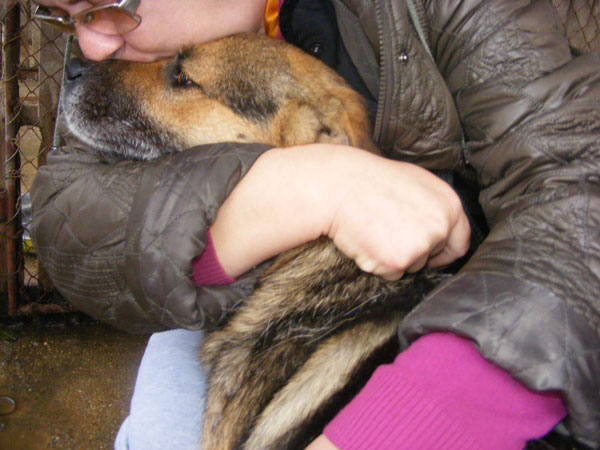 Smiley saying goodbye to one of his rescuers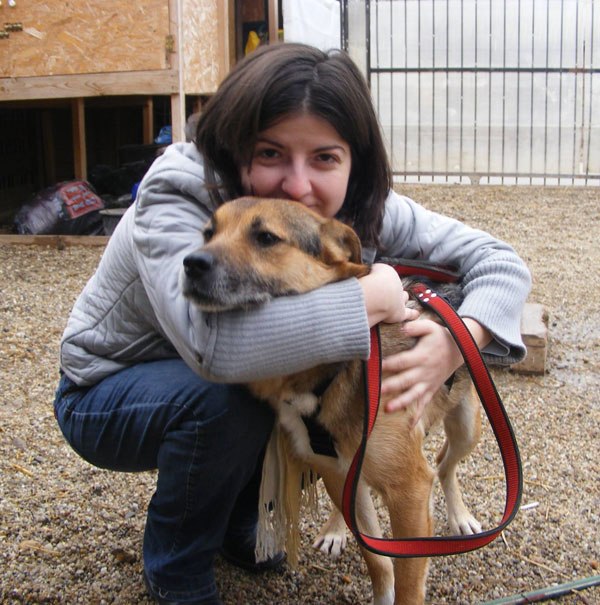 Smiley getting yet another cuddle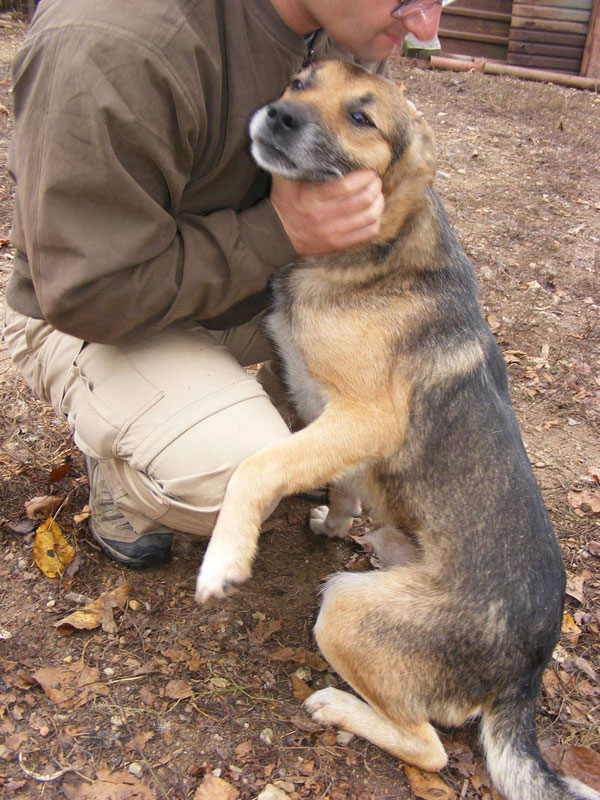 Smiley got along fine with his rescuer's other dogs, stays very still in the car and they have been trying their best to convince him to go on the leash. His name Smiley is not by chance; he is a dog that laughs, that hasn't lost trust in people and welcomes them with a smile. Shortly, he is Smiley!
Smiley - in the car and on his way to the UK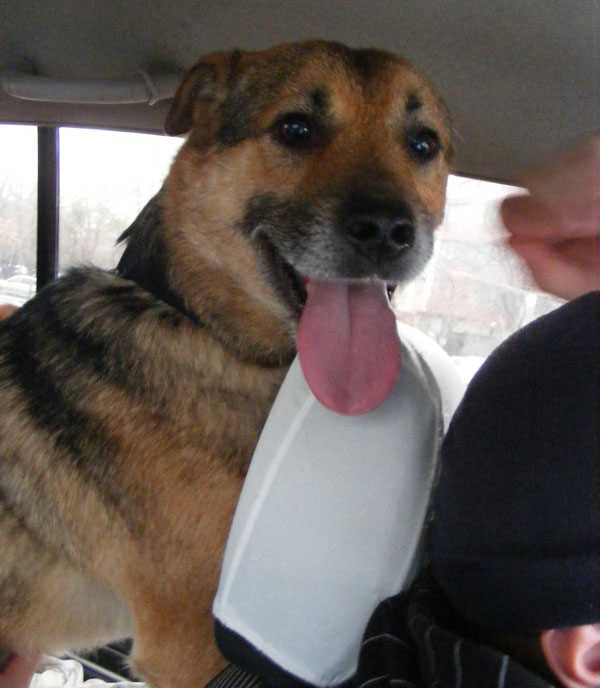 Sadly we couldn't find a foster home for Smiley and he has had to go into kennels. He doesn't deserve to be in kennels because he is a lovely friendly affectionate boy
If you think you can offer a good home to this lovely boy, Please ring Jayne on 01568 797957 or email
Donations are always welcome
Please help us by making a donation so that we can help re home more unwanted German Shepherd Dogs. Donations can be sent to Jayne Shenstone, German Shepherd Dog Rescue, Little Vauld, Marden Hereford HR1 3HA. We also accept Paypal payments - just click on the Paypal button below. Thankyou.