Shep Attacked by Pitbulls
Shep - attacked by pitbulls
In May last year, Shep was out for a walk with his master and friend when they were savagely attacked by 2 pitbull terriers. This is the awful story. They all recovered but Sheps owner feels he would be better rehomed away from the area.
Some of Sheps injuries
In May 2006 Shep was out for a walk on Wormwood Scrubs Common when he was set upon by 2 pitbull terriers. His owner and friend tried to fend the monsters off but Shep was bitten and the woman's ear was ripped off. The owner just stood by watching and hurling abuse during this terrifying attack. Luckily Sheps long coat may have protected him from more severe injuries and he recovered without any lasting effects.
View the BBC video about this horrendous attack on this lovely dog.
His owner however has not been able to forget this dreadful attack and has become fearful about walking Shep locally. He feels that Shep would be better away from the area perhaps in a nice rural home where this could never happen to him again.
Shep has a wonderful temperament, very friendly and a wonderful companion. He is used to being with someone most of the time.
Shep at 9 months old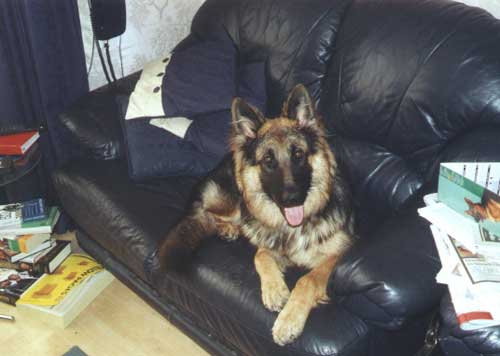 Shep likes to take his friends for walkies
Proud Shep also wins prizes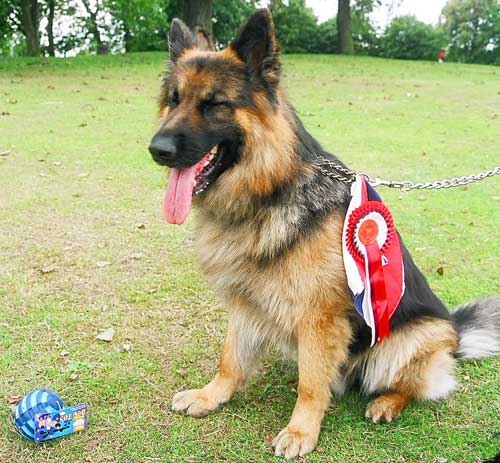 Shep's not just a pretty face!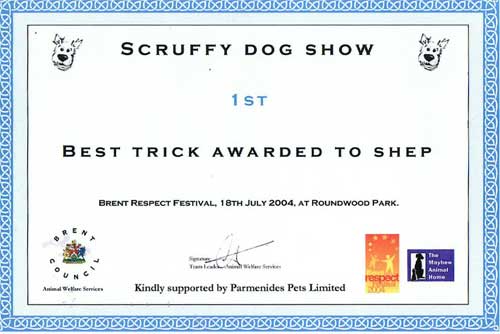 No your bum doesn't look big!!
Can you offer Shep a nice rural home where there is someone at home most of the time and where there are lots of safe places to go for nice long walks? Shep likes all people, children and he is fine with other dogs. His owner adores him and will be heart broken when he goes but he feesl that is is in Sheps best interests to get him well away from the area where this attacked happened.
Shep will be a wonderful pet for any home.
Please help us by making a donation so that we can help re home more unwanted German Shepherd Dogs. Donations can be sent to Jayne Shenstone, German Shepherd Rescue, Little Vauld, Marden Hereford HR1 3HA. We also accept Paypal payments - just click on the Paypal button below. Thankyou.