Shanghai Rex Dog Cruelty Case
SHANGHAI REX & TED- TWO VERY BROKEN SOULS
GSDR are working with a group of international rescuers to bring these poor broken souls Rex and Ted to the UK. We need to help them raise funds to prepare these appalling cruelty cases for travel to the UK, plus their travel costs. At the moment we estimate the costs will be around £5000. We think they deserve our help.
Please help us raise the funds to bring Rex and Ted over to the UK. If you pay by Virgin Money Giving and you are a tax payer, we get an extra 25% in Gift Aid.
Here's how you can donate.
CALLING INTERNATIONAL RESCUE
Your mission is to rehabilitate Shanghai Rex and Shanghai Ted and prepare them for travel to the UK where a better life awaits them.
THUNDERBIRDS ARE GO
GSDR were alerted to the plight of these poor dogs Rex and Ted who are in Shanghai, by a group of international rescuers. Between us, we want to help both of them come to a better life here in the UK because at GSDR we believe all dogs deserve a chance.
In China, German Shepherds end up being factory dogs, they can't even be registered in downtown Shanghai. Owners have to hide their dogs and can't offer them the lives they deserve.
UPDATE ON GSD REX & UPDATE ON GSD TED
This is poor broken Rex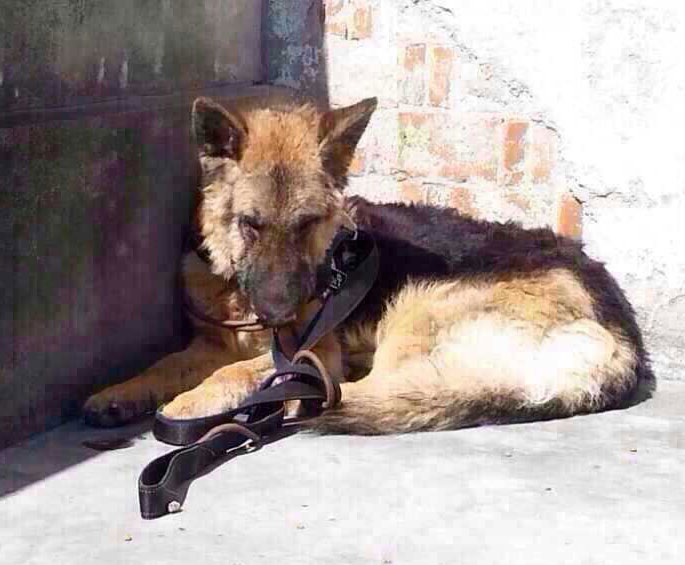 Rex has been lucky believe it or not! WADS (Wang Ayi's Dog Shelter) rescued him from the dog pound, treated his horrific injuries and have been providing him with food and shelter. But he is a broken sole and needs people who can give him back the trust that he probably lost long time ago! They have never seen such a scared and sad dog.
This is poor Broken Ted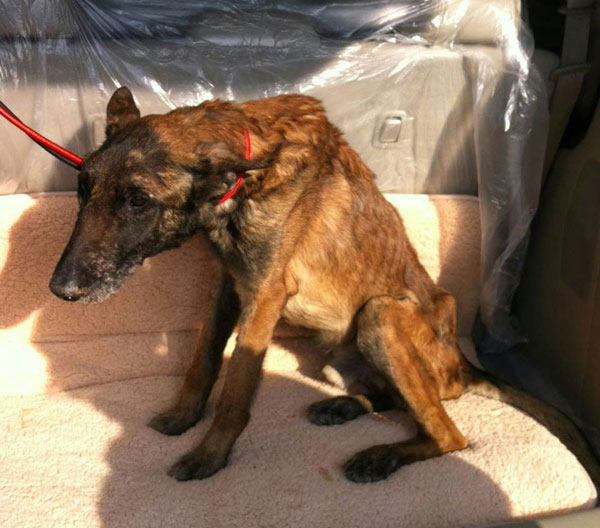 Rescues over there are trying to get Ted into foster and get him out of that hell hole.
How could humans do this?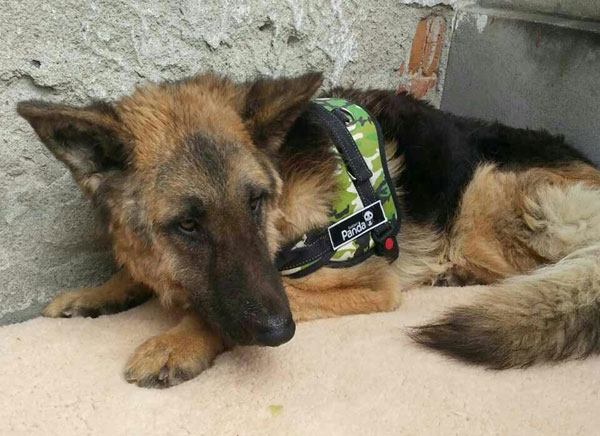 Rex had deep wounds to his neck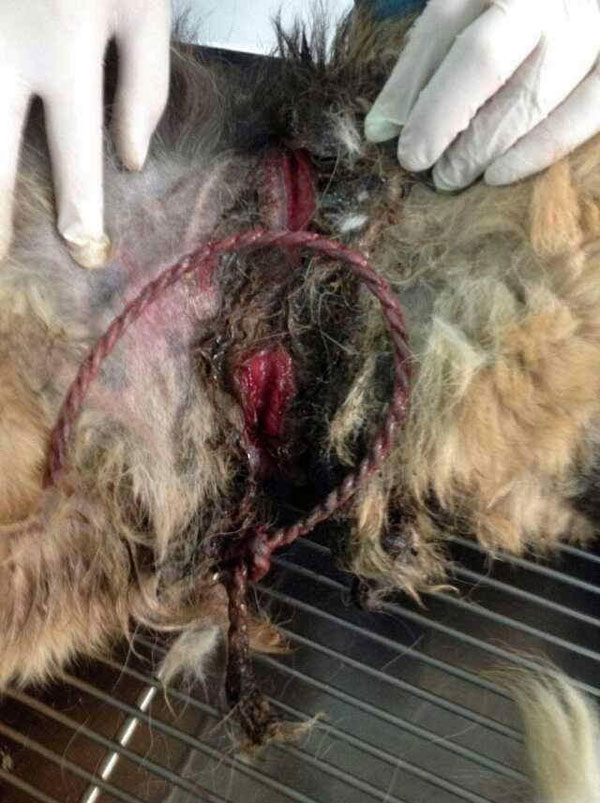 Rex was badly injured all over his neck, a metal collar had cut into his throat so he spent 1 month at the vet for recovery. Now he is back at shelter and he is just one of the saddest cases.
How could human beings do this to a dog?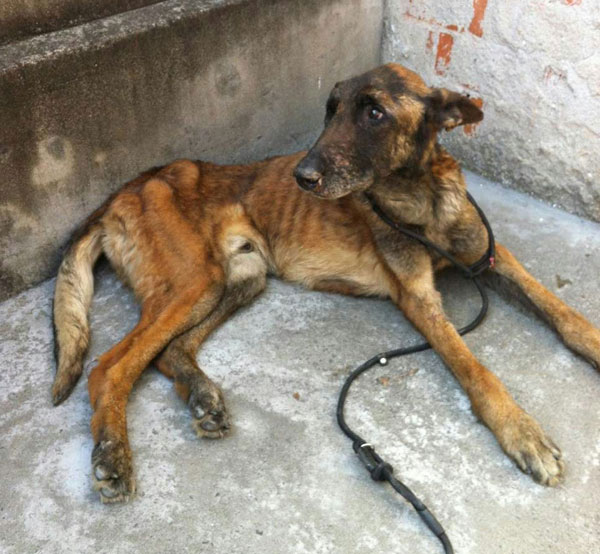 Rex has shut down and now needs help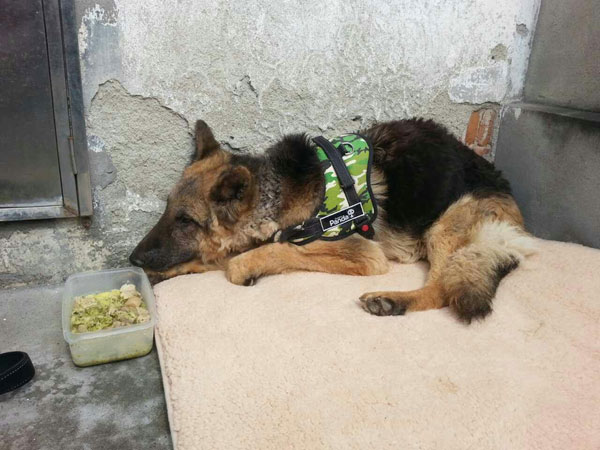 Rex is terrified of everything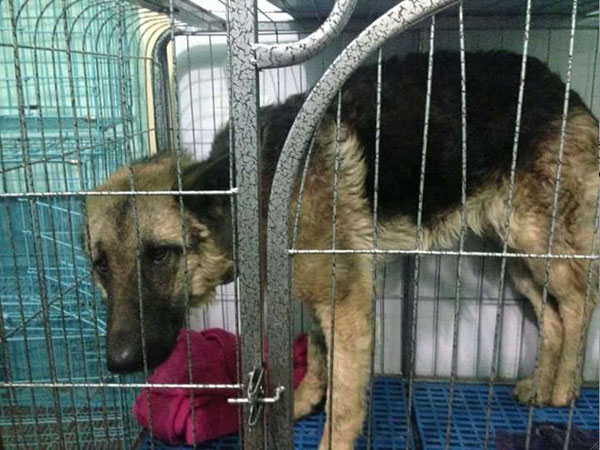 The good news is, he is getting better, and a very kind Australian woman has agreed to foster him for a couple of months whilst he is being prepared for travel. The rescue will be moving him to her home this Saturday 7th March 2015. The conditions at her home are perfect. She has a separate room where they will put a crate for him, so he will be able to hide and take his time as long as he needs. Besides, she has a garden, which helps a lot to take him out. They don't believe he is ready yet to go for walks, he is just very scared of people and would be just overwhelmed by people, cars and dogs. They need to be careful with him to not to stress him out.
Rex had deep cuts in his neck and throat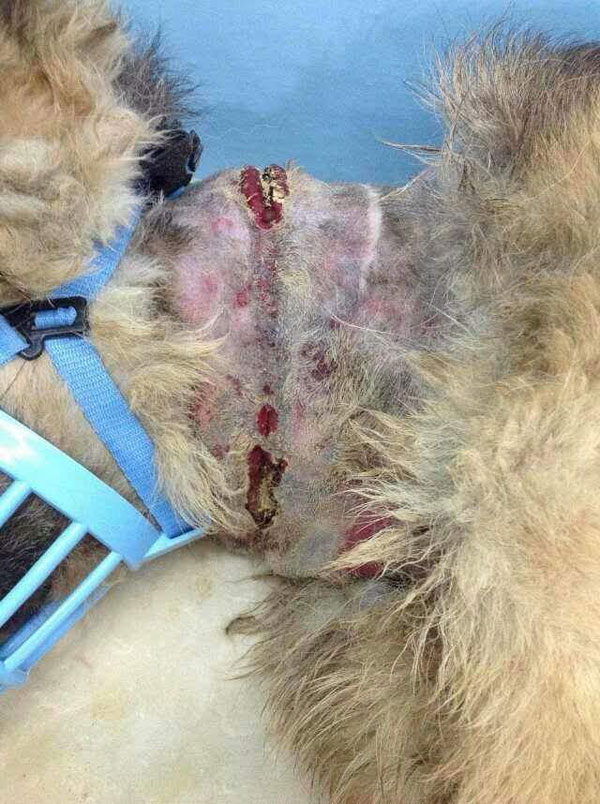 Humans did this to poor Rex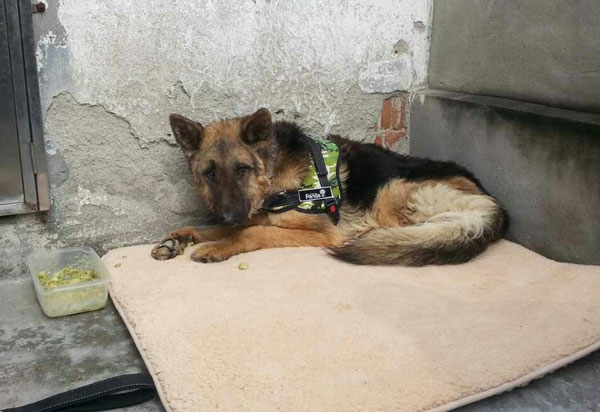 Time is a great healer - hopefully.
We will bring you further updates as soon as we have them. Keep everything crossed for Rex and Ted and lets hope this is the start of something good for them
These two dogs have been abused and betrayed by humans so we think they deserve a chance. Together with our international rescuers, we can make a difference for Rex and Ted. Please help us help thedse two very sad cases.
Please help us raise the funds to bring Rex & Ted over to the UK. Here's how you can donate. If you pay by Virgin Money Giving and you are a tax payer, we get an extra 25% in Gift Aid.
Here is how you can donate
Donations are all ways welcome
Please help us by making a donation so that we can help re home more unwanted German Shepherd Dogs. Donations can be sent to Jayne Shenstone, German Shepherd Dog Rescue, Little Vauld, Marden Hereford HR1 3HA. We also accept Paypal payments - just click on the Paypal button below. Thankyou.