Jet Rescue Dog
Jet needs your help
At this rescue, we don't cherry-pick the easy ones for rehoming as we believe all dogs deserve a chance. Without our help, there is a real risk that this young dog will lose his leg We don't want that to happen but we need your help to fund his treatment.
NOW REHOMED
Jet deserves a chance to enjoy a normal life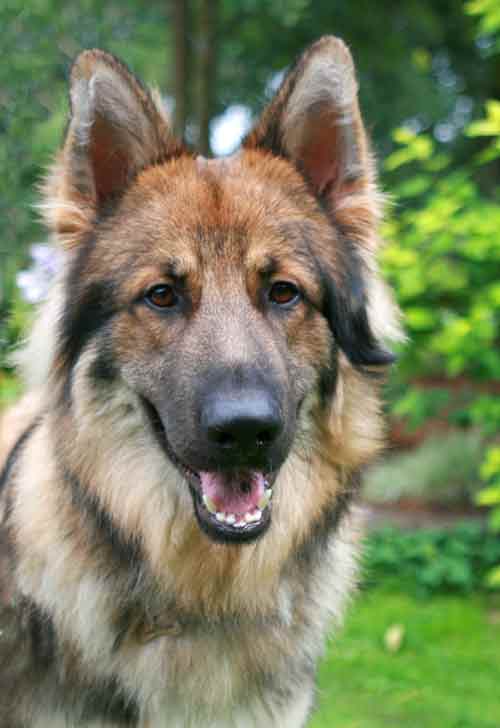 Jet is a beautiful dog, who has had a rough time. When he was just 5 months old he was hit on his hindquarters by a car and sustained a fractured right hip. His owner had limited funds and he was treated by the PDSA. Jet had two lots of surgery on his right hind leg. Firstly to repair the fracture by inserting a plate and screws, and then a second operation to remove the ball and socket joint.
Following the operations, he urgently needed physiotherapy or hydrotherapy to help him regain the use of his leg, but unfortunately, his owner was not in a position to afford the treatment. The PDSA continued to prescribe pain killers, but his condition didn't improve and he started to loose weight. The PDSA then suggested that his leg is amputated.
Jet and his new friends in his foster home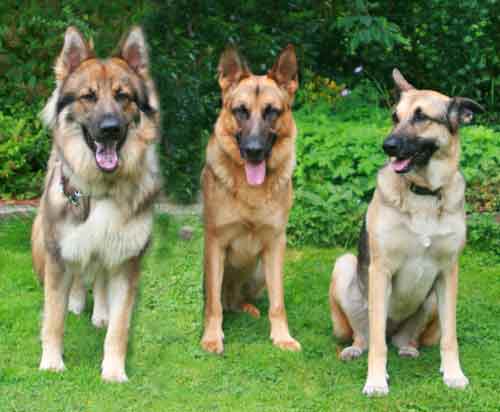 When Jet was assessed by a rescue volunteer, he was living in a small flat with a shared garden. Jet's owner had been injured when trying to take him out as he had pulled her over – although Jet is a very friendly dog, he has not been trained or socialised. Jet is now 14 months old and when he came to German Shepherd Rescue 3 months after his last operation, he was subdued, very underweight and clearly still in considerable pain.
With the right treatment, we can save his back leg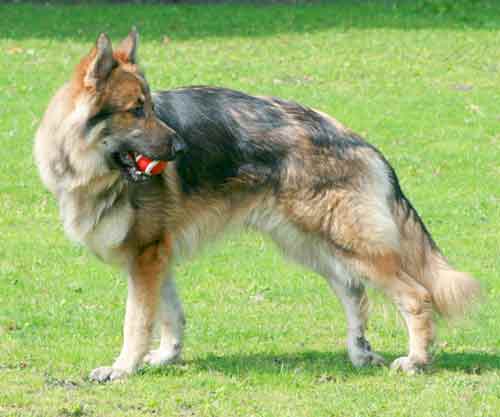 Jet has recently been moved into foster care and has been assessed by a private vet. He had a deep-seated infection in his right hind leg which was oozing pus and blood – swabs showed this to be a penicillin-resistant infection, and he was placed on antibiotics for at least a month. His hip has been x-rayed and his painkillers have been increased. Jet is due to start physiotherapy next week – it is likely to be a long haul as the movement in the leg is only 45 degrees (when it should be 180 degrees).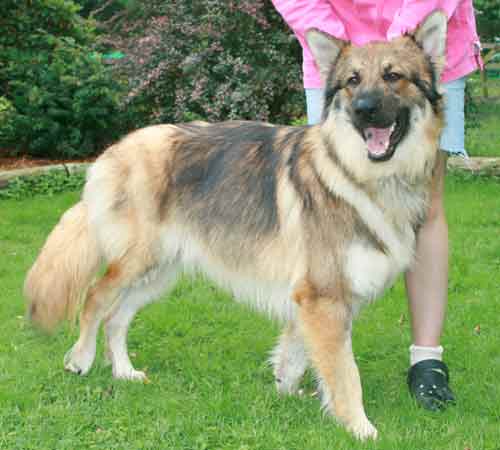 The vet fees to date are £397.00, the physiotherapy assessment is £75 and further sessions are £45 each. Jet is understandably very protective of his leg and he may need sedatives to tolerate physiotherapy. If the physiotherapy is not successful, further surgery is recommended to take out the implants and tidy up the bone surfaces to try and save the leg. This is all going to be expensive and we desperately need funds to pay for his ongoing medication and treatment – can you help by making a donation to the Jet fund?
Jet playing with his new friends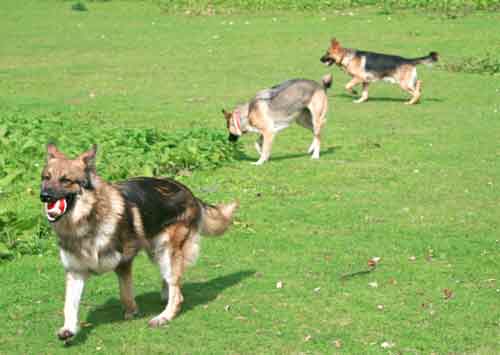 Jet is a very friendly and good natured dog who is now being fostered with two other dogs. Jet is a young dog who has had a really rough time and he needs your help to give him a chance to make a good recovery. Please give generously.
Please help us by making a donation so that we can help re home more unwanted German Shepherd Dogs. Donations can be sent to Jayne Shenstone, German Shepherd Rescue, Little Vauld, Marden Hereford HR1 3HA. We also accept Paypal payments - just click on the Paypal button below. Thankyou.