Pregnant dog left for dead gives birth to puppies
Pregnant dog who was 'left for dead' and gave birth to puppies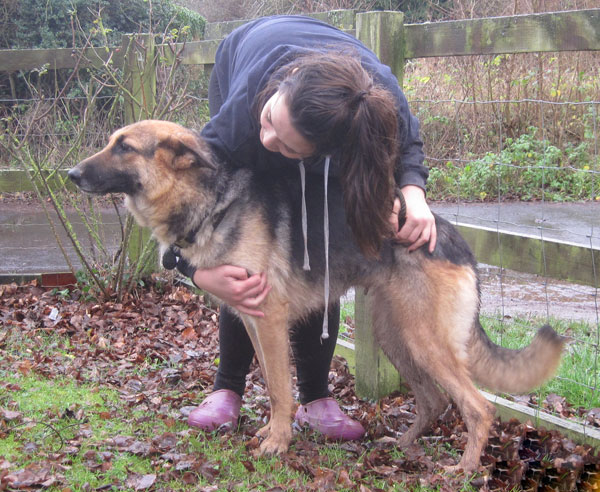 At around 5.30am on Sunday 20th September in atrocious weather conditions, this poor dog was found by a member of the public tied up outside Hanchurch Woods in Stoke. She was found in a very poor condition, emaciated, covered in faeces, smelling of urine and unable to eat. The kind person that found her realised that this dog was in big trouble so immediately sought help and she was taken to an emergency vet in Stoke.
She was in a state of collapse, she had hypocalcaemia and was immediately put on a drip. Staff were worried about her underlying condition so performed a scan which revealed that she was in fact very pregnant.
In the early hours of 24th, Sally gave birth to 9 puppies. Her story featured here: Pregnant dog 'left for dead' gives birth to eight puppies
For the record, this dog was never in the care of the RSPCA who wouldn't take her in and neither was she ever called Fern. Her name is Sally.
The vet's surgery that cared for her contacted GSDR and asked us if we could help with Sally and pups and of course, we said yes. We picked Sally and her pups up when they were just 48 hours. Sadly one pup died.
Sally has been a brilliant mum to her pups and was feeding them happily until about 6 weeks when she started to struggle. We had the pups lapping at 3 weeks and taking solids by 6 weeks so were able to take Sally away from them during the day to give her a rest.
The pups grew rapidly and before 8 weeks Sally was struggling so we separated them.
Since being away from the pups, Sallys' condition has started to improve. Her persistent diarrhoea has now gone and she is slowly starting to gain weight. At a recent check up her weight was 25 Kg so she still has some way to go but she is getting 3 meals a day to help her put some weight back on.
Sally now needs a nice quiet home, we think adult only as she has clearly not been treated well in the past. She is so sweet, never shown any aggression and we believe she has been kept confined somewhere and maybe used as a breeding bitch. She certainly knew what to do once the puppies were born and we don't believe this was her first litter. She has probably never lived in a house so she may take some time to adjust.
She is being walked regularly by her fosterers with other dogs and is beginning to settle down although she is scared of large vehicles, strangers and other dogs. She has a habit of circling and will even do this on the lead when she is faced with something she finds stressful. She ties you in knots with the lead as she tries to hide behind your legs.
She is not aggressive towards other dogs, she tends to shy away from them so we think she would be better as an only dog or with a very laid-back male dog.
We will talk to the vets about her being spayed as we never want her to go through this again but we feel that we made need to wait a while until her condition and weight improves. So what happened to the puppies?
MEET THE KIDS
Here are Sally's 8 gorgeous healthy puppies who are now 13 weeks old, there are 6 boys and 2 girls. Although they are ready for rehoming we wouldn't advertise them until after Xmas so as not to attract the wrong kind of people!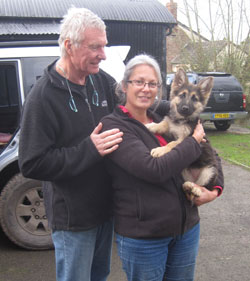 DAMIEN - REHOMED NOW CALLED JASPER BECAUSE OF HIS LOVE OF CARROTS!
This cute little bundle of fluff is our Damien who was the smallest of the litter, although catching up now, but he has a massive personality.
He was given the nickname Damien because his ears very strangely started to stick up just after he was 3 weeks old. A friend commented that they looked like little horns - hence the name Damien. We can assure you that he is no little devil - well no more than any of his brothers and sisters.
He is a feisty little man and will give as good as he gets. Like all puppies, he loves to eat, sleep, play and chew. We think Damien will catch up with the others like runts do and may well just grow to be the biggest of the lots.
Everyone loves Damien because he looks so fluffy and cute. We think Damien will be semi or long coated when an adult.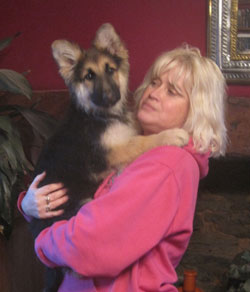 BETTY BOO - REHOMED NOW CALLED BONNIE
Meet the first of the girls, our Betty Boo who is one of the largest of the pups.
She is a big fluffy girl who will be semi or long coated when she grows up.
Betty Boo can be bossy especially with the boys and she has got herself into a few scrapes when picking on her brothers.
Betty is a very pretty girl withy beautiful eyes that will melt your heart. Her ears are almost up now, it's just the tips that sway in the breeze a little.
Betty Boo is getting used to being walked on a harness now. She was reluctant at first like most pups are but she is most certainly getting the hang of it now. Betty Boo especially loves a cuddle.
We think she is going to be a big girl, she should be allowed to have her first season and her new owners will be required to have her spayed and provide proof to the rescue.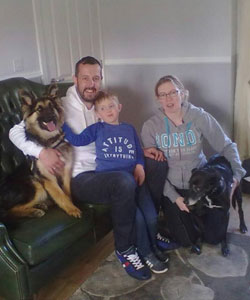 BUSBY BEAR - REHOMED
This is drop dead gorgeous Busby Bear who is one of the larger pups and who is very striking indeed.
Busby stands out because he has a very fluffy black coat and face - hence his name Busby Bear. He will most certainly be a semi or long coated boy when he grows up.
He has been on trips out and met strangers. He was car sick but it's a matter of getting him used to travelling in a car and knowing that it means you get to go to nice places.
Like the other pups, he is wary of strangers as he doesn't get to meet many people because his foster mum lives in a rural location.
Like the others, he is learning to walk on a harness which is work in progress. If strangers approach him he barks. This boy is going to be a very handsome boy when he grows up.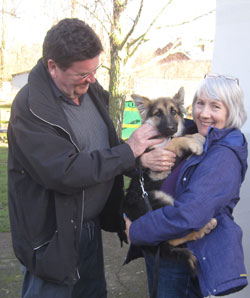 SNOOZY SUZIE - REHOMED
Meet the second girl in the litter Snoozy Suzie
You have to admit that our Suzie is seriously cute, you would have to have a heart of stone not to be melted by that face.
Suzie is similar to Damien in size so one of the smaller pups, but again catching up fast.
She got the name Snoozy Suzie because she used to like to sleep a lot although she is pretty much the same as the others now.
She may be smaller in size but like Damien, she has a big personality.
Like her sister Betty Boo, she loves a cuddle.
Another very pretty fluffy pup that will be semi or long coated when adult.
If you like female shepherds both Suzi and her sister are adorable, you won't be disappointed.
Like her sister, she should be allowed to have her first season and her new owners will be required to have her spayed and provide proof to the rescue.
Before you scroll down to see the rest, here's a note about how these puppies have been reared
Unlike their mum, these puppies really have had the best start in life. To begin with, they have not received toxic, poisonous vaccines which destroy the immune system but have all been protected by NOSODES which were given at 3 weeks and then 4 weeks later. They were given the 6 in 1 which includes kennel cough.
The puppies were wormed naturally using diatomaceous earth, parasite tincture and best of all - ground pumpkin seeds.
They were weaned onto a plant based diet - mainly organic, which consists of beans, pulses, whole grains and fresh organic fruit and veg plus the pups had some nutritionally complete cruelty free kibble although this has been a very small part of their diet.
They love sweet potato, carrots, cauliflower and cabbage. We made them 4-5 litres of organic hemp milk every day which contains all the omegas.
Dogs are not obligate carnivores, they are omnivores who would scavenge in the wild and eat a varied diet which would include fruit and vegetation.
Even if you feed a raw food diet, you are feeding your pet foods that they would never eat if they hadn't been domesticated. When did you last see a dog hunt and kill a cow, a sheep or a pig? Over 95% of livestock are intensively reared or factory farmed these days plus injected with vaccines, growth hormones, antibiotics and many other nasties which are anything but healthy.........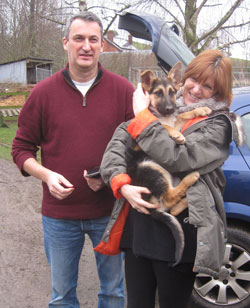 SPUD - REHOMED
This handsome fellow is our Spud.
He is a short coated boy who has lovely reddish tones on his face, ears and legs. Spud just loves attention and likes nothing more than sitting on your lap and having a cuddle.
Like the rest of them, he loves to eat, play and chew. He loves shoelaces and the bottoms of trousers or dressing gowns!
He gets cross if the other pups try to steal his carrots (they all love Carrots) so he has a good growl at them.
The boys have had a few scraps and you can bet that's it's usually Spud that is involved.
Looking at the size of those knuckles on his front legs, he has some growing to do. Those ears are nearly up now, it's just the very tips that are not quite there yet.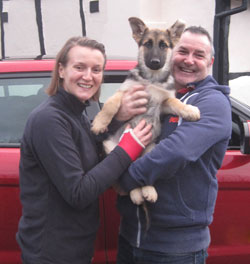 LEFTIE NOW MONTY - REHOMED
Meet another of our short coated boys - Leftie.
This boy has a huge personality, and you cannot fail to like him.
He was nicknamed Leftie because his left ear is pretty much up most of the time but the right one hasn't quite decided where it's going yet!
Leftie is such a character and he likes to have a bark. He will bark on command - well most times.
Leftie really is a cheeky chappy that is going to make someone a wonderful companion.
Leftie is being walked on a harness like the other pups and has taken to that much better than most of the others. He is nosy and wants to get out and about and see and meet new things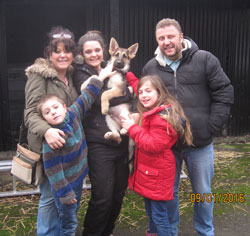 CHILLI CHARLIE - REHOMED
This handsome boy is our Chilli Charlie who is the biggest of all the pups.
He got his nickname because he threw a sickie one weekend when he was about 3 weeks old and the only temperature controlled place available was the propagator used for growing Chillies.
He spent 12 hours in there then thanked his foster mummy at 2 am in the morning by singing and asking to go back with his mum and the gang.
He is a lovely big boy who also likes to chew - shoelaces preferably.
He really looks the part, doesn't he? Those ears are well and truly up now - he is a proper GSD.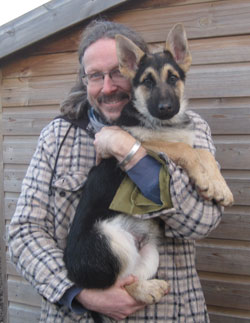 LAD WITH DAD - REHOMED
His new dad looks like the cat that got the cream!!
Lad is another of our short coated boys.
He has a lovely face with very expressive eyes.
Lad is quite similar to Leftie in looks but he is slightly larger and both of his ears are pretty much up now.
Lad is a bit of a naughty boy as he is becoming quite dominant and has been involved in quite a few scraps with both brothers and sisters.
Lad is probably the best for walking out on his harness, he is confident and keen to get out.
These puppies are all gorgeous, they all have their own personalities, none are better than any other and they all deserve better than their mum got.
We are looking for very special homes for these pups.