Personal Protection Dogs
Bob Metcalfe Personal Protection Dogs
Essential Information on BOB METCALFE Dog Trainer & Personal Protection Dogs. DO NOT! BUY a Personal Protection Dog until you read this article.
This is a warning to anyone who might be thinking of purchasing dogs advertised as 'Personal Protection Dogs'
Firstly, why would anyone be stupid enough to pay thousands of pounds via an internet listings site for a dog advertised as a personal protection dog or family protection dog?
All the large guarding breeds such as German Shepherds, Dobermans, Rottweilers etc are all known for their strong guarding instincts towards their family and property. You don't need to teach these dogs how to protect you, it is inherent in these breeds so why pay some charlatan thousands of pounds for a dog that almost certainly came from a rescue centre or a listings site as someone's unwanted pet. Sadly they have even exploited rescue dogs that have come from eastern Europe, dogs that have probably had an awful start in life only to end up being passed off as a trained personal protection dog. It's doubtful that any of these dogs have anything more than basic commands and we have evidence to show that cruel training techniques are used to make these dogs comply such as prong collars. These so-called trainers are nothing more than cruel bullies who use fear to 'train' dogs.
A fool and his money are soon parted.
An actual example of how someone was conned by a so-called personal protection dog trainer.
On Saturday over the Easter holidays, a pensioner from Birmingham purchased a dog from Freeads advertised as a personal protection dog for the princely sum of £1000 - cash only accepted.
She purchased the dog from a Bob Metcalfe (AKA Robert Metcalfe) who calls himself a dog trainer and who is well known to us at the rescue. He has the knack of acquiring dogs cheap or free usually from rescue centres or private adverts on listings sites, then selling them on for thousands of pounds described as 'personal protection dogs'. Our experience is that these dogs have very little training, not even basic training and most have just been family pets.
Sunday morning 21/4/19 we received a frantic call from the pensioner who bought a dog called Rex from Metcalfe begging us to come and collect the dog. Apparently, she had rung Metcalfe who made it quite clear that she wasn't getting her £1000 cash back but he did offer to come a few days later to 'train' the dog. So exactly what did this lady pay for?
The dog Rex was advertised as a family protection dog, a huge 2-year-old male with all the attributes you would expect to see in a working dog. When a volunteer shot off to pick him up she found a small male, good looking but very thin, smelly and coat in a terrible condition. Most of the fur around his neck has been stripped off which is indicative of him being pulled around on a check chain, prong collar or he has been tethered. He arrived complete with prong collar that the buyer had difficulty removing because it was so tight!
Rex arrived wearing this barbaric collar.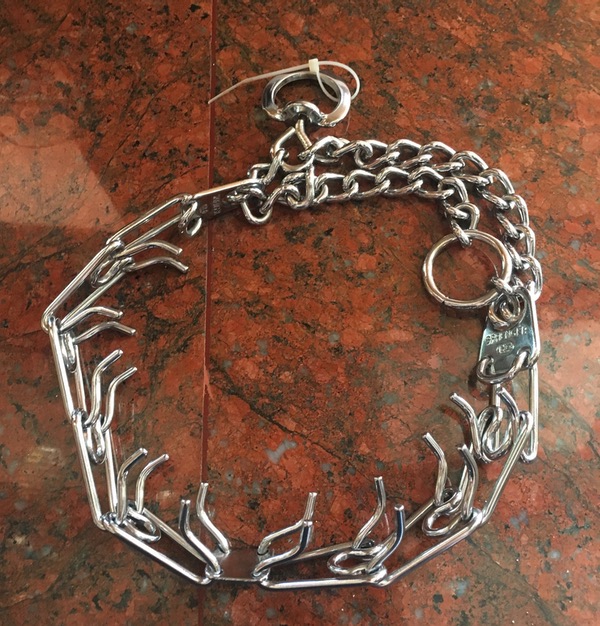 These disgusting collars are very sharp and they hurt.
Why anyone would part with a £1000 for a dog like this is beyond us.
The first thing we did was scan him for a microchip and sure enough there it was so we looked up who it was registered to which was in fact, the previous owner who rehomed him 4 weeks ago to a customer and was not aware of what had happened to Rex.
His DOB is 19/11/2014 so he is in fact 4 going on 5 and not 2! This dog has no protection training whatsoever, in fact he has very little training he doesn't even know basic commands.
So we are publishing the contract that this lady signed - no mention of dog's age or price (cash) paid on there and also the original advert that was placed in Freeads that she responded to as a warning to anyone that might be stupid enough to part with a 4 figure sum for nothing more than a pet and one that has not been well looked after.
Bob Metcalfe's so-called contract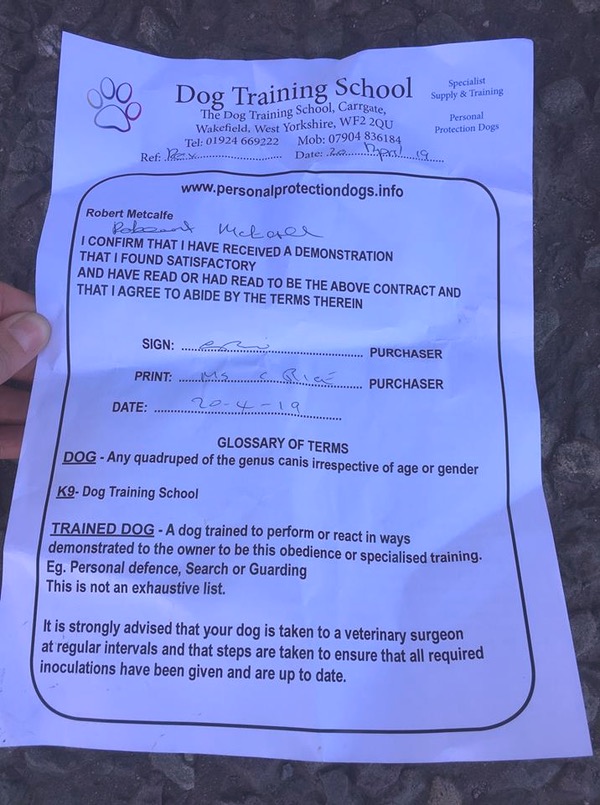 The address on the paperwork is The Dog Training School, Carrgate, Wakefield, Yorkshire. WF2 2QU. This property does not belong to Metcalfe.
The advert for Rex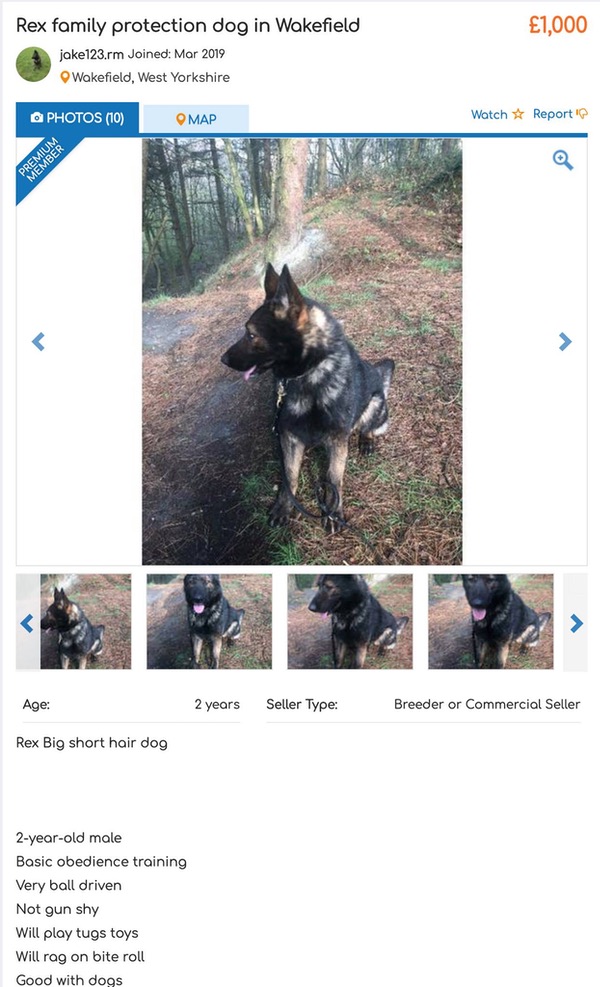 Members of the public have checked with the local council and these kennels are not licensed for boarding or breeding yet they board dogs and Mr Kay's son apparently breeds puppies (beagles we believe) which are sold from listings sites. An ex-employee has told people that this is nothing more than a back street breeder where conditions are said to be appalling
The Rex in the advert is also wearing a prong collar in those photos on Freeads by the way.
This is the Rex we picked up that the buyer paid £1000 cash for less than 24 hours earlier.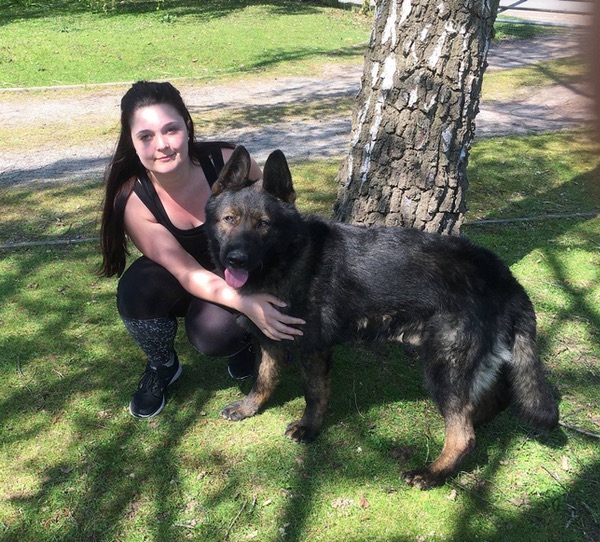 Anyone who has to resort to using one of these barbaric devices is no dog trainer but is nothing more than a cruel bully who uses fear and pain to make the dog obey.
We have also been informed:
'Rob Metcalfe along with his mates and the admin team of Its a Doberman Thing were active in importing docked and cropped Doberman from rescues overseas and selling them as protection dogs'
'He's also been selling rescue Dobermans courtesy of Zara Hayes and Run Ragged Kennels'
'We have 3 Dobermann's still missing. The rescue owner (Zara Hayes) obtained the dobes, Ken Kay kennelled them and "trained" them and Rob Metcalfe sold them on'
Here is a current advert (May 2019) from Bob Metcalfe.
£8000 for a dog that was most likely a family pet obtained cheaply from listing sites like Preloved, Gumtree or Freeads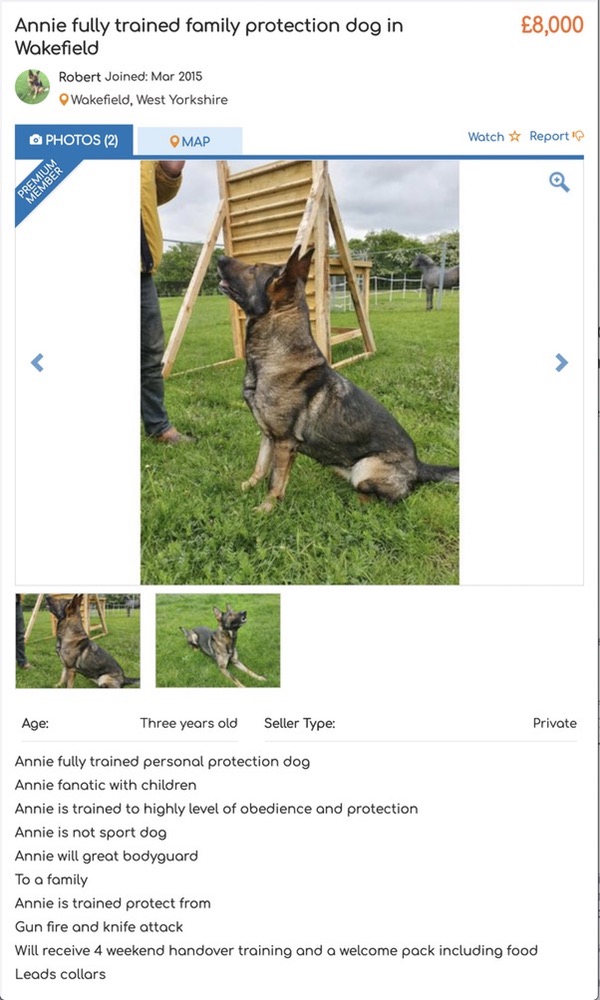 Clearly spelling and grammar are not one of Mr Metcalfe's skills!
Please don't line the pockets of fraudsters by buying something that is not as described for over inflated prices.
Remember that many of these dogs advertised have been acquired from rescue centres or online listings websites such as Preloved, Gumtree or Freeads and virtually all of them are simply someone's unwanted pet. We also know that some dogs purchased have been much older than claimed and in virtually all cases they have little more than basic obedience training. The training methods used to get these dogs to comply are usually fear or pain based, they are bullied or yanked around with a prong collar which inflicts terrible pain on these poor dogs. If you are in any doubt about this, check out the youtube channel of Personal Protection Dogs and try and find a dog that hasn't got its ears back or looks relaxed or happy, most are wearing prong collars. This is not the way to train any dog.
These so-called trained dogs are then handed over to largely untrained members of the public for 3 figure sums which is like handing over a loaded gun to someone who has never fired a weapon in their life.
Remember that the Dangerous Dogs legislation was changed a couple of years ago and that you as the owner are liable for the dog's behaviour even on your own property, so if it attacks or bites, you could be facing prosecution and it could result in a destruction order on the poor dog
If you want a protective dog then adopt don't shop and get yourself a large guarding breed such as a German Shepherd who will naturally protect home and family. Most breed rescues will match a suitable dog to your circumstances and offer advice on all aspects of owning that breed.
Be a responsible pet owner and don't allow these fraudsters to benefit from what they are doing at the expense of these poor dogs and the risk to you, family and friends.