Mosey Rescue Dog
Mosey - in kennels nearly a year now
Although the kennel owners are very fond of Mosey and look after him extremely well, wouldn't it be wonderful for Mosey to have a new home to go to? Mosey is at an age where he needs warmth and home comforts, the home comforts he was used to when he lived with his old mum.
Mosey is neutered and seems to be in good health. In the right home, Mosey will make a wonderful companion, just like he did to his old mum.
PLEASE DON"T LET MOSEY SPEND HIS 10th BIRTHDAY IN KENNELS
NOW REHOMED
Mosey - very handsome 9 year old GSD cross
Mosey's previous owner didn't socialise him very much so he led a pretty sheltered life. When he first arrive at kennels, he was very frightened.
Mosey just before he came to GSDR
Mosey is so nervous of people that if someone strange approached and tried to stroke him, he might snap. This means that Mosey needs to wear a muzzle when walking amongst people he doesn't know.
This beautiful boy deserves a kind loving home
Mosey loves his walks
How could you resist this boy?
Enjoying winter sunshine
Mosey - when he had a home to call his own
The owner of the kennels says:
Mosey is very affectionate once he gets to know you. He loves to play ball, and fetch. It usually takes him a few days to get to know someone and then he is best mates. He is nervous of people he doesn't know and if they tried to stroke him he would be so frightened that he would snap, so when walking amongst people he wears a muzzle. He is just nervous. Mosey is very good on the lead and we have taken him out around the shops etc. He is fine around people when he has his muzzle on and just keeps himself to himself. He is good off lead with us too. He is in really good health — you wouldn't think he is nearly 10! He is really good in the car, and in his new home he would be fine to be left up to 4 hours.
Mosey - loves to play ball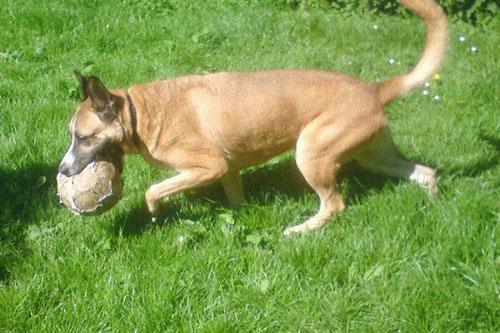 Lynn, the rescue's area co-ordinator says:
Mosey came into kennels 10 months ago. He is great with the staff in the kennels, which he must now think of as home. He is wary of strangers, but once he gets to know you he is fine. He is fine with the dogs at the kennels but we feel he would be best as an only dog, and he needs a child-free home as he isn't used to living with children. He loves his ball and takes it everywhere with him. Mosey spent his 9th birthday in kennels — please don't let him spend his 10th there. This is no life for a dog. The kennels are just supposed to be a stop gap until we find homes.
Mosey needs a special home with experienced owners who will empathise with Mosey and his insecurities and take a sensible attitude to his care. If you can offer Mosey a home, please fill out an adoption form and express that you are interested in him.
Please help us by making a donation so that we can help re home more unwanted German Shepherd Dogs. Donations can be sent to Jayne Shenstone, German Shepherd Rescue, Little Vauld, Marden Hereford HR1 3HA. We also accept Paypal payments - just click on the Paypal button below. Thankyou.