Morgan Older GSD
Lovely Morgan needs a home
Morgan is a very pretty, playful female German Shepherd born in 1999. She was handed into a rescue Feb this year. She was handed in as the owners couldn't afford to keep her. She had obviously not received the vet treatment she should have done. She is excellent with people, very friendly, she is a bit of an attention seeker, will paw you if she feels she is not getting enough attention.
The rescue that originally had Morgan stated:
'Sadly this is Morgan's last chance for a new home as she is very stressed in kennels & it would not be fair to put her through too much more. This is why we have given her one month to try to find her a home (as of 1st May 2009).'
We didn't think Morgan deserved to be put to sleep so we got her into a nice foster home
This is the lovely Morgan - how could you resist her?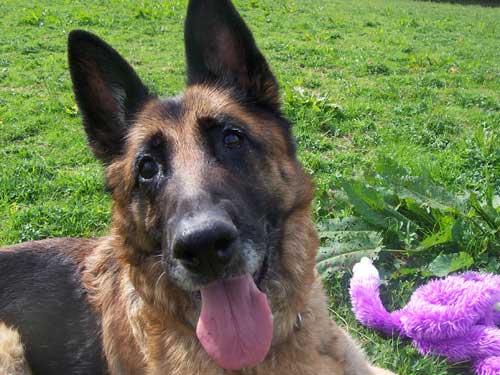 Morgan is very affectionate & loves being around people and is fine with people coming in the house. She would need someone around most of the time so maybe a youngish retired couple/person as she gets lonely. Morgan would be ok to live with children aged 12 and over and would prefer not to live with cats. She can't be homed with other dogs. Morgan needs regular medication for her eyes but it is not an expensive treatment.
Morgan - what a gorgeous girl she is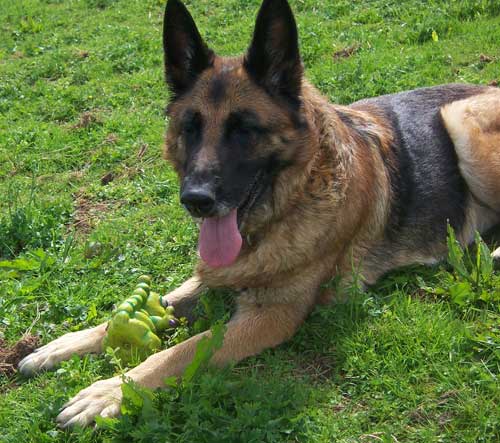 Even though she is older she is still a puppy in her mind & loves playing with her toys & having a canter about.
Morgan enjoying the scenery and fresh air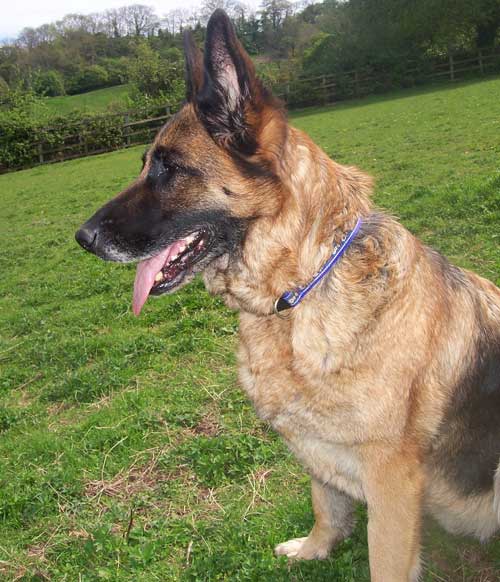 Sadly in body, she is not quite so perky, she has medical problems concerning her hips, eyes & ears which she is likely to have long-term medication for. She also has been diagnosed with mammary tumours which we have chosen not to operate on due to her age & ability to heal effectively.
Morgan just wants to please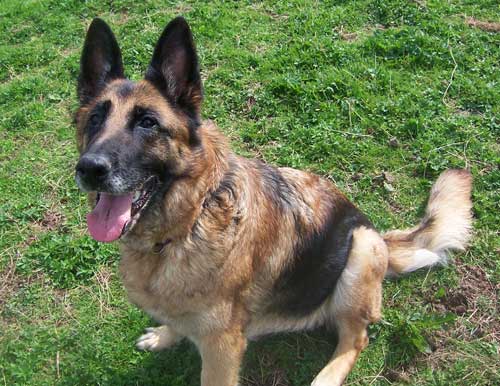 She is very affectionate and kind to her foster family but doesn't like strangers and they crate her or put her in another room when they have visitors into the house. However, if she is taken into the room where the visitors already are, she is fine.
Morgan playing with her toy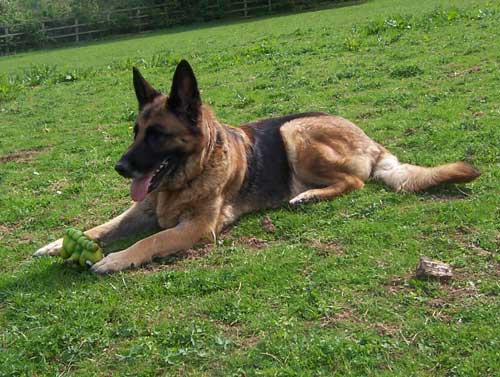 Morgan is good with other dogs but wants to play with them and grabs their legs and barks if they ignore her.
Morgan chilling out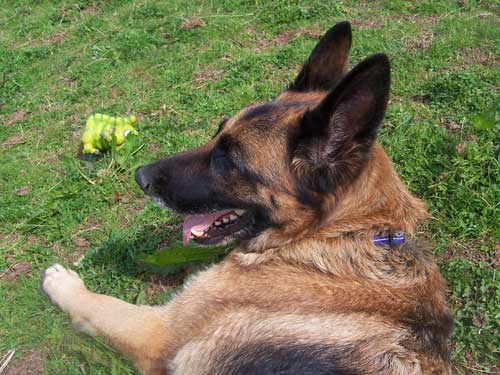 Morgan try's to play with horses and ponies and probably cows, not sure of reaction to sheep, but she might well scare them to death trying to get them to play. Morgan is very interested in cats and best not homed with them.
If you can offer Morgan a permanent home please can you fill out an adoption form
Donations are always welcome
Please help us by making a donation so that we can help re home more unwanted German Shepherd Dogs. Donations can be sent to Jayne Shenstone, German Shepherd Dog Rescue, Little Vauld, Marden Hereford HR1 3HA. We also accept Paypal payments - just click on the Paypal button below. Thankyou.