Mack Ear Canal Ablation
Mack - a lifetime of neglect.
Mack has had his second operation done. Here are the latest pictures
30/8/2008 - We think our Mack has at last found his forever home. Check out the latest pictures of Mack and friends and see how well he is doing
Mack is a good example of what this rescue is about. We have never cherry picked, we don't discriminate on age, health problems or behaviour. We have always tried to help any dog that came our way. Just because Mack has suffered a lifetime of neglect, doesn't mean we should write him off and not bother to help. It would be cheap and simple to put him to sleep, wouldn't it?
We think he, more than any other at the moment deserves whatever we can do for him and hopefully make up in some small way for what he has endured thanks to humans in the past.
Just under £6500 donated. Both ears now done. Mack can now enjoy the rest of his life.
Dec 2008
Merry Xmas to all my supporters and I love my new ears!!!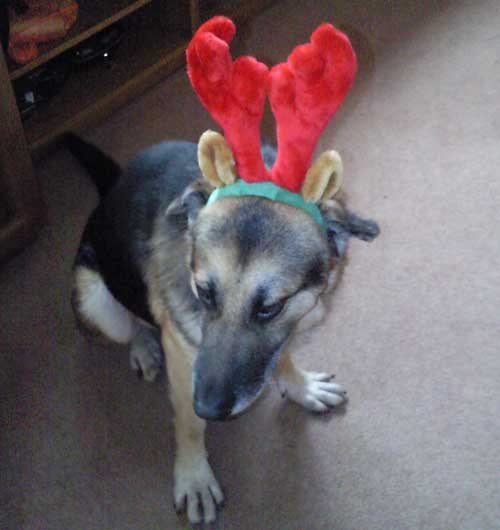 A picture paints a thousand words.
7/10/08 - Mack has now had his second ear done.
30/8/08 - LATEST PICTURES OF MACK
11/7/08 - Mack was moved yesterday to the hospital where he will have his first operation today. He can only have one ear done at a time. We will keep everyone posted as to his progress.
11/7/08 - Mack spent 3 hours in surgery where he underwent a total ear canal ablation and lateral bulla osteotomy. He was in theatre 3 hours but is OK. Update tomorrow.
12/7/08 - Mack is bright and perky, going to a temporary foster today - but it is short term. We need a proper home for Mack now but he will need to stay near Bristol until his second op has been done.
14/7/08 - Mack has been drinking but has not eaten for the last 48 hours. He is sleeping a lot and is quite miserable. The vet has given him another antibiotics jab today, injected Metacam and he has a new pain killing patch. It is hoped that when the pain killers kick in he will be hungry. The fosterer has been buying chicken to tempt him - bless her!
16/7/08 - Mack had not eaten since Saturday so he was taken back to the vets again today and it was arranged that he would stay there for a few days. The good news is that he ate a hearty meal this afternoon so he is going back to his lovely foster mum tonight.
21/7/08 -Mack has got back his appetite big time and is much, much brighter - trying to jump up on the sofa and the bed and stealing food. He must be feeling heaps better so that's good news.
30/7/08 - Mack moved to another foster home yesterday. Doing well but he needs a permanent home now. No date yet for 2nd operation.
7th August latest photos. What a difference a few weeks makes.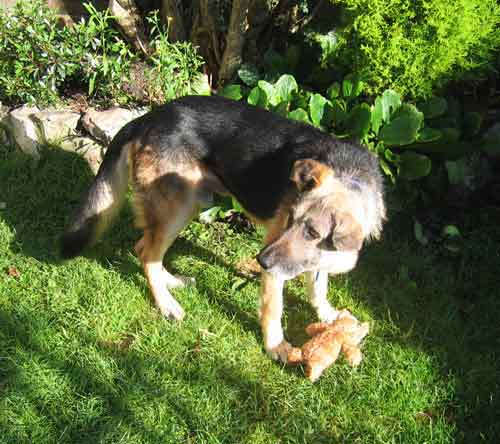 Look it's my teddy - OK?
Please give me a forever home!

How could you resist this cute face?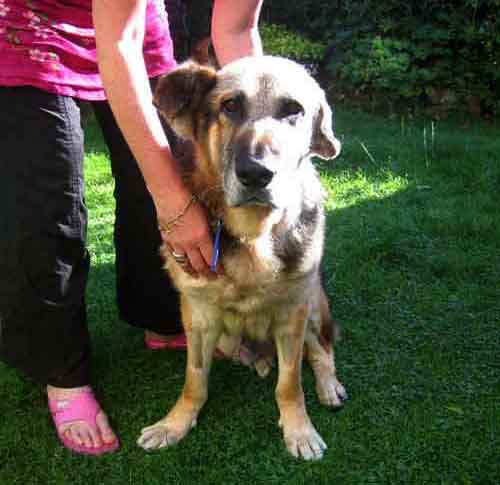 OK, so I have washed my ears and can't do a thing with them!!
Every penny is counting for Mack - we need your help
14th July - pictures of Mack after his operation. He is still managing to wag his tail at times.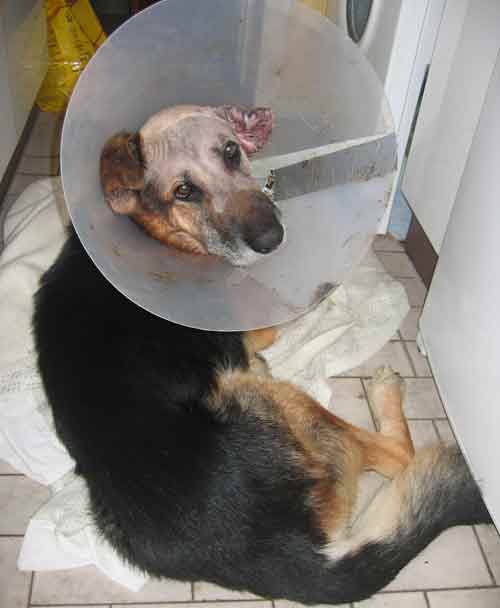 Mack a little bit sore and sorry for himself.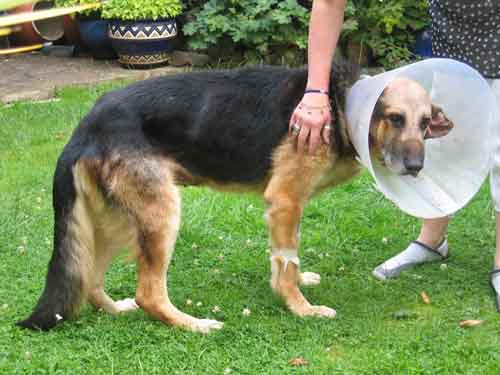 This is a big operation for poor Mack and he needs time to recover. His foster carers are doing a brilliant job but he needs a forever home. He has been such a good boy through all of this.
Mack when he first came to us below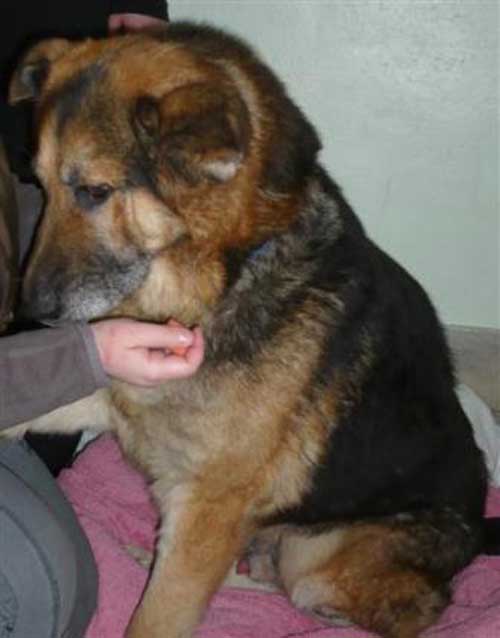 Mack - a very sad case of neglect abandoned in Sheffield
This is Mack when he first came into the rescue in March. Badly neglected and then abandoned when he ended up in the dog pound and was due to be put to sleep. He has very severe ear problems due to sheer neglect, which has resulted in chronic infection and haematomas in both ears. He has two cauliflower ears cause him severe pain and discomfort and which have needed constant treatment.
Everyone that has met Mack has fallen in love with him because he is so friendly and loveable. How could this dog have been allowed to suffer for so long?
Mack - friendly happy dog who needs a home not kennels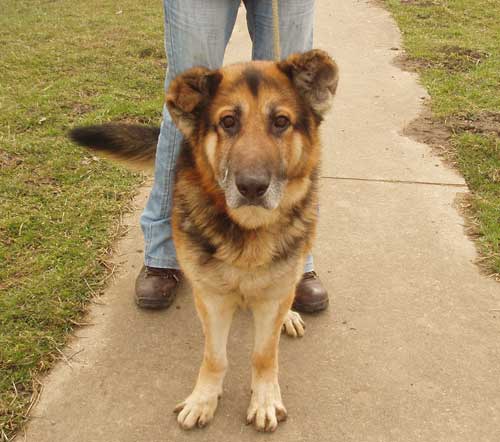 After months in kennels where he was not doing well, Mack was moved to a foster home last week but sadly he was badly betrayed by his foster carer which today very nearly cost him his life. It appears that she handed the dog over to the RSPCA with the claim that he had received no treatment or medication whilst in her care. She had Mack less than a week. We have the vet bills to prove otherwise. The medication costing £106.63 has not been found!
Mack is in severe pain and desperately needs an expensive operation on both of his ears to remove the chronically infected and severely damaged ear canals. The cost estimates for his operation and post op care is £3000+ but we think he is worth it. It is a lot for him to go through but it will take away his pain and we hope that we can find him a caring home once he has got over the operation.
Mack will have his operation next week and we have committed ourselves to raising the £3000+ that will hopefully go some way to helping this poor lad have a few good years after suffering years of neglect at the hands of humans.
We think Mack is approx 8 years old, he ended up in a dog pound in the northeast where he was due to be put to sleep. They don't even give the fit and healthy ones a chance in the majority of dog pounds
We need your donations for Mack's sake
"How Could You?" should bring tears to your eyes. It is very sad fact of life that many faithful pets have become disposable items and will be discarded, no longer required. Many of these will die unwanted, unloved and alone having spent the last few days, weeks or months in a filthy dank dirty kennel. Their final reward - a lethal injection!!
Poor Archie wasn't quite so lucky. His story highlights the plight of older dogs
Please help us by making a donation so that we can help re home more unwanted German Shepherd Dogs. Donations can be sent to Jayne Shenstone, German Shepherd Rescue UK, Little Vauld, Marden Hereford HR1 3HA. We also accept Paypal payments - just click on the Paypal button below. Thankyou.