Jordie GSD
Jordie - in rescue since August 2011
Jordie has been with the rescue since August last year. Originally purchased as a puppy, the daughter of the owner contacted us for help. Jordie was not really wanted by the daughter's stepfather and he showed this with his treatment of her with his fists. Jordie was taken in by the daughter and her partner at the time for her own safety. Unfortunately, her partner then moved out and left her with a young child, heavily pregnant and with Jordie. She was unable to walk Jordie who was now living in a flat and had the use of the balcony for her toilet!
The gorgeous Jordie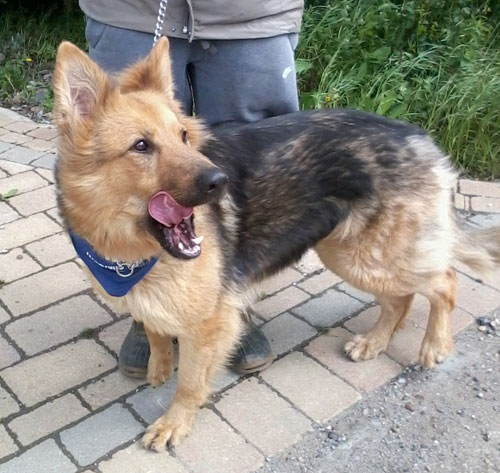 Jordie was originally taken into foster care and very little was known about her or how she would react. She arrived with a muzzle on and snarled at the volunteers. Her muzzle was removed, and she was left alone to calm down and get a feel of her new surroundings. Very quickly Jordie bonded with foster mum and within days would let foster mum do anything to her including comb out the tangles in her coat. She was introduced to foster mum's other dogs and there were no problems to start with.
Jordie is a very pretty girl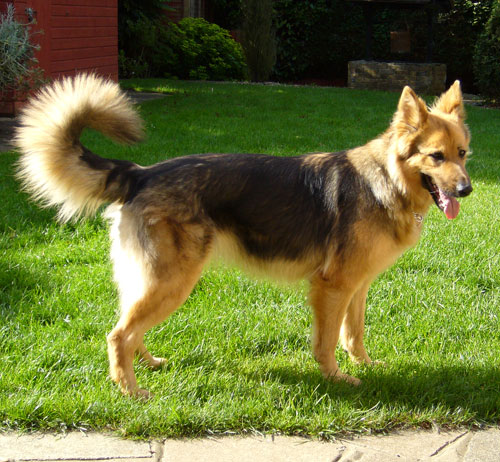 In the house, Jordie was a dream dog. She could be left, she never chewed, she was calm and settled and just wanted a fuss and was just pleased to see you and be with you. Jordie is good walking on the lead but does have a tendency to jump and bark at passing cars. Jordie discovered the delights of running free in foster mum's fields and as long as she wasn't distracted by a rabbit, her recall was improving day by day. She loved nothing more than to play fetch with a tennis ball!
Jordie loves to play ball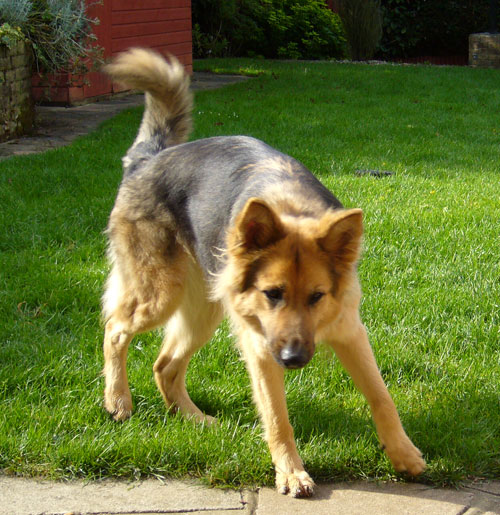 As she settled, she started to question her place in the family with foster mum's bitch and she started to pick on a younger (but larger) male that had come in to also be fostered. Unfortunately, after a couple of months, Jordie decided she wanted to challenge the foster mum's bitch for top spot and despite having been put in her place she would not let it go so she had to be moved into kennels.
Jordie sporting her blue bandana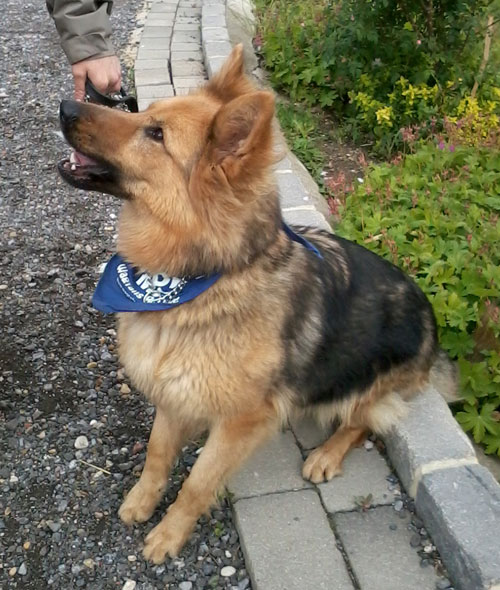 Jordie is a gorgeous girl with good breeding. She is vaccinated and microchipped. We were told she has not been spayed but as yet we have never seen her actually have a season. Because of her past treatment, Jordie used to meet strangers by running at them and barking. If people backed off she would continue to do this until she felt a safe space around her. If people ignored her, she would stop dead in her tracks and creep up for a sniff. Jordie can be a bully with other dogs as we sadly discovered, but funnily never had any issues with the dominant staffie cross male she lived with in foster. In fact, she showed him little interest at all.
That tail belongs to Basil Brush!!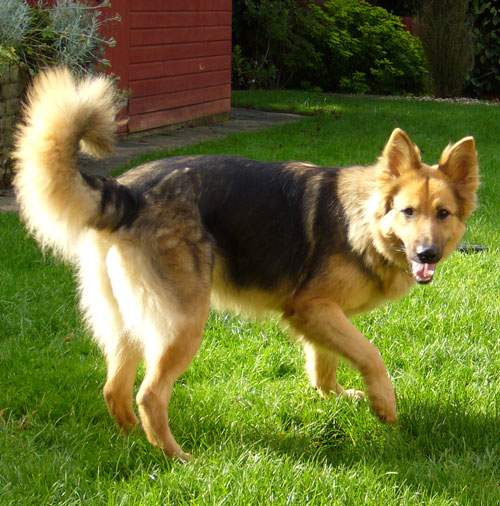 Since being in kennels, Jordie's socialisation with people has improved dramatically as she now has many different people that take her out to walk her. This lovely girl is desperate for a home to call her own but her home would ideally be somewhere with no other animals and not too much human traffic. She is a cuddly and loyal girl on a one to one basis and in the right home will make a fantastic companion. Jordie is a very intelligent young lady and could be taught agility which could be a lot of fun for her.
We know there is the right home out there for her so please help Jordie find her forever home.
Do you have a place in your heart for this beautiful little girl? If you want to adopt Jordie, please fill out an adoption form
Donations are always welcome
Please help us by making a donation so that we can help re home more unwanted German Shepherd Dogs. Donations can be sent to Jayne Shenstone, German Shepherd Dog Rescue, Little Vauld, Marden Hereford HR1 3HA. We also accept Paypal payments - just click on the Paypal button below. Thankyou.