Jake Dog Cruelty Case
Jake - 8yrs Years Badly Neglected, Underfed!!
Jake has now been adopted by a rescue volunteer who fell in love with this wonderful boy.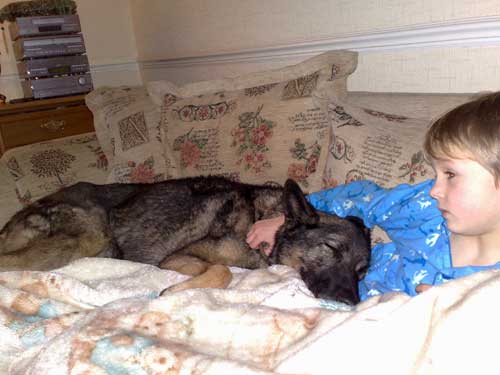 Our Jake the Peg got under the skin of a volunteer and he is now adopted. We love a story with a happy ending. How happy is that dog?
Jake arrived at his foster home in a mess. He hadn't been groomed in many months and his hair was all matted in clumps on his back. He was desperately underweight (he was 24kg instead of 40kg!!) and was very scared. Jake is now being groomed regularly and his coat's condition is improving every day. He is also being fed a balanced diet and is gaining some much-needed weight. His confidence is growing all the time and he loves nothing more than playing ball in the garden. He is a very quiet, loyal dog and just enjoys being with you. He has not been socialised with other dogs (although he used to live with a blind lab) and would require some training to help with dog introductions. He loves children and pays little attention to livestock. He has a party trick...... he's very good at opening doors and letting himself in!!
From our assessor: 'He's neglected - underweight, his coat condition is bad and his environment is a 5m x 5m concrete back yard with little light, large fences all around and nothing for amusement other than a very old black lab for company whose almost blind. (that dog needs rescuing too but they want to keep him!) Poor animal - sorry, trying to be non-judgemental but not succeeding, the thought of this poor dog living out his final years in that environment doesn't sit well with me at all.'
Jake weighs just 24 kgs - he should be nearer 40KG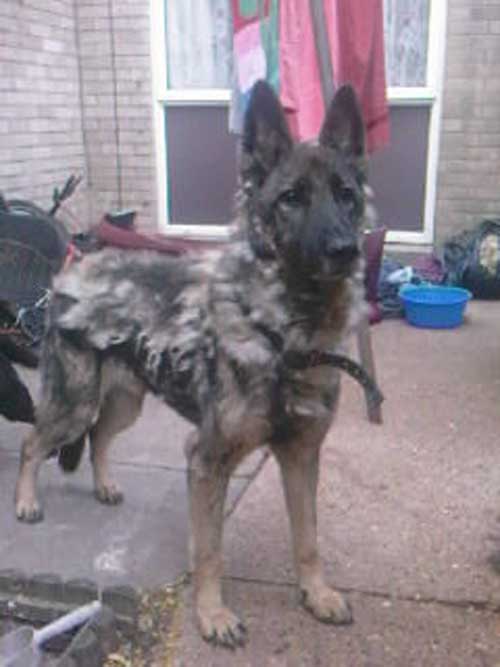 If the owners couldn't be bothered to brush him then we could hardly expect them to feed him properly either.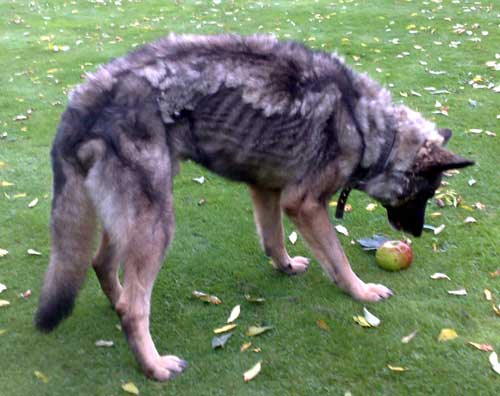 Yes, this really is a German Shepherd.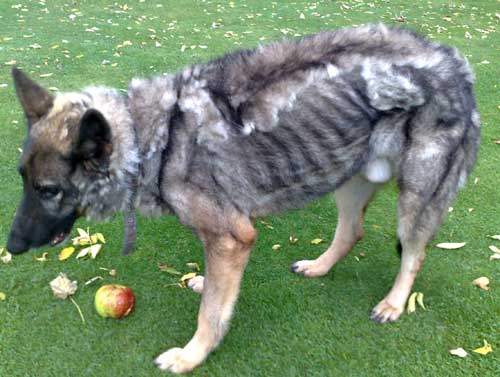 From our assessor: 'GSR needs to get him out of there as quickly as they can, put him on a decent diet and get his condition on the road to recovery before rehoming and see if a bit of TLC wouldn't alleviate his anxiousness around people. I can't imagine what the last four years of his life have been like and he reminded me of a caged animal in a zoo that has small enclosures and gradually sends their animals mad.'
This lovely boy will need a home with lots of TLC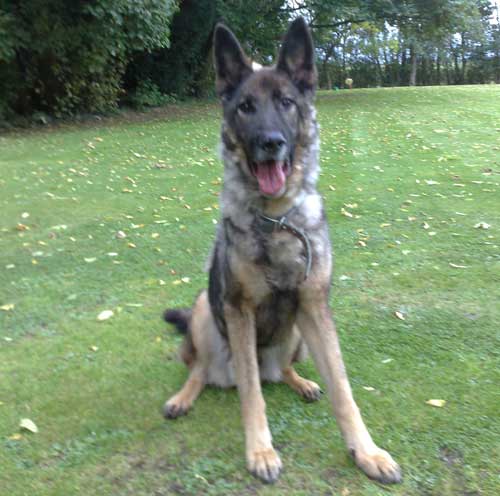 From the assessor: He's not the worst I've ever seen, but he's on his way poor dog, let's hope I get some sleep tonight!
Worse is that they still have the old black labrador who is living in the same conditions. Will they get away with this? Of course, they will, because the only organisation with the powers to act don't give a damn! So much for the new Animal Welfare Act.
After the wash and brush up!!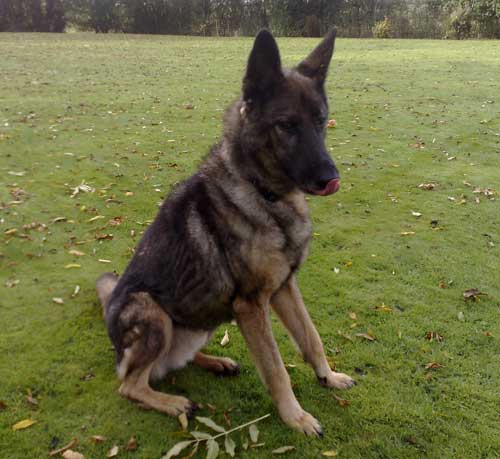 Well, he has had a brush now so we can see just how thin he is now.
Jake playing with his windfall apple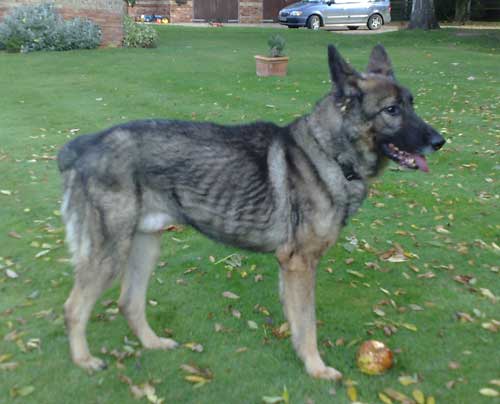 Our lovely Jake needs a home now. If you think you can offer him his forever home please contact the rescue.
"How Could You?" should bring tears to your eyes. It is very sad fact of life that many faithful pets have become disposable items and will be discarded, no longer required. Many of these will die unwanted, unloved and alone having spent the last few days, weeks or months in a filthy dank dirty kennel. Their final reward - a lethal injection!!
Poor Archie wasn't quite so lucky. His story highlights the plight of older dogs
Please help us by making a donation so that we can help re home more unwanted German Shepherd Dogs. Donations can be sent to Jayne Shenstone, German Shepherd Rescue, Little Vauld, Marden Hereford HR1 3HA. We also accept Paypal payments - just click on the Paypal button below. Thankyou.