Holmer Vets Meg Potter
We would like to thank Herefordshire Police for investigating our concerns by contacting and visiting all those involved both locally and elsewhere to verify the following as factually correct. Lynne Potter and her daughter vet Meg Potter, colluded with a neighbour Shirley Ann Graham of Norton Court, HR1 3HA and Sandra Adams, individuals who we understand contacted Herefordshire Council and other authorities with false, malicious complaints. This culminated in a raid on our property in November 2016 when 2 CSO, 2 police officers including a dog handler and a planning contravention officer visited our home unannounced with a warrant to inspect the premises.The directors and trustees of GSDR have now endured nine years of harassment and persecution just because our home is used as the administrative address for the charity. We have obtained official closure regarding these malicious complaints.
'Shirley Ann Graham from Norton Court has today given me a copy of the letter you sent to her early this month. I understand other residents received such a letter. I may have done but have been away a lot due to illness and my son may have thought it was junk mail.'
Evidence that they colluded together. Shirley Ann Graham in our opinion displays sociopathic tendencies, she is well known in the area as a serial complainer and has reported us to every authority she can think of. None of the complaints have gone anywhere. She has also targeted other neighbours in the area making malicious complaints about them too.
Antisocial personality disorder is defined by a pervasive and persistent disregard for morals, social norms, and the rights and feelings of others. Individuals with this personality disorder will typically have no compunction in exploiting others in harmful ways for their own gain or pleasure, and frequently manipulate and deceive other people, achieving this through wit and a facade of superficial charm, or through intimidation and violence. They may display arrogance and think lowly and negatively of others, and lack remorse for their harmful actions.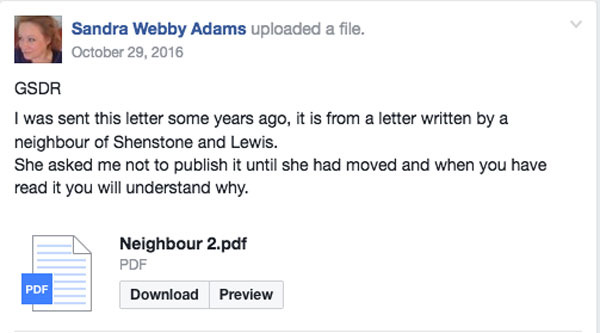 Ms Potter didn't want this released until she moved! She has in fact gone to live in Spain and the reason she didn't want this letter released was because she knew that once she left the country, we would not be able to pursue action against her for writing such an outrageous and blatantly defamatory letter.
'Anyway, I am so pleased that just maybe something can be done to stop the current activities at Little Vauld.'
This is nothing more than our private home where we live with our daughter and our dogs. We have geese, chickens and ducks too but the neighbours don't like those either and complain about the noise they make. This is a rural agricultural area but the townies seem to forget that.
'Personally, we have had problems with Jayne and her family/dogs over the years.
Some years ago, my then student daughter was cutting our grass near the road and Jayne's partner approached her carrying a shovel and threw dog mess into her face. He claimed it was our dog's mess, from their garden.'
The only problems arose from the fact that Potter allowed her dog to roam freely around the area unsupervised. We felt sorry for the dog as it seemed neglected and spent many hours locked up on its own and would then just be let out to do as it pleased when one of them arrived home. The dog was small enough to get under our gates and regularly defecated on our lawn and the grassy patch in front of our gate. Well, we got sick and tired of having to avoid stepping in dog mess so we shovelled it up and placed it on their drive in a neat pile. Meg Potter is simply a liar.
Potter also forgets to mention that their dog gained access to our house, wandered into our lounge and urinated up our sofa and onto our brand new carpet. The carpet was 100% wool and pale blue and despite professional cleaning, was ruined. We were not insured for this.
'I apologised if our old dog had messed in their garden, thought it unlikely as he was terrified walking by by all the barking from their dogs. Possible though as our dog did visit the other neighbours and was welcomed by them.'
Their dog was not terrified of any dogs, it liked other dogs presumably because it spent so much time locked up that it relished the thought of the company of another dog. I wonder what Potters reaction would be if we opened our gates and just let our dogs roam freely around the area.
'They complained about everybody living nearby and their animals, I left saying that all the neighbours were kind and friendly and their dogs, not a problem.'
We never complained about anything to Potter, we live a quiet life and try not to engage too much with anyone else around here.
'Following this they did not approach me but whenever they saw my then 15-year-old son, would shout 'wanker' at him!'
We don't recall either of us ever speaking to her son, we rarely saw him.
'It made me very uncomfortable and quite nervous, to be honest.'
Potter also forgets to mention that although she owned a house just around the corner, she moved out not long after we moved in and didn't even live in the area. Her two teenage kids lived home alone in the property. Indeed as time went on we regularly had to endure the noise of late night weekend parties following which we would find empty beer cans strewn along the grass verge and in the ditches. On occasions, we could hear a gun firing which we think may have been an air rifle but we are not experts.Her son and his friends had no problem with drink driving and on at least one occasion one of them hit the wall of Shirley Ann's property whilst driving under the influence of drink.
'A more recent event occurred when my daughter was walking our 17yr old Jack Russell cross along the verge. One of the German Shepherds put his head through their fence grabbed our dog by the head, pulled him through and then set on him along with others in the pack.
Their dog was not a Jack Russell, it was a large Yorkshire terrier - possibly cross. The dog once again was not on a lead or under control and was small enough to gain access to our field through the bars of our field gate where 3 of our dogs were running loose with John.
'Both John and Jayne stood by watching. My daughter was screaming, she climbed over the fence and rescued our Jack. She came back carrying him and covered in blood which I did not know if it was hers or Jacks. She was so upset but calmed down enough to look at him (she was then a student vet) and determine he needed treatment.'
Again, more proof that Meg Potter is simply a liar - Jayne was not present at the time of the incident, the dog had minor puncture wounds. The dog actually went on to live to the age of 19 although Potters circulated a rumour just after the incident claiming that our dogs had killed Jack.
'I think that says it all about them. I did ring the police on grounds that the fencing was not sufficient to contain the dogs and next time it could be a child. Police visited them saying this to them but still, they did not enquire after the well-being of my daughter or pet.'
The police did attend and witnessed that our dogs could not have got their heads through the bars of the gate to drag Jack through as the gap between the bars at the bottom of the gate were too narrow for their large heads. The gate is a large galvanised farm gate, the land either side of the gate belongs to us so Meg Potter and her dog were in fact trespassing.
'When they are out walking their dogs it often appears as if they are struggling to control them and it is nerve wracking. They can be heard shouting at the animals and I am sure they beat them.'
We are probably the most well-known dog walkers in the area, our dogs are always on leads under control, the big ones wear Dogmatic head collars. We have been complimented many times on how nicely our dogs walk and how well behaved they are. We are both vegans on moral grounds so the suggestion that we 'beat' our dogs is ridiculous and thoroughly malicious. We believe that no animal should ever suffer at the hands of humans.
'In recent times they have built lots more pens, appear to be pumping their septic tank into a pond....... and have alienated most people around here.'
We have 3 very large pens for our dogs where they can toilet and where they can play safely and we don't have to worry about them getting out and worrying livestock. Our neighbour regularly has sheep on her fields and the last thing we would want is our dogs harming these animals.
We have fenced areas for our organic fruit and vegetables - they are fenced to keep rabbits and our geese out. This is an agricultural area not a playground for townies. Our septic tank has a secondary treatment plant and pumps clean water into our pond. Pumping effluent into a pond or waterway is a criminal offence.
---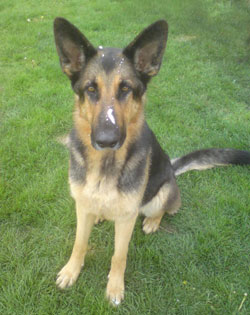 RIP TED - You Were Very Special.
On 7th September 2015, our gorgeous boy Ted who was just 9, was admitted to Holmer Vets as an emergency out of hours. We were worried to discover that it was Meg Potter that was on duty that night. We were asked to leave Ted and we never saw him alive again. At approximately 8.30 we received a panicky phone call from Potter asking our permission to euthanise Ted because he was struggling. She didn't need our permission, Ted died whilst she was on the phone to us.
We picked him up the following morning and were horrified to see that his body was horribly bloated and he looked as if he had died in agony, it was so upsetting for all of us. The nurses seemed very uncomfortable when we picked him up, they appeared to just want rid of him as quickly as possible and didn't want to engage in converstation or answer any questions. We will never forget how he looked.
It is our opinion that Ted suffered either a ruptured spleen or a torsion, more likely a torsion given the state of his bloated body. It is our opinion that he would have survived had he undergone emergency surgery. The total cost for his treatment was under £90 which proves she did little to help him.
Given the content of the above letter and the fact that Meg Potter is both a liar and clearly has an agenda against us, it gives rise to the question - did Ted die as a result of her deliberate neglect simply because he belonged to us? Sadly, we will never know.
---
Meg Potter Holmer Vets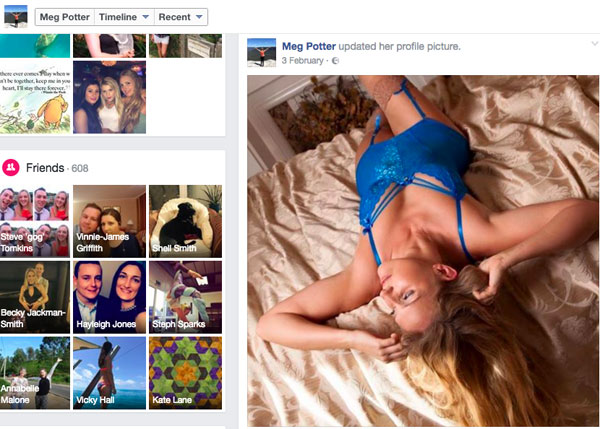 This is a photograph that she published on her open Facebook page which in our opinion is at best, unprofessional
Perhaps instead of trying to promote herself as a scantily clad slut, Ms Potter should devote some serious time to studying to further her veterinary knowledge and spend less time colluding in malicious hate campaigns.
We are staggered that a veterinary surgeon would behave in such a trashy manner.
We applaud whoever snapped that, your photoshop skills are excellent!
Ms Potter has now removed this photograph from Facebook and has changed her name to Meg Nicola. Why would that be?
---
The integrity of the upright guides them, but the unfaithful are destroyed by their duplicity. Proverbs 11:3