GSDR Alan Titchmarsh Show
The Alan Titchmarsh Adventure
Monday 3rd October 2011, GSDR volunteers appear on the Alan Titchmarsh show with Berry (Padfoot from Harry Potter) and his best friend Porridge. This was an opportunity to highlight the plight of older dogs ending up in rescue because they are homeless.
Paula and Allison with Porridge and Berry and of course Alan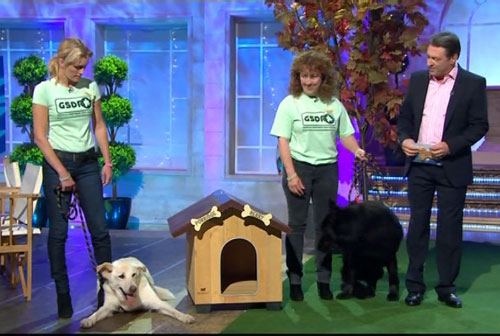 So having put the team together, Allison and Paula to go on the show, Tracey to chauffeur us around with her knowledge of London, and Christine (foster mum) and me as back up with the dogs, getting us all in the right place at the right time Monday was the next task. Tracey worked out all our timings ensuring that Berry and Porridge had their breaks at the right time for breakfast, and thank goodness she did. One thing we all learned is Paula and her Sat Nav do not have a good relationship. Coming down the night before to me, Allison arrived in fits of laughter as she had pulled up next to Paula at the roundabout off the M25 a few miles away from me, and then watched her drive straight back on the M25 in the same direction. Paula blames the Sat Nav but we think she forgot how to count!
Time to feed the stars, and as they and many of the volunteers will tell you, I am not one for cooking. They both had a good laugh at the dust on my grill which is never opened and even my dog looked a bit shocked at the sight of a door opening on the oven! So off we went to the local Indian where Allison was banned from eating garlic (under protest) but ordering a bottle of red wine soon eased the pain. It was great to actually get together as having spoken on the phone so many times you feel you know somebody really well, but to actually have the opportunity to sit down and have a conversation and a laugh without talking about dogs (well apart from our own)made a lovely change.
So Monday morning arrives and we head off to meet at Tracey's where Berry and Porridge have happily had their breakfast and met Tracey's foster dog having been collected from Sussex at 6.30am. We did laugh at Porridge telling the young Mac off for getting a little bit too exuberant. So 5 people, 2 dogs, beds, bowls and merchandise all packed in and we are off. With all the chatter it did not seem like long before Tracey was telling us we had arrived. So signed in we went round the corner to the park for the boys to have a toilet break and en route they were accosted by the paparazzi that hang around outside looking for stars. Fortunately, Allison and Paula now had Berry and Porridge to start their bonding sessions with them so the rest of us left them to it for a while.
Then we got taken to the dressing room, or should I say our cage in the prop section which had been set up for animals that appear on the show. There may not have been 5-star treatment for our stars, but the dogs were definitely more comfortable there as it was cool and out of the hub of activity going on inside the main building. We had 2 'runners' looking after our needs and making sure we were in the right place at the right time.
Our cage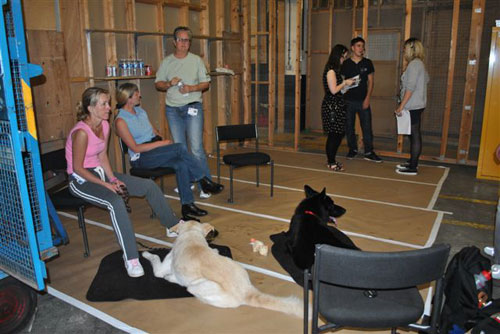 Allison and Paula were taken over to the main building to have their toilet break with about 20 minutes to rehearsals and then they never returned. Next, we are being told to take Berry and Porridge over to the studio for the rehearsals. No sign of Allison and Paula! Find them sitting in the back of the studio watching the other rehearsals going on where they had been left. Then they send them off to makeup! Meanwhile, they are hustling us in for the rehearsal and busy trying to put microphones on Christine and me as we are holding the dogs! Panic over our girls return and everyone is put into place on the stage. In rehearsals, they actually had a kennel for each dog but Berry and Porridge were so busy looking for each other, Alan T said can we not just have the one for them and have them either side. Problem solved. Not only did the rehearsals give us all an idea how the feature would run, but it meant we could sort out practicalities like getting a ramp put at the side of the stage for Porridge rather than lifting him up and down onto it.
By now we are hungry and thirsty so in shifts, we were taken to the studio canteen and then released until 1.30pm. Escape from our cage! Off we went to the park and followed it up to the river. This is when Porridge came to life. He suddenly had a spring in his step and a huge smile on his face. He wanted to say hello to everyone and anyone and would have been quite happy strutting his stuff up and down the river bank all day. Berry, on the other hand, took one look at the river and was trying to hatch a plan on how to get in it! Don't think that would have gone down too well.
Our GSDR stars by the river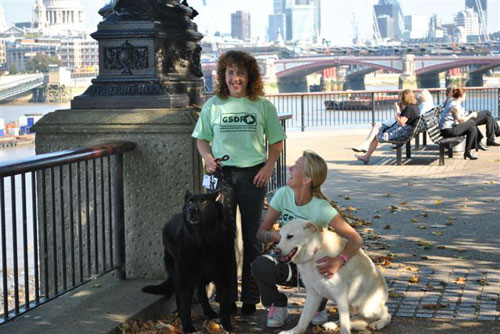 Did I just get crapped on?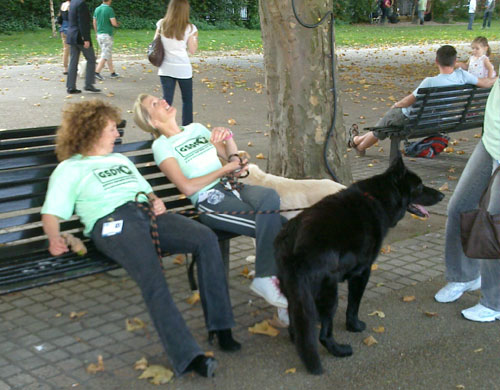 NO! Who would dare poop on our Pompous Paula?
Back in our cage, the boys had a nice sleep and a brush whilst Allison and Paula got changed and Allison plotted on how to get as much said as she wanted to on the live show. This was the boring part of the day because by now we were all tired and just wanted to get it done.
Time to give the stars their final brush.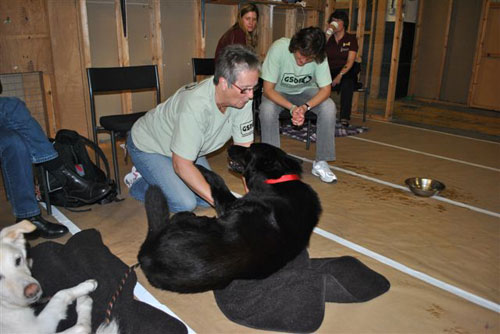 2.40pm and back came our runners to escort us over to the studio. Christine is now staying in the background so Berry is not looking for her and the stars are being pep talked on what is going to happen. So in we go and everyone takes their place on stage. The rest of us were right behind the camera crew watching. The atmosphere was brilliant as we now had a studio audience who were being pepped up. Lights, camera, action and the results are as you have seen.
We were all so proud of Berry and Porridge. They acted like pros and were totally taken up in the buzz. And of course, our Allison and Paula did us proud! And yes, Allison managed to get most of what she wanted to out! Out of the studio, into the car and off we started on the first leg of the journey home. Now bearing in mind the boy's ages, and bearing in mind Porridge always sleeps in the car, he did not put his head down to sleep once. Berry sat up most of the way looking out of the back window at the cars behind as if to say, do you know who I am? I'm a star!
Back at Tracey's, we headed off in opposite directions again, all tired but happy that we had done our bit to raise the awareness of rescue dogs. No, we did not see many famous people but remember we spent most of the day in a cage, but Allison and Paula managed to hand out leaflets and wristbands to anyone and everyone in the studio as they went back and forth. In fact, Paula was handing them out to anyone outside as well including the man we grabbed to take our photo by the river, and the poor guy serving in McDonald's at the services. Think he thought we were all mad. Actually, I think most people thought we were mad!
The next day, it was official, we were all knackered. I don't know how Allison, Paula and Tracey managed the driving they had to do at the end of it all. And Berry and Porridge; the next day was just another day and they were up and ready for their morning walk! They literally took it all in their stride. I was so proud to be part of our Titchmarsh team and cannot thank any of them enough for what they all did. As our Paula would say, onwards and upwards!
The team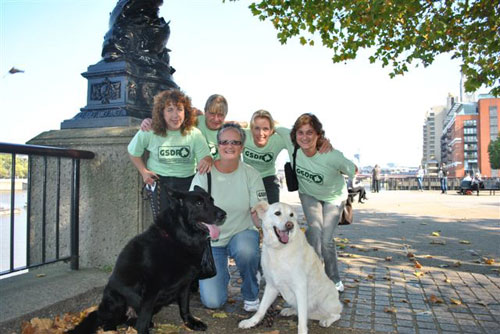 The gorgeous Berry - also known as Padfoot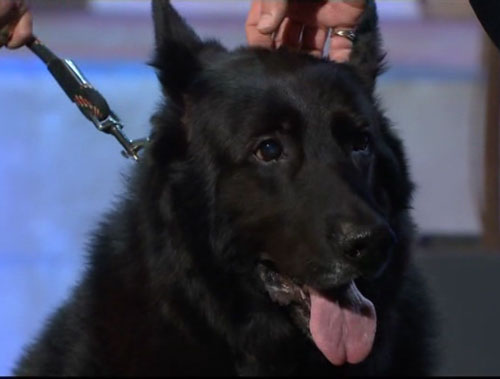 Berry's best friend Porridge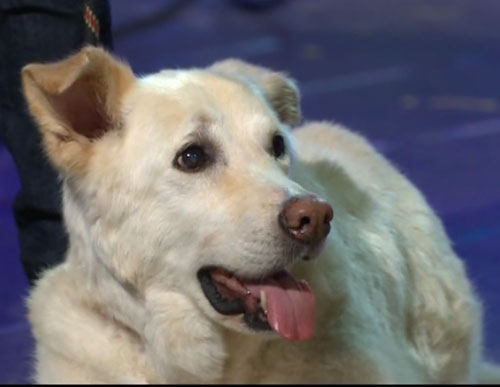 Berry and Porridge loved their walks by the Thames saying hello to all those passers-by who stopped to meet them and give them a fuss.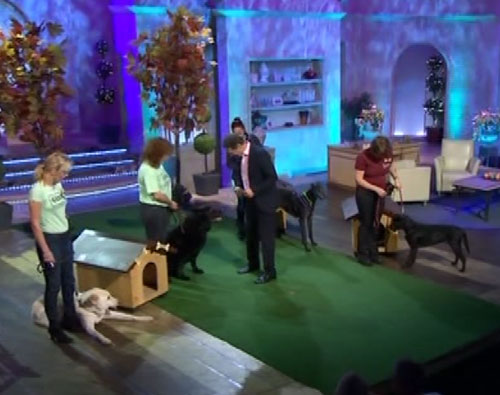 If you would like to offer Berry and Porridge a home please fill out an adoption form
Donations are always welcome
Please help us by making a donation so that we can help re home more unwanted German Shepherd Dogs. Donations can be sent to Jayne Shenstone, German Shepherd Dog Rescue, Little Vauld, Marden Hereford HR1 3HA. We also accept Paypal payments - just click on the Paypal button below. Thankyou.