German Shepherd Sarcoptic Mange
Joyce the German Shepherd with Mange
Joyce - Hard to believe that a human being could let a dog suffer like this!!
Joyce has been treated and is now ready for rehoming. We urgently need a home for Joyce. Can you offer a kind loving home for this lovely friendly dog?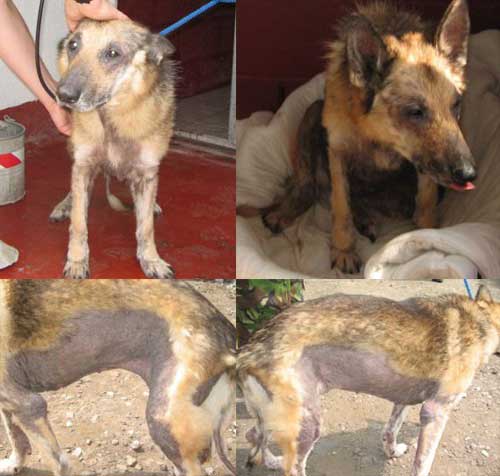 This is Joyce found 20.7.06 in Tipton aged about 7 she has mange & is not good on her back legs. She has a beautiful temperament. Joyce will need vet treatment for many weeks.
Latest Update Dec 2006
Joyce has been adopted by a very kind gentleman and has enjoyed a lovely relaxing Xmas. She is gently building up her exercise and her fur is growing back nicely now. She is doing well and improving daily. Further updates to follow.
If you would like to make a donation to help the rescue, please click on the link below.