German Shepherd Dogs
Dogs for Adoption - Urgent case German Shepherd Puppies and Dogs looking for homes
"The one absolutely unselfish friend that man can have in this selfish world, the one that never deserts him, the one that never proves ungrateful or treacherous, is his dog." George Graham Vest
The dog pounds are still full. The two breeds most at risk are GSD's and Staffies. Their crime - to be surplus to requirement. Unwanted and unloved. WE URGENTLY NEED FOSTER HOMES AND KENNEL SPACES. REST IN PEACE
Please do not overlook taking on an older German Shepherd dog looking for a home. They have the same right to a nice home as younger dogs.
ALL OF THESE DOGS HAVE NOW BEEN REHOMED
Kieira - Nuneaton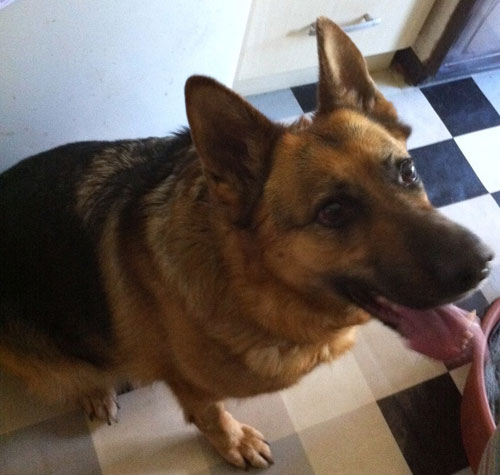 This delightful girl is 7 years young Kiera who is spayed but not up to date with her vaccinations. She is good with children but unknown with dogs due to lack of socialisation and a no to cats. She is housetrained and travels well in the car. Our assessor found her to be a lovely and friendly dog who is sadly not being walked and therefore pulls on the lead. She is in desperate need of a new home where she will be stimulated and exercised but in return you will have a loving and affectionate dog!
Zoey - Staffs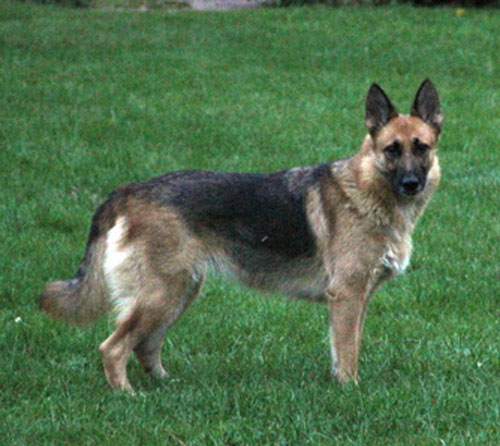 This lovely girl is 4 year old Zoey who is in need of a new home. Sadly, Zoey's owner has been unable to exercise her so she is a lively girl, she will bark when people come to the home but our assessor found her to be very friendly and Zoey certainly enjoyed a belly rub or two. She is so eager to please, our assessor took her out and found she would not stray far and came back immediately, excellent obedience. She loves to play with her ball, has no food aggression, sleeps in her crate and travels well. Has previously lived with a male dog but did dominate him and currently lives with a cat but if allowed will chase it; due to her excitable nature it would be best not to rehome with younger children. She is no longer up to date with her vaccinations and has not been spayed or micro-chipped. Zoey is a very much loved dog but sadly not given the time an energetic dog like her needs, she deserves a new loving home where she will enjoy the exercise and stimulation she so desperately needs.
Benson - Suffolk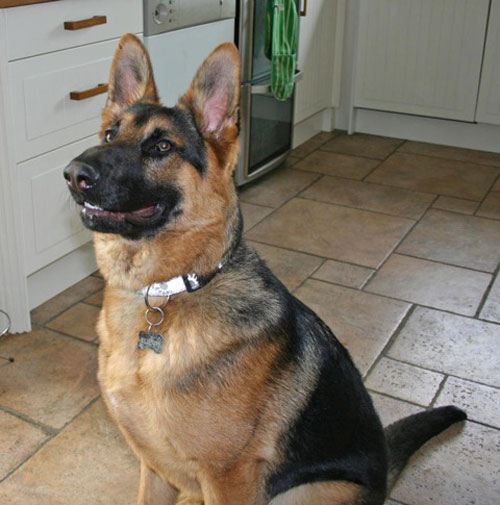 Benson is a 1yr old neutered male. He was rehomed by GSDR a few months ago but has returned as there have been changes within the family circumstances, and they can no longer cope with him. Benson has become over protective of his current owner and hence has issues with other dogs when out walking. He needs a firm, experienced owner who will teach him boundaries and acceptable behaviour. This young dog will blossom into a loyal friend with the right guidance.
Shiloh - west mids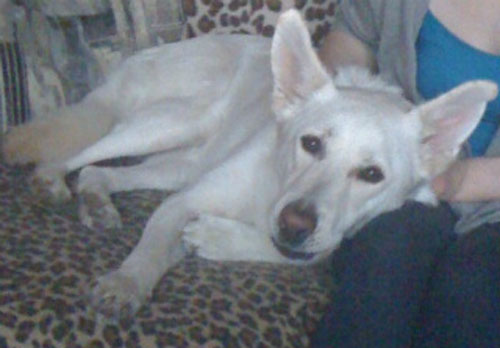 This poor little sad girl is 3 year old Shiloh who is up to date with her vaccinations, is micro-chipped and spayed. Although she currently lives with 3 other dogs, she is not happy in their company and has been fighting with them so is desperately in need of a home as an only dog/pet. She is a very nervous young dog and takes time to settle when visitors arrive but is exceedingly affectionate to her people. She is in desperate need of a home where the new owner will preferably not have any other pets or young children and will be able to devote the time and dedication to this very loving dog.
Blue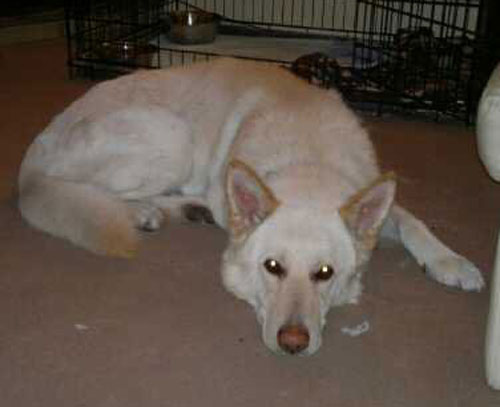 3 year old entire handsome white German Shepherd who is currently in foster care due to previous owners lack of confidence to control and train. Unfortunately Blue suffers from fear aggression and tries to nip and frighten anyone he first meets but the foster carer can already see improvement day to day and Blue is beginning to trust humans again and be more relaxed and settled within their home. With patience and time (preferably the only pet and no children) Blue should make a fabulous pet for an experienced GSD home. Micro-chipped, vaccinated and medically fit.
Saber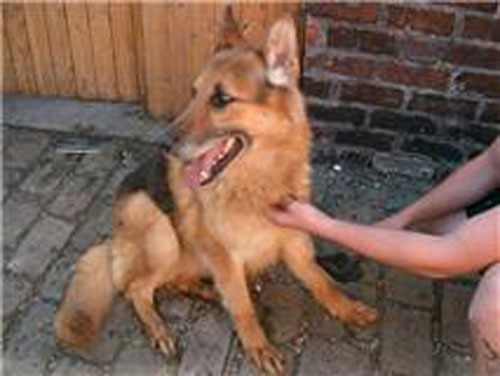 Very fit and lively 10 year old, entire. Loves to play and cuddles. Unfortunately due to family constraints Saber is living in a very confined space and left for long periods of time. He URGENTLY needs a kind and loving home somewhere he can get the time and attention he deserves and can settle into a daily routine. He has excellent re call, very good with other dogs/cats, vaccinated and micro-chipped.
Frank - Stafford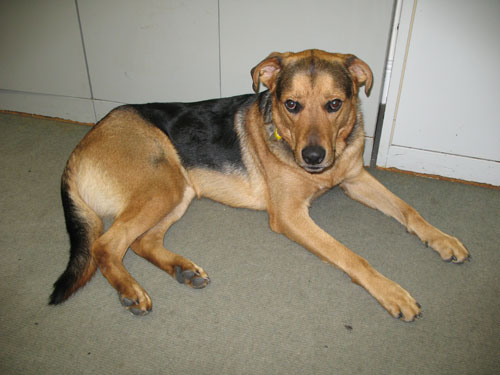 This is big boy Frank, a 4 year old GSD x Ridgeback who is neutered and vaccinated. He has lived with a child but due to his size it would be best to place him with older ones, can live with a steady dog but a definite no to cats!! He was originally found on the streets as a stray and his previous owner spent a lot of time in training him and received a lot of certificates, he even went to work with his owner in the office. We were informed he needed careful introduction to new people he meets but he is now in kennels and has met so many people and staff and has not been an issue; in fact they all adore him. Anyone with experience, looking for a large dog, look no further, Frank is your dog!!,
Rocky - Telford
This truly stunning example of the breed is Rocky who at only 22 months desperately needs a new forever home. Although he currently lives with young children it is advised due to his excitable behaviour and size he is rehomed with much older children, he has not been socialised with other dogs but our assessor said that with time, effort and the right owner he will be fine with them but a definite no to cats. He has been neutered and micro-chipped but his vaccinations are now out of date. Although he never went to puppy class he knows basic commands but gets distracted, with an experienced owner he will make a fantastic dog who is in desperate need of stimulation and exercise. Sadly, as in many of these cases, the breeder was only interested in the money and not the long term welfare of the dog; Rocky has become too much for his current family and are unable to give him the time and stimulation a fabulous dog like him requires. Can you?
Tala - Notts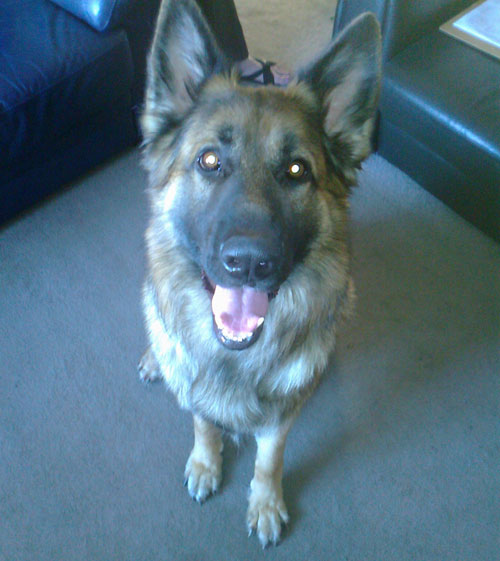 This lovely lad is 2 year old Tala who is up to date with his vaccinations and entire. He currently lives with children but would be best placed with much older, more experienced ones, loves to play with other dogs but a definite no to cats. Tala will need firm handling and will need to know who is the leader (certainly not him!), he would benefit from further training as he has not been allowed off lead. He is housetrained, travels well and will make a fabulous dog in the right home where he will be stimulated and allowed the chance to have a good run out in the fields.
Camy - Lou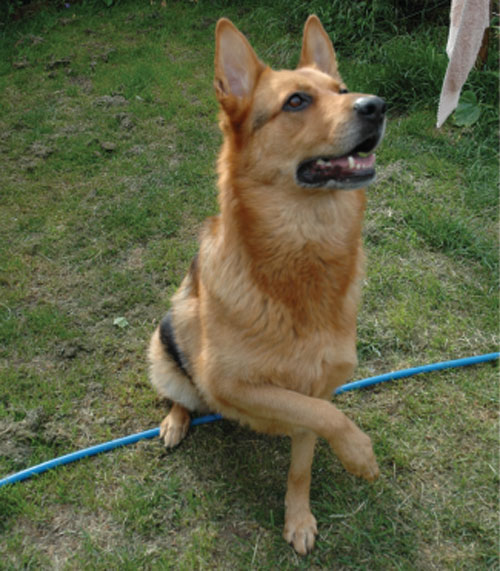 Camy Lou is a beautiful 5yr old spayed bitch. She is a calm and friendly dog in the house. She loves her walks, being outside and also likes swimming so can be a little excitable when she thinks she is about to go out. Camy Lou has had a rough start to life. Her current owners rescued her a year ago. She was in quite a sorry state but with time and patience they have got her to where she is today. She is insured and vaccinated. Camy Lou is great with people but she suffers from toy aggression. She takes little notice of other dogs when out but she is very stick/toy orientated and will need to be muzzled when out to prevent any incidents. Camy Lou responds to basic commands and has a good recall unless she is distracted by a stick or toy. Her current owners love her dearly but are sadly unable to keep her as she attacked one of their other dogs, while in the home, because of a stick. This gorgeous girl has a lot of love to give and would benefit from an experienced GSD owner with no other pets and no children.
Layla - Norfolk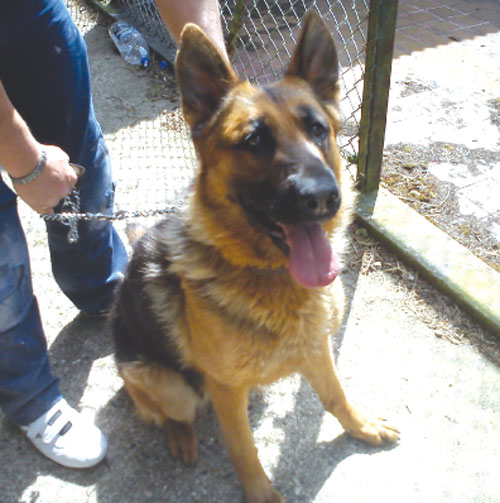 Layla is a lovely 2yr old bitch in desperate need of some love and attention. She was being kept in a run down, outside kennel with straw as her only comfort. She is very friendly and didn't bark once when we went to assess her, she was just glad of some attention. She is quite underweight and has little muscle tone on her back end. This will improve once she is being fed and exercised more regularly. Her owner is seriously ill and has moved away to be with his family leaving Layla to be looked after by a man, who was trying to help the owner out, but who has struggled due to his own workload and other commitments. This young girl needs time, patience and most of all love to steer her back onto the road to good health. She would ideally suit an experienced owner without young children.
Willow - Nuneaton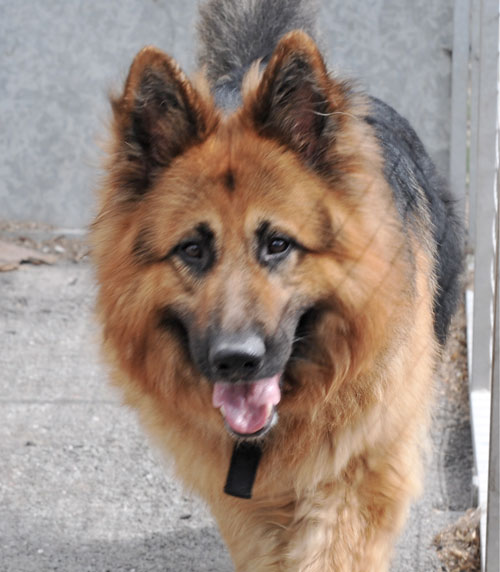 Let me introduce you to the utterly gorgeous, big boy Willow. He is 4 years old (5 in Jul), entire and not vaccinated. Due to his size and strength it would be best to rehome him to a family with much older teenagers or no children at all, definitely no cats and needs to be carefully introduced to other dogs. Our assessor did find him to be a little lively but soon calmed down and Willow enjoyed a fuss and a cuddle. Willow is very large dog and has not be shown any ground rules and therefore his new owners need to work with him but in return they will have a fabulous dog!
Buddy - West Mids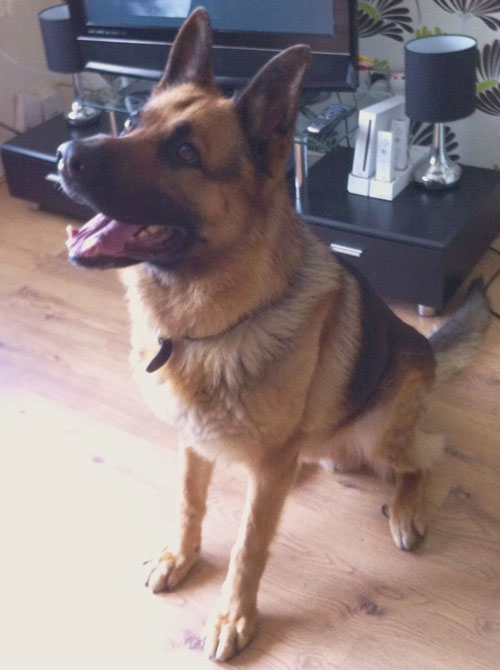 This lovely dog is 8 years young Buddy who is entire and vaccinations are overdue. He currently lives with a family, a cat, loves to play with other dogs in the park and previously lived with dogs in a former home. The family are no longer able to keep Buddy due to his food aggression and behaviour towards various members of the family. However, our assessor found him to be a lovely, friendly dog who was energetic and this was no doubt due to not getting enough exercise or stimulation. In the right home he would make a fabulous addition and would suit an active family preferably with older children due to his excitable nature.
Petra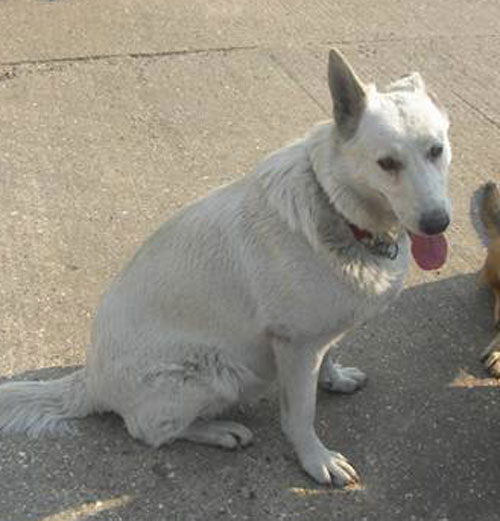 Petra is 5 and unspayed. She has never lived with children but was fine with young children she met out. Petra does not like little dogs or cats, and she will stand up for herself with larger dominating dogs. She has been living with a male GSD and her two 5 month daughters. Friendly with people who are friendly to her. Her recall is good as long as she is not distracted. Petra does have a joint problem on her right rear leg and will struggle if walked more than about 4 miles in a day. Poor Petra has had a horrible start in life. She was a dog on a travellers site where she was chained 24/7. The owner used to beat his wife and no doubt at some stag Petra too. She is very nervous of lighters and matches! She will need confident and understanding owners. Current owner rehoming as mobility issues walking all of the dogs!
Louie - Coventry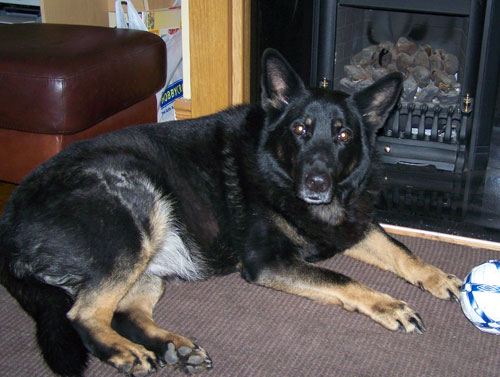 This lovely friendly lad is 8 years young Louie. He is neutered, vaccinated and house trained. He is sadly overweight due to lack of exercise but when our assessor took him out she found he eventually walked well on the lead after initially pulling and responded well to commands but could not test his recall. A definite no to cats and dogs he will dominate them so would be best placed as an only dog and to further socialise with other dogs. Louie is a water baby, loves to swim but doesn't like to go out of his depth, travels well in the car but hates fireworks! A friendly dog who really enjoys the attention he deserves and needs a home soon!
Bruno - Cambs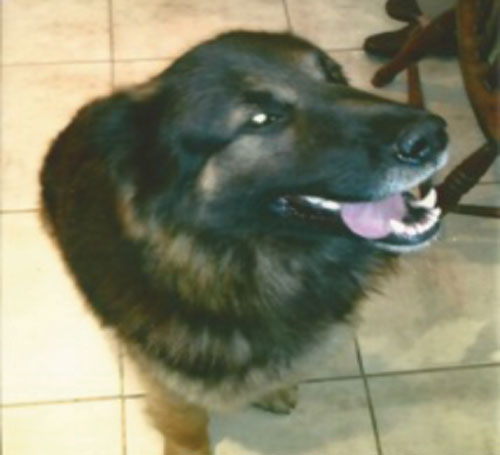 Bruno is a longhaired 4yr old entire male. He currently lives in a barn but is chained up as he keeps escaping and has killed the neighbours prize chickens. The neighbours have threatened legal action if Bruno is not re-homed soon. While chained Bruno shows aggression and will nip, but when off the chain he is a completely different character and is very friendly. He responded to simple commands and took treats from our assessor. Bruno is good with children, other dogs and cats. We are unsure if he is house trained but he does not mess in his barn. He is not currently walked and so will need some lead training. He shows no aggression when allowed to be free and will make a great addition to the right home. This young man just needs a chance to be a pet rather than a yard dog.
Bailey - Suffolk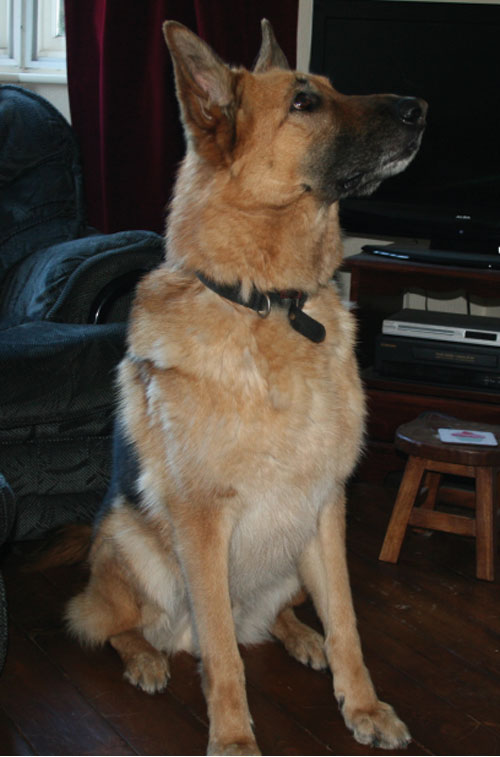 Bailey is a friendly 5yr old neutered male. He has shown some aggression issues in his current home but he is being left to his own devices for long periods and is under stimulated. Our volunteer found Bailey to be very social and saw no signs of aggression. He needs an experienced GSD owner that can spend the time needed to channel Baileys attentions in a positive direction. Can you offer Bailey the home he so urgently needs?
Jake - Suffolk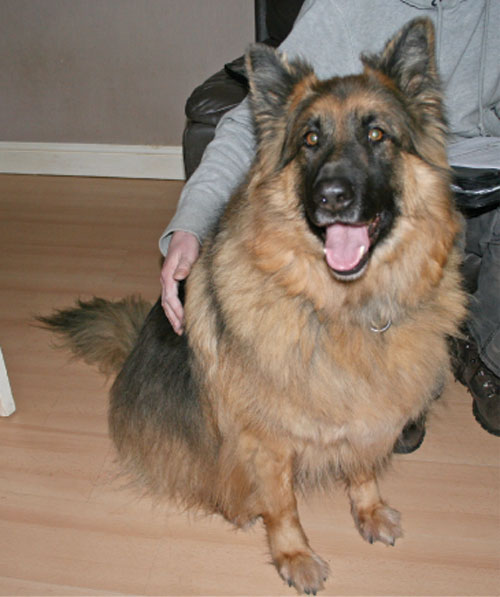 Jake is a 3yr old neutered male. He is currently being left alone for long periods, not walked or groomed. Despite his lack of attention Jake is a friendly boy. He needs an experienced owner who can go back to basics and teach him some manners and give him some guidance on acceptable behaviour. Jakes long coat needs a good groom. This young dog is desperate for a home where he will be loved and receive the attention and exercise that every dog deserves.
Theo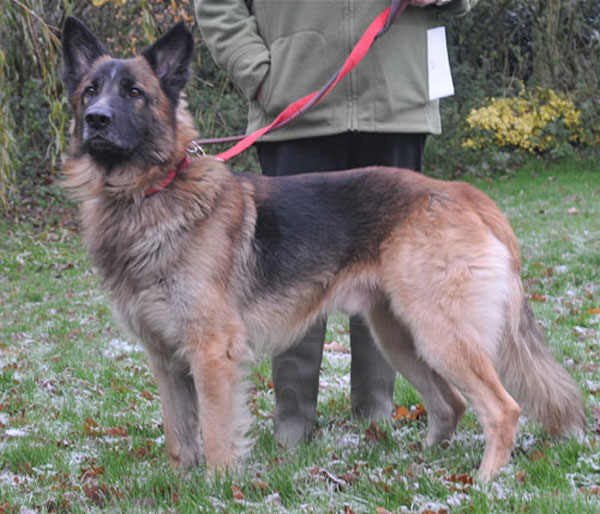 This beautiful boy is 4 year old Theo who will need an experienced owner to provide him with time for exercise and socialisation. He currently lives with another dog and children but would now be best placed with much older teenagers. Although he lives with another dog and gets on well with her, he does not like other dogs when out. He is fully vaccinated and neutered. He requires a home with GSD experience who will guide and stimulate him, in return you will have a fabulous loving dog.
Gandalf - Leicestershire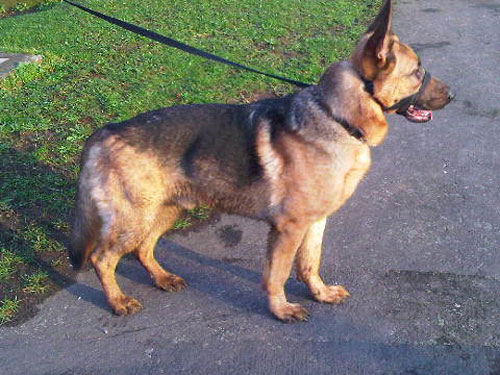 This lovely boy is 2 year old Gandalf also known as G Bear. He is up to date with vaccinations, neutered and micro-chipped. He is good with children but will need to be homed as the only pet as he likes to enjoy all the fuss and tummy tickles for himself; and following an attack by another dog when he was only 15 weeks old he can no longer tolerate other dogs or any other furry creatures. He is house-trained and has good basic commands. He has unfortunately been diagnosed with hip dysplasia but thanks to his good muscle tone the vet has advised he does not require an operation; the current pet insurance is transferrable. Our assessor found him to be a friendly and pleasant dog, walked well on the lead; his current owner sadly has to give him up as she is unable to control him around other dogs and the other pets in the home. He will suit an experienced owner who will understand his behaviour and provide him with the guidance and manners he requires.
Lulu - Nuneaton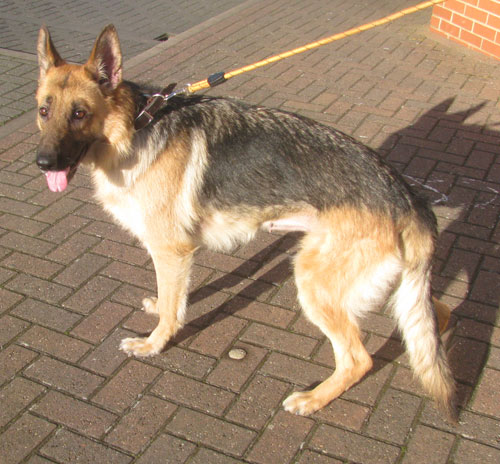 This beautiful little girl is 3 year old Lulu who is fully vaccinated and micro-chipped and spayed and currently in foster. She has previously lived with children and is ok with most dogs but cannot tolerate small ones and definitely no cats. She is fully house trained but will require further training as she will pull on the lead and needs to learn a few manners. She suffers with dust and food allergies and is currently on medication and a special diet for this; she is currently insured and this is transferrable. She will require a firm handler who can provide her with the guidance and socialization she requires as well as the care needed with her allergy. A lovely girl who needs a chance to enjoy another loving home.
Debo - Bradford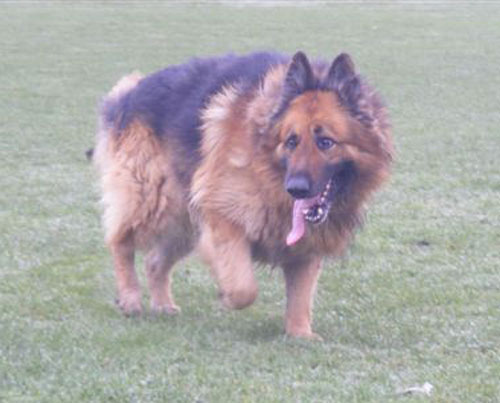 Volunteer says: Debo lacks socialisation with people & dogs. when introduced to Ash (our boy) he showed signs of aggression, although when walking together he seemed to calm down. He went to attack Ash on a number of occasions, Ash soon showed him who the boss was (good lad).This shows he can be ok with the correct guidance. Upon entering the house he barked continually at me & shirley. I can see potential but this will only come from a firm handler with experience of the breed & introducing him to lots of different scenarios. & lots of socialisation. He is a big strong boy so pulls on lead. good off lead without the distraction of other dogs. This boy needs plenty of exercise & grooming as he is not being looked after.We would recommend that no small children as he is a very big lad.
"He is your friend, your partner, your defender, your dog. You are his life, his love, his leader. He will be yours, faithful and true, to the last beat of his heart. You owe it to him to be worthy of such devotion."
German Shepherds that have been rehomed
Donations are always welcome
Please help us by making a donation so that we can help re home more unwanted German Shepherd Dogs. Donations can be sent to Jayne Shenstone, German Shepherd Rescue, Little Vauld, Marden Hereford HR1 3HA. We also accept Paypal payments - just click on the Paypal button below. Thankyou.