German Shepherd Aspergillosis 2
Ice - Update on the GSD with aspergillosis
Ice's story - written by Ice himself
Sunday 8th May 2011 - Ice wanted to give you an update after he underwent surgery last week. These pictures were taken before he had his head shaved. Ice's mum will take more pictures.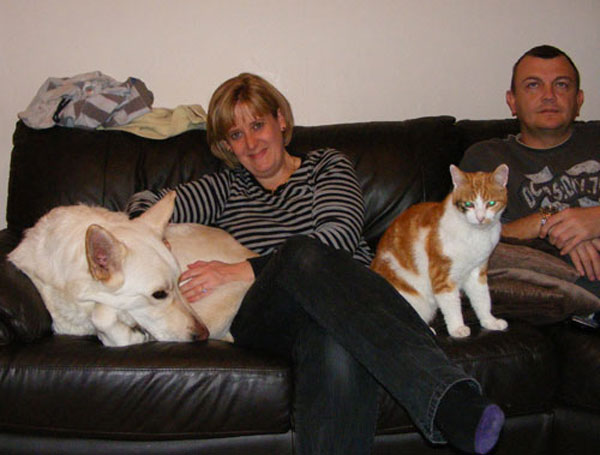 This is a message from Ice following his surgery
Ice's Story continues....
Last Tuesday 3rd May started as any other day for me. The humans were saying 'Happy Birthday Big boy'. What was that about? Another year older today...the big 4. Mark human got up at 6 am and we went on our usual bunny chase on the dunes on Sizewell beach before he goes to work. Two or three big sneezes from my sore nose, a bit more blood and then a rub in the sand later we return home. A fine birthday breakfast is served laced with antibiotics hidden in a slice of best ham. Lucy human must think I'm silly or something. I know the tablets are there, I'm used to it now. I'm just humouring her swallowing them. I just want the ham!
Before long Nana human turns up in her people carrier to get Lewis so Lucy human can also go to work. She learnt quickly and now and brings two yoghurts with her for her early morning breakfast snack. I have one straight out the pot before I let her have the other one, and if she's lucky I let her eat most of the other one before she caves in and lets me lick the pot with my eyes half shut in pleasure. There's only a bit of drool and some splatters of yoghurt up the kitchen cupboards. I leave the apricot chunks at the bottom for her – aren't I kind. (Shh I actually don't like those bits!).
Nana human has two seats removed in the back of her car just for me. It's to accommodate my snuggly double duvet. I actually prefer to wedge myself in between the drivers' chair and passenger seat armrests so I can see where we're off to. Most mornings the first trip is to the nursery. Whilst Nana human is inside Lewis's nursery dropping him off, I settle myself down on the driver's seat waiting for her return. Everyone stops to say hello at the nursery. Shame I don't look my absolute best of gorgeous German Shepherdness. It's early in the morning and my large ears are squashed at right angles against the windscreen as I look for Nana eagerly waiting for her return.
But this morning there was no nursery trip for me. It was a little confusing. Instead, I went in the back of Lucy human's car. I don't usually go to her work. Then we pass that and go into the centre of Ipswich. I remember this car journey from last time when I had a nasal flush. My heart sank. I guess I'm going to the vets again. My spirits are raised a little when I see Shane from Christchurch Vets. I know I'm in safe hands and he is a very nice man and so are the ladies who look after us after we've had treatment.
Lucy human is crying and kissing my head handing my lead to a lady and whispering to me "to stay strong and fight that horrible infection and she would see me very soon". She then kissed me a few times more, got my head wet from her tears and turned around and walked away. I didn't really understand but followed the nice lady through the door. I don't remember much after that until I woke up.
I'm in the hospital for dogs with two tubes in my head and a very bad headache. I don't really know what has gone on. I have a huge buster collar on. I'll work on that one later when I feel a bit better and have some energy. Where's everyone I know and love? It's confusing. Night time comes and no Lucy, Mark or Lewis human – only vets and nurses and medicines being injected down the tubes in my head tonight. Then I sneeze and gunk and blood pour out of my nose. I know I'm safe and I know they are looking after me and making me better, but I'm lonely, scared, and I cry.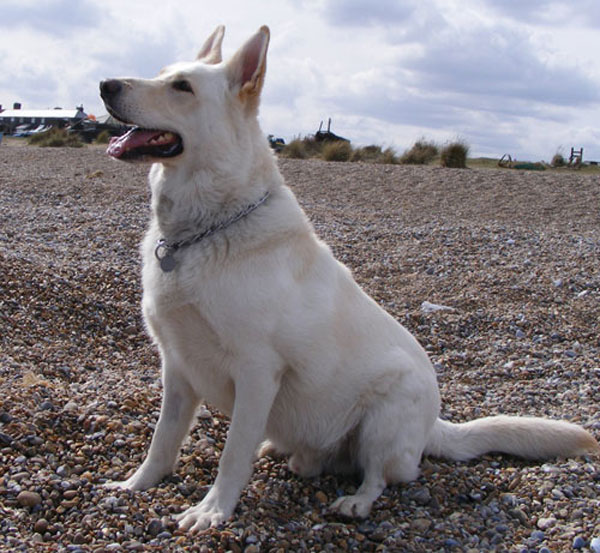 Wednesday 4th May
More medicine through my tubes in my head in the morning and again before bedtime. The same cage but the nice nurses take me out to the little garden for a stretch of legs and a wee. Where's my Lucy and Mark? The nurses told Lucy and Mark Human that I call out for them sometimes. Later that day I'm sure I heard human Mark's van. I know the sound of that van a mile away. I cry again. Call to him...he doesn't come. I now know he wasn't allowed to in case I got confused and thought I was going home already. He was bringing in my breakfast and dinner of chicken, rice and a little gravy. Another lonely night away from home....
Thursday 5th May
I was very lonely last night and bored and decided to take my tubes out. I didn't want to be too naughty so managed to rip them out without taking the buster collar off. No one knows how I did it, and it will stay my little secret! Shane was in the theatre looking after another poorly animal so I had to wait until he was free before he could sort me out. I'm lucky that I hadn't done too much damage to myself. In hindsight, I should have left it alone, but I just didn't like the feel of that medicine in my head and coming out through my nose. I don't understand some things. Yet another lonely night....
Friday 6th May
Morning comes and no medicine through tubes now they've gone. I know I'm howling a lot this morning. Sorry everyone but I just want my family. In between my cries, I think I hear Nana human's car? Can it be true??? I shout louder and louder. Yes...I think it is. I can hear Lucy and Mark human talking outside in the car park. Then it goes quiet. I shout and shout to come and get me. I now know they were upstairs talking to Shane the vet and getting their instructions on the loads of medicines I now have to take. I cry and cry and finally, the nice nurse opens the door to the garden and I see them. Lucy human has tears in her eyes again. For goodness sake. That woman cries so much!!! I rush over panting and sink into the ground by her and sob. It was all very confusing and I was scared, in pain, lonely, pleased, and just wanted to go home.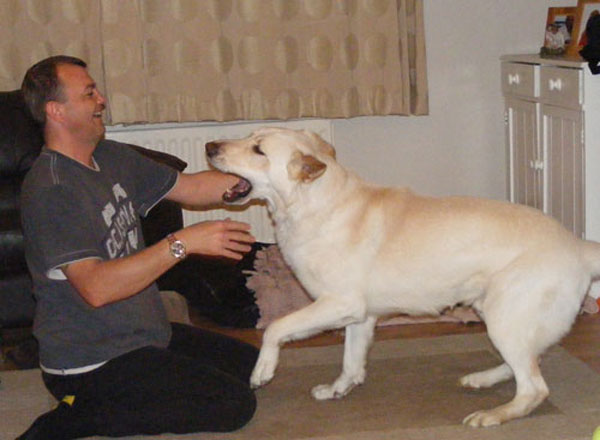 I was very distressed going home and spent the journey pacing Nana human's car. I couldn't get comfy. The discharge from my nose is now clear rather than green, black and various other colours and there's no blood!! I know I smell. The horrible infection comes out of my nose and my whole face stinks. I wish I could have a bath but can't. Thank goodness they still love me. My head, where Shane removed a section of my skull to get to the air pockets deep in my sinuses to treat me, is stitched up, but every time I breathe my skin inflates and deflates with each breath. Shane says that will fix itself inside eventually. It certainly feels different as I feel fresh air coming in through my nose. Something I haven't felt in a long long time.
Finally, I'm home. It's still a little confusing and I'm worried that if anyone goes in the garden or the other room, they are leaving me on my own again or with strangers. I can't help it but whimper and pant all the time tonight. I want a cuddle and get on the sofa, but my face hurts and I can't get comfy so get off. I finally get comfy on my own on the sofa. You've seen the photo's that Lucy human took.
Dinner time and I now have 4 tablets to take twice a day. LOADS OF HAM!!! Yippee.
My head is hurting a lot but I haven't had a walk since Tuesday and I feel very stressed and just want to get out. Lucy human finally gets it and says to Mark human shall we go to the woods. YES PLEASE. I can't be bothered to bark yet, but hear the 'woods' word and put my head on one side. Bliss – we get to the woods and I feel like a pup again. I run around and forget my head for a moment but get a sharp shock reminder when I pick up my favourite cones to chew but drop them quickly. Ahh yes – I'm hurting still but it's fantastic to smell the woods and stretch my legs.
Saturday 7th May
More tablets but I guess they will be around for many more weeks yet. The swelling around my face is slowly going down but I hurt and don't like being shouted at for scratching my wounds. I can't stop scratching but have to try so I don't rip the stitches out. Lucy human and Lewis human take me up the high street to my favourite shop – the pet shop. They sell fabulous bones there and I savour the smell for the first time. Every smell is so sharp now. I hope it will only get better as I do. I don't get to finally relax and enjoy my bone until the evening. It's taken me this long to calm down and realise that I'm not going anywhere and my family love me and want me.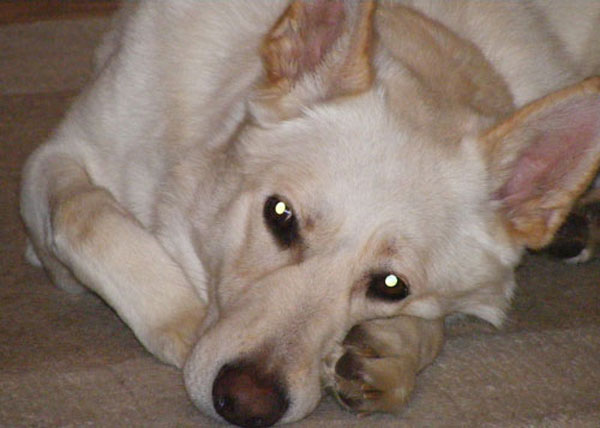 I hope that my story helps you understand a little more about the horrible infection I've managed to get – Aspergillosis. German Shepherd Rescue is fantastic and is helping my humans by paying for my treatment. Anything you can spare to help is gratefully received. Thank you, everyone. With all my love and affection....Ice xxx
We are all rooting for Ice and hope this will be an end to his problems
Please help us by making a donation so that we can help re home more unwanted German Shepherd Dogs. Donations can be sent to Jayne Shenstone, German Shepherd Rescue, Little Vauld, Marden Hereford HR1 3HA. We also accept Paypal payments - just click on the Paypal button below. Thankyou.