Bungee Jump GSDR 2012
Bungee Jump to Raise Funds for GSDR
We need YOUR help to fund raise for The BIGGEST & The BEST CHARITY in ENGLAND & WALES! Two volunteers Mark Steward and Jayne Shenstone, will tackle the UK's highest bungee jump to raise much needed funds for GSDR. June 17th - Tatton Park, Ashley Road, Knutsford, Cheshire, WA16 6QN
Because of the current economic situation, we are absolutely overwhelmed with record numbers of unwanted dogs. This really is the worst ever in the history of this rescue.
At GSDR we believe all dogs deserve a chance and because we don't cherry pick the young and easy dogs, we have at least 50 urgent dogs that are being housed in commercial boarding kennels. This is an enormous financial burden for the rescue and we desperately need your contributions so that we can keep these dogs safe.
Why we urgently need your help?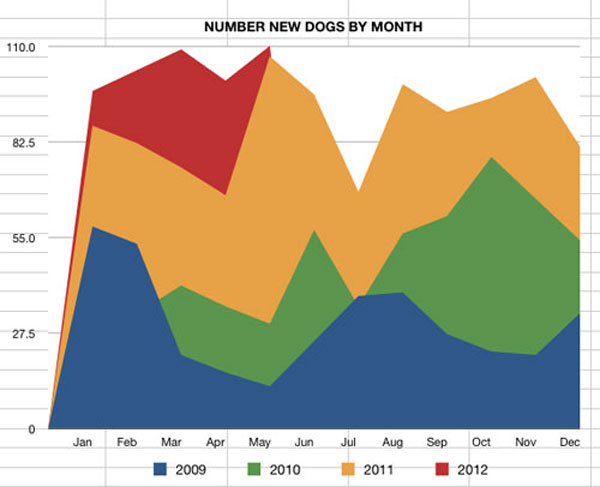 Since 2010 we have seen a three fold increase in the number of dogs needing to find new homes every month. We are only 5 months into 2012 and again the figures are rising. Coupled with the fact that we are getting fewer people wanting to adopt and that we currently have over 50 dogs in commercial kennels, the rescue is under immense pressure financially.
The 50 dogs we have in kennels are housed in commercial boarding kennels with our kennel bills running at around £10k per month. Previously we have limited our kennel dogs to a maximum of 30 to try and keep a control on costs. The situation that we have now is unsustainable and we urgently need your financial assistance.
If we can't take urgent dogs, what will happen to them? All dog pounds and rescues are overflowing with record numbers of unwanted dogs.
Please help us raise the funds to pay our kennel bills so that we can keep these dogs safe until we can find their forever homes for them.
Mark and Jayne are going to be leaping out of a basket suspended 300 foot in the air attached by an elastic band! All for the love of the breed and for GSDR who need YOUR help. Everyone is welcome to come along and watch the event, pets are also welcome. Our jumps are to take place around 15:30.
This is our Mark on a previous bungee jump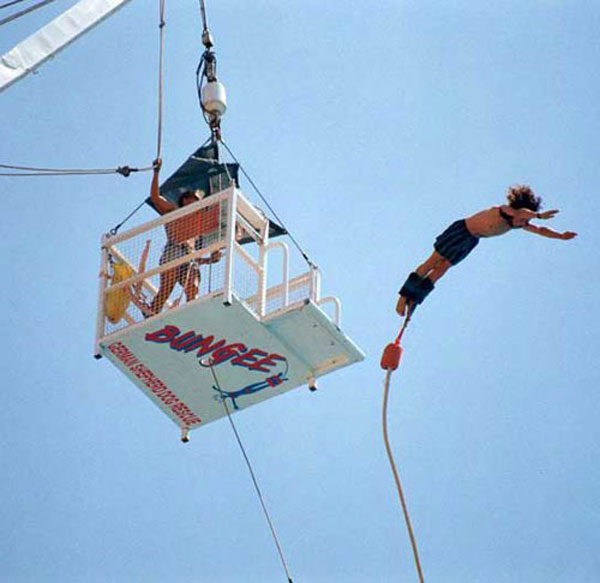 Mark has done a bungee jump before but Jayne has not. This is the UK's highest bungee at 300ft so the prospects of launching ourselves from this height is scary - to say the least.
We might even get our hair washed!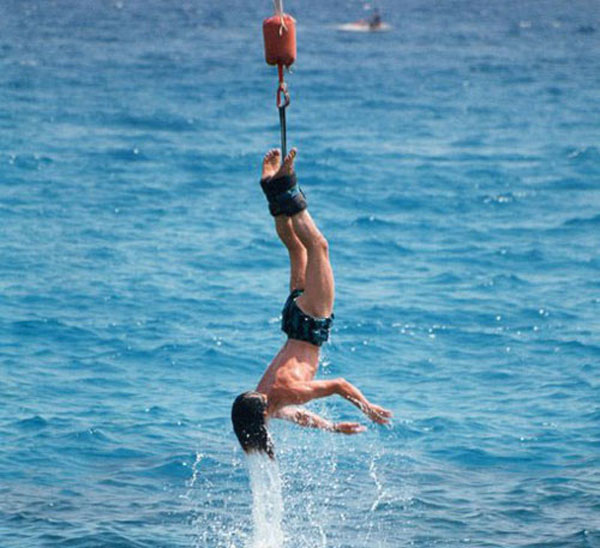 We know that everyone is struggling at the moment but if you can help us, it really will be much appreciated and will help us keep the dogs that need us most, safe until homes can be found.
You can sign up and pledge your support through the Facebook link below or you can donate using the Paypal button at the bottom of the page.
Thank you for helping those dogs that need help the most.
Donations are all ways welcome
Please help us by making a donation so that we can help re home more unwanted German Shepherd Dogs. Donations can be sent to Jayne Shenstone, German Shepherd Dog Rescue, Little Vauld, Marden Hereford HR1 3HA. We also accept Paypal payments - just click on the Paypal button below. Thankyou.