Betsy German Shepherd
A very sad story about beautiful Betsy
Poor Betsy's owner died and she lay alone by his body for a week.
REHOMED
This is Besty, she is 8 years old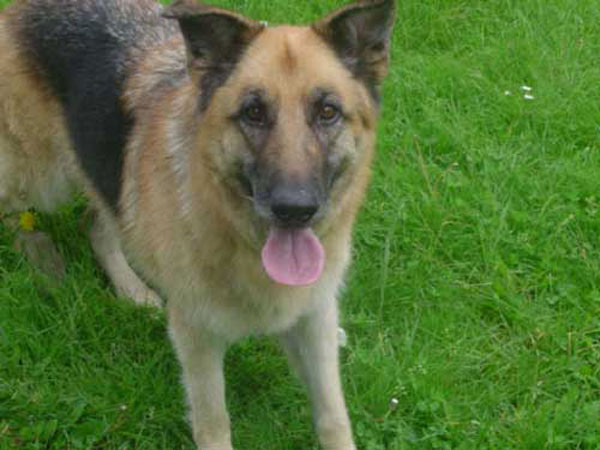 This is Betsy's sad story - written by her fosterer
Betsy has had two previous owners. Unfortunately her first owner died with only Betsy and himself living in the home and Betsy was found a week later lying by his body. Her owners best friend who was also an elderly gentleman took pity on Betsy and took her in. She lived with him for 4-5 years until almost 10 months ago when I had a phone call to say Betsy's owner had been taken to hospital and unless Betsy could find someone to look after her until he recovered she was going to be put to sleep.
Her owner never recovered and passed away. I took Betsy in on that day and she has been with us ever since.
When she came to us she was in a terrible state, apart from the stench that came from her, her fur was falling out in patches as her previous owner had bathed her in washing up liquid which had stripped the fur of its oils and dried her skin out so much the fur was just coming away. She had been fed on chips and fast food and used to crave chips, now she eats dog food and very rarely eats human food although she will sit quite patiently and wait for titbits. She was scared to death of her lead/chain that she arrived with and used to cower when you picked it up and would wet herself it you walked towards her with it.
We found cuts/scabs and lumps on her back that we assume were made by being hit with her choke chain. We soon threw that away and now she loves it when her lead comes out and can't wait to get out to play. She never played at all for months like she didn't know how to but now she runs around like a puppy and loves to chase balls/sticks. It took me months to earn her trust and her allow me to bath/brush her and trust me enough to allow me to take her to the vets without cowering or trying to escape. She was in a very poor condition and was a very nervous timid dog. She is not timid anymore, she walks with her head held high and her ears up. She loves to go paddling in the river. 3 weeks ago she passed her health check with flying colours and the vet said I'd done an amazing job with her considering what condition she was in both mentally and physically.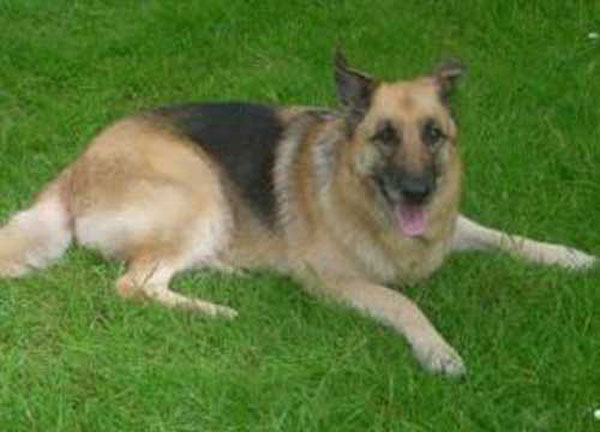 Betsy is now a completely different dog. She enjoys meeting new people and animals. Betsy is a beautiful dog. She is loyal and loving and loves to go for walks and play football and will make any adult a great companion. She is an amazing dog and I love her to bits and have been so fortunate to have had the time with her and its been so rewarding watching her improve by the day.
Betsy is a female full breed german shepherd. She is approximately 8 years old. She is such an amazing dog. No dog I have ever met has ever touched my heart like she has. She is great with all adults and children now but is still unsure of toddlers. She's great with all other animals, I've had her near dogs, cats, horses ,snakes, lizards, birds. She's been 20 mins in a car no problems and a 10 min bus ride and no problems.
She's neutered , microchipped, wormed, de-flea'd. She has excellent recall and knows most commands, stand, sit, lie down, heel, stay, wait, She walks well with or without her lead. She can be left alone for up to 4 hrs and is clean in the house. She doesn't chew anything and doesn't jump, pull or climb on the furniture. She is very obedient and is no trouble at all inside the home or out on walks.
Betsy loves a bath and a brush and will allow you to groom her anywhere.
We live in Manchester about 10 mins outside the city center, close to Manchester city's stadium. I don't have transport so anyone who wanted to meet her would have to be prepared to travel.
Can you offer Betsy a forever home?
Please help us by making a donation so that we can help re home more unwanted German Shepherd Dogs. Donations can be sent to Jayne Shenstone, German Shepherd Rescue, Little Vauld, Marden Hereford HR1 3HA. We also accept Paypal payments - just click on the Paypal button below. Thankyou.
---
---