Abandoned Security GSD
German Shepherds Abandoned by Security Co.
These dogs have worked alongside their handlers for several years for a security firm. The contractor for whom they work has suddenly decided that in the current climate they do not need dogs on the site and want the dogs out by 30th April 2008 - so much for the loyalty and commitment these dogs have shown to their handlers and the firm. The handlers are distraught at the decision and dismayed at the prospect of these dogs being abandoned.
We have until 30th April to get these dogs out otherwise, the company that owns them will have all 3 dogs put to sleep.
These dogs are friendly and not aggressive in any way.
Karn - 10yrs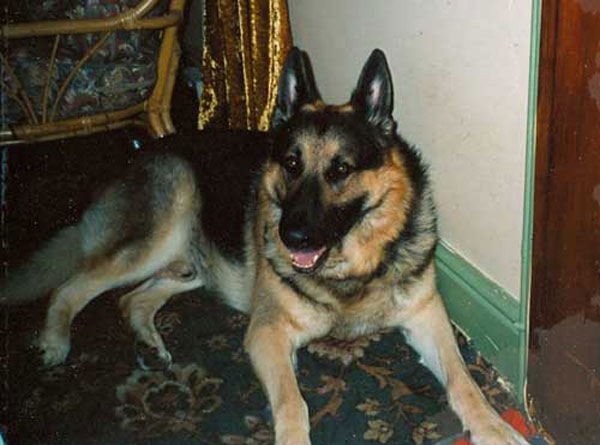 Karn is a very handsome 10-year-old, black, and tan, short haired, entire male. Karn is security trained and whilst he has always been a security dog, he has lived in the home of his handler for the last 6 years. He is very friendly with people, including children from 3 years upwards (he is unsure about children crawling). Karn likes traveling and is happy to sit in the back of the handlers hatchback - he thinks it is his car and the handler is the person that takes him from A to B. He enjoys running up and down the stairs and likes a drink of tea after breakfast. Karn has not socialised with other dogs and is not keen on cats. He likes hedgehogs, though. Karn is, as you would expect, very obedient and has no health problems. He is vaccinated. He urgently needs a new home as the security firm are reducing the dog covered sites to persons only as from 1st May and his handler lives alone and will continue to work 12-hour shifts meaning that Karn will be left alone for too long a period. Karn will settle happily into family life but does need company - he deserves a comfortable home to see out his remaining years.
Max - 10yrs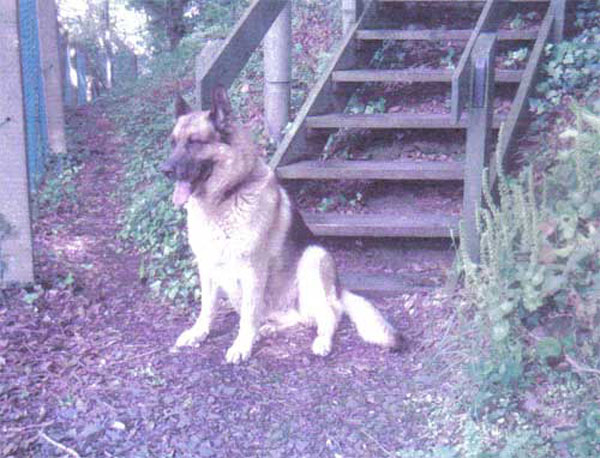 Max 2 is a 10-year-old, black and tan, short coated, entire dog. He is police trained and has been used as a security dog for the last 8 years. He has had a monthly top up training throughout his security life. When he was younger in lived with a family in a pub. He is housetrained, although he now lives in a kennel and is friendly with people, including children. His handler has never seen him be aggressive - he is fine with other dogs, although he has had fairly limited opportunities to mix with them off the lead. He is generally fit and well cared for - he has some arthritis for which he is on medication, but he still manages to do his rounds. Max's handler is unable to take him as his wife suffers from severe emphysema.
Max - 8yrs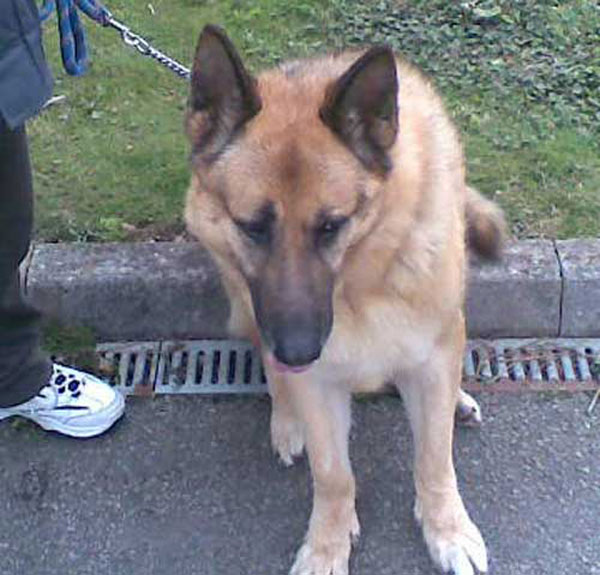 Max 3 is an 8-year-old, black and tan, short coated, entire dog. He has been used as a security dog alongside Max 2 and also lives in kennels. He is good with people but does not get on with other dogs. Max 3 has suffered from arthritis and is on long term medication. He is vaccinated. Max 3's handler is unable to take him as he has 2 other dogs at home.
These dogs do not deserve to be put to sleep.
Donations are always welcome
Please help us by making a donation so that we can help re home more unwanted German Shepherd Dogs. Donations can be sent to Jayne Shenstone, German Shepherd Rescue Little Vauld, Marden Hereford HR1 3HA. We also accept Paypal payments - just click on the Paypal button below. Thank you.
---