German Shepherd Rescue
German Shepherd Puppies and German Shepherd Dogs rehomed across the UK. Help and Advice on All Aspects of Owning a GSD

Volunteers are dealing with very difficult circumstances just now but we are still here to help whether you are wishing to adopt a dog or rehome your dog. Please complete either an

adoption form

or a

rehoming form

or you can EMAIL us
---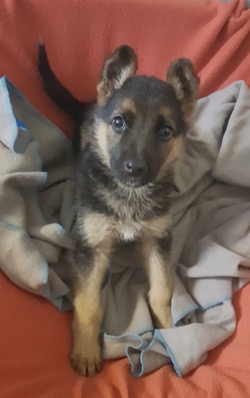 Puppy Smuggled Into UK In Hand Luggage
Lucky's Quarantine Fund Appeal: On Saturday 02.01.21 at 9.30am a call came through to Christine our SE Area coordinator asking could we help with a puppy that had been brought in from abroad that needed to be quarantined. If not it was going to be PTS.
What they didn't tell us was that they had smuggled Lucky into the UK from an unregistered country (Ethiopia) in their hand luggage. Only 6 weeks old with no vaccines or passport. They thought that they could just walk through customs and take her home !! Heathrow officials had other ideas and she was taken to the pet centre. As a rescue we felt Lucky was worth saving so the airport was initially contacted and ownership was transferred to GSDR.
After numerous calls by Julie Plastow, Airpets agreed to take little Lucky into isolation and once they had the paperwork required went to collect her. Eventually after 4 days we got the call to say that she was safe and in quarantine. The bill will not be cheap but who can see a puppy suffer because of ignorance. If you can spare a few pennies to help towards the cost of Lucky which is estimated at about £4500 we would be eternally grateful.
Lucky will now be guaranteed a fabulous new life with one of our adopters once she has served her time. Please help us raise funds to pay Lucky's quarantine fees.
---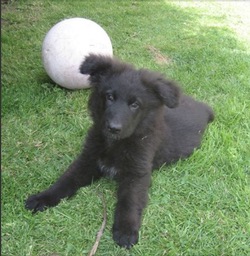 Unlicensed dog breeder first to be prosecuted privately
Woman allowed two pets brought to UK from Romania to mate and sold puppies for £300 each
An unlicensed dog breeder was forced to give up two rescued pets after she became the first to have a private prosecution brought against her by an animal charity.
Nicola Palmer, 39, of Kesgrave, Suffolk, was taken to court by Phoenix Rehoming after she breached her adoption contract by failing to neuter her male and female dog brought to the UK from Romania.
Palmer had no licence to breed the dogs but allowed them to have a litter of nine puppies, five of which were sold for £300 each. The remaining dogs were given to family members.
Animal welfare chiefs said the case reflected how "growing numbers" of people were looking to cash in on rising demand for puppies exacerbated during the coronavirus pandemic.
Phoenix Rehoming, which spotted that Palmer's female dog Esme was pregnant at the age of 10 months, sought help from the charity Animal Protection Services which organised the private prosecution.
Ms Palmer was accused of three counts of theft relating to the two adult dogs and the litter, and breeding dogs without a licence. Full Story Here.
---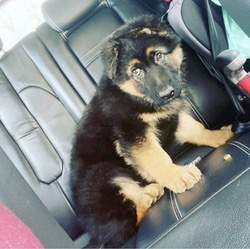 Nova GSD Puppy Killed By Lepto 4 Vaccine
Unfortunately, not all stories have a happy ending and what is worse, in this case, is that this puppy's death was caused by human greed, veterinary negligence and corruption.
This 13 week old puppy was purchased juts before Christmas for the princely sum of £2,200 from a back street breeder. The mother and father were seen on chains being kept in a tiny shed in a very small garden. The breeder told the new owners of Nova that they had made £18,000 from this one litter.
Nova was given vaccinations on 22nd December including the deadly Lepto 4 vaccine which is known to have killed thousands of dogs worldwide.
By the time she came into the care of GSDR, her organs was shutting down, she was in renal and liver failure, there was obvious brain damage.
We will not let her death be in vain; we will do all we can to stop this disgusting breeder and continue to inform dog owners of the dangers that some recommended veterinary treatments can pose. The health and well being of your pet has been monetised and become a very profitable industry and one that is not about health and well being but about £££££££.
This is poor Nova's story, she didn't stand a chance and was betrayed by humans from birth.
---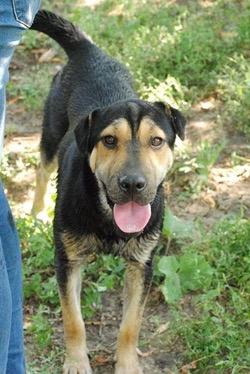 Tasha Desperately Needs A Home
Please don't let Tasha spend yet another Christmas in Kennels
Tasha arrived in the UK in 2018 and has been in kennels ever since.
When she first arrived she was only a puppy but she was afraid and panicked as she was carried away from the van, went to bite the person carrying her and managed to escape and was running loose for 2 weeks. We do believe that this is the reason as to why she doesn't like people she doesn't know. She was caught and now she knows everyone at the kennels she is a happy contented do.
Tasha will need someone who is prepared to visit the kennels maybe a few times to gain her trust.
Once she trusts and is settled she is a happy contented dog.
She loves other dogs so would perhaps be better being rehomed where there is another dog in the home. She will follow other dogs and settles quickly in the presence of a happy relaxed dog.
She has no interest in cats, she just wants to be by your side.
Please give Tasha the chance of having her forever home, she has waited far too long.
If you are interested please complete an adoption form so that a volunteer can contact you.
---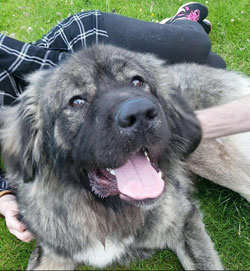 CAUCASIAN OVCHARKA (SHEPHERDS)
Although we are a German Shepherd rescue, there does not seem to be an official Caucasian Shepherd Rescue here in the UK, so since 2013, we have been helping these dogs find homes and have built up a good knowledge of this breed.
Most of these dogs are finding their way into the UK through unscrupulous breeders in eastern Europe or coming in via questionable rescuers with no rescue back up here in the UK. Most that we have helped so far, have been picked up as strays here in the UK.
This is certainly not the breed for everyone and if you are considering owning a Caucasian Ovcharka, please make sure that you thoroughly research the breed first. They may be the cutest bundles of fluff imaginable as puppies but they are a giant breed and will grow into a very large immensely powerful dog.
Caucasian Shepherds that we have for rehoming.
---
Personal Protection Dog and Family Protection Dogs
GSDR always has and always will operate a NO DESTRUCTION POLICY because we believe that all dogs deserve a good life. We will find the right home for all the dogs that come into our care no matter how long it takes. German Shepherd Rescue is both a registered charity and company, which produces yearly accounts so that you know where your donated monies are spent.
German Shepherd Rescue
We are German Shepherd Rescue the biggest and best charity in England and Wales helping to foster and rehome German Shepherd puppies and German Shepherd dogs (Alsatians).
German Shepherd Rescue helps rehome German Shepherds across the UK. Can you help us raise funds so that we can rescue more unwanted German Shepherd Dogs?
If you are thinking of buying a dog as a family pet forget that puppies for sale advert, please read this article first.
Please do not contact the rescue specifically for puppies - buying a puppy. We are looking for loving homes for rescue dogs of all ages. We always have many German Shepherd dogs for rehoming. Can you offer to adopt a German Shepherd and give it a good home or maybe you could foster a German Shepherd until a new home can be found.
If you would like us to feature a German Shepherd dog that is looking for a new home, please contact us with your details. Please note that this is a genuine service for German Shepherd Rescue and not a listing for people wishing to sell their German Shepherd dog.
We do not have puppies for sale or dogs for sale but we do ask for a minimum donation which goes towards helping other needy dogs. Monies raised go towards kenneling and veterinary costs.
Volunteers are always welcome.
German Shepherd Rescue is run by volunteers who are involved because of their love for the breed. Most have jobs and families and fit in rescue work when they can and at their own cost. Please be patient, and we will deal with your requests as soon as we can. Our rescue dogs are worth waiting for!
Please help us by donating so that we can help re-home more unwanted German Shepherd dogs. Donations can be sent to Jayne Shenstone, German Shepherd Rescue, Little Vauld, Marden Hereford HR1 3HA. We also accept Paypal payments - just click on the Paypal button below. Thank you.
---
---