German Shepherd Rescue Merchandise
CLOTHING GSDR LEADS / COLLARS/GIFTS GSDR HAND CRAFTED GIFTS
By purchasing these goodies you are helping us raise funds for the rescue. If you want to pay by credit or debit card, click on the Add to Cart buttons. You don't need to have a Paypal account, you can donate using your credit card. If you want to order by post, please send a cheque to the address at the bottom of the page.
All merchandise is good quality. Additional colours and sizes may be available on request
Most items are printed to order so please allow approx 21 days for delivery
If you are outside the UK please contact us first as there will be additional postage costs
GSDR Bandana - £6 including P & P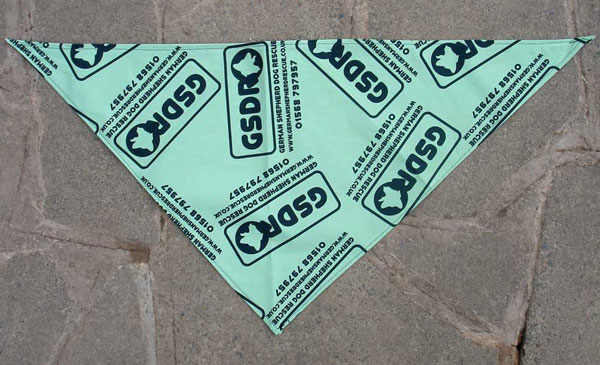 GSDR Ribbon - £1.50 including P & P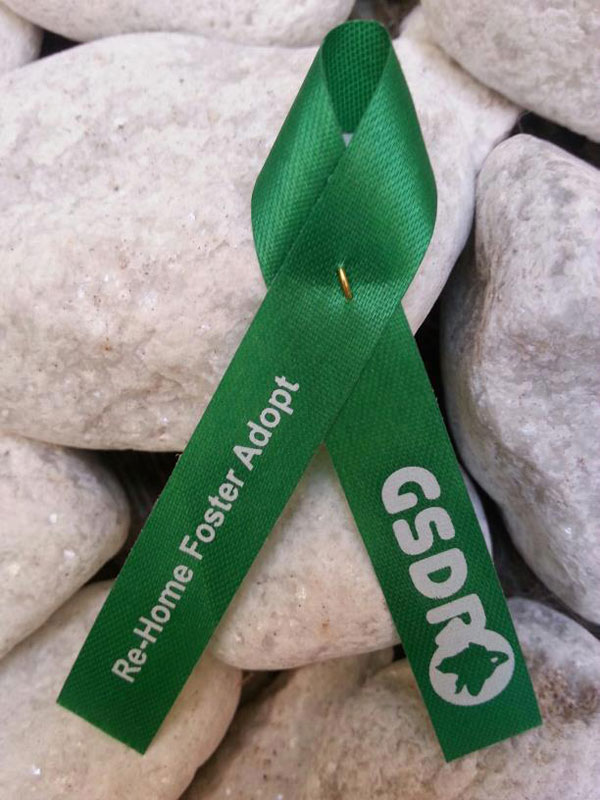 German Shepherd Puppies for Sale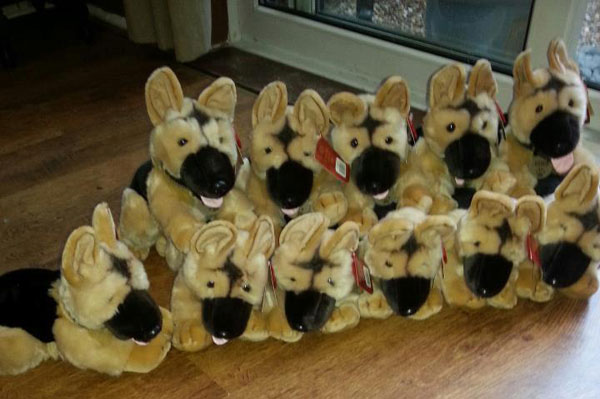 These little Keel puppies are looking for their forever homes. If you would like to rehome one, please pay £14.99 through Virgin Money Giving and email receipt to GSDR
Car Window Stickers 10x4 inches - Please send £1 plus A4 SAE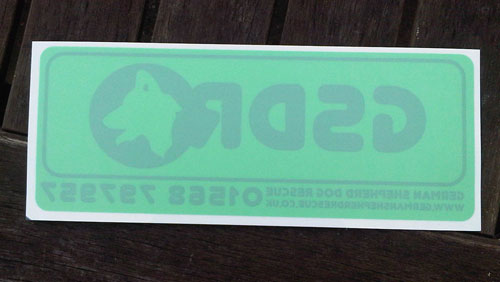 Address to send to: Little Vauld, Marden, Hereford. HR1 3HA
GSDR Two Tone Etched Wristbands £2.50 each incl P & P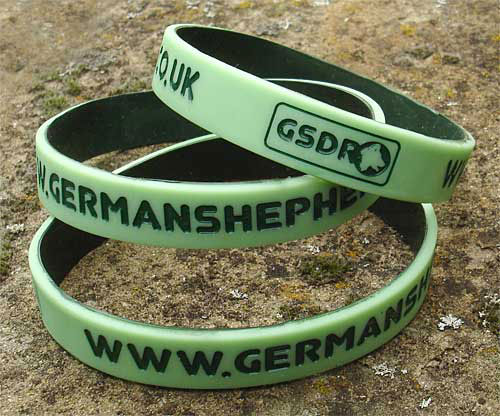 Dogmatic Leather Head Collar - £35 including P&P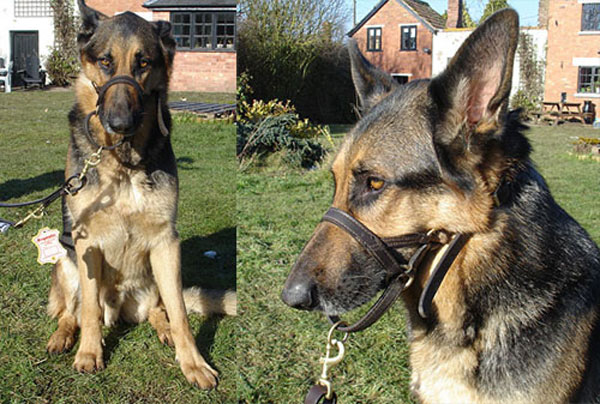 Brown leather Dogmatic with brass fittings, reluctantantly modeled by Ted! This beautifully made head collar offers you much more control making it easier to walk and train your dog safely. Made from top quality vegetable tanned leather which is cut by hand and sewn by craftsmen. The collar is fully lined for comfort with solid brass fittings and traditional buckle fastening. Size 3 - nose 10-11", neck 16-23". Size 3L - nose 11-12", neck 21-28". Size 3 usually for girls and 3L for boys.
Matching Brown Leather Training Lead - £29.50 including P&P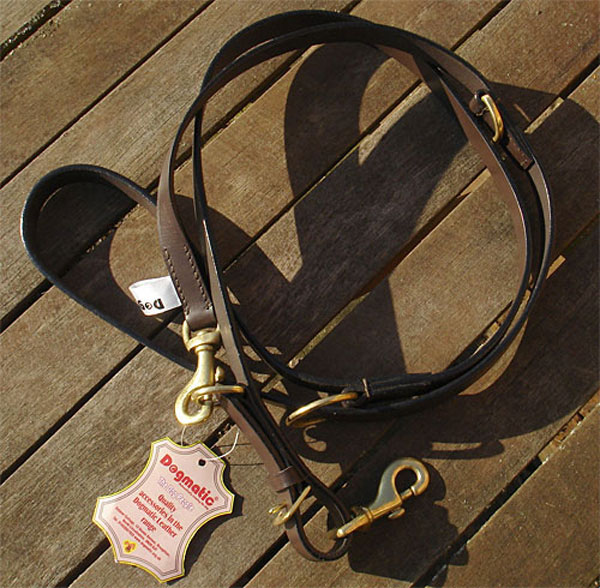 Beautifully made quality vegetable tanned leather training lead with multiple lengths making it ideal for either walking or training. The lead is approx 43" long and can be extended to 57" and 72".
Dogmatic Head Collar Padded Cushioned Webbing - £24 including P&P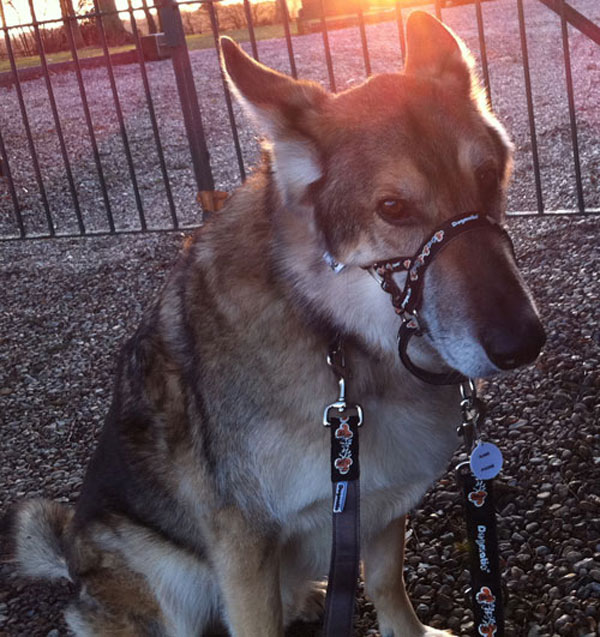 This time modeled by the lovely Tommy who is wearing a black and silver Dogmatic with matching collar and training lead. Soft padded, lined webbing which is easy to wipe clean. A clasp fastening centrally behind the head, makes it easy to fit and quick release. Comfortable secure fitting which doesn't ride up into your dogs eyes. Size 3 - nose 10-11", neck 15-18". Size 3L - nose 11-12", neck 18-23". Size 3 normally for a girl and 3L for a boy.
Apologies but we have very limited supplies due to a shortage.
Dogmatic Padded Cushioned Webbing Training Leads - £24.50 including P&P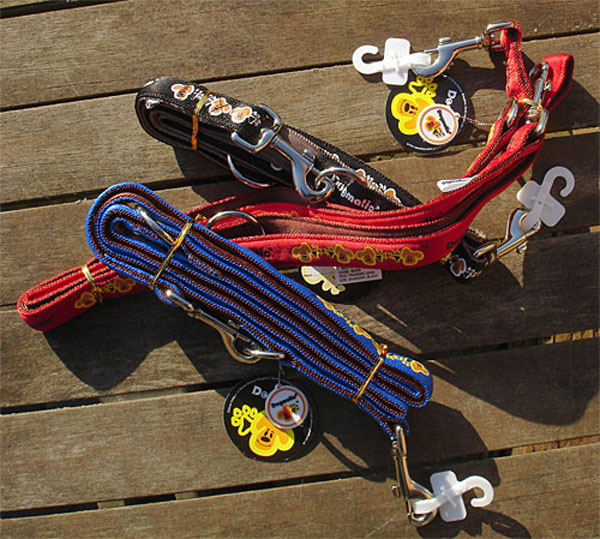 Matches the Dogmatic Head Collar and collars. Great for general walking, obedience and training - 25mm x 2000mm.
Padded Cushioned Webbing Collar - £14.50 including P&P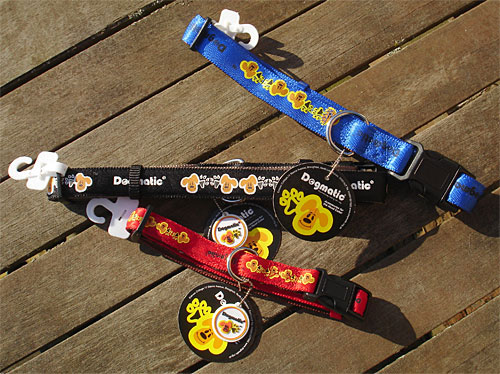 Adjustable with strong clasp fastening. Medium: 20 mm x 350-500 mm (14" - 20") Large: 25 mm x 480-700 mm (19" - 26")
GSD Badges @ £8.50 each inc p&p

CLOTHING GSDR LEADS / COLLARS/GIFTS GSDR HAND CRAFTED GIFTS
Please help us by making a donation so that we can help re home more unwanted German Shepherd Dogs. Donations can be sent to Jayne Shenstone, German Shepherd Rescue, Little Vauld, Marden Hereford HR1 3HA. We also accept Paypal payments - just click on the Paypal button below. Thankyou.