German Shepherd Dogs in the Eastern England looking for homes
Some of these dogs may no longer be available. Please go to our Eastern Dogs database
Page 1
Stella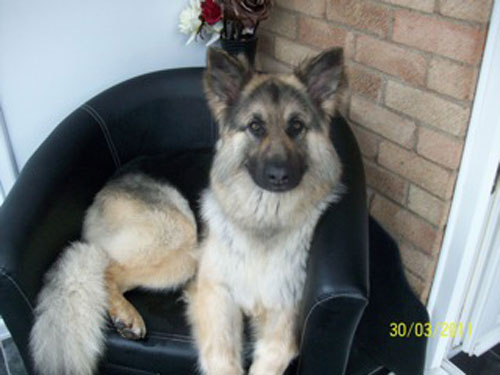 Stella is a beautiful friendly 2 1/2 yr old semi long haired bitch. She is vaccinated and microchipped. Stella needs to be homed as an only dog as she has had disagreements with other dogs in the past. Stella is very friendly with people and loves to play with her toys. She does need some lead training as she pulls buts she is well behaved off lead. She has a lovely temperement and will make a fantastic addition to the right household.
Benson - Suffolk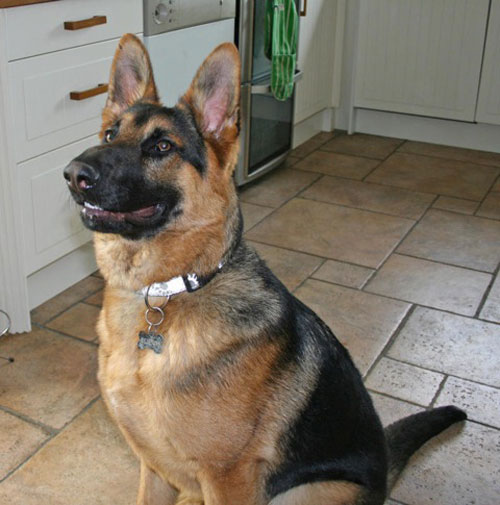 Benson is a 1yr old neutered male. He was rehomed by GSDR a few months ago but has returned as there have been changes within the family circumstances, and they can no longer cope with him. Benson has become over protective of his current owner and hence has issues with other dogs when out walking. He needs a firm, experienced owner who will teach him boundaries and acceptable behaviour. This young dog will blossom into a loyal friend with the right guidance.
Camy - Lou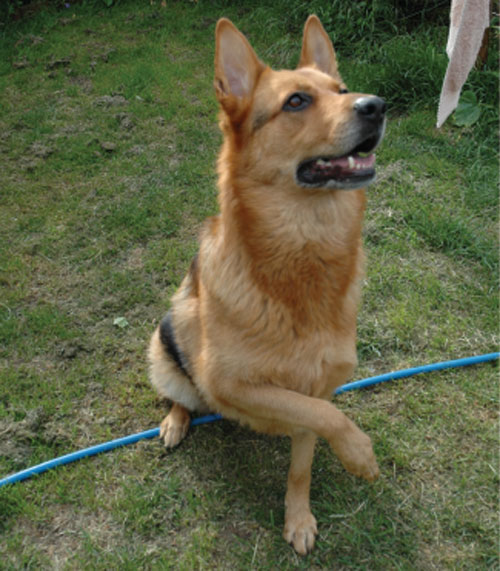 Camy Lou is a beautiful 5yr old spayed bitch. She is a calm and friendly dog in the house. She loves her walks, being outside and also likes swimming so can be a little excitable when she thinks she is about to go out. Camy Lou has had a rough start to life. Her current owners rescued her a year ago. She was in quite a sorry state but with time and patience they have got her to where she is today. She is insured and vaccinated. Camy Lou is great with people but she suffers from toy aggression. She takes little notice of other dogs when out but she is very stick/toy orientated and will need to be muzzled when out to prevent any incidents. Camy Lou responds to basic commands and has a good recall unless she is distracted by a stick or toy. Her current owners love her dearly but are sadly unable to keep her as she attacked one of their other dogs, while in the home, because of a stick. This gorgeous girl has a lot of love to give and would benefit from an experienced GSD owner with no other pets and no children.
Gandalf - Leicestershire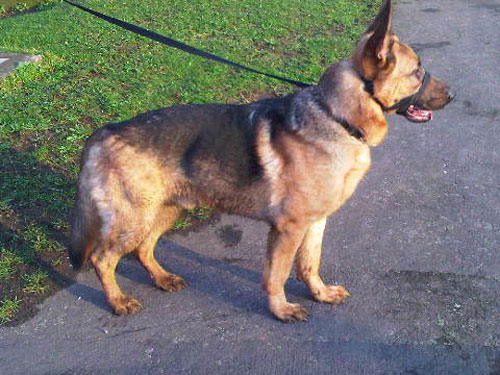 This lovely boy is 2 year old Gandalf also known as G Bear. He is up to date with vaccinations, neutered and micro-chipped. He is good with children but will need to be homed as the only pet as he likes to enjoy all the fuss and tummy tickles for himself; and following an attack by another dog when he was only 15 weeks old he can no longer tolerate other dogs or any other furry creatures. He is house-trained and has good basic commands. He has unfortunately been diagnosed with hip dysplasia but thanks to his good muscle tone the vet has advised he does not require an operation; the current pet insurance is trasnferrable. Our assessor found him to be a friendly and pleasant dog, walked well on the lead; his current owner sadly has to give him up as she is unable to control him around other dogs and the other pets in the home. He will suit an experienced owner who will understand his behavior and provide him with the guidance and manners he requires.
Bailey - Suffolk
Bailey is a friendly 5yr old neutered male. He has shown some aggression issues in his current home but he is being left to his own devices for long periods and is under stimulated. Our volunteer found Bailey to be very social and saw no signs of aggression. He needs an experienced GSD owner that can spend the time needed to channel Baileys attentions in a positive direction. Can you offer Bailey the home he so urgently needs?
Kaysie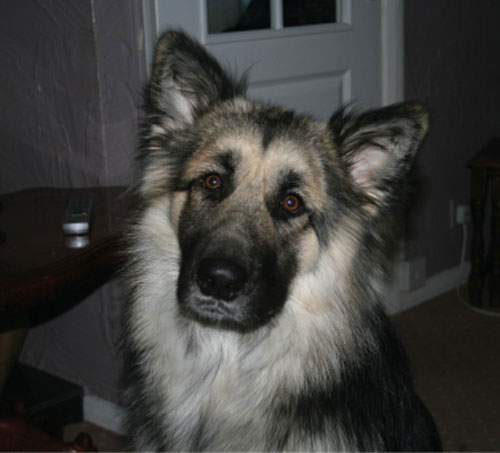 Kaysie is a 1yr old entire female GSD cross Malamute. This beautiful dog is nice natured but also quite nervous. She suffers from seperation anxiety, and needs some lead training as she lunges at cars when out walking. Kaysie will need a very experienced owner to deal with her issues. She would need to go to a home with older children, if any. She would benefit from being an only dog as she has taken a dislike to the other dog she currently lives with. She also dislikes cats. Are you the home Kaysie is looking for to put her back on the right track?
Starbuck - this boy pulled the short straw in life.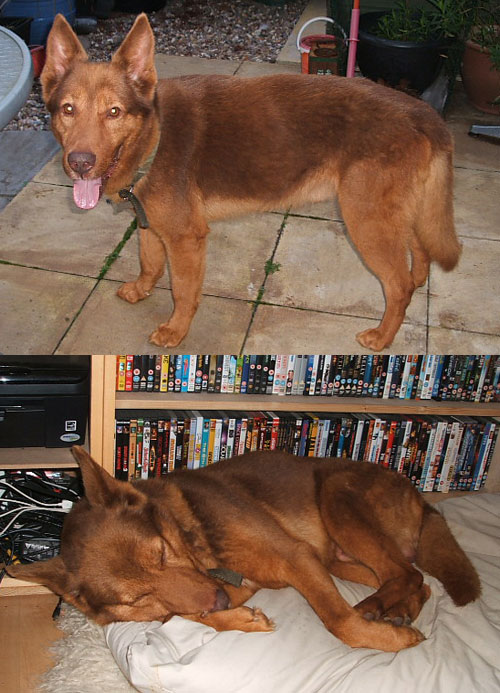 Starbuck is a small entire male approximately five years old. When he first arrived in his foster home he ate everything he could find but is now improving even though he is still extremely underweight. He is currently living with other dogs although we are unsure how he will react with cats. He has recently been separated from his mother and father so he is a little unsure of life at the moment. He is shy when meeting strangers but soon settles but remains very hand shy. He travels well and needs a family environment in which to settle. He has a very good nature and enjoys being with other dogs and children. This beautiful little boy has had to be placed in kennels through no fault of his own.
Luci - Bedfordshire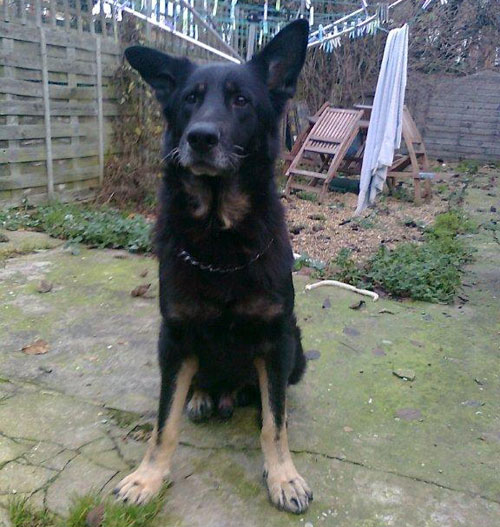 Luci is a 7 year old entire male. He is black with tan legs, short coated and not vaccinated or microchipped. He is not being exercised at the moment due to his owners ill health and needs to be rehomed soon. He lives with a cat, does not have much interaction with other dogs but is very good with people and children. He has a habit of chewing himself when anxious if left alone and has a sore patch on his back as a result of this. He travels well and will bark when traffic lights turn green. Luci can also open door with handles he can pull down. He is in need of some lead training but overall is eager to please and just want to be loved.
Carmen - Suffolk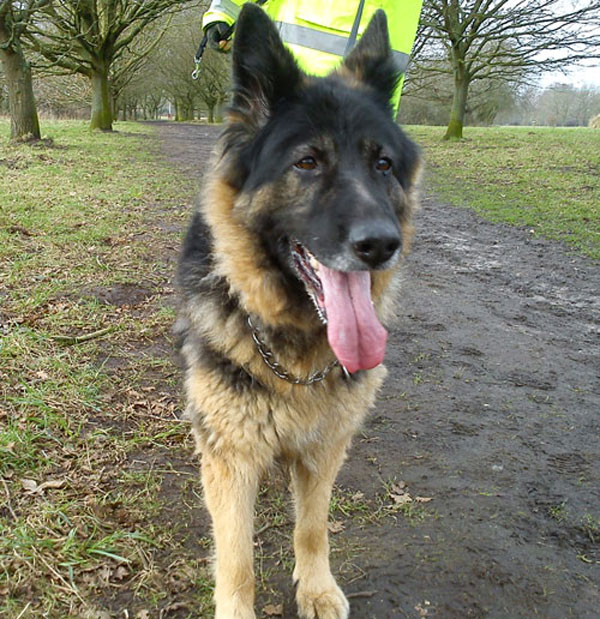 Carmen is a 10yr old semi long-haired entire bitch. Her vaccinations are up to date and she is microchipped. Carmen is a lovely friendly dog who is looking for a retirement home. Although she has previously been described as not good with other dogs or children she is now in foster care with three other GSDs and four children. She is very active for her age and loves her walks. She is great on a lead and doesn't react to dogs that she meets when out. Carmen needs an experienced GSD owner as she can sometimes be a little dominant but she is an very loving dog and is eager to please. Have you got a space for Carmen, where she can see out her twilight years surrounded by love and comfort?
Page 1
"He is your friend, your partner, your defender, your dog. You are his life, his love, his leader. He will be yours, faithful and true, to the last beat of his heart. You owe it to him to be worthy of such devotion."
German Shepherds that have been rehomed
Donations are always welcome
Please help us by making a donation so that we can help re home more unwanted German Shepherd Dogs. Donations can be sent to Jayne Shenstone, German Shepherd Rescue, Little Vauld, Marden Hereford HR1 3HA. We also accept Paypal payments - just click on the Paypal button below. Thankyou.