German Shepherd Puppies and German Shepherd Dogs rehomed across the UK. Help and Advice on All Aspects of Owning a GSD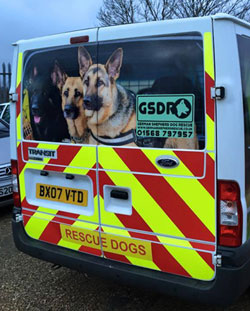 The new NE GSDR Dog Transporter
GSDR 'Team North' take delivery of their very own fully kitted out four kennel GSDR van thanks to the grant we were awarded from Support Adoption for Pets.
This transporter van will make a huge difference for our NE Dog Co-ordinator Julie and will save on time and precious funds meaning we can save more poor unfortunate souls.
You have to admit that it looks pretty amazing, the graphics are incredible and it will get the message out to people in the NE about who we are and what we do.
Who is going to dare break into that van?
A massive thank you to Support Adoption For Pets for giving us the grant to buy this van.
Vehicle supplied by Simon Harder from www.wesellpolicecars.com who is a GSD owner and keen supporter of GSDR and its' volunteers, several of whom have purchased doggy wagons from him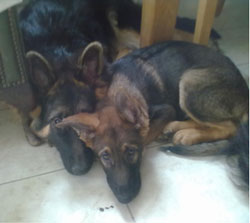 Our first newsletter for 2016
We took in a puppy called Eddison on the 30th December who has epilepsy and was taken to a vets in Colchester by his owner to be PTS. He'd started to fit after his first vaccination but fortunately the vets rang our SE Co-ordinator to see if GSDR could help and of course we did. Here is Eddison our epileptic puppy, pictured with Stevie Wonder our blind puppy.
Little Ed had a very rough time and we thought we might lose him, our biggest fear was brain damage. But with the wonderful help of Your Vets and following a short stay in hospital, he has started to be a proper puppy again. He has been clear of fits for three weeks now and although he has what can be called "odd moments" he is doing well. Nosodes from now, no more vaccinations!
Read more in our January 2016 Newsletter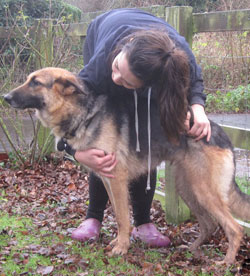 Update on pregnant dog who was 'left for dead' and gave birth to puppies
At around 5.30am on Sunday 20th September in atrocious weather conditions, this poor dog was found by a member of the public tied up outside Hanchurch Woods in Stoke. She was found in a very poor condition, emaciated, covered in faeces, smelling of urine and unable to eat.
She was taken to an emergency vets in Stoke as she was in a state of collapse, she had hypocalcaemia and was immediately put on a drip.
Staff were worried about her underlying condition so performed a scan which revealed that she was in fact very pregnant.
In the early hours of 24th, Sally gave birth to 9 puppies.
Find out what happened to Sally and her puppies
This is a story with a very happy ending..............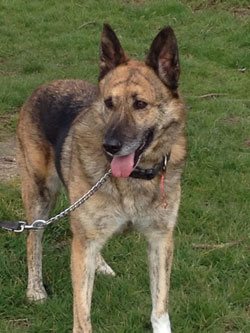 Benji has just spent another Christmas in kennels
Benji has been rescued from an uncertain future as a street dog and narrowly escaped euthanasia, having gone through all that he really deserves a better life.
When he first came into rescue he hadn't been used to a lead but with the patience of kennel staff and volunteers he has come a long way. He can still jump at sudden unfamiliar noises whilst out, but this will improve with time and patience.
Benji may be 8 years old, but he is agile and inquisitive. Because of his past experiences with humans which haven't always been positive, Benji does take a little time to get to know you. He adores the kennel staff who have gained his trust by showing him love and kindness, something he hasn't had much of in his life until now. He is also taken on walks by one of our vollies and he is doing very well and now responds well on the lead.
Because we don't know Benji's background, we will only consider homes where any children are dog savvy. He has been used to having to look after himself and going short of food, so he may be 'food protective' at first in his new home. Help and advice will be given to any new owners on how to manage this. Can you give Benji the home and love he so deserves??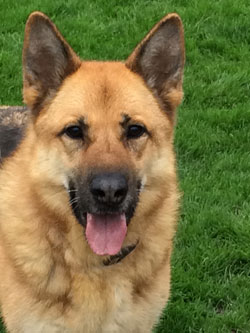 My name is Saxon
I too have just spent my second xmas in kennels, I do not deserve this and I want a proper home of my own.
Just look in to my eyes, I have plenty of love to give.
I am now 7 years old, not good with cats or dogs so need to be an only pet.
I have never experienced living in a loving home, I was thrown out the garden and only had a tin shelter to live in where I lived in fear of being attacked by the other dog that lived in the house.
I absolutely love playing ball and would love to play footie with my new mum and dad.
I would need an adult home as I have never lived with children.
My previous home made me scared of humans because they treated me badly.
There must be a new mum and dad for me. Please consider adopting me.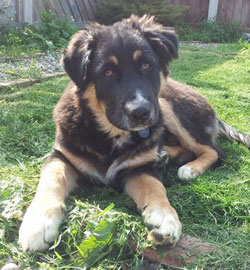 Campaign To Expose Vaccine Dangers
These two puppies Bilbo Baggins and Lyra were born in rescue after we took on a female GSD who unbeknown to us, was expecting. Bilbo and Lyra have never been vaccinated, instead have received 'nosodes' to build up their immunity.
Nosodes are a safe, cheap alternative to toxic vaccinations which are peddled by big pharma and veterinary practices and which are nothing more than revenue generators.
The first vaccine usually given as a very young puppy is probably the most dangerous.
Chris Day is pronbably the most well known homeopathic vet - 'Sadly, the acute-onset problems and the chronic issues can be set up by even the very first vaccine event, in a susceptible individual. We have even witnessed puppy and kitten deaths after the first dose.' Guidelines on Nosodes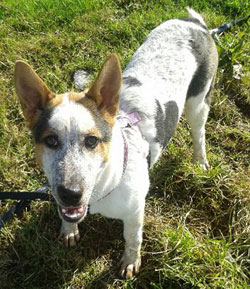 Chris Day Alternative Vet
'No manufacturer will guarantee the safety of vaccination. Quite apart from dangerous and life-threatening anaphyllactic reactions, that can occur within hours of the injection, transient fevers and malaise and injection site lumps or abscesses, there can be chronic, late-onset problems. As a referral centre, dealing mainly with troublesome chronic disease, our own research suggests that over 80% of chronic illness that we see starts within three months of a vaccination event. Such problems include skin problems, allergy, atopy, autoimmune problems, heart murmur, meningitis, encephalitis, paralysis, nervousness, excitability, epilepsy and seizures, CDRM, cardiomyopathy, colitis, chronic diarrhoea, ear problems, 'virus' in horses, sarcoid, COPD and headshaking. It may even be that syringomyelia may be triggered by vaccination. Proving an association in any single case is not possible but the overall statistics are frightening.'

GSDR alway has and always will operate a NO DESTRUCTION POLICY because we believe that all dogs deserve a good life. We will find the right home for all the dogs that come into our care no matter how long it takes. German Shepherd Dog Rescue is both a registered charity and company, which produces yearly accounts so that you know where your donated monies are spent.
German Shepherd Rescue
German Shepherd Rescue Helping to Foster and Rehome German Shepherd Puppies and German Shepherd Dogs (Alsatians) Across the UK.
German Shepherd Dog Rescue helps rehome German Shepherds across the UK. Can you help us raise funds so that we can rescue more unwanted German Shepherd Dogs?
If you are thinking of buying a dog as a family pet forget that puppies for sale advert, please read this article first.
Please do not contact the rescue specifically for puppies - buying a puppy. We are looking for loving homes for rescue dogs of all ages. We always have many German Shepherd dogs for rehoming. Can you offer to adopt a German Shepherd and give it a good home or maybe you could foster a German Shepherd until a new home can be found.
If you would like us to feature a German Shepherd Dog that is looking for a new home please contact us with details. Please note that this is a genuine service for German Shepherd Rescue and not a listings for people wishing to sell their german shepherd dog.
We do not have puppies for sale or dogs for sale but we do ask for a minimum donation which goes towards helping other needy dogs. Monies rasied go towards kenneling and veterinary costs.
Volunteers are always welcome.
German Shepherd Dog Rescue is run by volunteers who are involved because of their love for the breed. Most have jobs and families and fit in rescue work when they can and at their own cost. Please be patient and we will deal with your requests as soon as we can. Our rescue dogs are worth waiting for!
Please help us by making a donation so that we can help re home more unwanted German Shepherd Dogs. Donations can be sent to Jayne Shenstone, German Shepherd Dog Rescue, Little Vauld, Marden Hereford HR1 3HA. We also accept Paypal payments - just click on the Paypal button below. Thank you.