German Shepherd Puppies and German Shepherd Dogs rehomed across the UK. Help and Advice on All Aspects of Owning a GSD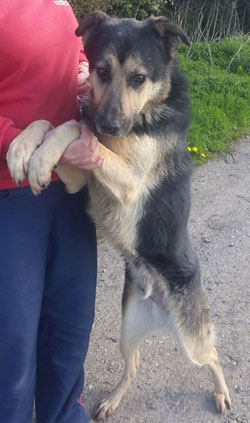 We Urgently Need Permanent Homes and Foster Homes
We have record numbers of dogs sitting in commercial boarding kennels waiting for their new homes to come along, many have been in there for months, some over a year and we have two dogs in their 3rd year in kennels.
Not only does this drain our funds, but more importantly it is not fair on the dogs being kept in confinement for so long. They need homes
What is wrong with these dogs? Nothing, they have just been discarded by humans through no fault of their own.
Take poor Jack here who has never had a home of his own and has only ever known abuse at the hands of humans until he came to GSDR. Jack has been in kennels since early summer 2015 yet he is a kind, gentle, loving soul who just wants to be loved. He does not like ebing in kennels and he does not deserve this.
Rescue dogs are not damaged dogs, they have just been let down by humans. It should not matter what colour, size or age they are - that is not rescue. Dogs like Jack deserve a chance not jail!!
Can you free a dog from kennels and give him or her a kind loving home?
If you can help, please fill out an adoption / foster form
These are some of our kennel dwellers.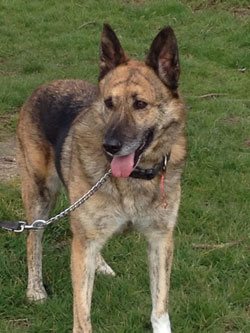 Dog Of The Week - Benji
Benji has been in kennels over 2 years now, he was only 7 years old when he first came to us
This poor dog has spent all this time in kennels because he isn't perfect and he isn't perfect because of the cruel treatment he has received from humans. Benji is a bit shy with new people initially but never aggressive and he loves other dogs.
He is a classic example of a dog overlooked because he is not perfect yet his problems would easily be overcome by a kind partient owner, willing to help Benji overcome his fear of humans.
Benji came from Romania where he had a very poor start in life suffering cruelty and brutality by the hands of humans He deserves more than to spend the rest of his days in kennels.
Humans failed Benji, he should not die unwanted and unloved in kennels.
Please consider giving this beautiful boy a loving home. Benjis' details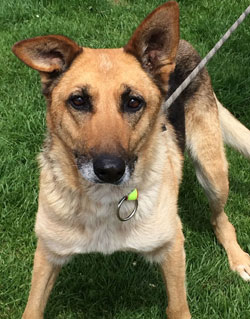 Hera, our lovely older lady of the week
Now in kennels over a year - so sad for this poor older girl.
This lovely gentle older lady is our Hera who is approx 10 years old and has had a very bad life up to now.
We believe that she has never had a home of her own as we believe she may have always lived on the streets having litter after litter of pups, poor thing.
You can bet that she has not been treated well by humans and that most of her puppies never survived.
A really nice older girl who deserves some human kindness and love, something we doubt she has ever experienced before.
She is chipped but not spayed as the vet thought she was too old to undergo this type of surgery.
Yun can read more about Hera although we don't know too much and you can see more pictures of this sweet girl on Hera's page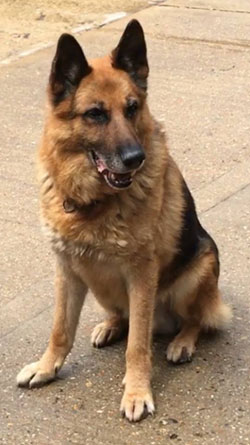 Zeus has arrived in the UK
My name is Zeus. I am now the only survivor of 3 dogs destined for the UK. Unfortunately my friends Mufasa and Derek didnt make it.
Can you imagine having a thick, metal, rusty chain embedded in your neck? Every movement you make causes you pain in every minute of every day?
Can you imagine being tied up outside, with no shelter from the heat or from the cold and being fed scraps? Can you imagine ALL of this and then being abused as well? A stone thrown here, a kick there? Well, Zeus knows. This was his existence as a guard dog in China. His life was a living hell.
Zeus is now in foster where he is having a ball with lots of fields to run in and lots of new places to explore. He has bonded with his foster dad and is being a very good boy. He loves people despite the dfrueklty inflicted on him back out in China.
Zeus is fine with other dogs as liong as they are not in his face. He could certainly live with a female companion.
His dream is to find a loving home with a family who can give him what he has never experienced and that is LOVE. His Story
Whoever is lucky enough to adopt Zeus will have a wonderful faithful companion, he is a gorgeous boy.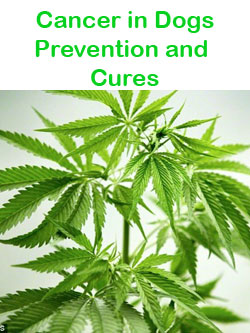 Cancer in Dog - Prevention and Cures
Did you know that a staggering 50% of adult dogs will die from cancer? That's half which is truly SHOCKING!
We should all be outraged at that figure, our four legged friends should not be getting cancer, it's a manmade disease.
In many cases cancer can be treated, but better that we protect our dogs from getting cancers rather than having to try and treat once the cancer is established.
Veterinary surgeons and the pharmaceutical industry profit greatly from cancer and both play on our fears of the dreaded disease, which will end up costing you a small fortune and ultimately the life of your much loved pet.
We offer you advice on how to avoid some of the common things that increase your dogs risk of getting cancer, how to optimise your dogs immune system and what to do if your dog is diagnosed with cancer.
What applies here, also applies to humans as well - Prevention And Cure of Cancer In Dogs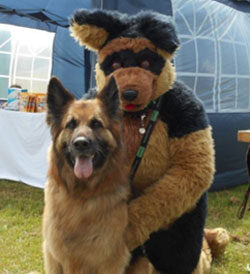 May / June 2016 Newsletter
In May and June we received a total of 112 dog rehoming forms, lower than previous years which is good. We also received over 400 adoption form applications during that period which sounds high, but I have to say that the quality of many of these potential homes is not of the standard we would like. It doesn't help that potential adopters put in multiple applications to many rescues and often our volunteers have their precious time wasted chasing homes that aren't prepared to wait.
The summer months will be busy on the fundraising front with many events organised and we hope that these will be well supported to help raise much needed funds to cover our vet and kennel bills, which this year have reached an all time high.
We are desperate for homes for our many kennel dwellers many of who have been cooped up for many months, several well over a year. It's awful to think of all these dogs in kennels, especially the older dogs who really do deserve to be in a home. Do you have a spare place for one of our gorgeous oldies? Enjoy reading our May/June edition of the GSDR newsletter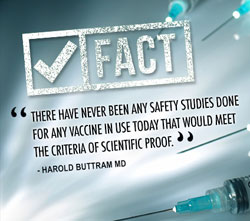 Why Does Your Vet Vaccinate Your Dog
Vaccines have never been proven to be effective.
Vaccinated populations are proven to be more diseased than unvaccinated. Which is pretty ironic when we thought we were giving those vaccines to our dogs to protect them. I guess the million dollar question is, what exactly are you protecting them from?
There have never been any safety studies done for any vaccine in use today that would meet the criteria of scientific proof
Question everything because it is now proven that vaccines are doing more harm than good to both us and our pets
Another very informative article from Dogs Naturally giving you the truth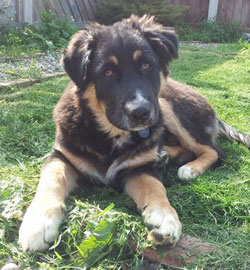 Campaign To Expose Vaccine Dangers
These two puppies Bilbo Baggins and Lyra were born in rescue after we took on a female GSD who unbeknown to us, was expecting. Bilbo and Lyra have never been vaccinated, instead have received 'nosodes' to build up their immunity.
Nosodes are a safe, cheap alternative to toxic vaccinations which are peddled by big pharma and veterinary practices and which are nothing more than revenue generators.
The first vaccine usually given as a very young puppy is probably the most dangerous.
Chris Day is pronbably the most well known homeopathic vet - 'Sadly, the acute-onset problems and the chronic issues can be set up by even the very first vaccine event, in a susceptible individual. We have even witnessed puppy and kitten deaths after the first dose.' Guidelines on Nosodes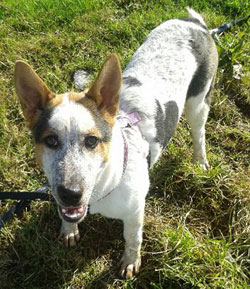 Chris Day Alternative Vet
'No manufacturer will guarantee the safety of vaccination. Quite apart from dangerous and life-threatening anaphyllactic reactions, that can occur within hours of the injection, transient fevers and malaise and injection site lumps or abscesses, there can be chronic, late-onset problems. As a referral centre, dealing mainly with troublesome chronic disease, our own research suggests that over 80% of chronic illness that we see starts within three months of a vaccination event. Such problems include skin problems, allergy, atopy, autoimmune problems, heart murmur, meningitis, encephalitis, paralysis, nervousness, excitability, epilepsy and seizures, CDRM, cardiomyopathy, colitis, chronic diarrhoea, ear problems, 'virus' in horses, sarcoid, COPD and headshaking. It may even be that syringomyelia may be triggered by vaccination. Proving an association in any single case is not possible but the overall statistics are frightening.'

GSDR alway has and always will operate a NO DESTRUCTION POLICY because we believe that all dogs deserve a good life. We will find the right home for all the dogs that come into our care no matter how long it takes. German Shepherd Dog Rescue is both a registered charity and company, which produces yearly accounts so that you know where your donated monies are spent.
German Shepherd Rescue
We are German Shepherd Dog Rescue the biggest and best charity in England and Wales helping to foster and rehome German Shepherd puppies and German Shepherd dogs (Alsatians).
German Shepherd Dog Rescue helps rehome German Shepherds across the UK. Can you help us raise funds so that we can rescue more unwanted German Shepherd Dogs?
If you are thinking of buying a dog as a family pet forget that puppies for sale advert, please read this article first.
Please do not contact the rescue specifically for puppies - buying a puppy. We are looking for loving homes for rescue dogs of all ages. We always have many German Shepherd dogs for rehoming. Can you offer to adopt a German Shepherd and give it a good home or maybe you could foster a German Shepherd until a new home can be found.
If you would like us to feature a German Shepherd Dog that is looking for a new home please contact us with details. Please note that this is a genuine service for German Shepherd Rescue and not a listings for people wishing to sell their german shepherd dog.
We do not have puppies for sale or dogs for sale but we do ask for a minimum donation which goes towards helping other needy dogs. Monies rasied go towards kenneling and veterinary costs.
Volunteers are always welcome.
German Shepherd Dog Rescue is run by volunteers who are involved because of their love for the breed. Most have jobs and families and fit in rescue work when they can and at their own cost. Please be patient and we will deal with your requests as soon as we can. Our rescue dogs are worth waiting for!
Please help us by making a donation so that we can help re home more unwanted German Shepherd Dogs. Donations can be sent to Jayne Shenstone, German Shepherd Dog Rescue, Little Vauld, Marden Hereford HR1 3HA. We also accept Paypal payments - just click on the Paypal button below. Thank you.