German Shepherd Puppies and German Shepherd Dogs rehomed across the UK. Help and Advice on All Aspects of Owning a GSD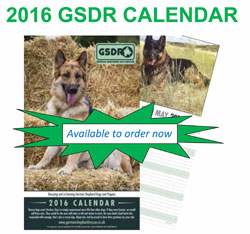 The 2016 GSDR Calendar available now
Enjoy the whole year with stunning pictures and stories of our rescue dogs.
These top quality calendars are just £10 each with an additional £2.80 for p&p
As with previous years, mulitple orders of up to 3 calendars can be sent for the same postage charge of £2.80
To order, please visit Janines' fundraising page and make your payment. Please do not tick Gift Aid as this cannot be accepted for purchases. Please then email Janine with the subject heading "GSDR Calendar" providing your name and address
Beat the Christmas rush and order now......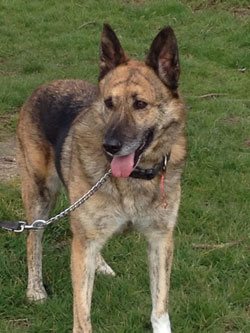 Please don't let Benji spend another Christmas in kennels
Benji has been rescued from an uncertain future as a street dog and narrowly escaped euthanasia, having gone through all that he really deserves a better life.
When he first came into rescue he hadn't been used to a lead but with the patience of kennel staff and volunteers he has come a long way. He can still jump at sudden unfamiliar noises whilst out, but this will improve with time and patience.
Benji may be 8 years old, but he is agile and inquisitive. Because of his past experiences with humans which haven't always been positive, Benji does take a little time to get to know you. He adores the kennel staff who have gained his trust by showing him love and kindness, something he hasn't had much of in his life until now. He is also taken on walks by one of our vollies and he is doing very well and now responds well on the lead.
Because we don't know Benji's background, we will only consider homes where any children are dog savvy. He has been used to having to look after himself and going short of food, so he may be 'food protective' at first in his new home. Help and advice will be given to any new owners on how to manage this. Can you give Benji the home and love he so deserves??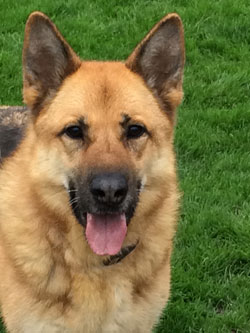 My name is Saxon
I too will be spending my second xmas in kennels.
Just look in to my eyes, I have plenty of love to give.
I am now 7 years old, not good with cats or dogs so need to be an only pet.
I have never experienced living in a loving home, I was thrown out the garden and only had a tin shelter to live in where I lived in fear of being attacked by the other dog that lived in the house.
I absolutely love playing ball and would love to play footie with my new mum and dad.
I would need an adult home as I have never lived with children.
My previous home made me scared of humans because they treated me badly.
There must be a new mum and dad for me - please consider adopting me.
Campaign to End Over-Vaccination of Pets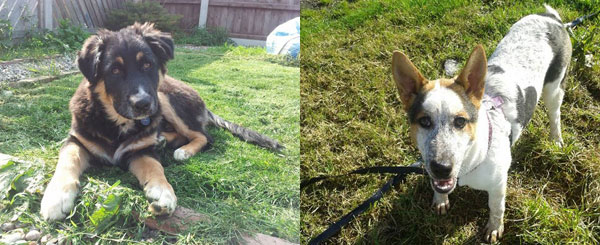 These two puppies Bilbo Baggins and Lyra were born in rescue after we took on a female GSD who unbeknown to us, was expecting puppies. Bilbo and Lyra have never been vaccinated, but instead have received 'nosodes' to build up their immunity. Guidelines on Nosodes

GSDR alway has and always will operate a NO DESTRUCTION POLICY because we believe that all dogs deserve a good life. We will find the right home for all the dogs that come into our care no matter how long it takes. German Shepherd Dog Rescue is both a registered charity and company, which produces yearly accounts so that you know where your donated monies are spent.
German Shepherd Rescue
German Shepherd Rescue Helping to Foster and Rehome German Shepherd Puppies and German Shepherd Dogs (Alsatians) Across the UK.
German Shepherd Dog Rescue helps rehome German Shepherds across the UK. Can you help us raise funds so that we can rescue more unwanted German Shepherd Dogs?
If you are thinking of buying a dog as a family pet forget that puppies for sale advert, please read this article first.
Please do not contact the rescue specifically for puppies - buying a puppy. We are looking for loving homes for rescue dogs of all ages. We always have many German Shepherd dogs for rehoming. Can you offer to adopt a German Shepherd and give it a good home or maybe you could foster a German Shepherd until a new home can be found.
If you would like us to feature a German Shepherd Dog that is looking for a new home please contact us with details. Please note that this is a genuine service for German Shepherd Rescue and not a listings for people wishing to sell their german shepherd dog.
We do not have puppies for sale or dogs for sale but we do ask for a minimum donation which goes towards helping other needy dogs. Monies rasied go towards kenneling and veterinary costs.
Volunteers are always welcome.
German Shepherd Dog Rescue is run by volunteers who are involved because of their love for the breed. Most have jobs and families and fit in rescue work when they can and at their own cost. Please be patient and we will deal with your requests as soon as we can. Our rescue dogs are worth waiting for!
Please help us by making a donation so that we can help re home more unwanted German Shepherd Dogs. Donations can be sent to Jayne Shenstone, German Shepherd Dog Rescue, Little Vauld, Marden Hereford HR1 3HA. We also accept Paypal payments - just click on the Paypal button below. Thank you.